Joanna Jedrzejczyk expects Michelle Waterson or Rose Namajunas to get next title shot
BY Damon Martin • April 11, 2017
COCONUT CREEK, Fla. — Strawweight queen Joanna Jedrzejczyk is just weeks away from her fifth title defense as she faces Jessica Andrade in the co-main event at UFC 211 in Dallas, but as champion, she's always keeping a close eye on the competition.

This weekend, top 10 ranked fighters Rose Namajunas and Michelle Waterson face off at FOX UFC Fight Night in Dallas and Jedrzejczyk will definitely be watching.

It's a matchup that she believes will ultimately crown the next No. 1 contender at 115-pounds so Jedrzejczyk has a vested interest in seeing how this fight plays out.

"I think that this fight between Michelle and Rose will give us the next challenger and probably I will face one of them in my next fight after the fight with Jessica Andrade," Jedrzejczyk told FOX Sports on Tuesday.

"I believe that the winner of the fight between Michelle Waterson and Rose Namajunas will be my next opponent. I will be watching this fight."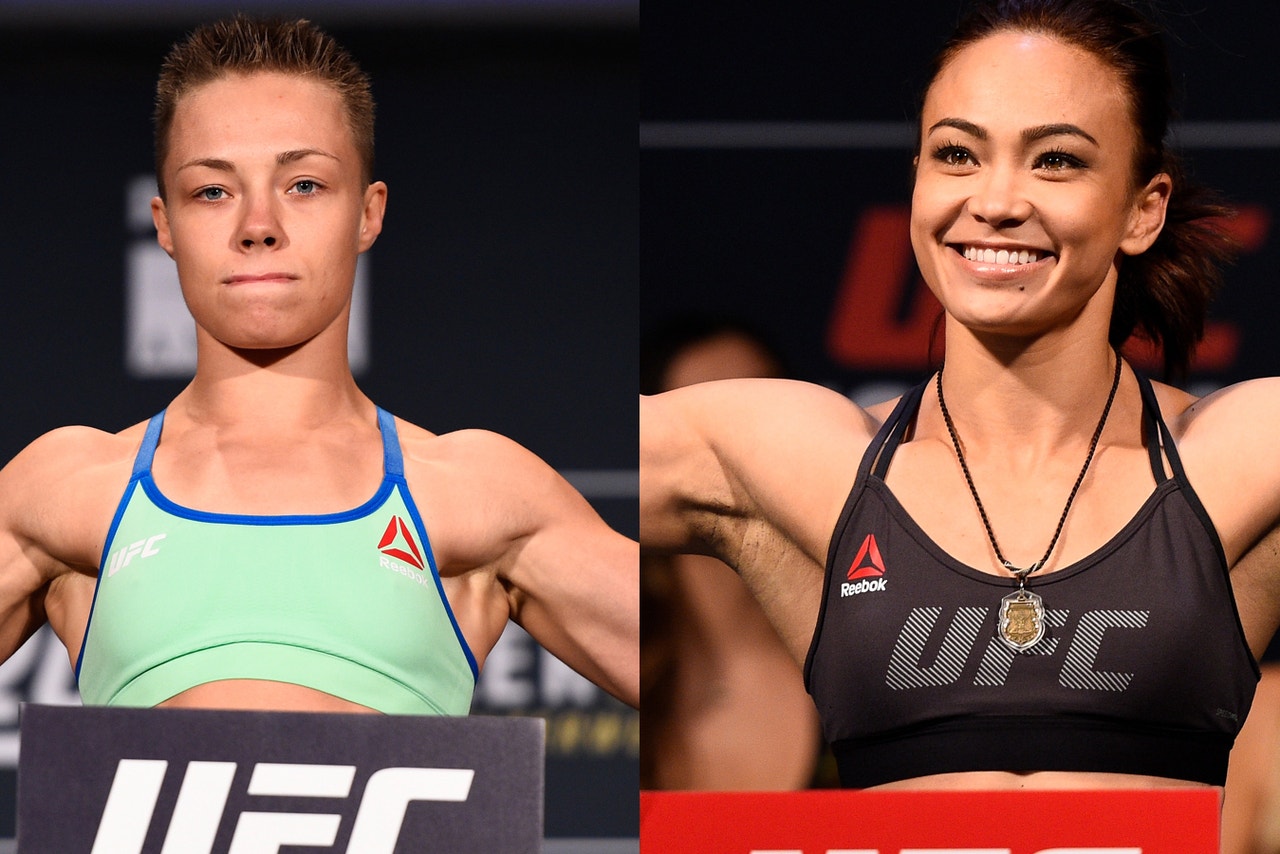 When it comes to the matchup, Jedrzejczyk sees how both fighters could come out on top, especially considering the experience Waterson wields on her side while Namajunas has just been a supremely talented competitor since first arriving in the UFC.

"It's a big fight between Rose Namajunas and Michelle Waterson. I like both of them," Jedrzejczyk said. "Both girls, Rose and Michelle are very talented. Michelle, she has got so much experience. She's a former Invicta world champion. It's amazing. She has got this experience. But Rose, she's knocked on the challenger's door, she was so close so many times. She fought with Carla Esparza, she almost won the belt before I won with Carla Esparza. Rose had a good fight with Karolina Kowalkiewicz, she almost got the chance to be a challenger.

"She's young and she's talented, but I think she needs more experience. I believe that one day she will become a UFC world champion but Michelle Waterson is very tough."

As far as her pick, Jedrzejczyk says she doesn't like to predict the winners and losers of fights just because mixed martial arts can often times result in so many unknowns.

Instead of making a prediction, Jedrzejczyk will just be watching and scouting both Waterson and Namajunas considering one of them could be her next challenger if she has a successful title defense on May 13.

"I don't like to predict the fights. I know that anything can happen in the fight," Jedrzejczyk said. "Even me, I visualize victory before every fight, I want to win like everyone but it's a sport. MMA is very beautiful but a very brutal sport. We step into the Octagon and one person must win and one person must lose. It's the rule.

"I don't have prediction because we don't know what's going to happen."


---
---