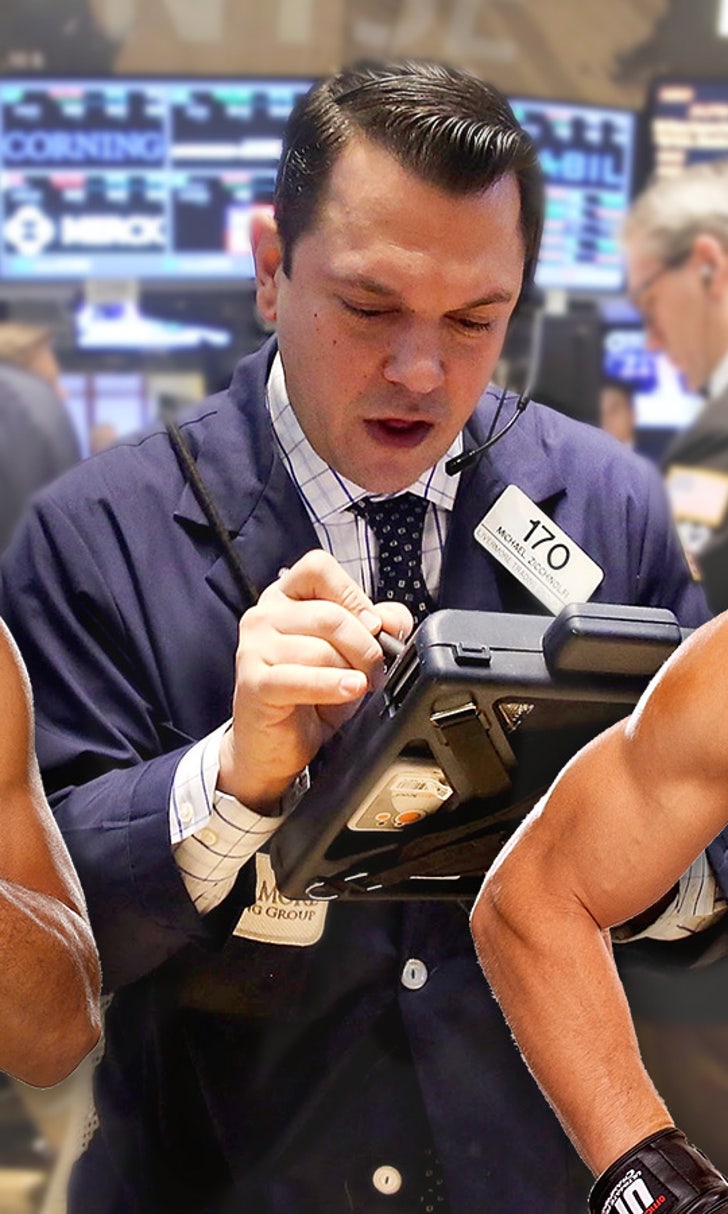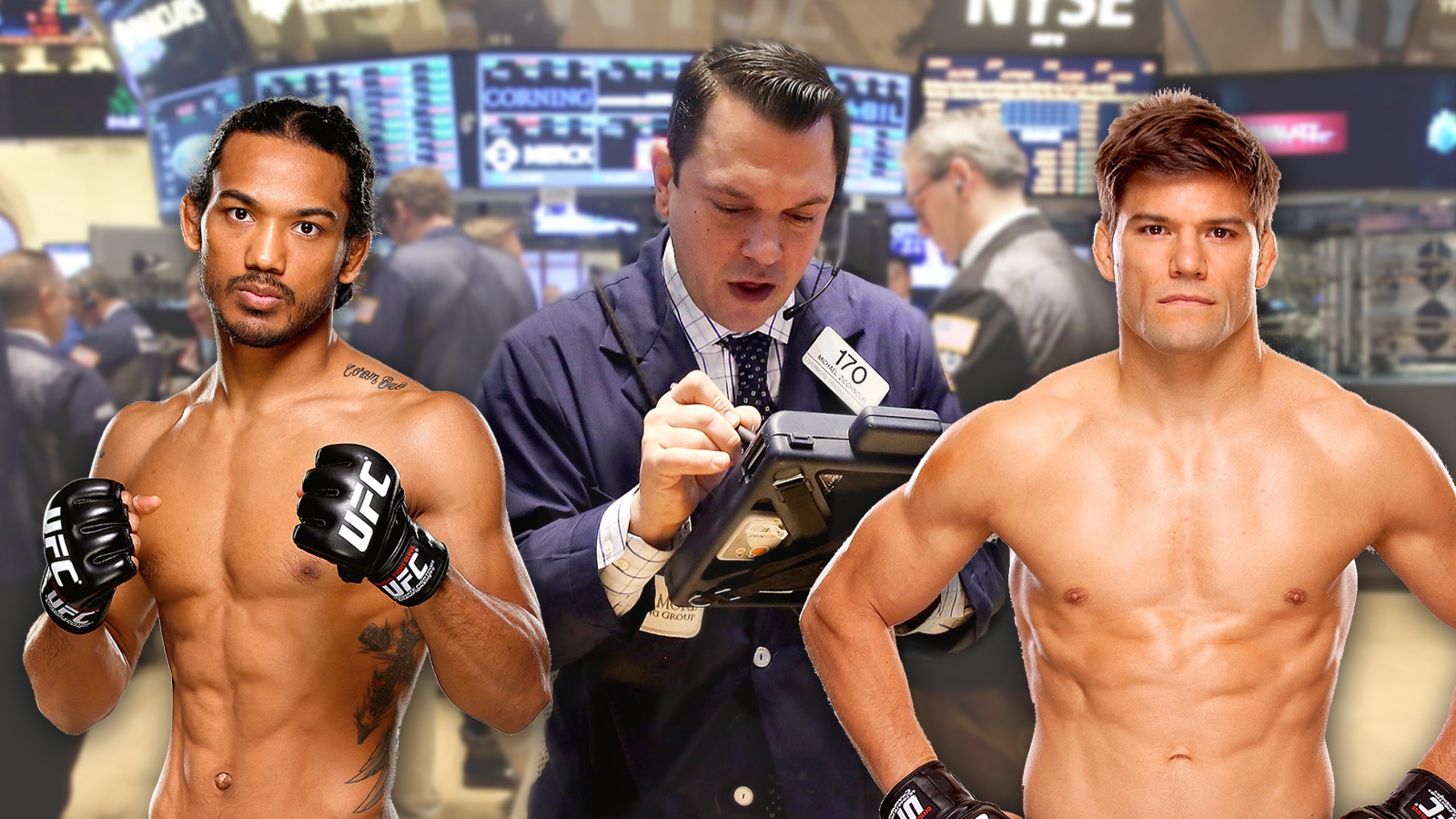 Insider Trading: Sure-fire bets for FOX UFC Saturday: Henderson vs. Thomson
BY foxsports • January 23, 2014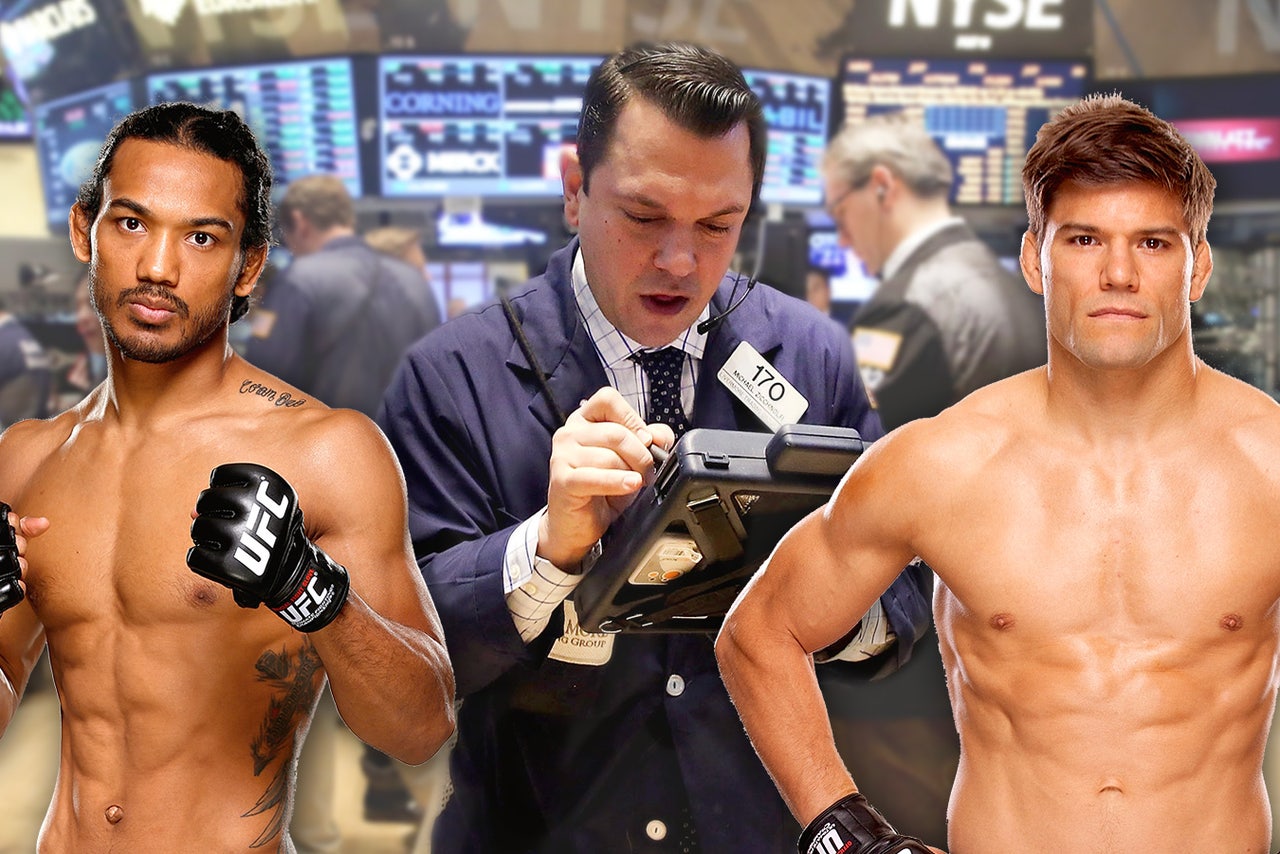 You can do some pretty cool things with MMA numbers and today we're using our super-computing analytics at MMAanalytics to predict the results of this weekend's FOX UFC Saturday card.  When it comes to finishing fights and winning decisions, the #1 thing to remember is that landing strikes and controlling your opponent tend to lead to victory.  If you've read that significant strike attempts are what matter, forget it.  Attempts are strikes landed plus misses, and missing can sometimes help win a judge's decision but only in three specific situations which can be discussed later.
The real question is whose advantages will win out over the other's disadvantages.  We've put together a prediction model to give us insights into each fighter's odds of winning.  It doesn't tell us who absolutely will win, just what each fighter's chances are according to the data.  Think of each fight like a spin of a Roulette wheel; the more numbers covered on the table, the better your chances of a hit.  The things we'll focus on come from our work studying the factors that finish fights and win decisions.
1. Benson Henderson vs. Josh Thomson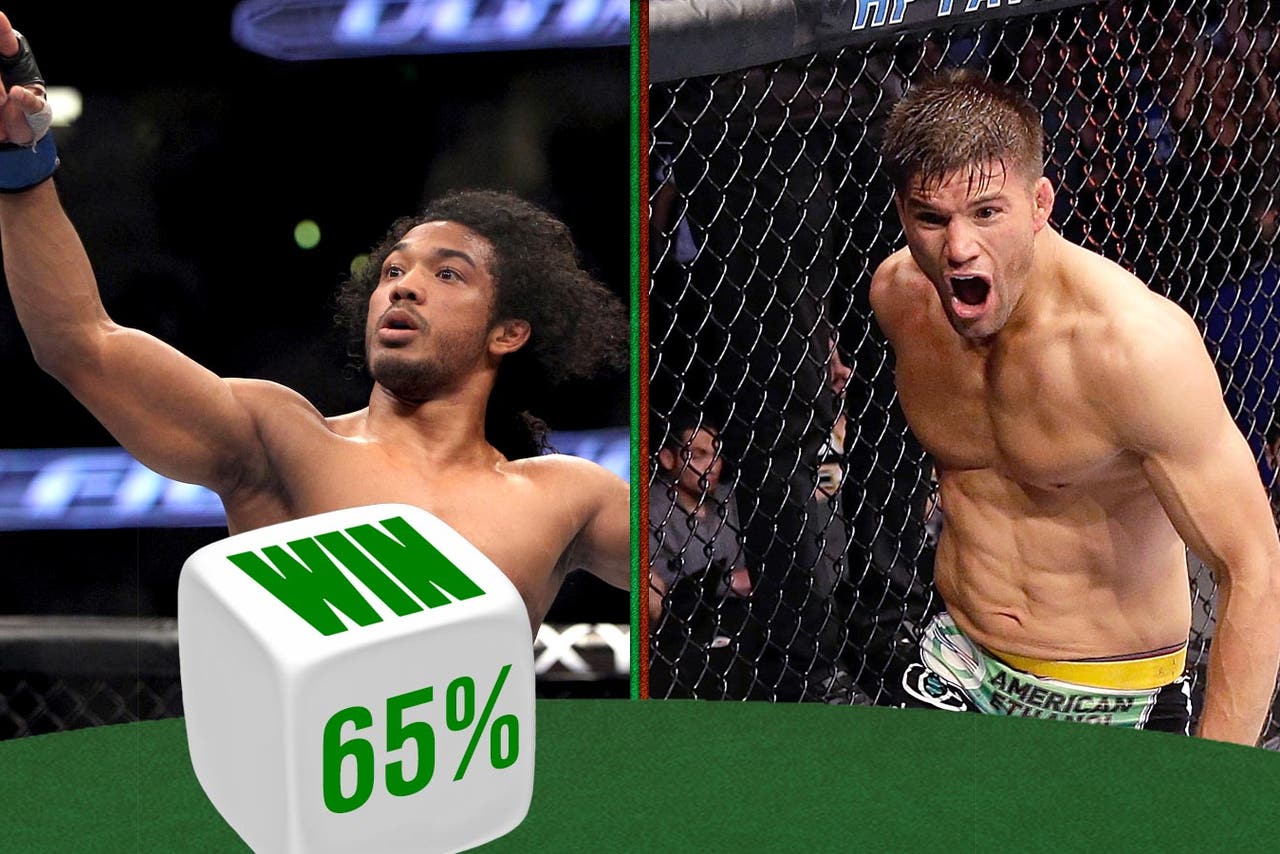 Henderson's coming off his first loss since tying the UFC record for the most consecutive lightweight title defenses at three, while Thomson's riding a stellar knockout performance against Nate Diaz and subsequent missed title shot against Anthony Pettis.
On paper, the two are similar in many ways.  Both make about an average number of attempts at distance, but Thomson gets to work in the clinch landing 23 power shots per 5 minutes (P5M) to Henderson's 18 while Henderson gets to work on the ground landing 21 power shots P5M to Thomson's 10.  The problem for Thomson is he doesn't spend much time in the clinch.
Henderson's big advantage is in being a controlling fighter.  He has control in the clinch 60% of the time (opponent pressed against the cage) and on the ground 67% of the time.  That's well above average in both aspects, but in Thomson, he's going against someone who also generally has control on the ground (61%).
Both fighters are above average in terms of the closeness of their fights – yes that can be measured – which means we the fans are likely in for a treat.
Interesting fact: Henderson hasn't attempted a lock submission since WEC 38 back in 2009.
Prediction: Bendo at 65 percent to win.
2. Stipe Miocic vs. Gabriel Gonzaga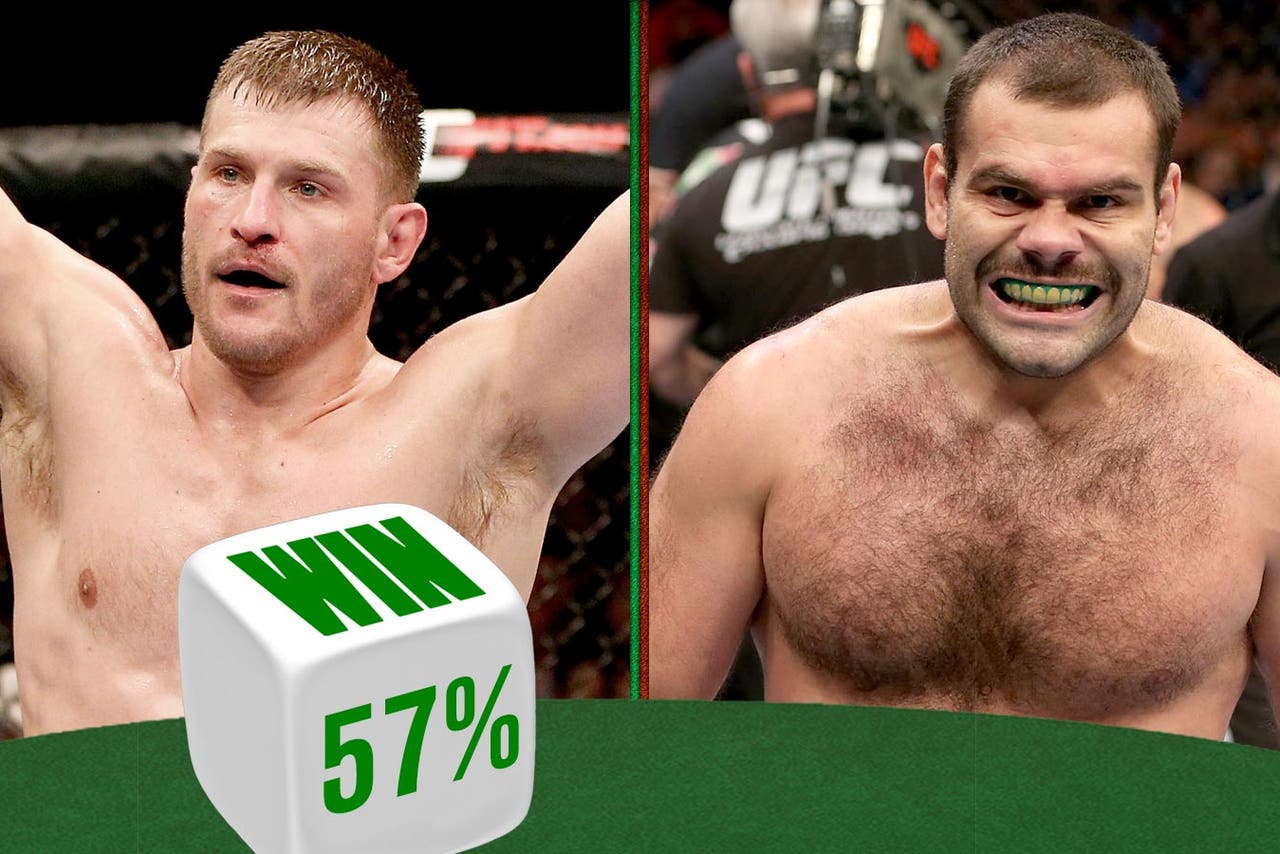 After losing to Stefan Struve, Miocic got back on track with a beatdown of Roy Nelson at UFC 161, out landing him 59-11 in power strikes.  Gonzaga's looked good since returning to the UFC with his lone defeat coming to heavyweight #1 contender finalist Travis Browne.
Miocic's distance attack is more jab-centric, accounting for over 50% of his head strikes, while Gonzaga's is about power.  Gonzaga lands 9.5 power strikes P5M compared to 1.8 jabs to the head.  His knockdown rate is enormous at 13% compared to Miocic's 1%, but Miocic has never himself been knocked down.  Gonzaga attempts one submission every two rounds and completes 40% of them while Miocic has never tried a submission or had one tried on him.
The story here is volume.  Miocic is above average for key strikes thrown, landed, and accuracy in all three positions of distance, the clinch, and the ground.  In the clinch and on the ground it comes from his control.  At distance, he's just more active and efficient.  The fight boils down to volume and control versus power and possible submissions.
Prediction: Miocic at 57 percent to win.
3. Donald Cerrone vs. Adriano Martins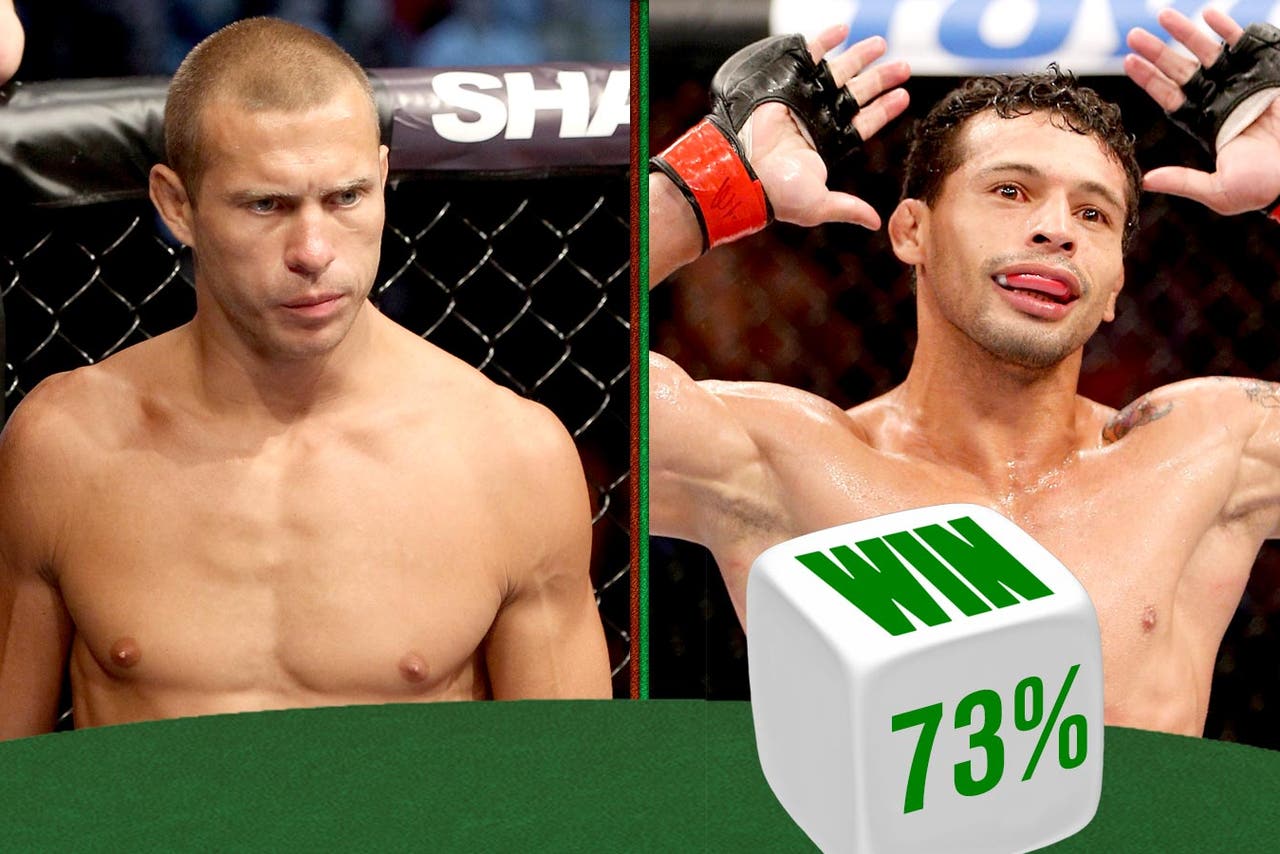 This is where I put my version of the fine print on a TV ad.  These predictions were calibrated from bouts where fighters had at least three performances in major MMA.  It's hard to use stats if they come from too small of a sample.  I'll do it anyway since this is for entertainment, but take the predictions with a grain of salt when someone hasn't had many fights.  Martins only has two major bouts, one in Strikeforce and one in the UFC.  FightMetric doesn't have the data for his Strikeforce fight since it was so early in the prelims.  So by the metrics of MMA, he's only had one fight.
Martins dominated his one measured fight, a submission win over Daron Cruickshank.  He was less than 50% as active as the typical lightweight, but very accurate.  Now he's stepping in with the big boys.  Cowboy actively jabs and does a great job mixing up his power strikes at distance, throwing 2-3 more power shots to the body and legs P5M than average and landing efficiently.
The predicted odds are based on these numbers.  You decide how much weight to give Martins' one fight worth of data.
Prediction: Martins at 73 percent to win.
4. Jeremy Stephens vs. Darren Elkins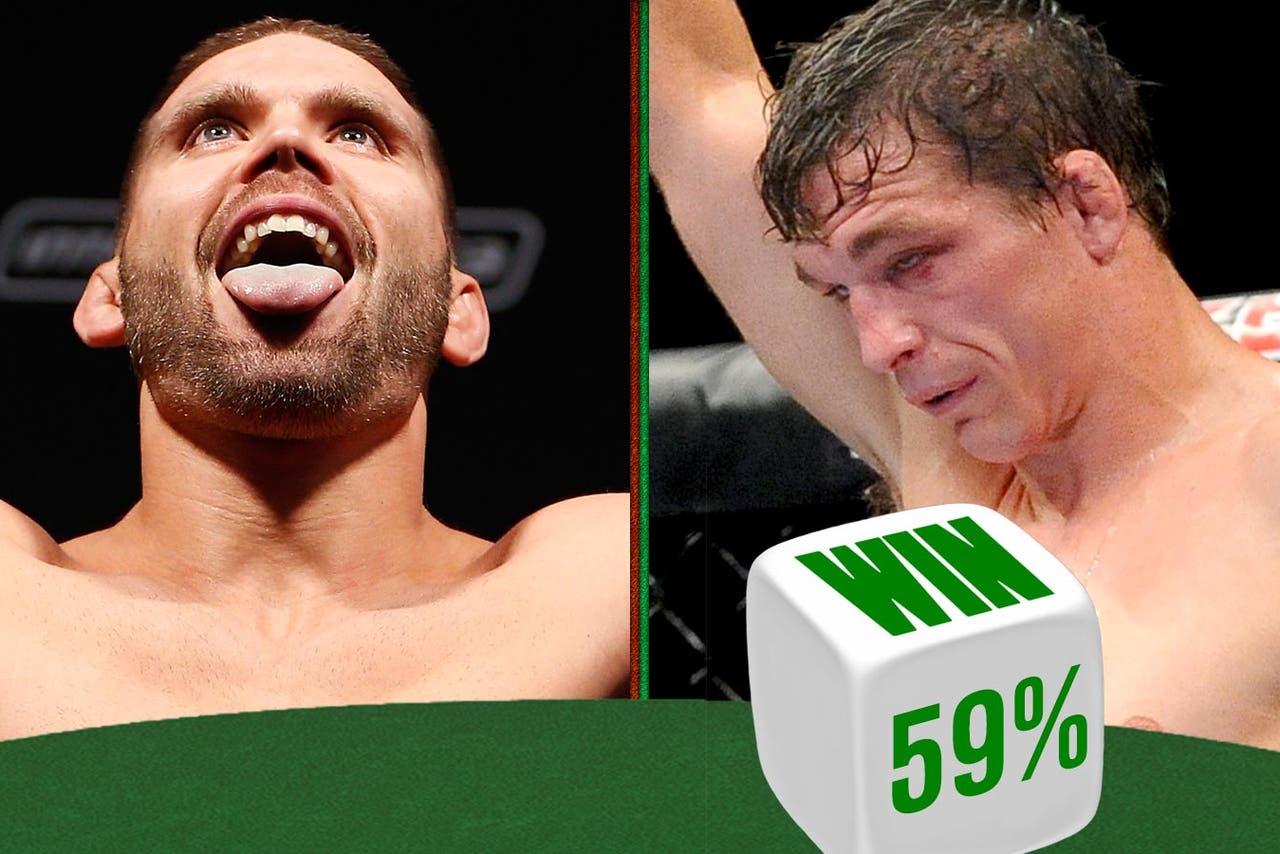 You can see in the numbers that something clicked in 2011 or the drop down to featherweight really helped Elkins.  He's been much more dominant ever since, with the exception of getting blasted by Chad Mendes at UFC on FOX 7.
Elkins is a head-jabbing machine at distance with 52.6 attempts P5M, likely done to set up his takedown shots where he makes 3.3 attempts P5M, more than twice the typical featherweight.  The problem is Stephens isn't good at defending takedowns from distance (53% vs. 71% average).  He's better defending in the clinch but neither fighter spends much time there, and when Elkins does he's immediately taking people down.
What Stephens does well is mess up your face.  He dishes out damage almost four times as often P5M and four times more efficiently than average.  On the other side we have Elkins whose face gets beat up three times more than usual P5M and six times more efficiently per power strike to the head.
So we've got a battle between Elkins' non-stop takedowns and leaky face against Stephens' power and damage.  A problem for Stephens is that his most efficient work is done on the ground, where Elkins has control 82% of the time.
Prediction: Elkins at 59 percent to win.
5. Sergio Pettis vs. Alex Caceres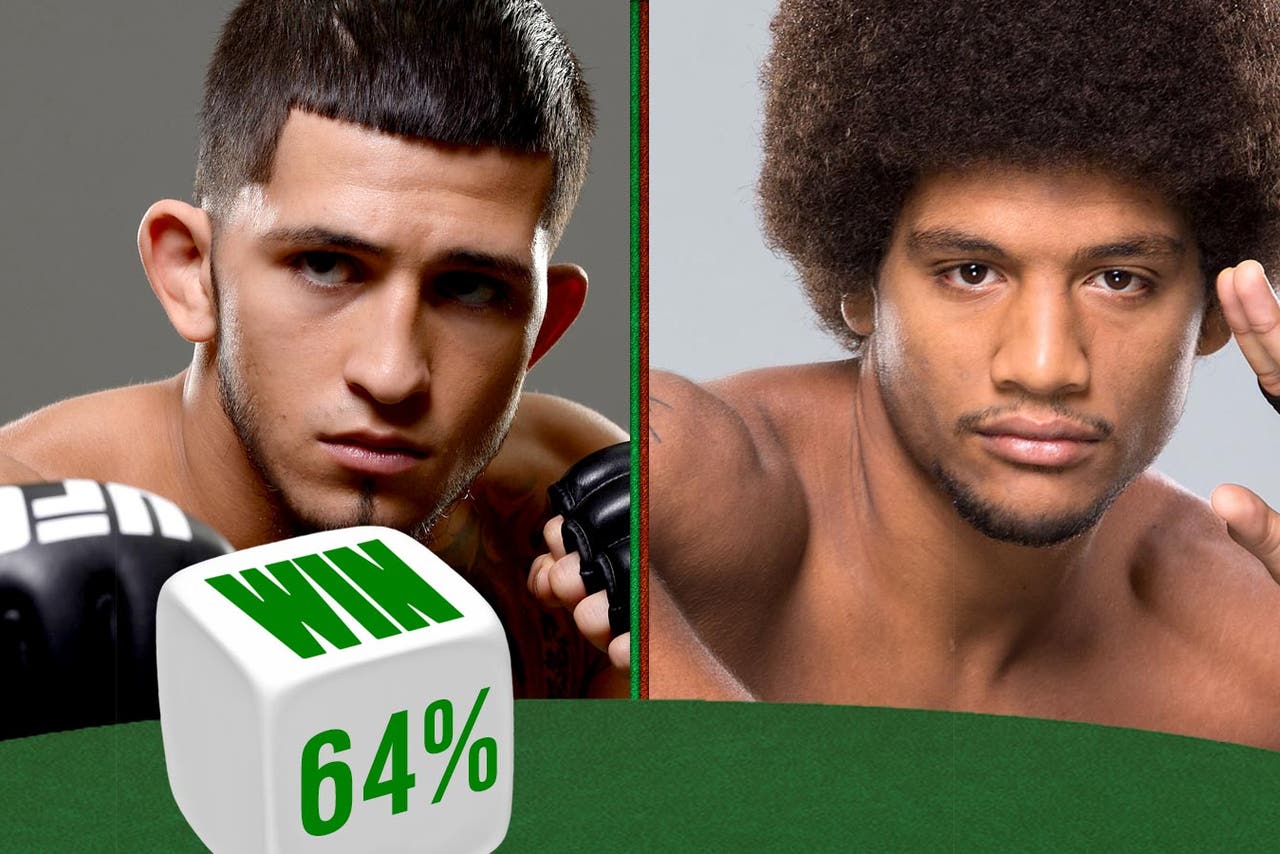 Now we're on to the FOX Sports 1 prelims, also known as Battle of the Bantamweights.  Sergio Pettis is up for the second time in two months, and there are two problems.  First, we're dealing with a single data point again.  Pettis made his UFC debut with a solid win over Will Campuzano at UFC 167 in November.  Second, when I hear his name all I can think about is Serge from Beverly Hills Cop 3.  In the other corner, Caceres is effectively on a three fight win streak since the data doesn't care if you get busted for marijuana.
Pettis and Caceres are both super-efficient from distance, but neither has scored a knockdown or busted up a face.  They're both very active jabbers and are anti-Elkins, not going for a lot of takedown attempts off the jab.  Against Campuzano, Pettis showed excellent defense against power shots to his head with 92% missing.
On the ground, they've both been on the bottom more than 50 percent of the time but have been better than average at getting sweeps and stand ups.  Pettis attempts one submission per round (small sample reminder) and Caceres has gotten caught with subs twice in his short career.
Prediction: Pettis at 64 percent to win.
6. Eddie Wineland vs. Yves Jabouin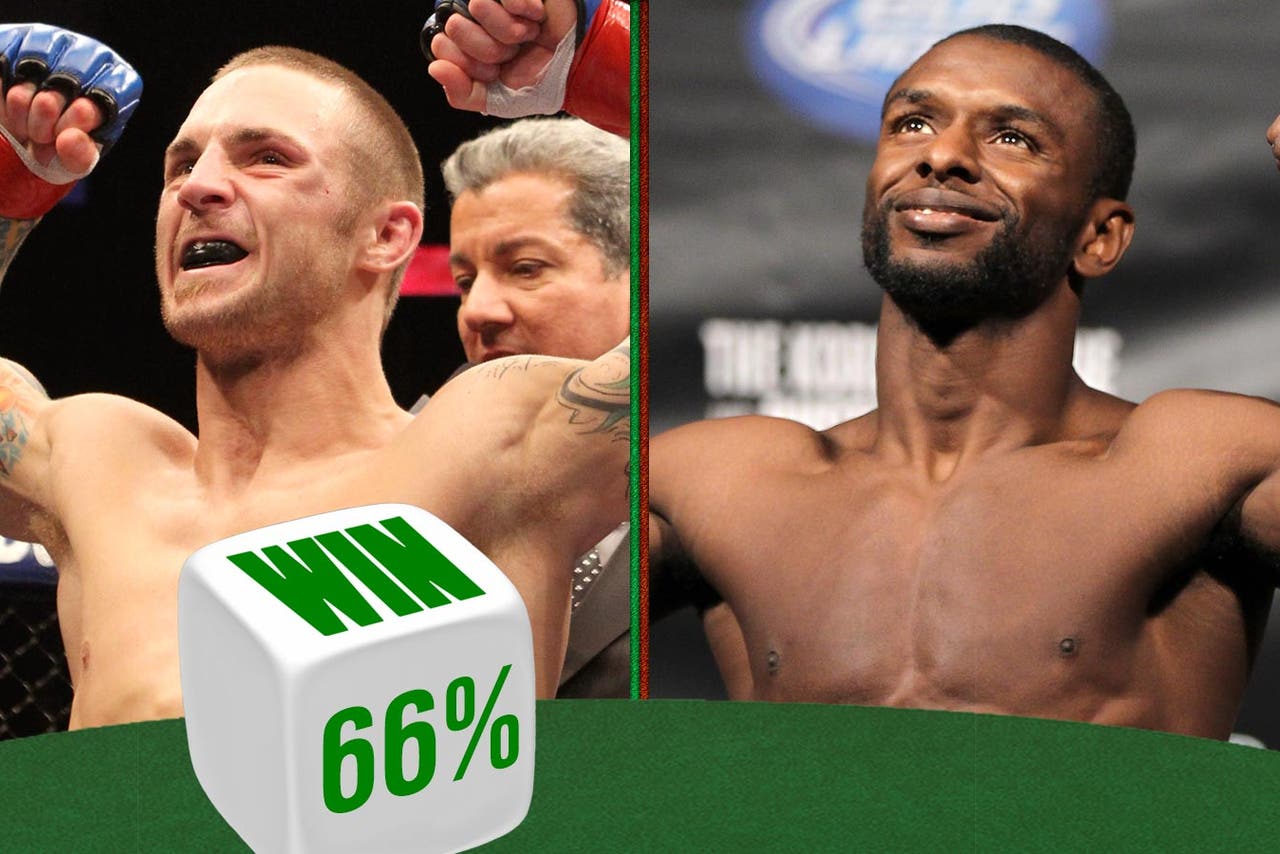 To say this is a standup battle is an understatement.  Neither has attempted a submission since 2010 and they both shoot for takedowns at less than half the normal rate.
Wineland attempts 29 power strikes to the head P5M to Jabouin's 16.8 and is more accurate.  Jabouin does a better job mixing it up, landing 2-3 times more power shots to the body and legs.
Wineland gets into battles, throwing more shots than average, and his opponents end up doing the same.  He's not great at landing those shots, except for power strikes to the head – the most important ones.  The ground is his weakness and his opponents know it.  They attempt 50% more takedowns than average from distance but land at half the rate because Wineland's takedown defense is solid.  When he's been on the ground he's only had control 5% of the time and has been very bad at standing up or sweeping.
Jabouin is average at takedowns from distance.  He's better from the clinch, but each guy only spends about 20 seconds in the clinch P5M compared to 40 seconds for the typical bantamweight.
Prediction: Wineland at 66 percent to win.
7. Chico Camus vs. Yaotzin Meza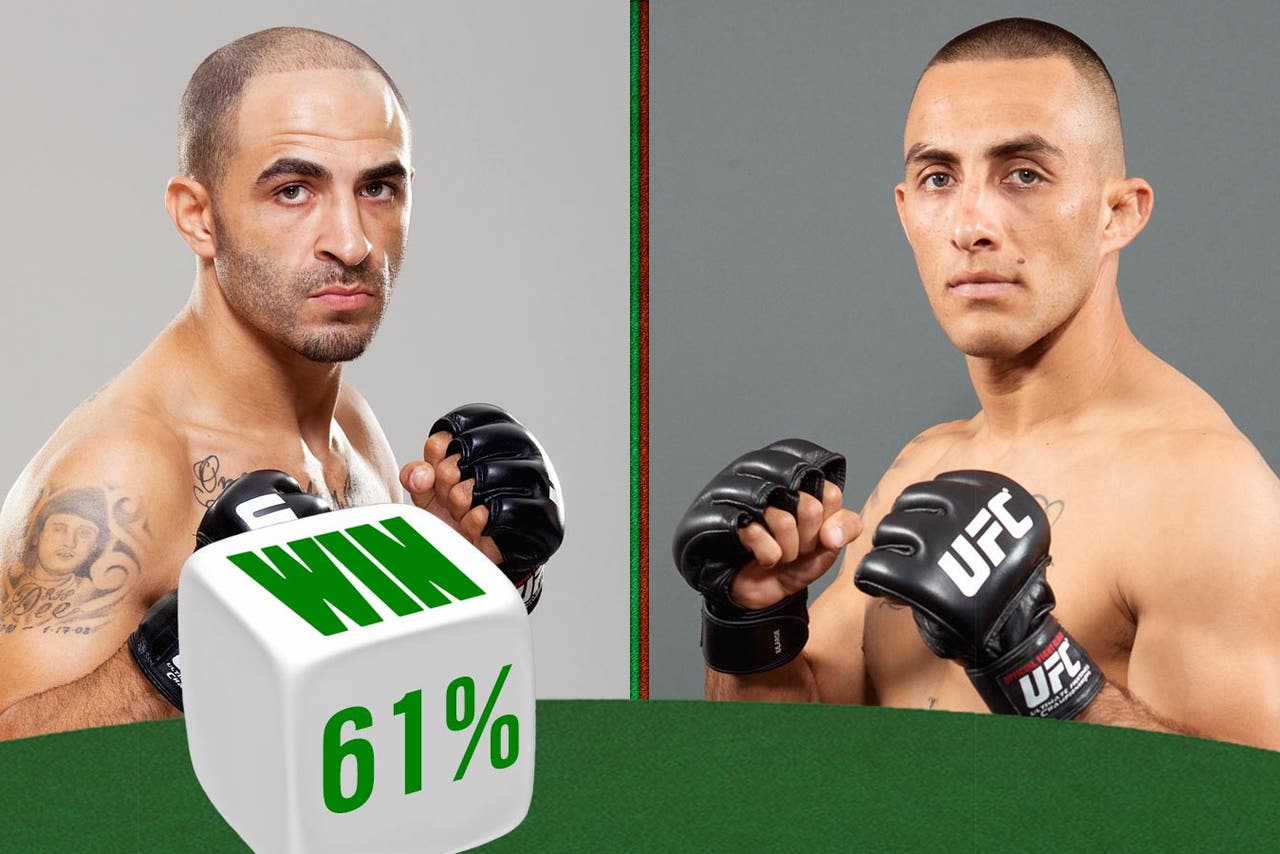 From a numbers perspective, Meza's the interesting fighter here.  He attempts five times the power leg strikes at distance as a normal bantamweight, but is 33% less accurate.  He almost never goes to the clinch because he's shooting takedown attempts like a maniac (4.2 attempts P5M vs 1.2 average) and landing 50% of them.
Once you're on the ground, he hasn't yet learned how to throw a power strike with only 0.9 attempts P5M.  He goes for submissions like crazy, but his opponents are able to do the same to him.  The bantamweight average is 0.3 submission attempts P5M.  Meza attempts 2.1 submissions P5M and his opponents attempt 1.5.
Prediction: Camus at 61 percent to win.
8. Hugo Viana vs. Ramiro Hernandez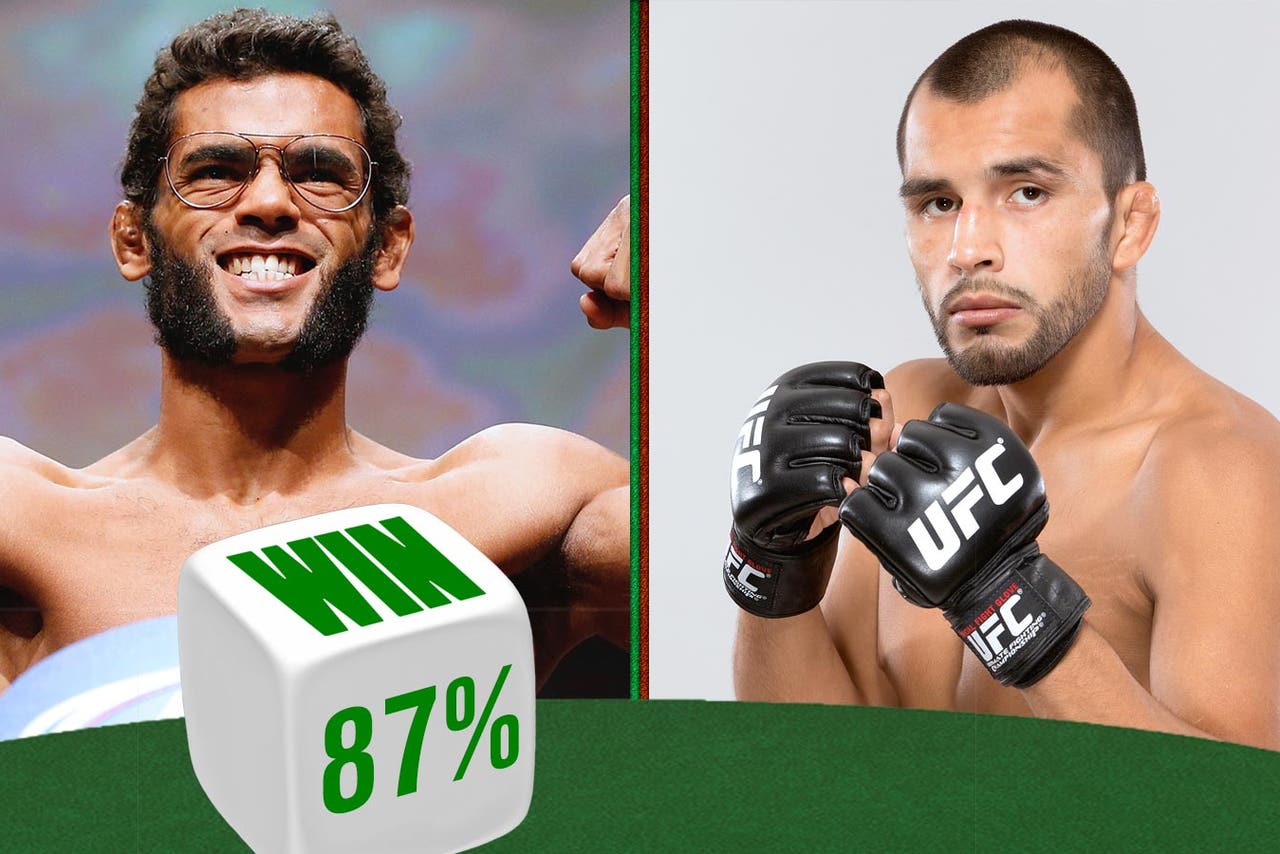 Wolverine is back!  He's coming off a knockout loss to T.J. Dillashaw at UFC on FOX 7.  Meanwhile, Hernandez is our small sample winner of the day.  He's got one prior UFC fight with a total of 1:10 of usable data.  At UFC Fight Night 28, Hernandez was getting beat by Lucas Martins at distance, got knocked down, and then submitted in 25 seconds.  The data look really bad for him and will affect the prediction, but it could have just been one bad night.
Viana has been very accurate, especially with power shots to the head at distance (30% vs. 22% average).  He attacks the body at twice the normal rate, but attacks the legs with power 71% less than average.  He hasn't yet attempted a single takedown or submission and has shown about average defense.
Prediction: Viana at 87 percent to win.
9. Daron Cruickshank vs. Mike Rio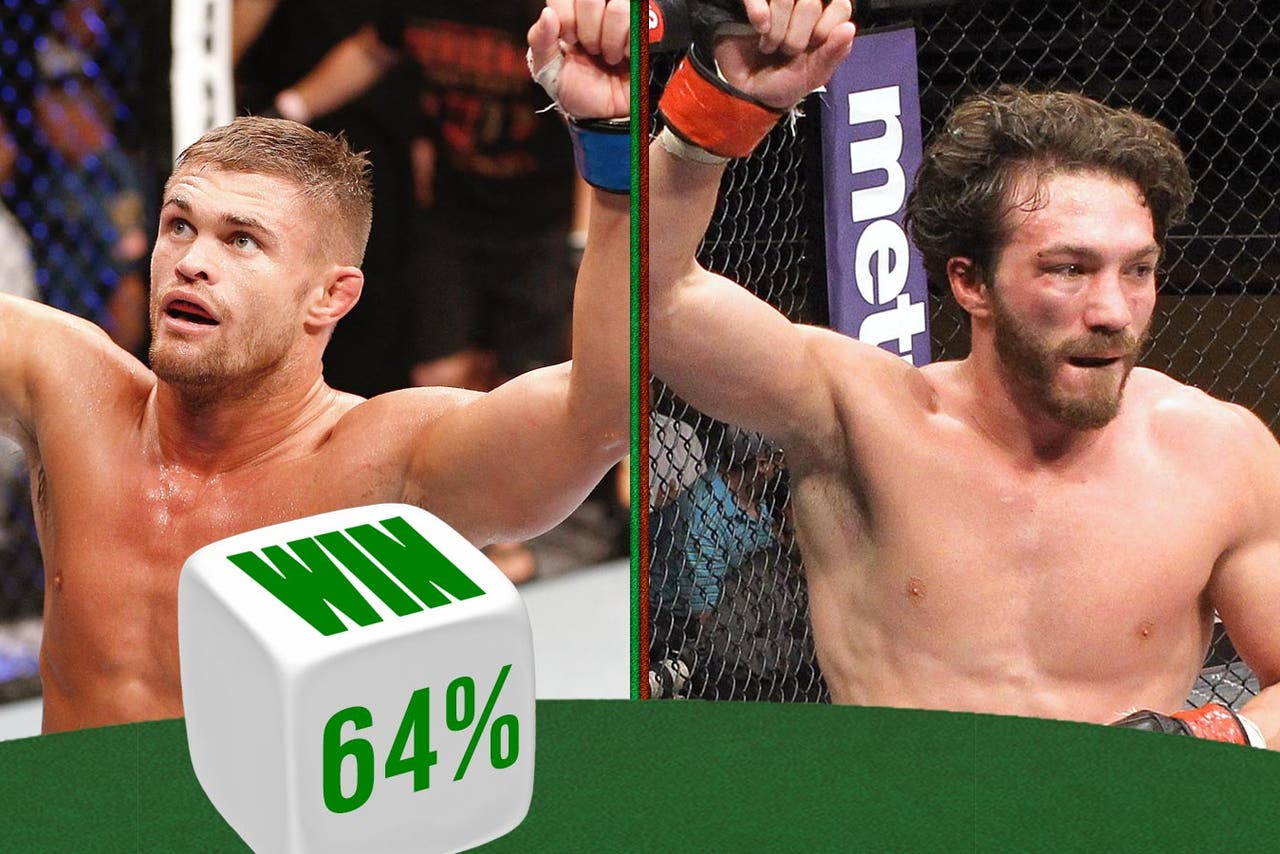 It feels like these two have been around forever even though their TUF 15 season was only two years ago.  We last saw Cruickshank getting handled by Adriano Martins at UFC Fight Night 32.  Rio is 1-2 in the UFC and could arguably have lost the first two rounds prior to his 3rd round arm bar of John Cofer at the TUF 16 Finale.  He's a bit like DJ Khaled, all he does is submit or get submitted no matter what.  Three UFC fights, three submission endings.
Cruickshank dishes out damage a little better than average and is a better power striker at distance than Rio.  Rio loves shooting takedowns, doing so at a clip of 9.5 P5M compared to 0.9 for Cruickshank and 1.6 for the typical lightweight.  Cruickshank has never been taken down at distance, but has rarely been tested either.  Rio tries to get things to the ground where he spends the majority of his fight time, but he hasn't been incredibly active there with strikes that matter (1.9 power strike attempts P5M vs. 21.2 average).
Prediction: Cruickshank at 64 percent to win.
If things don't turn out well with these predictions, we'll get Uriah Hall to apologize.
---
---