Here's what the UFC looked like during Dominick Cruz's last title defense
BY Jonathan Bradley • January 15, 2016
UFC bantamweight No. 1 contender Dominick Cruz is eager to get back the belt he never lost this weekend when he faces TJ Dillashaw in the main event of UFC Fight Night in Boston. Cruz, who won the UFC title during the final WEC event, defended his belt twice in 2011, but a string injuries forced him to the sidelines until 2014.
Let's take a look back at what the UFC looked like the last time Cruz defended the UFC bantamweight title.
In 2011, there were zero women fighting in the UFC, as the UFC women's bantamweight and strawweight divisions did not yet exist.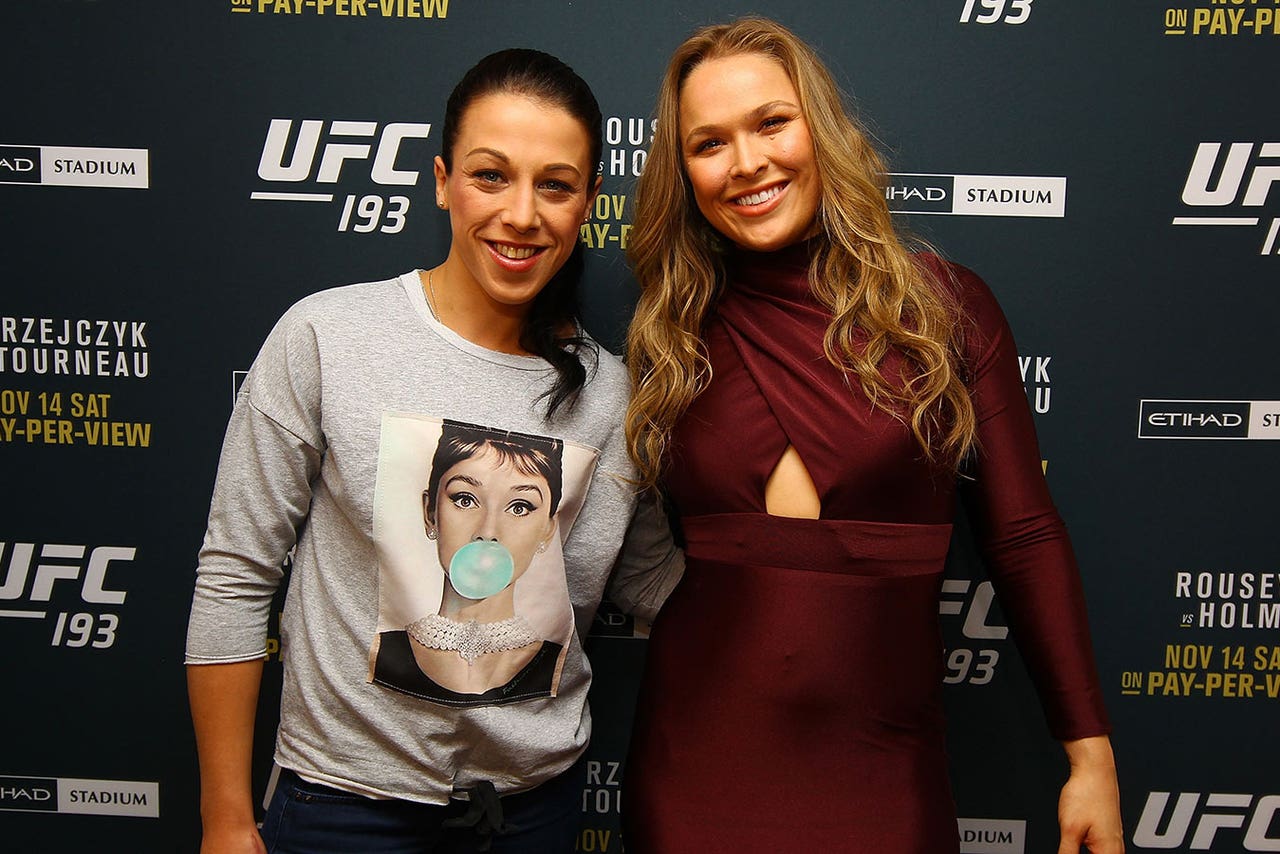 Jedrzejczyk, Rousey and Holm have reached superstar status. 
Neither did the men's flyweight division. In fact, Cruz faced current flyweight champion Demetrious Johnson in his last title defense.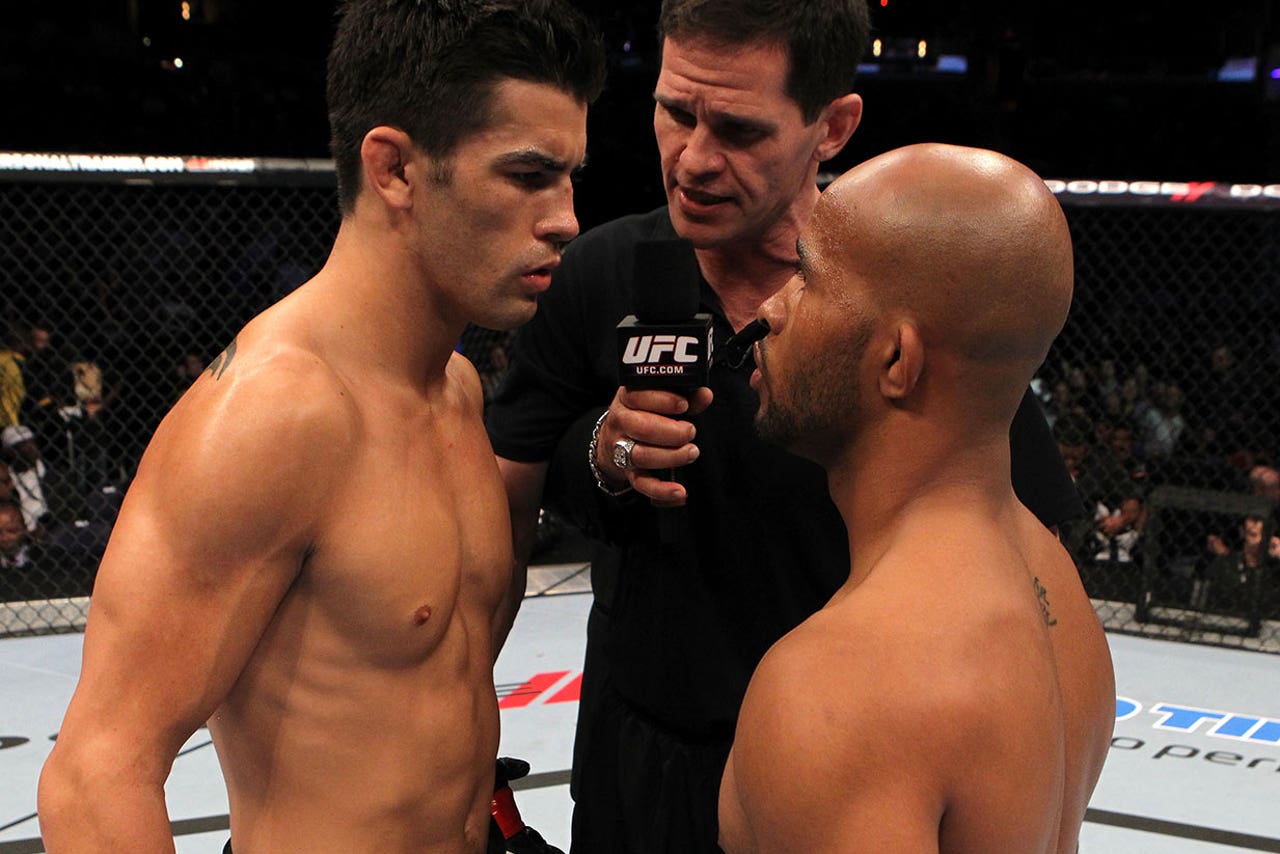 Cruz had Johnson by a few inches
Sherdog's pound-for-pound rankings looked like this:
1. Anderson Silva
2. Georges St-Pierre
3. Jon Jones
4. Jose Aldo
5. Frankie Edgar
6. Jon Fitch
7. Dominick Cruz
8. Gilbert Melendez
9. Mauricio Rua
10. Jake Shields
In 2011, Jose Aldo was in the midst of his 10-year undefeated streak and had the featherweight division on lock. He defeated veteran and former two-time lightweight title challenger Kenny Florian just eight days before Cruz's final title defense.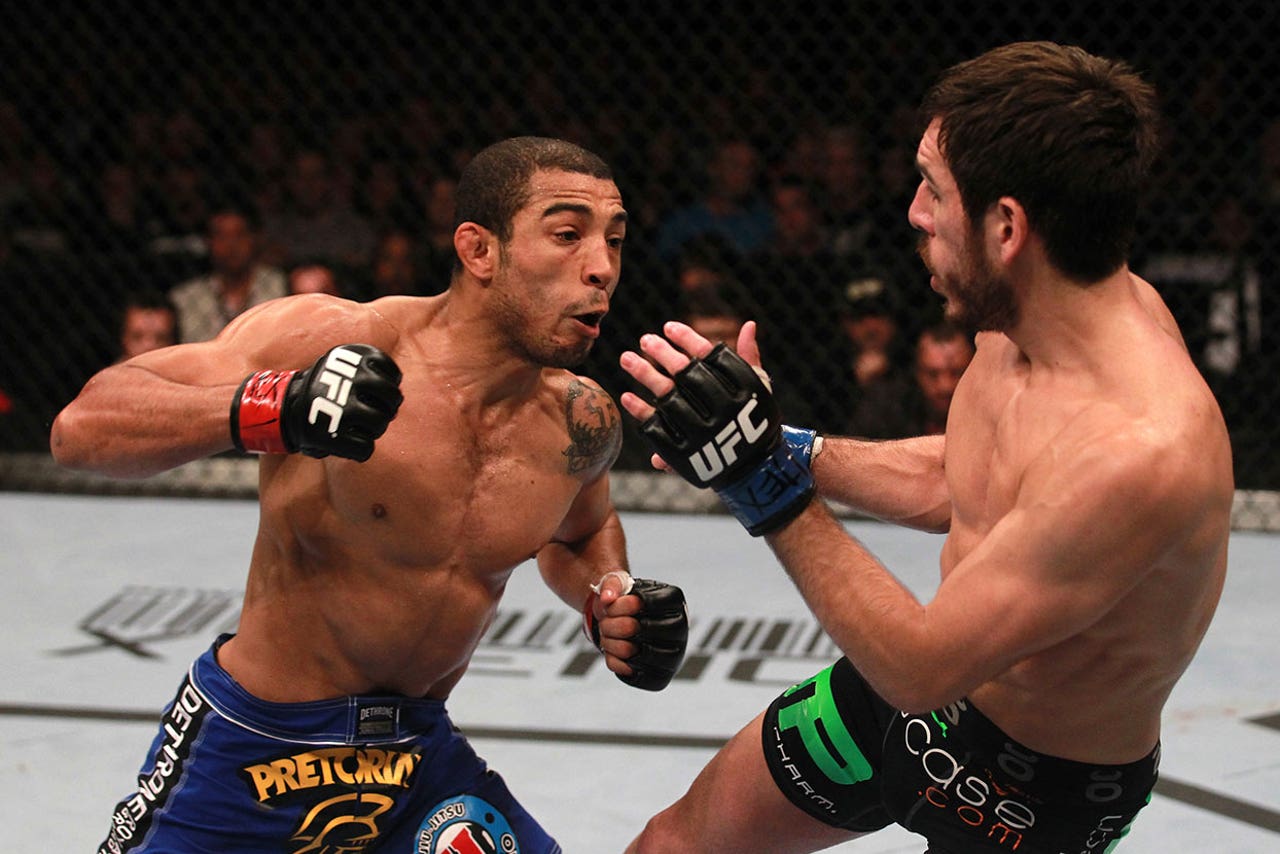 Coming in hot!
Frankie Edgar defended his lightweight belt against the always-tough Gray Maynard, who was No. 1 contender at the time. Rounding out the top five were gritty grapplers Clay Guida, Benson Henderson and Jim Miller as well former WEC champ Anthony Pettis.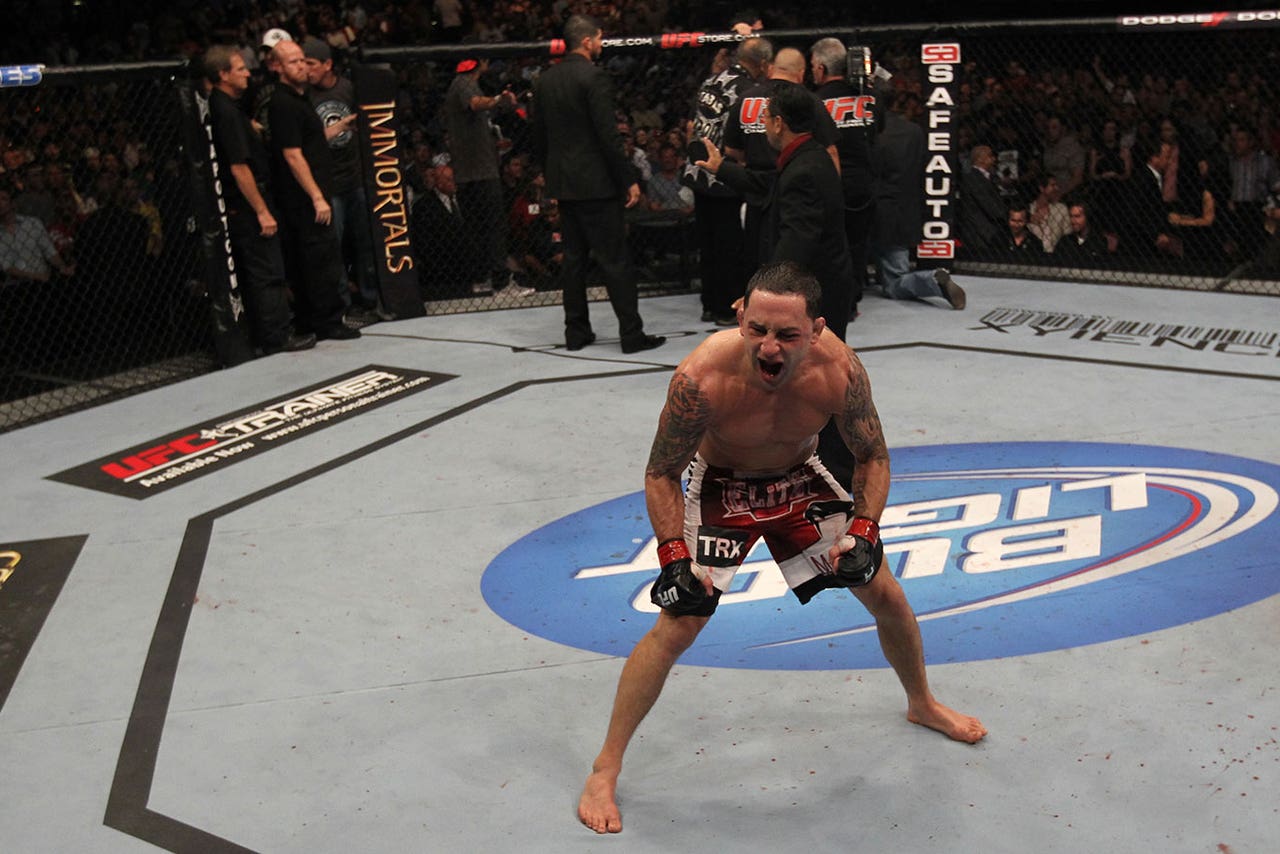 What a way to finish a trilogy. 
The welterweight division was ruled by St-Pierre, and the division's No. 1 contender was Jon Fitch, followed by Carlos Condit, Josh Koscheck and Nick Diaz. Current champ Robbie Lawler was still fighting at middleweight, while other big contenders of today, Rory MacDonald and Tyron Woodley, weren't even in the top 10.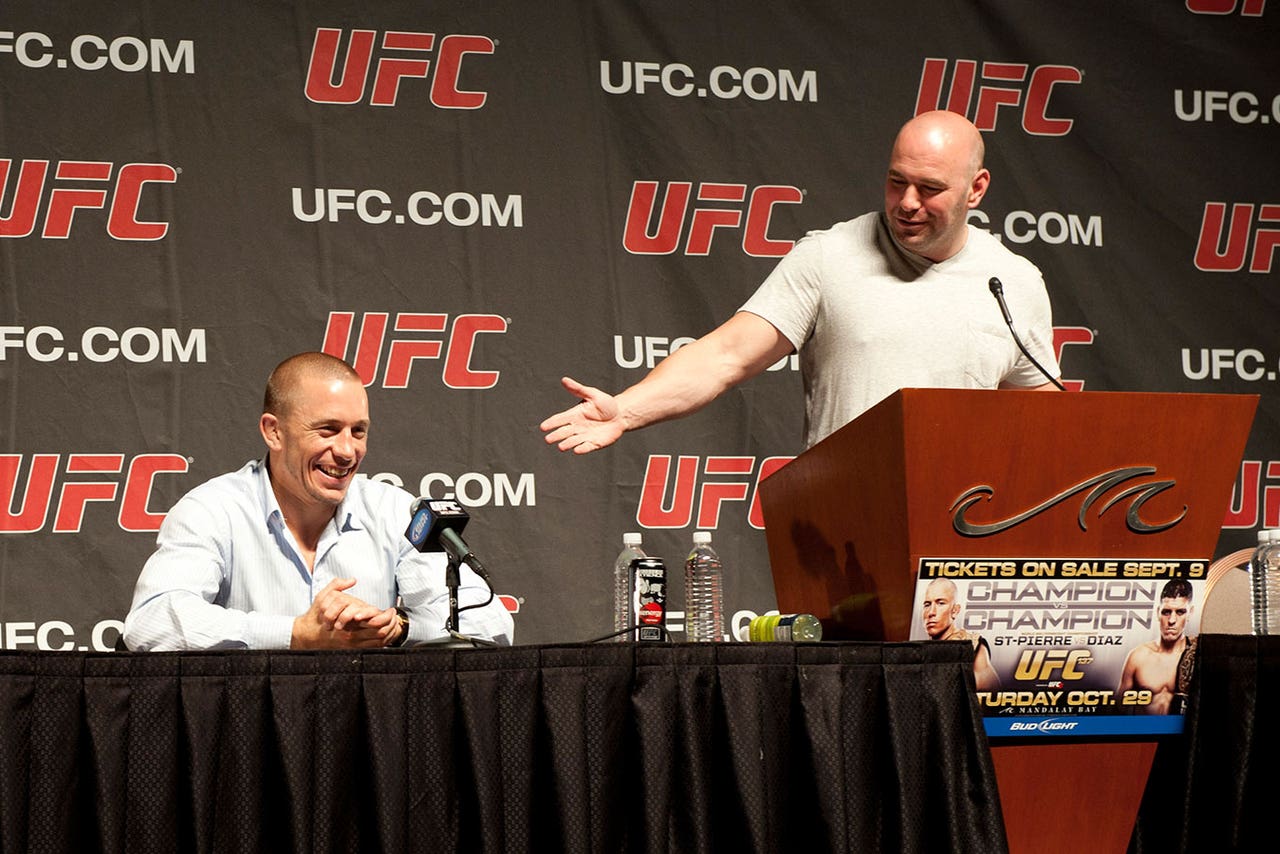 Dana and Georges wait for Nick Diaz to show up to a press conference 
Mark Munoz, Nate Marquardt, Yushin Okami and Chael Sonnen. Those were the top contenders in the middleweight division in October 2011. Current champion Luke Rockhold had just made the move over from Strikeforce, while former champ and the last man to beat then-champion Anderson Silva, Chris Weidman, was coming off just his second UFC win.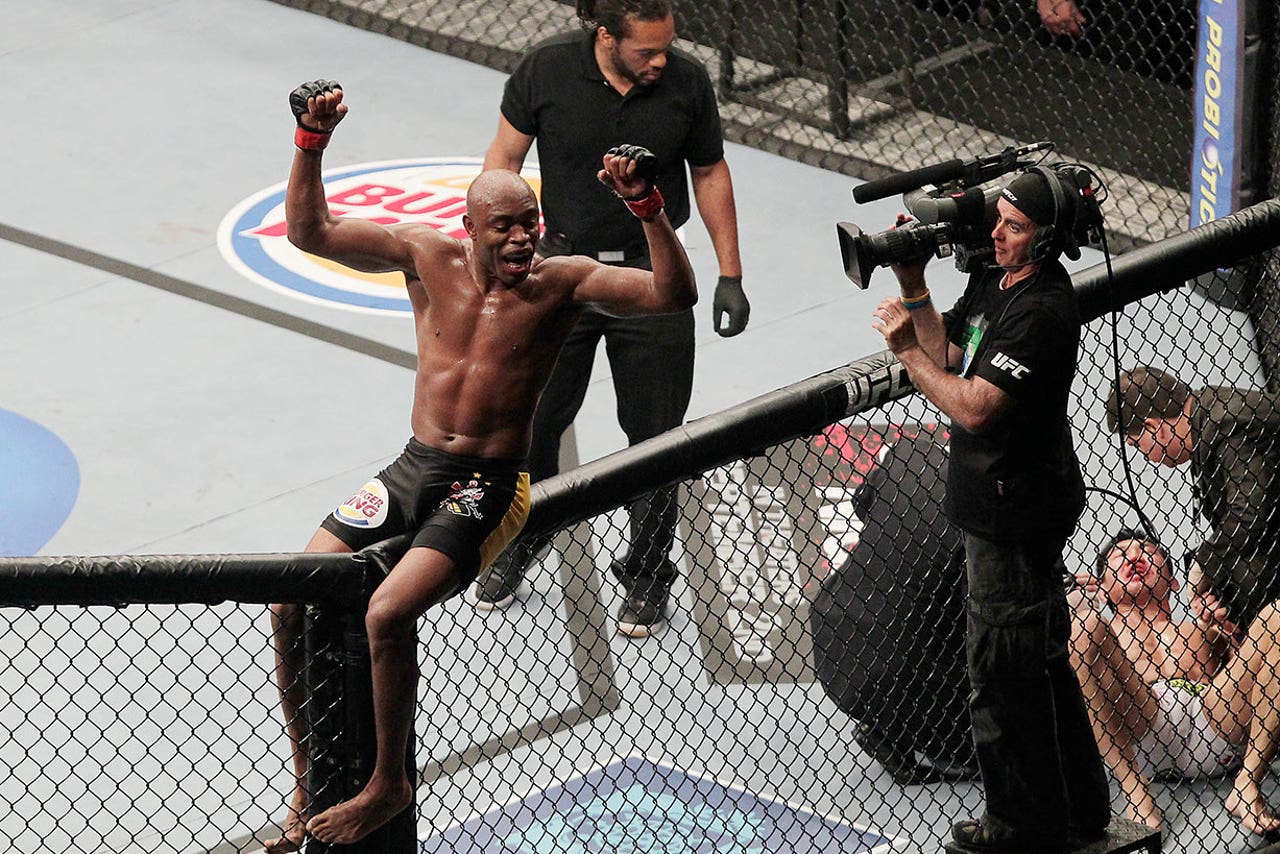 Anderson was sprinting through guys at this point, including Okami back there. 
The year 2011 was the beginning of Jon Jones' reign as UFC light heavyweight champion. The then-24-year-old stood atop a division that featured Shogun Rua, Rashad Evans, Rampage Jackson and Lyoto Machida in the top five. Daniel Cormier was still punching his way through heavyweight, while Anthony Johnson was fighting at welterweight. Yes, welterweight.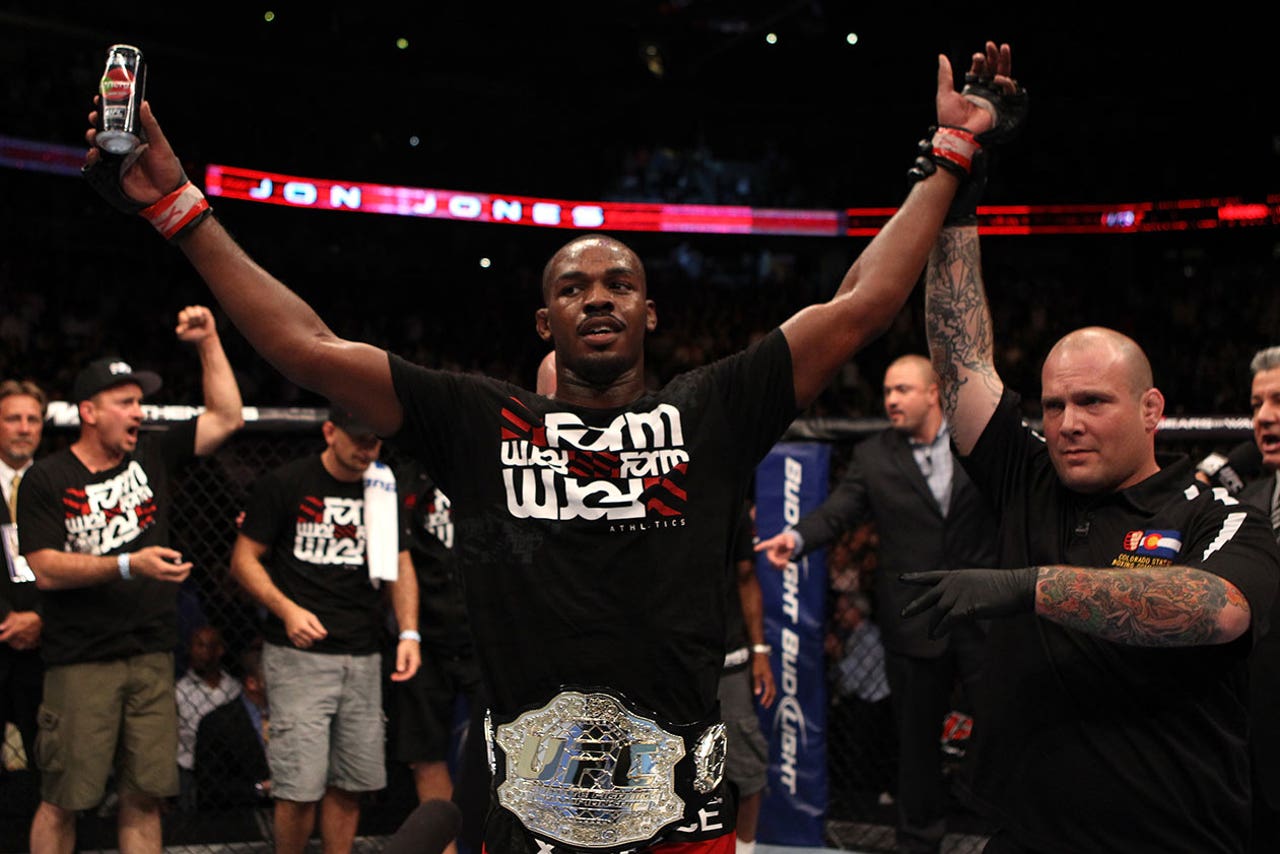 Jon Jones, the youngest UFC champion ever.
The UFC heavyweight division has remained largely the same over the years, with stalwarts Cain Velasquez, Junior Dos Santos and Alistair Overeem sitting at the top of the mountain. But two bona fide contenders -- Fabricio Werdum and Cormier -- would be added to the division through the Strikeforce acquisition.
Down goes Cain! But not for long...
Joe Rogan had hair and Jason Miller was only "Mayhem" inside the Octagon.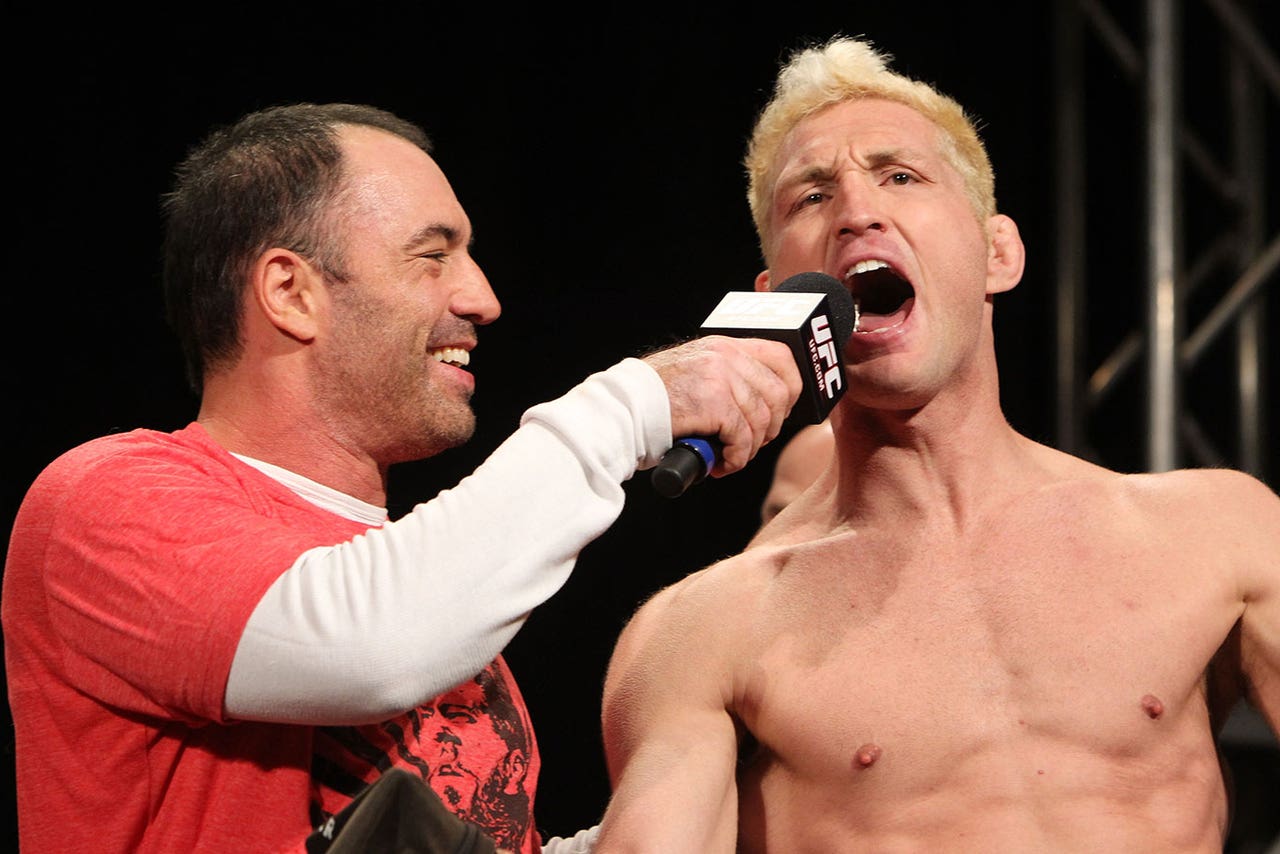 "Mayhem" is still crazy
Remember this guy? He missed most of 2011 battling another bout of diverticulitis and would fight just one more time before calling it a career.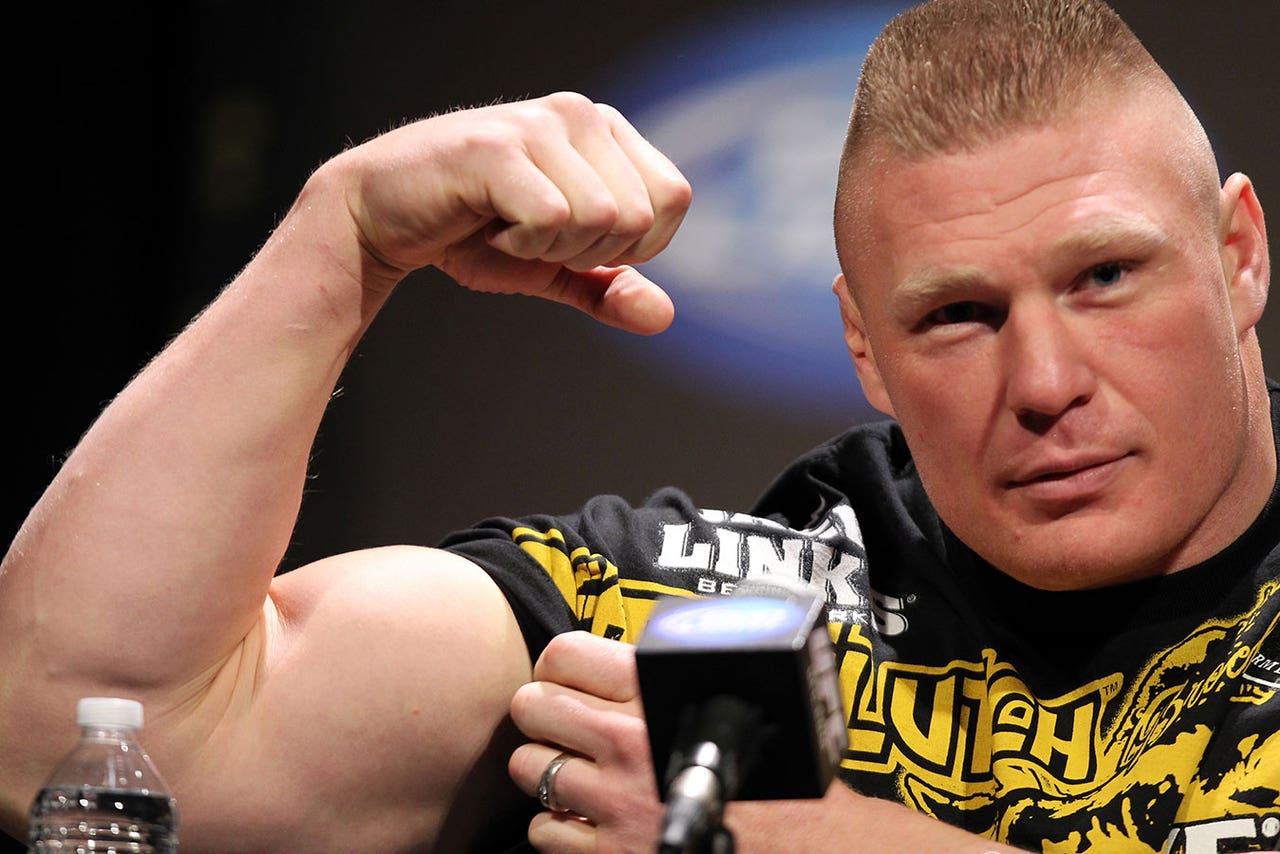 Gun show, tickets on sale now. 
This happened ... I guess Reebok doesn't look all that bad (Dennis Hallman).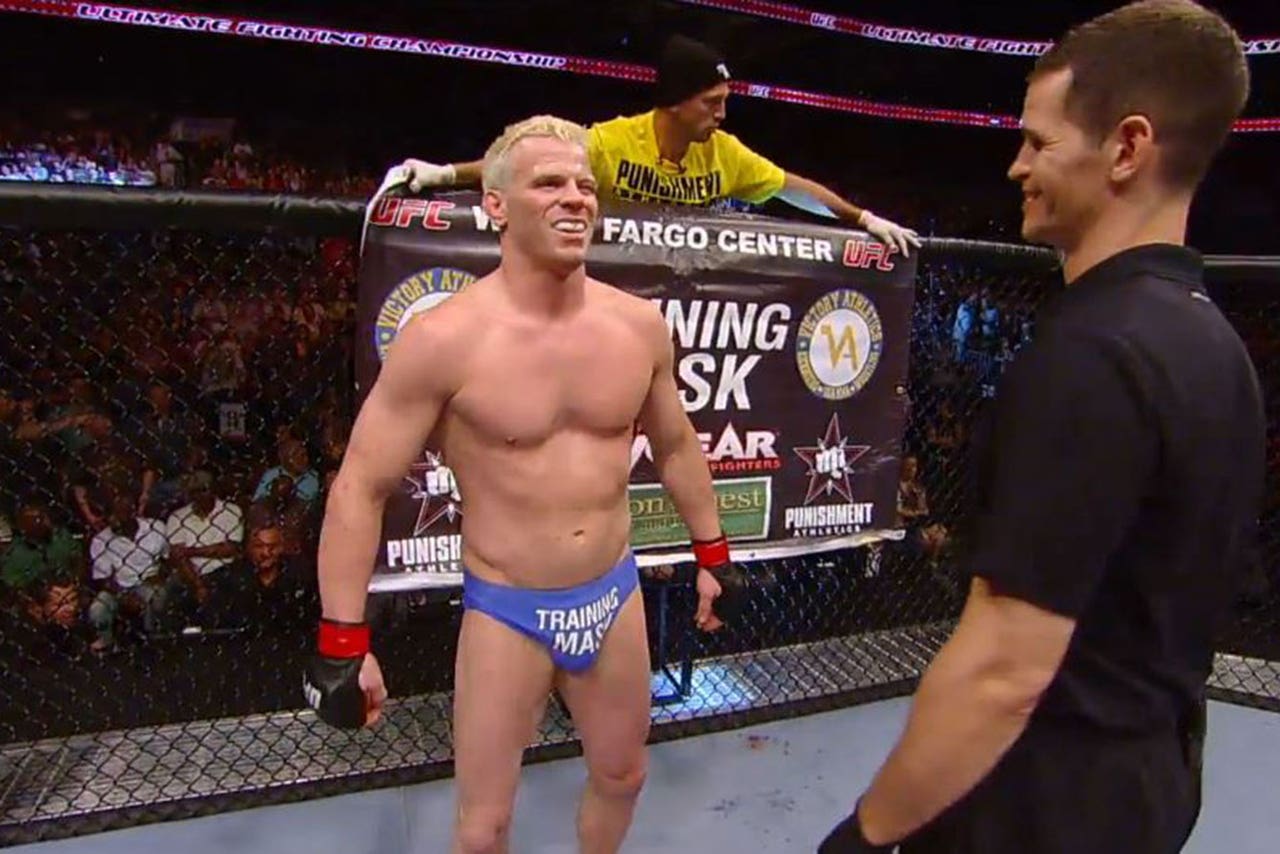 Ugh. 
And these guys were kings ... ahh, good times.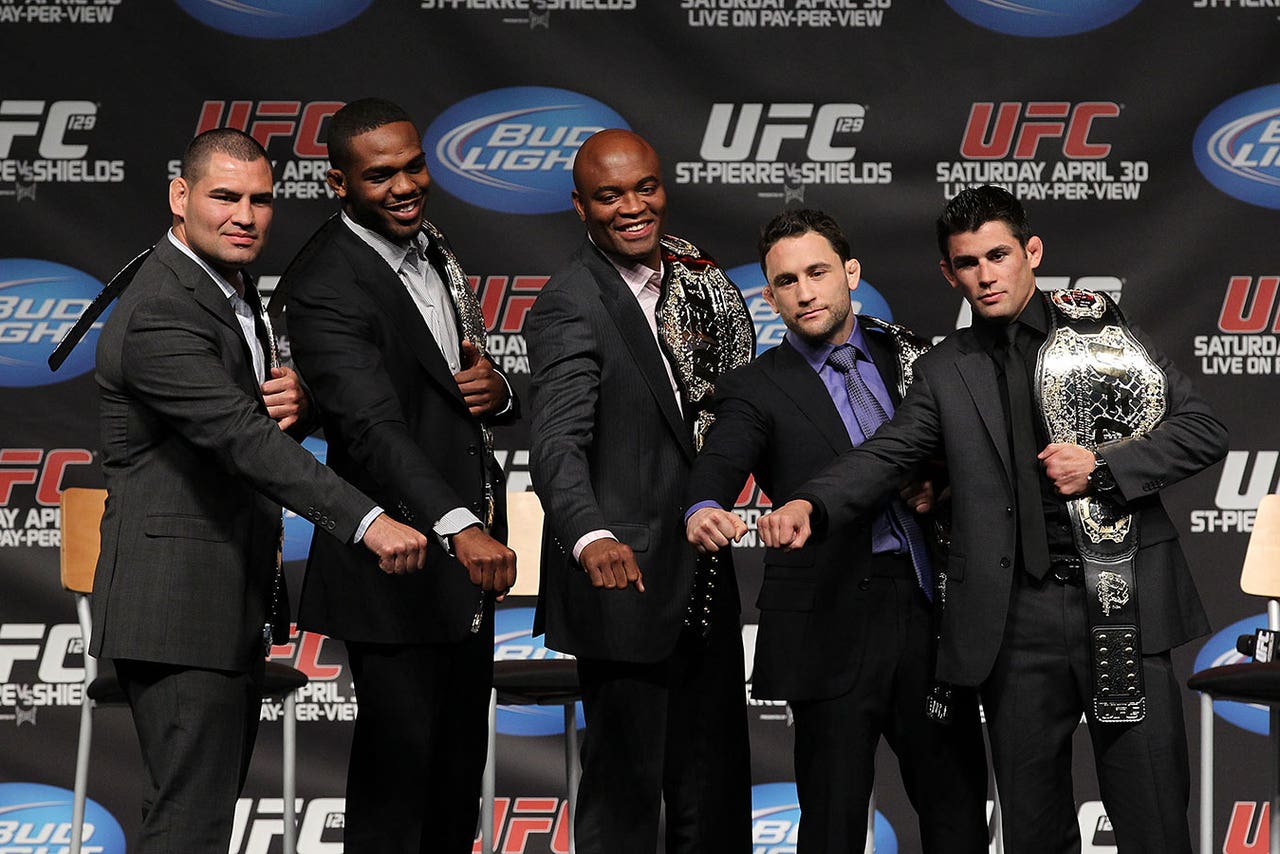 Readyyyyyyyyy, break!
---
---