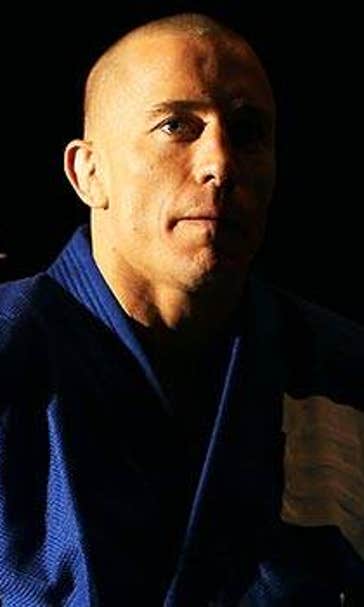 GSP doesn't owe anyone a return to the Octagon
November 18, 2013

Georges St-Pierre does not owe a quick return to the Octagon to anyone. Not to Johny Hendricks, not to the UFC, not to the fans, not even to himself. After nearly a decade as a prizefighter, with most of them spent at the very top fending off hungry challengers, he has earned a rest, for as long as he wants, without any real explanation. If he wants to go on vacation, or learn a new language or lounge on the beach, or simply get fat and happy, he should do so.
Fighting is not a sport that you can do well half-heartedly. It is not baseball or basketball, where you can sit on the bench and collect a paycheck for showing up. It is grueling and taxing, both physically and mentally. If he doesn't want to jump right back into a rematch with Johny Hendricks right now, for whatever the reason, he should walk away for however long he deems necessary. In fact, he owes it to himself to, despite UFC president Dana White'€™s contention that any delay would be shirking his responsibilities as champion.
"You don't do stuff like that," White said in the UFC 167 post-fight press conference. "You don't come off of a fight like that. It's not right. Johny Hendricks won that fight, and he should have the opportunity to fight again."
Sure, Hendricks should, but it might have to come against someone else. After privately speaking with St-Pierre following the press conference, White seemed sure that a rematch will materialize quickly, but if it doesn't, if St-Pierre does step away and White wants to strip St-Pierre of the title for doing so, that would be fair. After all, St-Pierre can'€™t expect the division to sit around and wait for him to return, but the issue of St-Pierre'€™s responsibility and Hendricks' lost opportunity are two separate ones.
While the vast majority of fans and media thought Hendricks won, White himself acknowledged that the issue with judging was not St-Pierre's fault.
If that is true, why is it his responsibility to rectify the mistake?
"I was in a war," St-Pierre said. "I dig into my resources, my energy to give the best I could. It took me a lot of courage. I was hurt and I kept going. I gave my best. That's the best I can give. I gave it all."
Few who saw him fight would disagree, few who saw his face would, either. St-Pierre gave an undeniably valiant effort. Facing the big left hand of Hendricks, he was rocked in the second but held on, then came back and made it a scrap. For a champion who has recently been characterized as "boring," this was anything but. St-Pierre ate 142 strikes over the course of the match, and left with his face bloodied and bruised.
Whatever he owed Hendricks, he already gave him. If anyone owes Hendricks something, it's the judges who got it wrong.
"I don'€™t care about Georges," Hendricks said. "That's what I said from the very get-go. I beat him, anyways. I just want the belt. That's all I want, that UFC belt right here in front of me. That's the only thing pushing me, that's the only thing that's motivating me. I don't care who has it, who doesn't. I need to get that, and that's really my drive."
St-Pierre has always been a curious champion. If you ask people close to him, he was the rare champion that never really loved fighting. Instead, he loved the competition and the physical chess match that make up a fight, the process of improving day by day in the gym. It was the individual lessons over the final exercise.
Who knows then if he simply feels burned out or if there is something else that is pulling him away, but should it really matter? When someone is ready to step away from a sport that can damage their brain and body, when their heart and mind is not truly into it, the end result isn't simply a win or a loss, it's the physical damage they take. At 32 and with seven straight five-round decisions to go with all of the training that led up to them, no one knows what St-Pierre feels other than him.
"I left everything I had in the Octagon," St-Pierre said. "People can say whatever they want. It's up to the judges but I gave my best. My hat is off to Johny Hendricks. I get very emotional after a fight. I have so much stress, so much stuff going on in my life right now. I don't know what to say."
White seems to think that St-Pierre's problems are easily solved, and if that turns out to be true, great. But if not, he owes no further explanations. He should simply take a bow for what he has done, disappear and return when he is ready, if he ever decides he is. With a career so well conducted, he owes nothing else, even if Hendricks deserved something more.
---
---