Germaine de Randamie believes Holly Holm deserves rematch ahead of Cris Cyborg
February 16, 2017

It's been a dizzying few days for new UFC women's featherweight champion Germaine de Randamie, who spoke to the media for the first time on Thursday following her unanimous decision victory over Holly Holm last weekend in Brooklyn.

De Randamie was unable to attend the post-fight press conference because she was required to go to a local hospital for precautionary reasons but she addressed several issues stemming from her win over Holm at UFC 208.

Perhaps at the top of the list were de Randamie's perceived shots that came after the final horn that Holm believed were intentional, which has now led to her team filing an appeal with the New York State Athletic Commission regarding the result of the fight.

De Randamie has maintained that she is "not a dirty fighter" but instead of asking for the original fight to be overturned, the new champion has instead offered Holm the chance to meet her in a rematch with the title on the line.

"I believe if Holly feels those are the reasons that she lost the fight and she's looking to make it a no contest or a draw, she should simply accept the offer I put out to rematch her," de Randamie said on Thursday. "If she feels that way there's nothing much I can say about it. Everybody's entitled to feel however they want to feel and I respect everybody's opinion, I truly do. I believe I was the fair winner. I had the better shots, I believe I was the better fighter during the fight. I believe I dominated the standup but I understand that Holly is sad that she lost the fight and I'm sad that certain occasions happened during the fight that was not in my plan and was not intentional.

"Holly's entitled to feel and do whatever she likes to do and whatever she wants to do and I respect that. I believe that justice will serve and the athletic commission will make the right decision."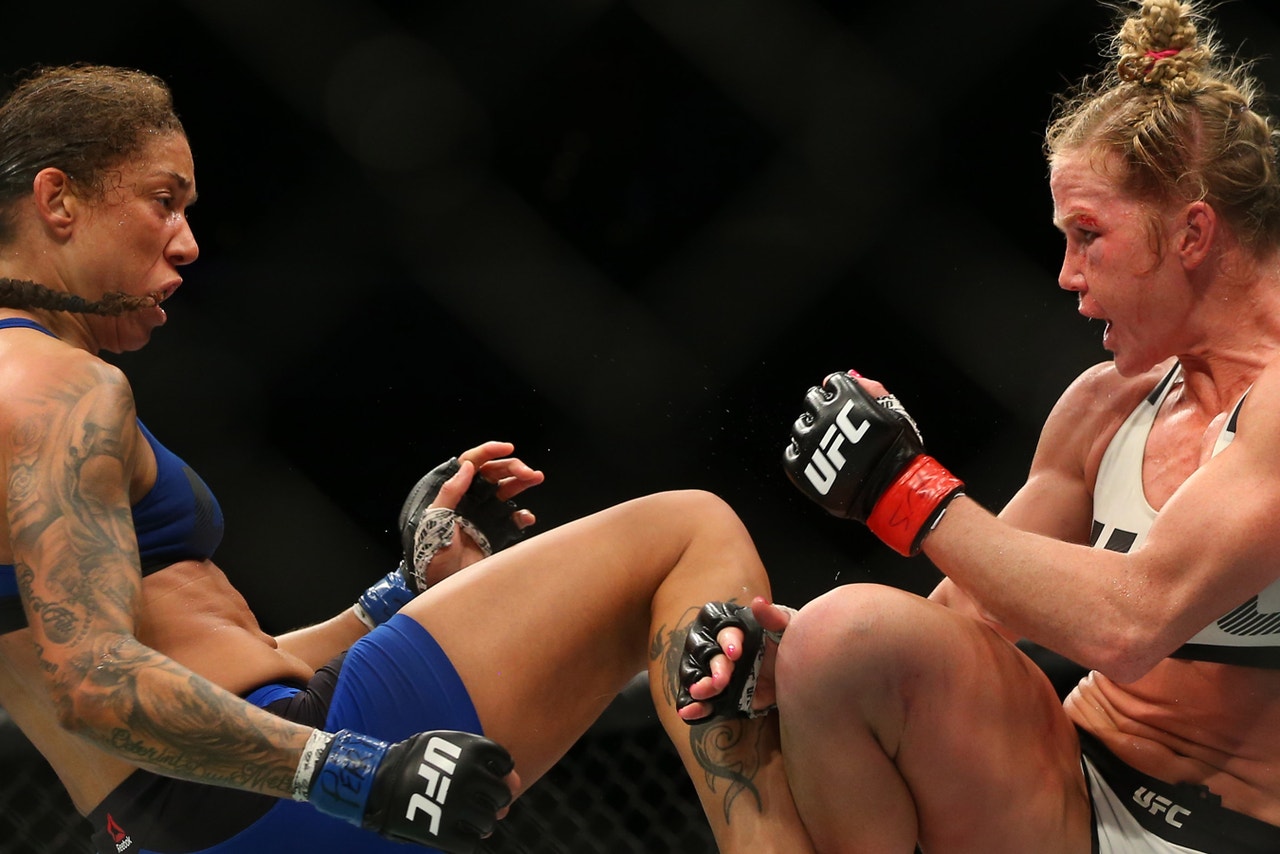 Immediately after the fight, de Randamie mentioned that she may have to go into surgery to repair some torn ligaments in her hand but that still hasn't been determined yet. De Randamie says that her doctor told her before the fight that she would eventually have to undergo surgery to repair the damage, but she still needs to revisit that decision to find out whether or not that will be the best course of action.

Once that decision is made, de Randamie would gladly give Holm a chance to redeem herself with a rematch in the UFC later this year.

"I definitely think so, especially with everything going on right now," de Randamie said about Holm getting a rematch. "I feel like with everything that's going on even though I might have to step out for a little bit to get my hand fixed, I still believe if she's up to it, we can do the rematch."

While de Randamie seems focused on giving Holm a rematch, there's also the possible matchup with Cris "Cyborg" Justino looming on the horizon as well. Cyborg is currently under provisional suspension from USADA after testing positive for a banned substance, but the veteran Brazilian is applying for a retroactive therapeutic use exemption that she hopes will clear her name in the near future.

Cyborg has been universally ranked as the No. 1 women's fighter at 145-pounds for nearly a decade and UFC president Dana White has openly admitted that he launched a women's featherweight division specifically with her in mind.

Still, de Randamie believes Holm should get the fight ahead of Cyborg, especially with the controversy still swirling from Saturday night.

"If you're the champion, you've got to fight everybody. Cris Cyborg, Holly Holm but at this point I really believe with everything going on, I really believe that Holly should get the rematch first," de Randamie stated.

De Randamie also shot down the idea that she's not the legitimate champion at 145-pounds in the UFC until she faces Cyborg. Despite Cyborg's ranking and long time standing at the top of the division, de Randamie doesn't believe she needs to face her to validate her UFC title reign.

"No, honestly I don't and I think I answered that same question with no the first time you asked me," de Randamie responded when asked by FOX Sports. "No, I believe Holly and I fought for the title for the reasons Cyborg has she wasn't able to make it. Right now she's still held up by USADA.

"So no. If you get the chance to fight for a UFC belt it doesn't matter who they put in front of you, you're going to fight for the UFC belt. Only a crazy person would say that. So no, I don't feel that."

Of course, de Randamie offering Holm a rematch has also resulted in critics claiming that she's avoiding a showdown with Cyborg. De Randamie refutes that statement but says everyone is entitled to their own opinion, but she promises she's not afraid to fight anybody — including Cris Cyborg.

"I honestly, I really don't take it personal. Everybody's entitled to say whatever they want to say. I know I'm not afraid and I know I will fight everybody," de Randamie said. "Right now, there's a lot going on, my focus is somewhere else. At the end of the day, it's been five days ago that I fought for the UFC belt and at this point it's been so busy, so hectic that I've really not had any time to really enjoy it, even though I've got great people here in Holland supporting me.

"Right now, I'm going to enjoy it and like I said, I'm going to see a doctor, I'm going to get my hand checked out and whatever happens after that, happens after that."


---
---