Gegard Mousasi blasts Weidman, Silva and the rest of the middleweight elites
January 16, 2017

Gegard Mousasi is looking for a fight and he's tired of hearing excuses from top ranked middleweights on why they aren't willing to face him.

A winner of four fights in a row including three by knockout or TKO, Mousasi has been tearing through the competition lately and he's itching for an opponent in the top five but he can't seem to get any of them to accept a fight with him.

"I wanted to fight Anderson (Silva) and the UFC said 'well you don't have a big enough name' but now he's fighting Derek Brunson. Luke Rockhold is injured but I see him training all the time. Chris Weidman doesn't pick up his phone. The UFC offered him that fight a couple of times. (Robert) Whittaker wants to go on holiday for seven months. I don't know what he's up to. I'm looking for a fight," Mousasi told FOX Sports on Monday from Amsterdam.

Mousasi's ire started with Weidman, who he publicly called out back in December after he got tired of waiting around for the former middleweight champion to respond. Weidman eventually answered the call by saying the UFC had offered him a few different names, but as of yet no bout has been announced.

"He says he was offered a couple of fights? Who? Everyone is booked or injured," Mousasi said about Weidman. "Whittaker doesn't want to fight until May or June, that's what the UFC told me. Who else is there to fight? UFC offered me to him to fight."

As far as former champion Luke Rockhold goes, Mousasi hasn't been offered a fight with him yet but he's obviously open to the idea.

The only problem Mousasi sees with Rockhold is whether or not he's recovered from the knee injury that kept him out of his previously scheduled bout with Ronaldo "Jacare" Souza last November.

"I don't know, he says he's torn his ACL a little bit and I'm actually afraid to take that fight because he's still injured. I'm afraid to accept that fight and then suddenly he pulls out and I'm training for nothing," Mousasi said about Rockhold. "If he accepts the fight and he's healthy, that's a good fight for me."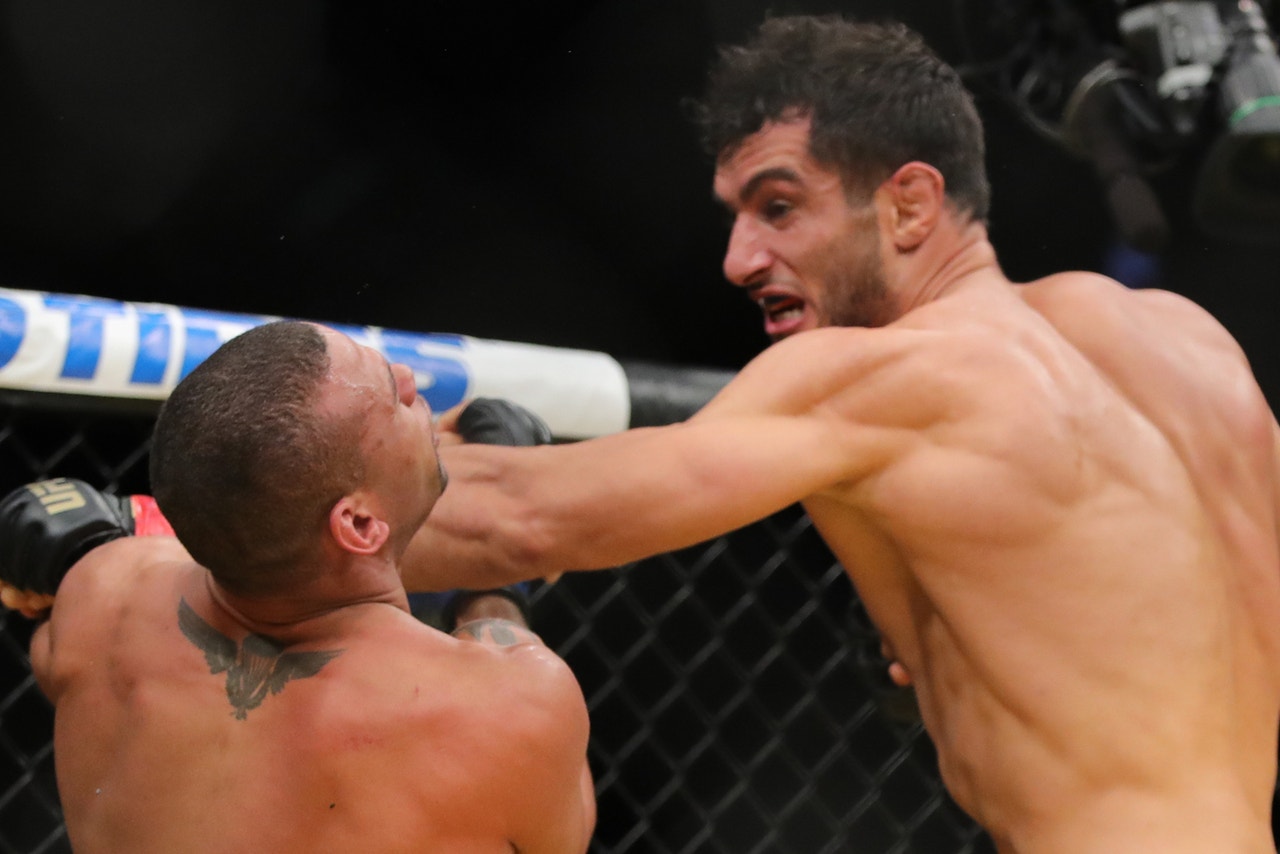 Last but not least, Mousasi is particularly unhappy with former champion Anderson Silva, who he's been asking to fight for several years already.

Even prior to his fight with Vitor Belfort last October, Mousasi mentioned Silva as a perfect next opponent as he hoped to mow down a few more legends on his way to the title. Now Silva is fighting Derek Brunson at UFC 208 in Brooklyn and Mousasi's phone never even rang to offer him the matchup.

It's clear Mousasi would have accepted the fight because he's never shied away from any opponent — even those fighters out of his weight class.

"They can say whatever they want. I fought (Lyoto) Machida after injury. I went to Sweden to fight (Alexander) Gustafsson but he got injured. I was willing to fight DC (Daniel Cormier) when Jon Jones got pulled off the card. I was willing to fight Anthony Johnson (at UFC 206). Of course I wanted to fight Anderson but I think he favors the guys he can beat easier or he believes he can beat easier," Mousasi said.

"Derek Brunson's stand up is horrible, I'm sorry. The guy is a good fighter but his stand up is just terrible. He's an amateur fighter stand up wise. It was just a bar fight in his last fight."

According to Mousasi, he's now holding out hope that Weidman will accept a matchup with him for UFC 210 in Buffalo in April. In the long term, Mousasi wants to inch closer and closer towards a title shot but the only way that can happen is by fighting top level opponents.

Then again, Mousasi is ready and willing to face anybody in the middleweight division that the UFC might throw at him.

"I'm ready to take any fight," Mousasi said. "From No. 1 to No. 15, I'm open. I'm ready to take risks if the reward is there. I'd rather fight somebody in the top five rather than somebody in the top 15, but I'll fight anybody."

As far as his final message to Weidman, Rockhold and the rest of the elite fighters in the middleweight division, Mousasi knows he's a bad matchup for all of them but he holds out hope that somebody will accept his challenge and put him back to work sooner rather than later.

"I will win. It's as simple as that. I'm going to win. I'm very confident. They can look at my past losses and get confident off that but I'm in a good place right now and nobody is going to beat me," Mousasi said.

"If I fight the right fight, I'm a bad matchup for everyone. I feel I have the best stand up. Luke Rockhold's not going to take me down. Chris Weidman's not going to take me down. Their wrestling is great, but they have to set it up with strikes. Heavyweights cannot take me down at this moment so no middleweight is going to take me down. All I can say is I'm very confident. I'm looking to fight those guys."


---
---