Dana White explains why Ronda Rousey stormed off stage after face-off with Nunes
BY Damon Martin • December 9, 2016
Ronda Rousey made her first appearance in front of a UFC audience in almost exactly one year when she squared off with Amanda Nunes at Madison Square Garden last Friday in New York.
Rousey was introduced alongside Nunes as a special attraction at the end of the UFC 205 weigh-ins, which had just wrapped up seconds earlier.
The two women's bantamweights faced off and then UFC color commentator Joe Rogan approached Nunes for an interview. Rousey didn't stick around to talk to Rogan, but instead shrugged off UFC president Dana White's attempt to hold her on stage before she stomped off, making a hasty exit.
Now according to White, Rousey didn't leave because she didn't want to speak to the crowd, but instead there was never actually a plan for either fighter to be interviewed by Rogan after the face off was finished.
"First of all, she was never supposed to speak and neither was Amanda," White explained after UFC 205 concluded on Saturday night. "My production guys screwed that thing up. It made Ronda look bad again like she just stormed off.
"They're not supposed to do an interview. They were supposed to go up there, square off, and they're both supposed to walk away."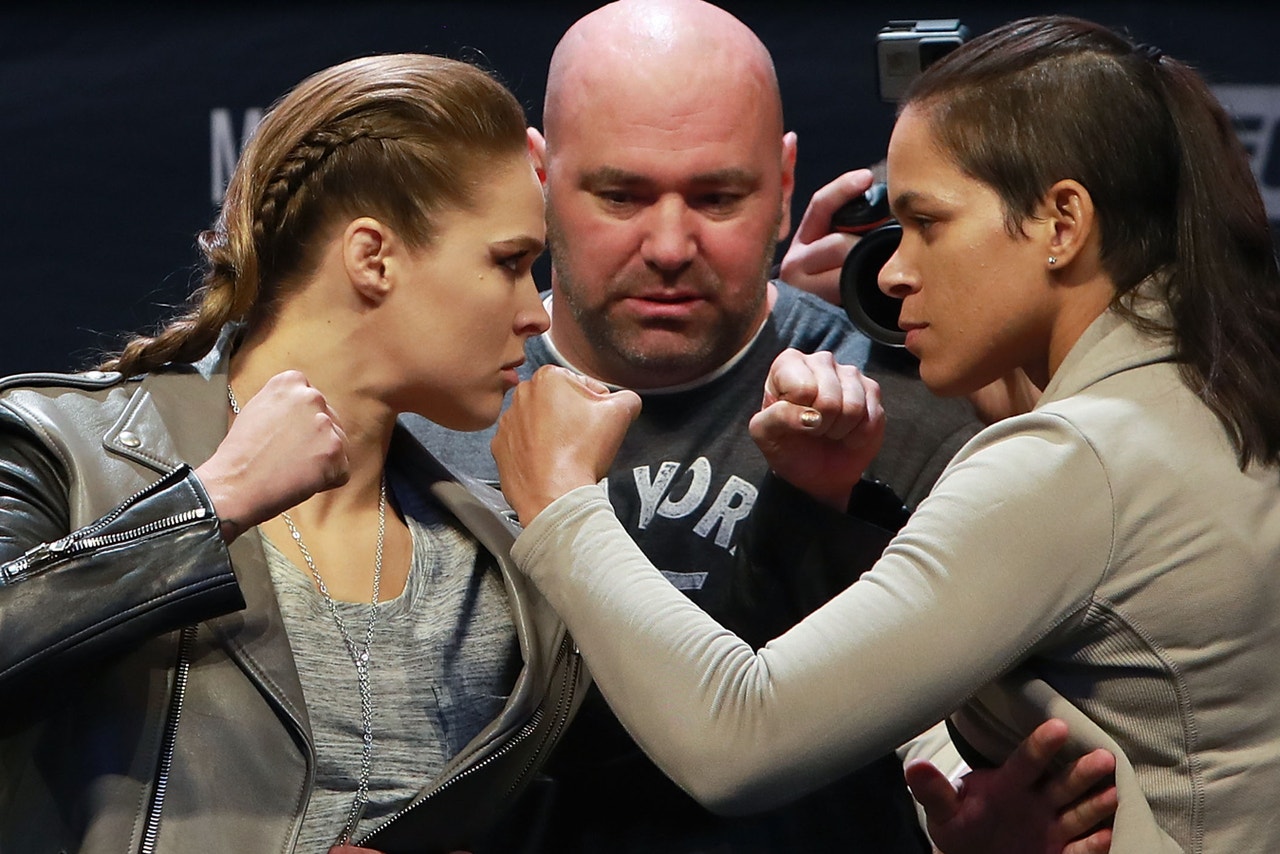 White says the reason he grabbed Rousey by the arm momentarily was an attempt for another photo opportunity where she would stand next to Nunes, who was waiting for her bantamweight title to get brought on stage.
Unfortunately, Rogan stepped into interview Nunes before the title appeared and Rousey decided that was a sign to leave the stage.
"So they squared off and then I was getting them to face forward and I was waiting for somebody to bring Amanda's belt. You know how we do that? To put the belt and then you guys can take the pictures of them moving forward. I grab her and turn around and (Joe) Rogan is interviewing (Amanda)," White explained.
"We're not perfect all the time."
Because Rousey has been largely silent since her knockout loss to Holly Holm last November, many took her exit as a sign that she's still not ready to address the public ahead of her next fight with Nunes.
White says that couldn't be further from the truth as Rousey prepares to engage in a slew of media obligations leading up to her return on Dec. 30 at UFC 207.
Of course, White wouldn't say whether any of those interviews would be with media dedicating to covering mixed martial arts, but it appears Rousey will at least be touring the late night circuit ahead of her fight.
"Ronda's been talking. She was on "Ellen." She's doing (Jimmy) Kimmel. She's doing all the talk shows," White said. "Is she going to talk to you guys? I don't know."
---
---