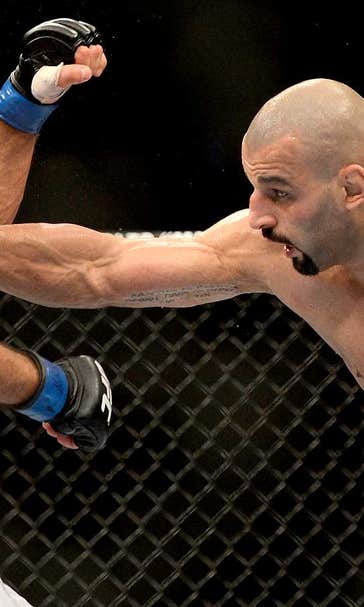 Costas Philippou KO's Lorenz Larkin after nearly retiring following last fight
BY Damon Martin • May 11, 2014
CINCINNATI, OH -- Following two straight losses, Costas Philippou had his back against the wall entering his fight against Lorenz Larkin, but instead of fighting not to lose, he came out gunning and walked away with a first round knockout.
It had been a rough run for Philippou lately, especially in his last fight where he was stopped by a suffocating liver kick courtesy of Luke Rockhold.  Still, the Greek fighter wasn't about to be deterred by the loss and he came out gunning against Larkin.
Constantly pressing forward with the action, Philippou clipped Larkin early to set the tone of the fight from the offset.  Larkin fired back with some fast leg kicks, but he just couldn't keep Philippou from pouncing on him during each exchange of the fight.
A boxer by trade, Philippou was in Larkin's face all night long, and when he found his range he unloaded a short left that rattled the former Strikeforce contender before a straight right put him down on the mat.  That was enough for the referee to jump in and stop the fight before Larkin took any unnecessary damage.
Following the fight, Philippou admitted that he was close to calling it a career after those two losses in a row, but this win solidified his place in the UFC middleweight division.
"I was doubting myself last time, I wasn't sure if I wanted to keep fighting," Philippou said. "The UFC gave me another shot and I put in work and it paid off."
The much needed victory puts confidence back in Philippou's step as he looks to earn another spot in the top 10 of the division after the knockout win in Cincinnati. Larkin drops his second in a row and third out of four fights in the UFC, which leaves his future with the promotion in question.
---
---