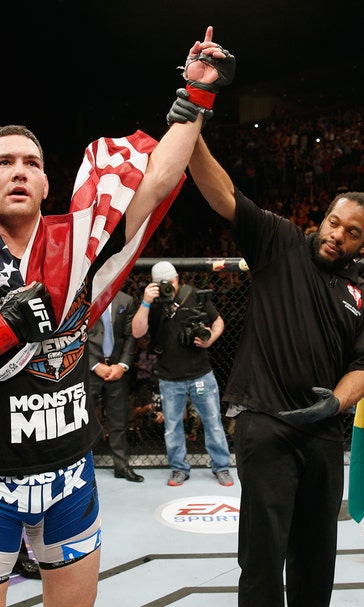 Chris Weidman retains title with thrilling decision win over Lyoto Machida at UFC 175
BY foxsports • July 5, 2014
LAS VEGAS -- For those who had doubts about Chris Weidman's title legitimacy, for those who believed there were elements of luck involved with his dethroning of longtime divisional kingpin Anderson Silva, there is little left to fuel the skepticism.
Weidman is the UFC middleweight champ, tall and proud, defeating Lyoto Machida in an instant classic by scores of 49-45, 48-47, 49-46.
The fight was all Weidman early, taking it to the former light-heavyweight champion through aggression and sheer brute force. Somewhere around the fourth though, Machida abandoned his usual countering style and went for the gusto.
He hurt Weidman during an exchange midway through the fourth, and poured it on, but Weidman's chin held up. That was hardly the end.
The fifth was a Round of the Year type five minutes, with both fighters emptying their respective arsenals and looking for the finish. Machida had a big moment with a step-in left cross that stopped Weidman in his tracks. Moments later Weidman answered with an overhand right, and then a step-in elbow from in tight.
The exchanges didn't stop as the energy in the Mandalay Bay Events Center rose to meet their performance levels. By the end, it was so loud that you could barely hear the fight closing horn.
"He's as good as I thought, and as quick as I thought," Weidman said. "You think he going to do something, he does the opposite, so he's tough to fight."
Asked whether he was hurt at any moment, Weidman's answer showed what a war it had become.
"Probably," he said. "I can't remember right now."
And that was the winner.
According to prelimary FightMetric stats, the champion outstruck the challenger 90-63, and had five takedowns against an opponent who is among the best in takedown defense in UFC history.
Machida conceded that he was simply outclassed on the evening, but left proud of his performance, pumping his fist as he left the arena to a nice ovation.
"The plan was to keep the fight standing but Chris Weidman is a tough opponent," he said. "He's the true champion. He deserves the title."
Weidman was dominant early, mixing up his striking and takedowns as Machida stuck to his usual style of staying out of distance and counterstriking. While Weidman wasn't especially accurate early on, his activity put him comfortably ahead until Machida went for broke.
Weidman, now 12-0 after his second successful title defense, will likely next lock horns with Vitor Belfort, assuming Belfort can get licensed after his recent drug testing issues.
In suffering his first defeat as a middleweight, Machida fell to 21-5.
---
---