Ultimate Fighting Championship
Ultimate Fighting Championship
Cheering the fall, losing the person: What our treatment of Ronda & 'Cyborg' says about us
Published
Nov. 18, 2015 2:15 p.m. ET

Sports fans will always root for different teams and athletes, for any number of reasons. Sadly, being enamored with one team or athlete is often paired with something resembling true, dark hatred for competing teams or athletes.
That is, almost without exception, one of the more ridiculous phenomena in modern society. The ardent support of, cheering for, and emotional attachment we all have to athletes we don't know is a bit strange, but usually benign, because at least it is normally a happy, positive thing.
Condemnation and enjoying the defeat and setbacks other, less-favored, athletes may suffer is stranger still, and not usually defensible. Enjoying successes of famous athletes is usually based on some sort of empathy and real or imagined sense that we know things about them -- things that we like and identify with.
Reveling in the defeat of others, however, has to do with the exact opposite. Meaning, to enjoy seeing others in pain after defeat, we must completely ignore that they share anything in the human experience in common with us.
Ronda Rousey is going through a bit of that right now, as all top athletes do when they lose. The former UFC bantamweight champion lost her crown this past weekend when she was knocked out by Holly Holm in Melbourne.
Before losing, she was the "Rowdy" one -- undefeated, admired, leader of the #RouseyRevolution and an example to young kids everywhere, because of all that she'd overcome and accomplished. After losing, she's hounded and teased about her bruises by TMZ reporters, prompted to cover her face in shame, bashed by sportswriters who claim they always knew she was overrated, and the subject of mocking internet memes and videos created by folks reveling in the mighty being brought down.
I would venture to guess that most of these critics who pile on aren't true-blue Holly Holm fans. After all, being thrilled that Holm won is in no way necessarily connected to taking actual joy in seeing her opponent hurt.
It's a hurting game, but recognizing that fact isn't necessarily the same as being happy that it is. Other than the initial satisfying thud of connecting soundly with her finishing strikes -- like a baseball slugger crushing a ball out of the park -- Holm's subsequent celebration likely had much more to do with a sense of relief that all her decades of work, and sacrifice resulted in her becoming recognized as the best in the world, than it did with being aroused at seeing Rousey out cold on the mat.
Celebrating defeat and pain, as some fans do, is strange in its sickness. To do it, we need to ignore all the things winners like Holm are likely celebrating -- their humanity.
It is to ignore that someone has worked hard for years, perhaps most of their life, given up lots in pursuit of a dream, exposed themselves to the world and then had those dreams crushed publicly. In combat sports, that emotional pain is usually paired with lasting, physical damage as well.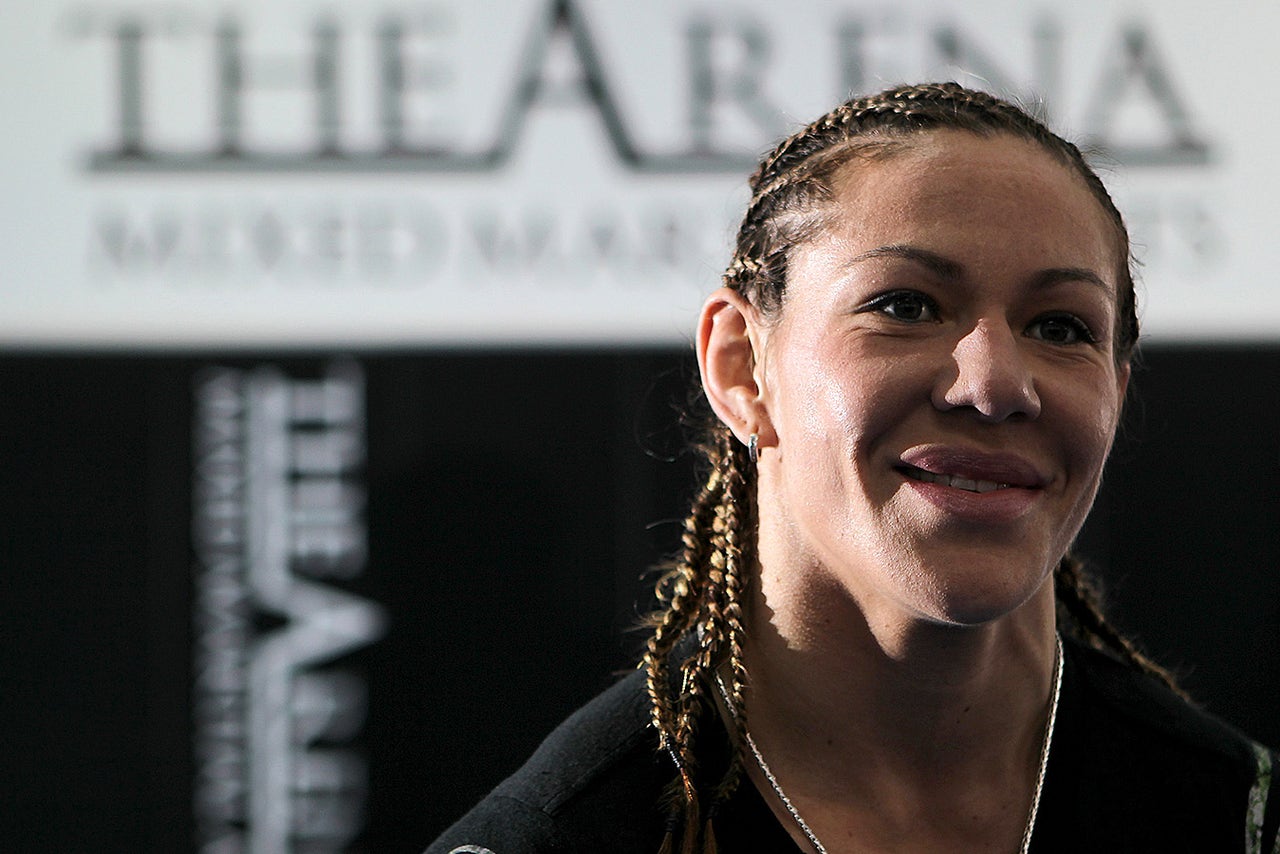 There is much more to athletes like Cris "Cyborg" Justino than what we see in the cage.
As Ronda Rousey is dehumanized by many at a low point, it reminds me of how one of her most-talked about rivals as long had much of the same happen to her. For years, going back to their Strikeforce days, fans have called for a fight between Rousey and Cris "Cyborg" Justino, the longtime featherweight women's MMA world champion.
For even longer than that, Justino has faced a host of ugly and misogynistic taunts and insults. What's worse is that insulting Justino along those lines has largely been considered acceptable.
A lot of that acceptance probably has to do with the eagerness of those like UFC president Dana White and Rousey herself to hurl hateful words the Brazilian's way. As recently as this past weekend, White and UFC commentator Joe Rogan listened on without objection, as a comedian mockingly compared Justino to a man on Rogan's podcast.
When we make athletes into heroes and monsters (and those aren't always mutually exclusive) through hyperbolic praise or insults, we forget that they are, first, people. To be sure, both "Cyborg" and Rousey are monstrous in their fighting abilities.
That doesn't mean that they are unfeeling or can take more, psychologically and emotionally, than any of us, though. Because of her muscular physique and ability to terrorize opponents in the ring, Justino is usually described in dehumanizing ways, both negatively and positively.
"She's a beast," in this case, has been used both to compliment and disparage. Visiting with the fighter, some of her loved ones and coaches a week ago for an 'MMA Bread 'n' Butter" video shoot, however showed me what should have always been obvious -- however much of a "Cyborg" she may be in the cage, the woman is Cris, outside of it.
She works hard, cares what others think, desires to leave a legacy and has stresses. Justino also happens to be engaging, thoughtful, warm, generous, and funny.
Justino also has a dog named Fedor who likes to give hugs, drink from water bottles, sit on laps, and, with her light red fall jacket and stylish yet functional bandana worn around the neck, is far better dressed than I.
Recognizing someone is a person, doesn't mean ignoring faults or mistakes, of course. To that end, I'll never tell people to simply stop discussing Justino's previous failed drug test.
By all means, talk about it. Test Justino as she has been multiple times, since.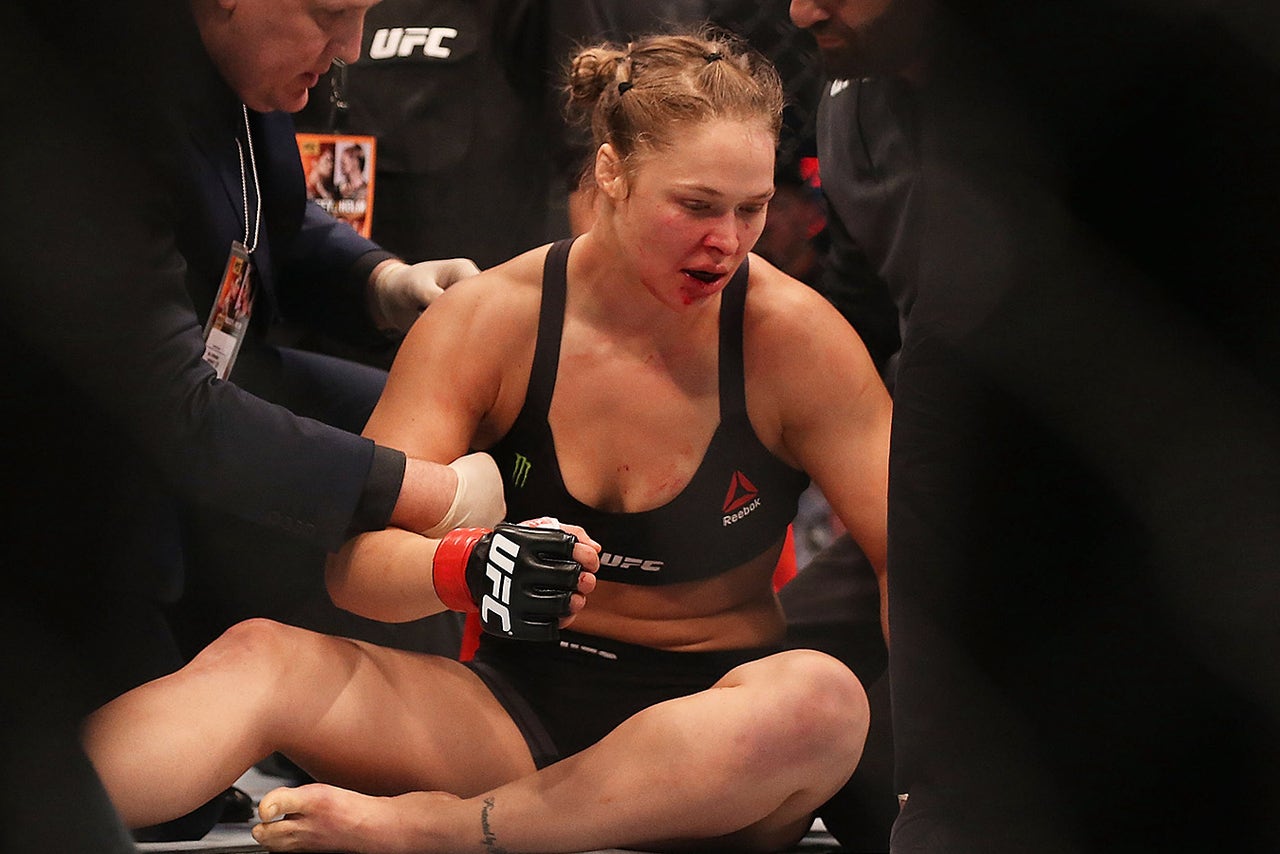 Pain is an inevitable part of sport fighting, but it isn't something to take joy in.
That all can be part of the discussion when we talk about the fighter. It certainly is for the scores of other fighters who have -- often repeatedly -- failed drug tests, yet who still fight and are celebrated in the UFC.
There's lots to talk about, after UFC 193, and I've tried to touch on much of it. Yes, the UFC should have a women's featherweight division.
No, Rousey and Holm should not rematch, immediately. There are also scores of far less important things to talk about -- how much Holm's manager made betting on her, or what boxing coach Freddie Roach thinks of Rousey.
We can talk about it all. There is space for it.
Amidst the crucial and frivolous, however, let's try to get better at remembering the elemental. Let's try to remember the humanity in it all.
---
---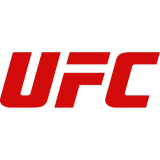 Get more from Ultimate Fighting Championship
Follow your favorites to get information about games, news and more
---