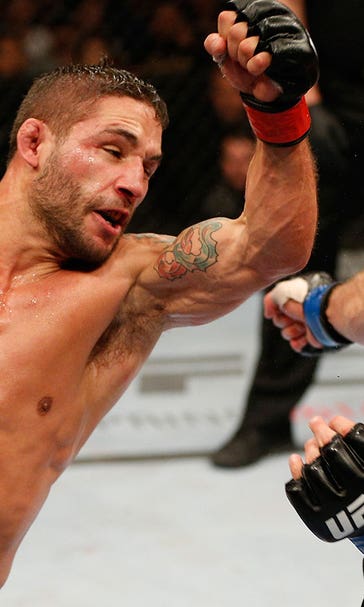 Chad Mendes: Let's see if Frankie Edgar can handle my punching power Dec. 11
November 3, 2015

It has often happened that when two great wrestlers fight one another in MMA, we don't end up getting a wrestling clinic, but rather a stand-up striking war. The reason for that is that well-matched wrestlers can often have their takedown abilities cancel one another out, in some way or another.
Chad Mendes and Frankie Edgar are both considered two of the best wrestlers in the sport, but the Team Alpha Male former title contender believes that he'll have a clear edge when it comes to wrestling, against "The Answer".
"I don't think the wrestling is going to cancel out at all. I mean, I feel like my wrestling is better than his," Mendes recently told Submission Radio.
"He's a great MMA wrestler, he's good at timing, but I feel like -- obviously he just fought Urijah Faber (who was Edgar's most recent opponent). I train with Urijah every single day. And so I have insight. Like, I know what he's going to be feeling like in certain positions. I've been training a lot with Urijah on Frankie, feeling this out. We've sat down with coaches and game planned over stuff, setting all that stuff up. So I feel very confident. I feel like my wrestling, obviously I'm gonna be looking to mix it up everywhere with this fight. I mean, a guy like him is what you have to do. You have to mix it up all over. If you're sticking with one little thing, he's going to end up picking you apart, or switching stuff up on you. So nah, I don't think the wrestling's going to cancel itself out."
Edgar is also known for his incredible durability and conditioning. The former lightweight champion has plenty of experience going five rounds, but Mendes is also confident that his own cardio and muscle endurance will be on-point, Dec. 11.
"Dude, look at my fight with [featherweight champion Jose] Aldo. I fought Aldo, who's one of the best pound-for-pound fighters in the world. I went five rounds with him and pushed the pace the entire time," he rightly pointed out.
"When I'm prepared, my cardio is never an issue. It never has been. There's been one other fight with [Nik] Lentz, where I was sick and fought through it, and still beat that guy, who in my opinion would destroy Conor [McGregor]. So you're always gonna get those people who are talking shit. And I don't think my cardio is an issue. It never has been. I took that fight on short-notice, and that's why it was an issue in that fight. I train a proper fight, I kill Conor. And I don't think my conditioning is gonna be a problem in this fight."
Most people won't need much convincing that Mendes has huge punching, however. If he has one clear advantage on paper, it may be his one-strike power, in comparison to Edgar's damaging volume striking."
"I think my power is the big difference between us. He has a lot more output, he uses more volume punches, but you know, there's a lot of mistakes that I see, that he makes when he's in there, throwing punches," Mendes concluded.
"So I think someone like me, who's fast, explosive, powerful, can be a big danger for someone like him, that's coming in a lot and loves to be in the pocket, [where] you get hit with big punches. Obviously we've seen him take some big punches and keep going, but we'll see if he can handle my power that night. So we'll find out very soon."
---
---