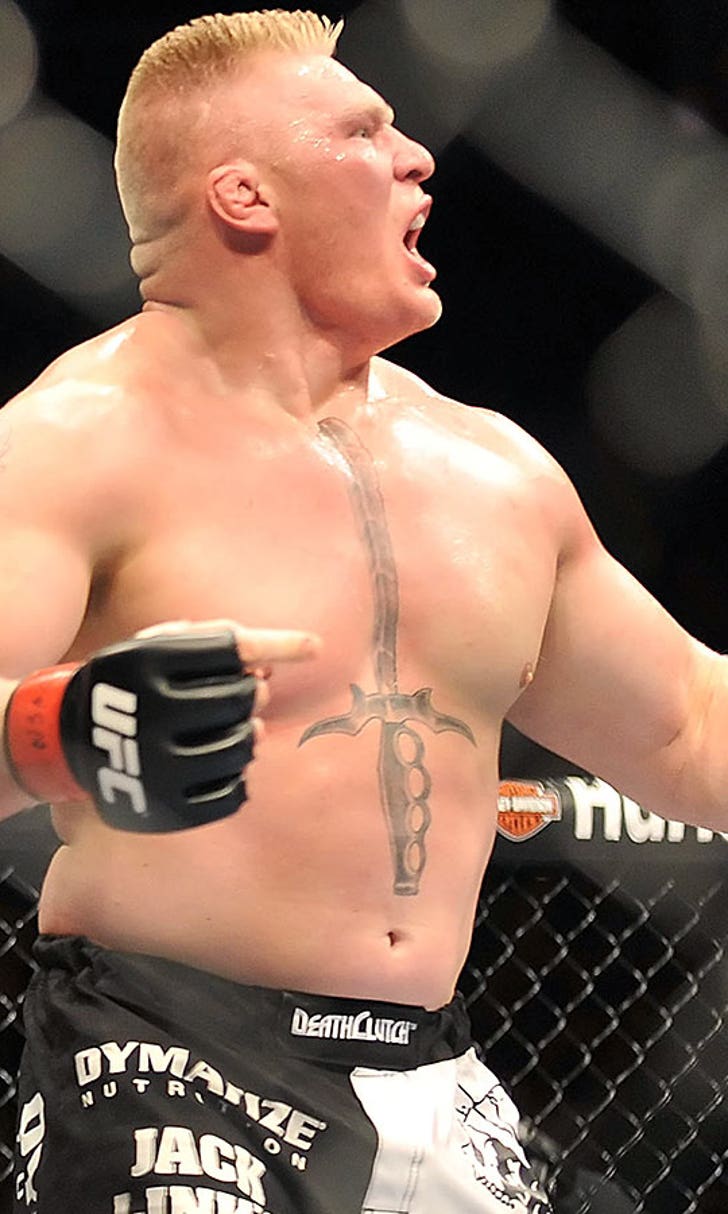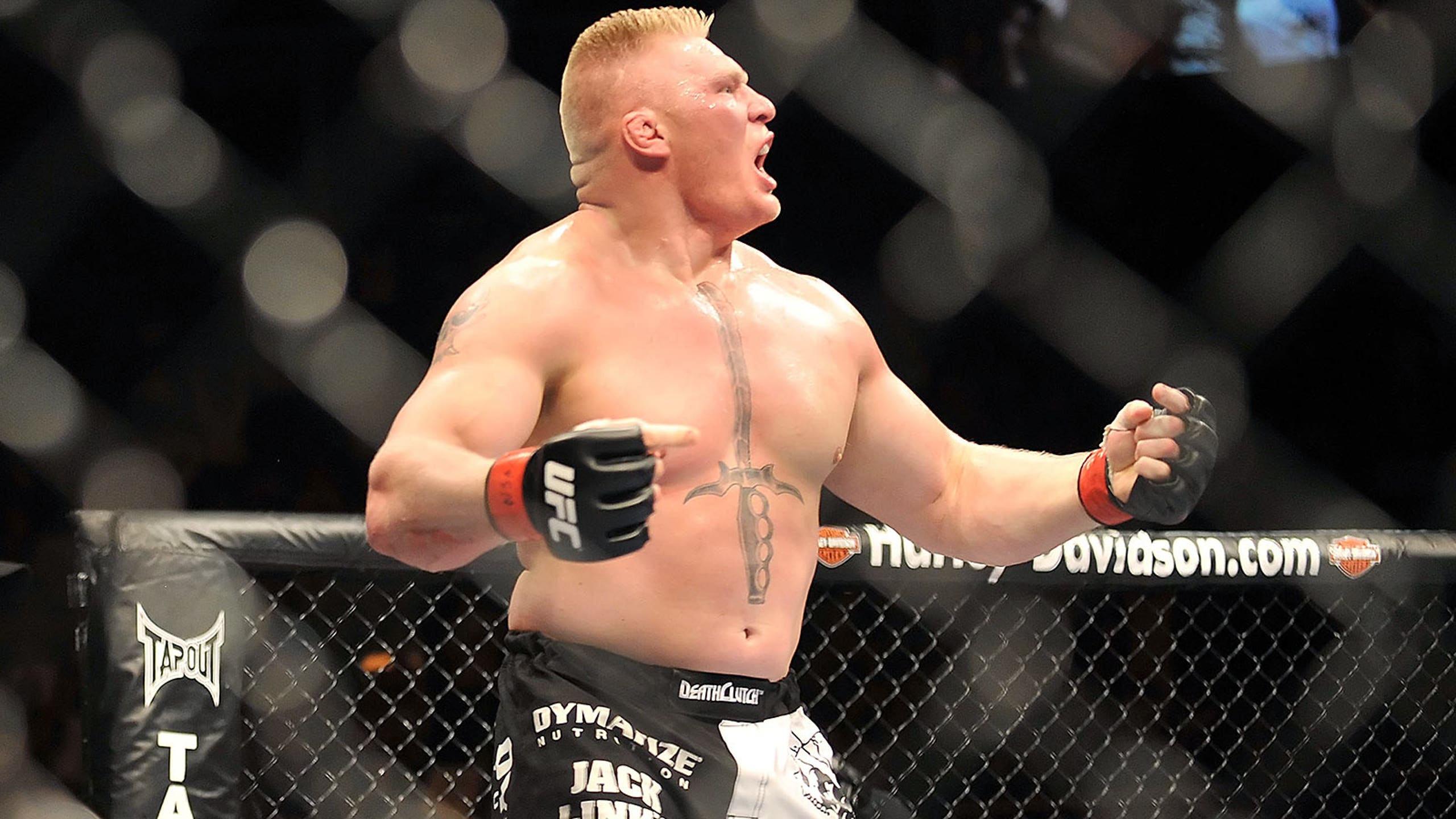 Brock Lesnar: I was a 'stone-cold, caveman, barbarian killer' during my UFC run
BY Damon Martin • August 20, 2015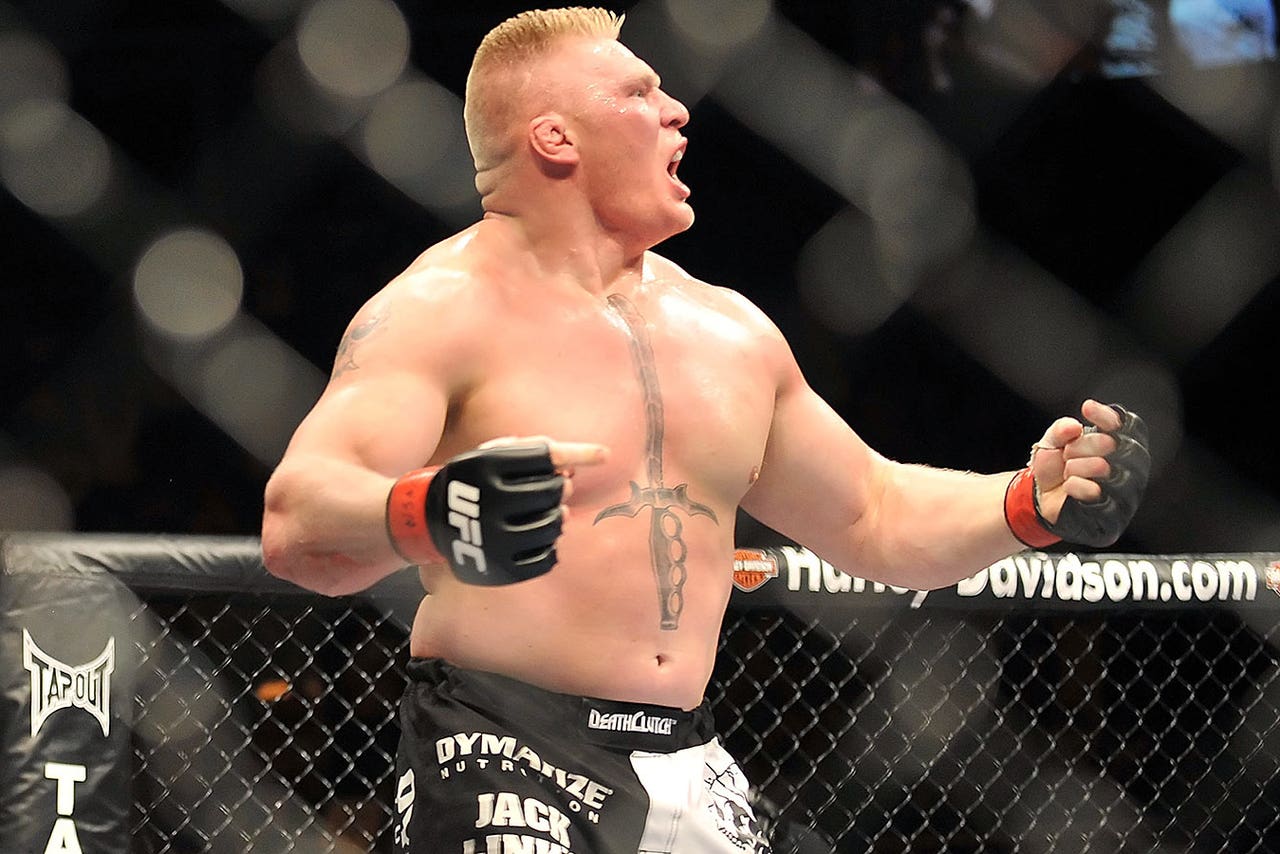 During his three-year run in the UFC, Brock Lesnar was by far the most marketable and most-watched athlete on the entire roster.
Coming from the world of professional wrestling, Lesnar already had a built in fan base on the first day he arrived in the promotion. But no one could have predicted that only four fights into his career he would defeat Randy Couture and become heavyweight champion.
One fight later, Lesnar competed at UFC 100 against Frank Mir in the main event for a card that would go on to become the biggest show the UFC has ever promoted. Pay-per-view numbers soared for the card with approximately 1.6 million buys, which still stands as a company record to this day.
"Absolutely it was, the pay-per-view numbers speak for itself," Lesnar told "Mike & Mike" in the morning when stating that UFC 100 was the biggest show in promotional history.
Lesnar has since moved on from fighting back to the WWE where he is now one of the biggest superstars in professional wrestling once again. Earlier this year, Lesnar headlined WrestleMania for the WWE, with over 76,000 fans packed into Levi's Stadium in California to watch him in the main event.
Considering the magnitude of the two shows, Lesnar was asked which event felt bigger to him -- UFC 100 or headlining WrestleMania?
"UFC 100 or WrestleMania? WrestleMania last year we had 80,000 people -- it's all electrifying. When you're in pure competition in the UFC, I wasn't able to absorb any of that ever. Because you're going out to hurt somebody so it's a whole other mindset," Lesnar revealed.
Lesnar reflects back on his run as a mixed martial artist as a completely different part of his life than what he does in the wrestling ring.
In WWE, Lesnar is still an athlete, but he's more entertaining. In the UFC, Lesnar was on a mission to beat another man until he went unconscious, and so despite being the most magnetic fighter to compete in the UFC at the time, he doesn't really remember much of the feeling he had when inside the Octagon.
"My years in the UFC, I don't remember anything other than being a stone-cold, caveman, barbarian killer," Lesnar said.
Lesnar transitioned from wrestling to MMA and back to wrestling without really skipping a beat. Although he admits working for WWE is a much different experience than fighting for the UFC.
The main difference for him is just being a performer when he's wrestling versus training and preparing to meet another man in combat when he was fighting full time. Lesnar's personality came out during interviews and post-fight speeches while he was in the UFC, but the version that's wrestling in the WWE currently is purposefully a different kind of animal.
"Being an athlete/performer, it's really comes natural to me just to really portray myself and be myself about 200 percent," Lesnar said. "When I step into the ring, I want to bring that believability through the ring ropes, into the first row, all the way up to the top seats in the nosebleeds. It comes very easy for me."
Lesnar signed a new deal with the WWE earlier this year that effectively put an end to any hope that he would ever come back to the UFC again.
He admits that it was a close call in those final hours before putting pen to paper on a new contract to stay in professional wrestling, but no one can take away what Lesnar was able to accomplish in his short run with the UFC.
As it turns out, the UFC title run also benefited his legitimacy with the WWE fans as well.
"I went to the UFC and I just didn't come in there lightly. I came in there and rocked the cage and won the championship," Lesnar said. "Leaving there, there's a lot of credibility to that and it brings a lot of credibility to the WWE."
---
---