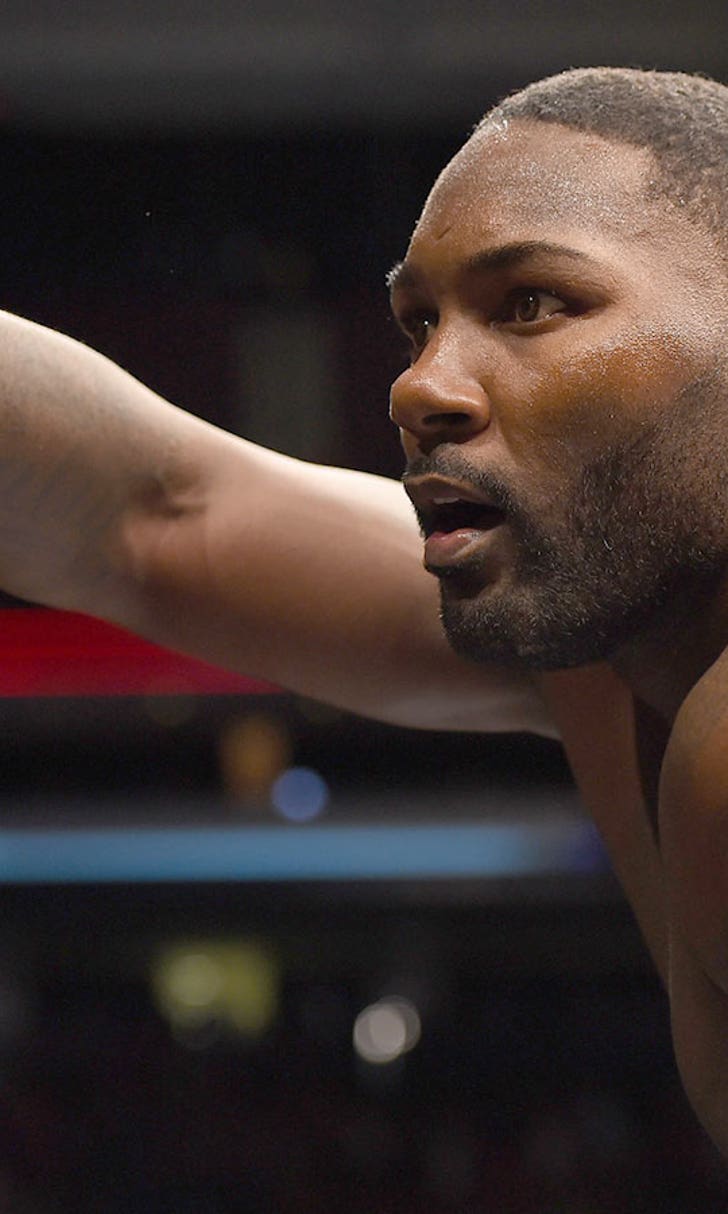 Anthony Johnson willing to wait for title shot against Jon Jones or Daniel Cormier
BY Damon Martin • January 31, 2016
Anthony Johnson is once again standing tall as the No. 1 contender in the light heavyweight division and following a first-round KO over Ryan Bader, he's willing to wait to face the winner of the upcoming title fight between Daniel Cormier and Jon Jones.
Johnson made short work of Bader on Saturday night, which puts him in prime position for a title shot later this year. But as of right now there's no exact time table on when that might happen.
Cormier and Jones are expected to rematch soon but no date or location has been announced for the fight and the outcome will largely determine when Johnson would actually be able to compete for the belt. Either way, Johnson is ready to sit out and wait for the winner if the UFC guarantees he's getting the title shot.
"Yep, that's the biggest fight of my life. If they want to make me wait that long, I'll definitely do it," Johnson said at the post-fight news conference on Saturday. "It gives me plenty of time to get ready for whoever."
Johnson already faced Cormier last May and fell to the current champion by submission after nearly finishing the fight in the first round.
Looking back at that moment, Johnson can admit that he wasn't really ready for Cormier at the time because he was supposed to face Jon Jones on that date but the former champion was arrested before being stripped of his belt and suspended indefinitely.
Mistakes were made, but Johnson doesn't regret his performance and promises the outcome would be different if they met a second time.
"I was getting ready for Jon Jones not Daniel Cormier. It's a big difference when you're getting ready for 6-(foot)-4 compared to 5-10, 5-11, something like that. I wasn't (ready) but I still went out there and did my best," Johnson explained.
"When I fought Daniel, the first round I dropped him and I came in and I tried to finish him and I gassed out. When you're gassed and you've got somebody like Daniel Cormier on top of you grinding on you, it can do a lot to you mentally and damn near break you."
As for Jones, that's still a matchup Johnson definitely wants in the future whether it's for the title or not. Johnson doesn't have any bad blood with Jones, but he still wants to face the fighter widely consider the best pound-for-pound competitor on the planet and arguably the greatest of all time.
Johnson promises it will happen -- sooner or later.
"Jon (Jones) and I will fight one day," Johnson said. "We have mutual respect for each other. We've never talked trash about each other. Every time we see each other, we show each other love. Especially with the media and everybody hyping up the fight between him and I, I was supposed to be the guy to knock him out and beat him and all that other stuff. I think we definitely want to challenge each other and see what we're made of. We're just two alpha males like that, that's competitive."
While Johnson is willing to wait for the winner of Cormier vs. Jones, he's also adds one more caveat to his plans to sit on the sidelines for a potential title shot.
If the UFC comes calling with an offer -- even at heavyweight -- chances are Johnson is going to accept because he never turns down a fight and he always likes making money.
"I ain't going to say (I'll wait) no matter what because if somebody gets hurt and they need a replacement, I'll definitely jump in if I'm healthy and able to fight -- that's for light heavy and heavy," Johnson said.
"Yeah, that's a paycheck."
---
---