All angles: Brian Stann breaks down TJ Dillashaw vs. Dominick Cruz
BY Damon Martin • January 14, 2016
In many ways, the main event this weekend in Boston is a champion-versus-champion scenario as TJ Dillashaw takes on Dominick Cruz in a battle to determine who the best bantamweight in the world is.
Cruz was on top of the world as the 135-pound champion — at the time, the only champion at 135 pounds in UFC history — when a knee injury forced him into surgery three times to repair two separate ACL tears. Now, four years later, he's healthy and seeking to reclaim a title he never actually lost, but he's got a tough hill to climb going against one of the best pound-for-pound fighters in the sport, who debuted in the UFC three months after Cruz made his last title defense.
Dillashaw has looked better than ever lately with three title fight wins, including two dominant victories over former champion Renan Barao, and he's looking to solidify his spot atop the rankings with another victory this weekend.
FOX analyst Brian Stann has meticulously analyzed this fight from all angles and there are a lot of ways both Dillashaw and Cruz could walk away with the title this weekend.
Who has the edge? Take a look at some of the biggest keys going into this weekend's main event from Boston.
Has the Division Passed Dominick Cruz?
The last time Cruz fought and defended his bantamweight title was against Demetrious Johnson in October 2011, and a lot has changed since then. Dillashaw was still just another name on "The Ultimate Fighter" when Cruz last fought as bantamweight champion, just to give you an idea on just how long it's been since he was the king of the division.
Since that time, Cruz has been sidelined with serious knee injuries and was able to return only once during that four-year stretch. Cruz destroyed top-10 ranked fighter Takeya Mizugaki in his lone fight back in the Octagon in 2014, but still a lot has changed in the division and with the skill sets of the fighters he'll be facing now.
Have the best bantamweights caught up or surpassed Cruz during his time away from the sport?
"The comments about the division has passed Dom by or the guys that TJ beat were so much better than the guys Dom beat — I call B.S. to all of that actually," Stann told FOX Sports. "When I look at the film and I look at the tape, I just don't see it. I don't see a division that has passed Dominick Cruz by. I do feel he was so ahead of the division when he was king that there's been a little bit of catch-up, but there still hasn't been a tremendous amount.
"I still think a healthy Dominick Cruz would be right at the top of the mountain, right alongside TJ Dillashaw."
Dominick Cruz's Health
There's no way to ignore the fact that Cruz has gone through three very serious knee injuries over the past four years. Cruz has suffered three ACL tears — two in one knee, and one in the opposite leg — and those can be career-ending surgeries for many athletes.
Cruz came back for his fight with Mizugaki and looked better than ever, blasting through the veteran bantamweight in a matter of seconds, but he had to endure another surgery after that so it set him back to square one again.
As much as the knee could be a problem for Cruz, Stann also points out that timing inside the Octagon could be a real concern for the former bantamweight champion and a factor that Dillashaw could look to exploit on Sunday night.
"The biggest question has to be about Dominick's knee. Can his knee hold up and still cut the way he used to? Can he still retreat, plant and drive punches like he used to? Can he do all those thing as quickly and efficiently as he used to do? That's the biggest question of the night," Stann said.
"The second question, and it's almost as big, is his timing. When you have a layoff and they call it ring rust, it's very real. Sparring cannot give you timing once you put those little gloves on and you've got the bright lights shining; you just can't get that. It takes time and rhythm to get that back. It takes being in there often. Dom is obviously coming off a tremendous layoff with only one fight in four years. It might take him a round to really get back into a rhythm. TJ Dillashaw can do himself a tremendous favor by going out there early in the fight and putting pressure on Dominick Cruz."
Stann, who spent time with Cruz on set while the two of them were doing analyst work together during UFC broadcasts, says the former bantamweight champion is very "mentally stubborn" when it came to the discussion about ring rust.
The two of them actually got into a heated debate about the subject and Stann says that just shows how Cruz refuses to allow any kind of negativity to seep into his head, and that kind of mental toughness could help him overcome hindrances that could cripple other fighters.
Did TJ Dillashaw Steal His Style from Dominick Cruz?
Over his past few performances, Dillashaw has turned from a wrestler into one of the quickest and deadliest strikers in the division with fast footwork and very heavy hands. It was actually Dillashaw's first fight against Renan Barao in 2014 when the world saw the former "Ultimate Fighter" finalist really use a tremendous amount of footwork in the execution of his combinations as well as his overall striking game.
Immediately comments were made that Dillashaw was mimicking the style that Cruz made famous during his days as bantamweight champion, where he used fast footwork and head movement to outstrike his opponents and became nearly impossible to hit.
Dillashaw maintains that just using fast footwork doesn't mean that he somehow borrowed his style from Cruz, but Stann says it's impossible not to compare the two when breaking down footage on how they move inside the Octagon.
"Coming into this particular fight, a lot of people would say that TJ Dillashaw stole Dominick Cruz's style. I would say that's definitely true to a point," Stann said. "He definitely borrowed heavily from it when he fought Renan Barao the first time. It looked very similar in terms of the stance switches, the angles and the movement, and a lot of that was the influence of (coach) Duane Ludwig obviously."
As much as Dillashaw may have used Cruz's technique in the past, Stann sees a lot of ways the bantamweight champion has made the style his own and created his own take while still employing certain aspects of movement and cutting angles on his opponents.
"Since that fight, we've seen a lot less movement from TJ Dillashaw. He still moves a lot. He does a lot of shifting in terms of changing his stance, changing his stances mid-combination and mid-counter shots, and I think it's been brilliant," Stann said.
"The biggest difference I see in terms of style is movement. Dom is going to be moving more whereas TJ will be changing stances and shifts and he's going to be planted a bit more to load up on his strikes."
Striking Advantage           
On the feet, both Dillashaw and Cruz are capable of dictating the pace of the fight with the work they do with their striking. 
The fight pits a highly offensive fighter in Dillashaw against one of the best defensive strikers in the history of the sport, Cruz. How those two elements mixed together really could define who comes away victorious in this matchup.
"Dom very rarely throws combinations with more than two strikes at a time. He'll do it, don't get me wrong, but it's rare," Stann said. "His striking is a lot of movement and it's one strike at a time or two strikes at a time, but most of his striking is predicated on landing and not being there for the counter.
"TJ has really become an excellent combination fighter. When he creates an opportunity coming off an angle or he sees a counter, he will let loose with three or four punches at a time and it's very, very crisp, accurate combinations."
As much as Dillashaw loves to land those multiple strike combinations, Cruz's defensive tactics might make it hard or even frustrating if the champion continues to throw and his shots aren't landing. Stann says the key for Dillashaw is to find a way to keep Cruz in front of him and while that may be rather difficult, it's the most effective strategy to land his punches in bunches, round over round.
"It's almost like a typewriter — when a guy wants to go left and right so much, you have to hit them to get them back to the middle," Stann described. "Start making them think a little bit about which direction to go because when they are moving left or right they are running into different things. Look for TJ to do that to put pressure on Dominick to land those two- and three-punch combinations before Dom is gone."
Cruz's defensive capabilities do make him a hard target to hit, and that's another major factor in his ability to win while adding a new wrinkle to frustrate Dillashaw into making a mistake. 
Stann points out that Cruz does have one tendency that could backfire against someone like Dillashaw and even if it doesn't lead to much damage being done, the visuals of the particular movement could be a factor for the judges.
"I always call Dominick Cruz a ghost. He's very, very difficult to hit inside that Octagon," Stann said. "For Dominick Cruz, he can't get his back trapped up against that fence. He's got to be one step ahead of any pressure TJ Dillashaw tries to put on him. When he's landing his one- or two-shot combinations, he has to exit properly and he cannot allow himself to get high.
"The same things you heard Carlos Condit get criticized for in his Robbie Lawler fight, about being too high and when he gets counter punched his head snaps back. Dominick can sometimes have those same tendencies. When he lands his combinations and moves his head to the side to get out of the pocket, sometimes guys will get lucky and guys will catch him because Dom is so tall for the weight class and his head will snap back, and even though he doesn't get rocked, it appears to be a heavier shot because his head snaps back. He has to be careful not to get too high or too predictable so TJ catches him."
Ground Battle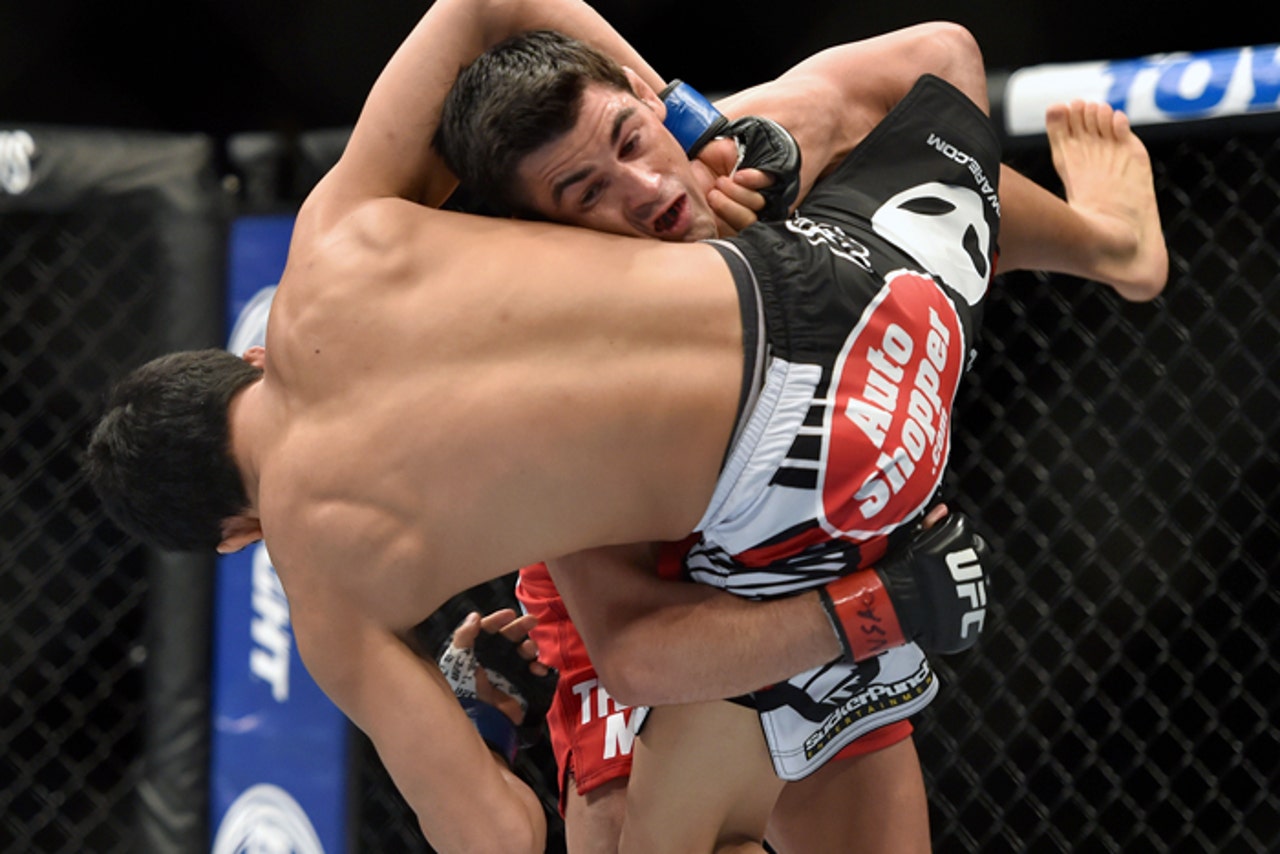 As much as Dillashaw and Cruz love to strike, both of them are also more than capable of turning this into a ground battle. 
Dillashaw is a former college wrestler with great grappling in his back pocket, but Stann warns that he shouldn't underestimate what Cruz brings to the table with his own takedowns during this fight.
Cruz averages nearly four takedowns per 15 minutes in the cage with 57-percent accuracy, so while he may not have the college credentials to match Dillashaw, his in Octagon performances speak to his overall wrestling ability in MMA.
"On paper, TJ has all the credentials to say he has an advantage, however, when you watch and analyze the film, Dominick is an excellent mixed martial arts wrestler. The way he manipulates your defense and your stance to create easy takedown opportunities is fantastic. He makes it look easy," Stann said.
"He'll land a combination on you two or three times, read how you're reacting and then he hits that angle and hits you with a double leg. It's outstanding the way he'll read those angles and a retreat and then hit his takedowns."
Cruz has been accused in the past of moving away more than actually fighting, but Stann sees this as a huge tactical advantage and one part of the former champion's game that could help get him the win over Dillashaw.
Cruz's movement not only makes him nearly impossible to hit, but it also forces his opponents to eventually overreach on a punch or a combination and leaves them exposed to counter strikes or a big takedown. Those errors add up and Cruz is a master at exploiting those weaknesses and tendencies during a fight.
"Dominick wants you to chase him," Stann said. "You go to counter and he's not there. He wants you to chase him. He plays the matador and as soon as you become the bull and come forward, he fakes the punch and slips under for the takedown. He uses those takedowns and top control to win rounds."
Mental Edge
For all the conversation about the technique and abilities of both Dillashaw and Cruz, there's a mental battle happening in this fight that could decide the outcome as much as anything that physically takes place inside the Octagon.
Cruz is coming back from multiple knee surgeries and has fought only once in four years. Dillashaw is fighting for the first time under new head coaches and teammates after exiting his camp at Team Alpha Male just a few short months ago.
All told, Dillashaw and Cruz both have a lot on their minds leading up to this fight and there's no denying that could play a part in performance and who walks away the winner.
"I could talk technique till I'm blue in the face, but if one of those two fighters does not show up mentally on and focused, it will cost them the fight," Stann said. "Technically they are brilliant but if you're off mentally — if Dominick Cruz comes in and he has doubt inside his heart and inside his mind and he's doubting himself, that will manifest inside the Octagon.
"On the flipside, if TJ Dillashaw starts realizing that he has everything to lose in this fight — he's a favorite on the odds and he's fighting a guy who has fought once in four years so he should be able to win — all the pressure is now on him. If he feels he has to do this or he has to do that, it can affect fighters negatively."
Final Word
Ultimately, Dillashaw versus Cruz pits two of the best fighters of this era against each other in a fight that could be one of the most technical battles in recent memory. From the head games that have been played to the stylistic matchup, there's nothing not to like about this fight and this really will be a moment to just sit back and enjoy mixed martial arts at its highest level.
"It's a fun fight and the story lines that go along to support it are incredible," Stann said. "There's just so many different ways this could go."
---
---