A history of violence: Looking back on Dan Henderson and Vitor Belfort's rivalry
November 3, 2015

Two future UFC Hall of Fame fighters will fight for a third time this Saturday in Brazil, in the main event of FS1's UFC Fight Night. As both Vitor Belfort and Dan Henderson move closer to the 20th years of their professional careers, they each hope to settle at least one more score and end the 1-1 tie between them after two fights in the past decade.
When Belfort first faced Henderson, on Oct. 21, 2006 in Las Vegas at Pride 32, the former Wonderkid was on a skid, having lost four of his past six. Those troubles continued as Henderson controlled the former UFC heavyweight tournament winner and light heavyweight champion en route to a unanimous decision win.
"Dangerous Dan" had lost the fight immediately prior to the first Belfort encounter, but had still won four out of his past five, including a close and thrilling Pride 183-pound title bout against former UFC middleweight champion Murilo Bustamante. After winning the decision over Belfort, Hendo would next knock out reigning Pride middleweight champion Wanderlei Silva, in February of 2007, to punctuate his Pride career.
From there, Henderson fought in back-to-back UFC title fights, at two weight classes. He lost a close five-round decision to light heavyweight champ Quinton "Rampage" Jackson in September 2007, and then got submitted in the second round of his middleweight title challenge to Anderson Silva the following March.
After those setbacks, however, Henderson went on to win three straight and seven of his next eight, including a first-round TKO victory over former heavyweight champion and then-pound-for-pound king Fedor Emelianenko.
For his part, Belfort continued to struggle, starting with a positive steroid tests after the 2006 fight with Henderson. Belfort was suspended by the Nevada State Athletic Commission (NSAC), but chose to ignore the sanction and fought outside the UFC and abroad to avoid regulation.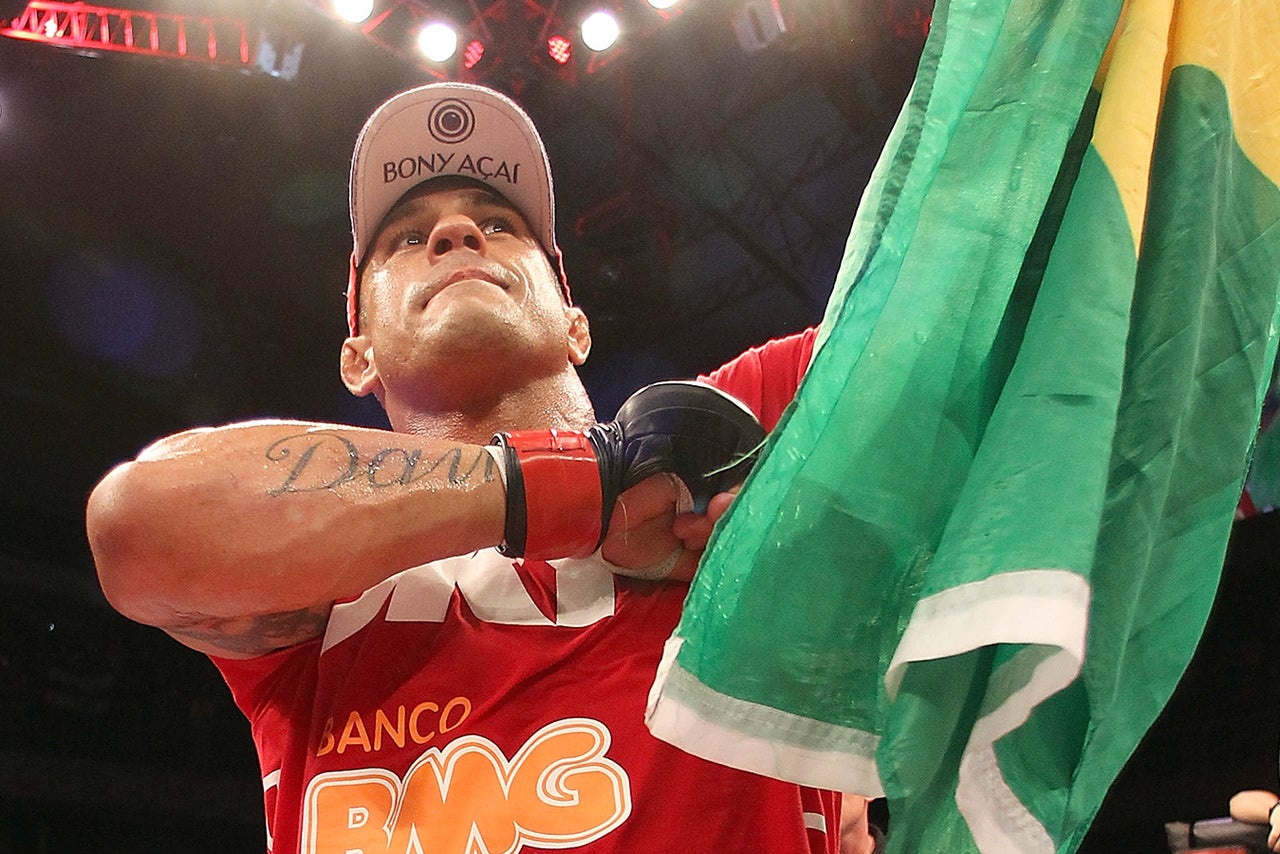 Vitor Belfort wants to raise his flag in his homeland one more time, Saturday.
Sadly, avoiding substantive regulation became a pattern for Belfort that continued for years even after he returned to the UFC. At a time when NSAC officials publicly declared that Belfort likely would not be able to receive therapeutic use exemptions to use testosterone replacement therapy (TRT) because of his past steroid use, the UFC largely booked Belfort in places like Brazil and Canada, where he was allowed to use TRT and where he also faced either very little in the way of regulation or oversight with regards to PED use standards and testing.
Even when Belfort was tested and failed, like before his 2012 title challenge in Toronto of light heavyweight champion Jon Jones, the result was kept quiet and the fight allowed to continue. With the exception of his loss to Jones, and a first-round KO defeat to Silva the year before, Belfort saw a career resurgence from 2007 to 2013 while largely being off the regulatory leash.
His most impressive run came in 2013 when "The Phenom" returned to his teenage and early 20's form, winning three straight fights by way of brutal knockout. The former two-division world champion and Olympic wrestler Henderson, who for years also used TRT, but had never failed a drug test, was caught up in that 2013 storm of Belfort's making.
The two living legends fought for a second time on Nov. 9, 2013, in Goiania, Brazil. This time, the fight was quick and exciting, with Belfort needing just 1:17 to end Henderson's night with a nasty head kick.
That win earned Belfort a shot at the UFC middleweight title. However, because of his PED use, changes made to Nevada's rules about therapeutic use exemptions for TRT, yet another drug test failure, and a sort of self-imposed suspension, Belfort didn't fight again until May 2015.
Belfort fired off a barrage of punches at middleweight champion Chris Weidman early in their May fight, appearing to have "The All-American" in trouble at the start. However, the champion rallied and ultimately stopped Belfort with ground strikes inside of one round.
Now, the 38-year-old enters his rubber match with Henderson, with an overall impressive record in recent years, but questions to answer about how well and how much longer he can fight. That he'll get to compete once more in Brazil would appear to be an advantage, both in terms of fan support and relaxed regulation.
Henderson is coming off a quick KO victory over Tim Boetsch in June. However, the 45-year-old understandably has seen his reflexes and recovery abilities slowed considerably in recent years.
His record as well as his health have suffered accordingly. In all, Henderson has lost five out of his past seven fights. His other most recent wins, over Mauricio "Shogun" Rua in 2011 and 2014, still saw the warrior take a lot of punishment.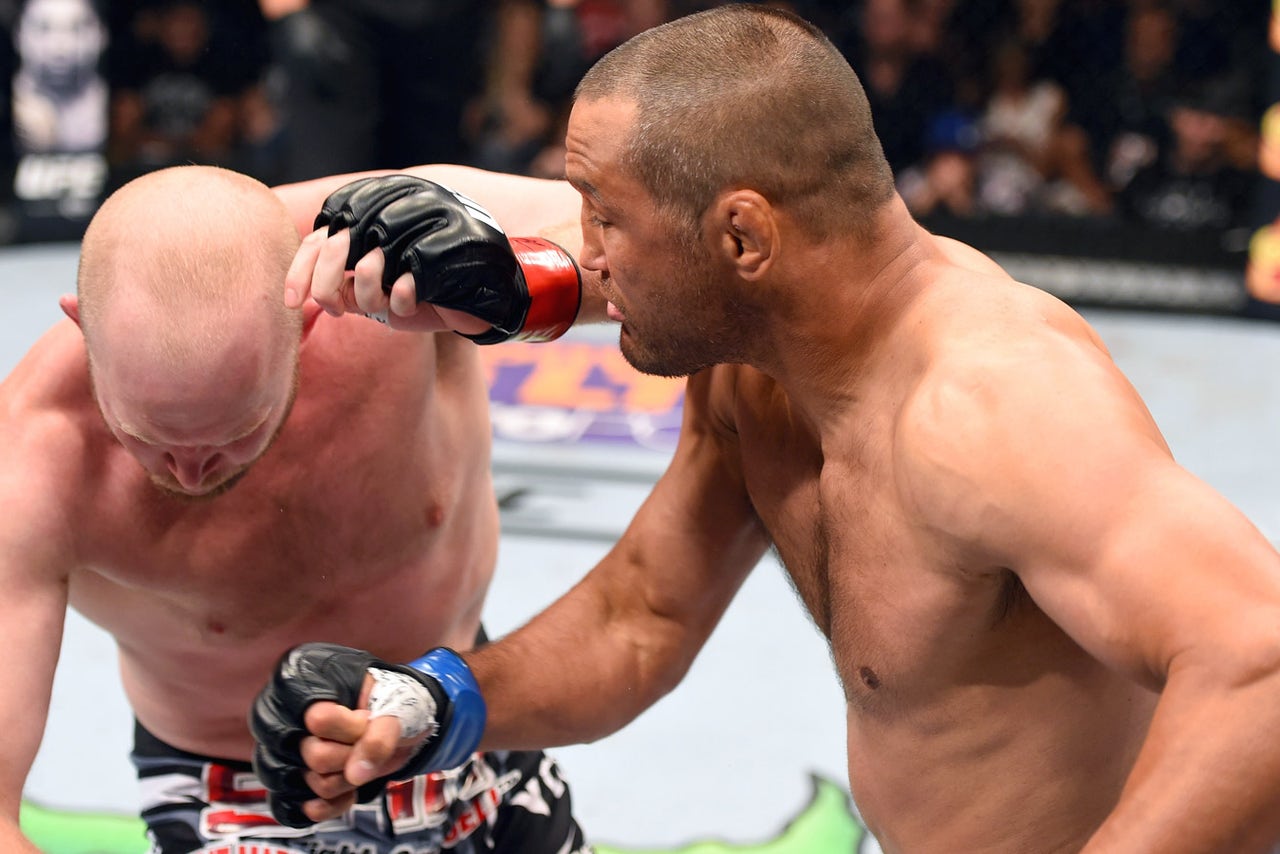 If nothing else, Dan Henderson (R) still has power in his punches and heart.
Still, he fights on. This Saturday, Henderson fights specifically for revenge.
Sure, he has a decision win over Belfort about a decade ago, but most UFC fans' idea of a Henderson vs. Belfort matchup is the quick KO defeat of "Hollywood" that they saw in 2013.
Title runs may be a thing of the past for these two soldiers, just like their health. However, both believe they can get at least one or two more big wins, and settle a score or two, with whatever time they have left as competitors.
The lions may not be young anymore, but they're still hungry.
---
---