5 Reasons to Watch: UFC Fight Night: Hendricks vs. Thompson
BY Damon Martin • February 4, 2016
A new welterweight contender could emerge from Saturday night's main event as former champion Johny Hendricks takes on rising star Stephen "Wonderboy" Thompson in the main event for UFC Fight Night from Las Vegas.
Hendricks has a lot to prove this weekend after a botched weight cut cost him a fight against Tyron Woodley last October, but with a new nutritionist on his side, the former welterweight king is slim, trim and ready to reclaim his spot as the top contender in the division.
As for Thompson, the prolific striker comes to this fight fresh off a knockout win over Jake Ellenberger with a goal to eventually face welterweight champion Robbie Lawler later this year.
Also on the card this Saturday on FS1 is a heavyweight showdown between knockout artist Roy Nelson and former collegiate wrestling standout Jared Rosholt.
Top-ranked flyweight Joseph Benavidez is also back in action as he faces off with Zach Makovsky in a key flyweight fight.
With six main card fights and a ton of great prelim bouts there are plenty of reasons to watch the UFC's latest show, but here are five good reasons to make sure you're tuned in for all the action from UFC Fight Night: Hendricks vs. Thompson.
Bigg Rigg's Redemption
The show for Johny Hendricks this weekend actually starts on Friday when he hits the scale to weigh-in for his fight with Thompson -- which will air live on FS1 starting at 7pm ET -- after a disastrous weight cut cost him the chance to fight Tyron Woodley last October at UFC 192.
Hendricks has always faced notoriously tough cuts to get down to 170 pounds but is looking ripped after adding a new nutritionist to his camp.
Still, Hendricks has to know that weighing in is just half the battle because he then has to face one of the most dangerous strikers in the division with Thompson staring at him from across the Octagon.
Hendricks has proven to be one of the best welterweights on the planet over the last few years, but if he has any hopes of getting back to the belt or even another shot at champion Robbie Lawler, he has to get past Thompson and doing it impressively after a highly scrutinized weight cut will do even more for his future prospects. Hendricks' fight might start a day before he actually faces Thompson, but a win will be that much sweeter if he can look good on Saturday night.
Where Does He Get Those Wonderful Toys?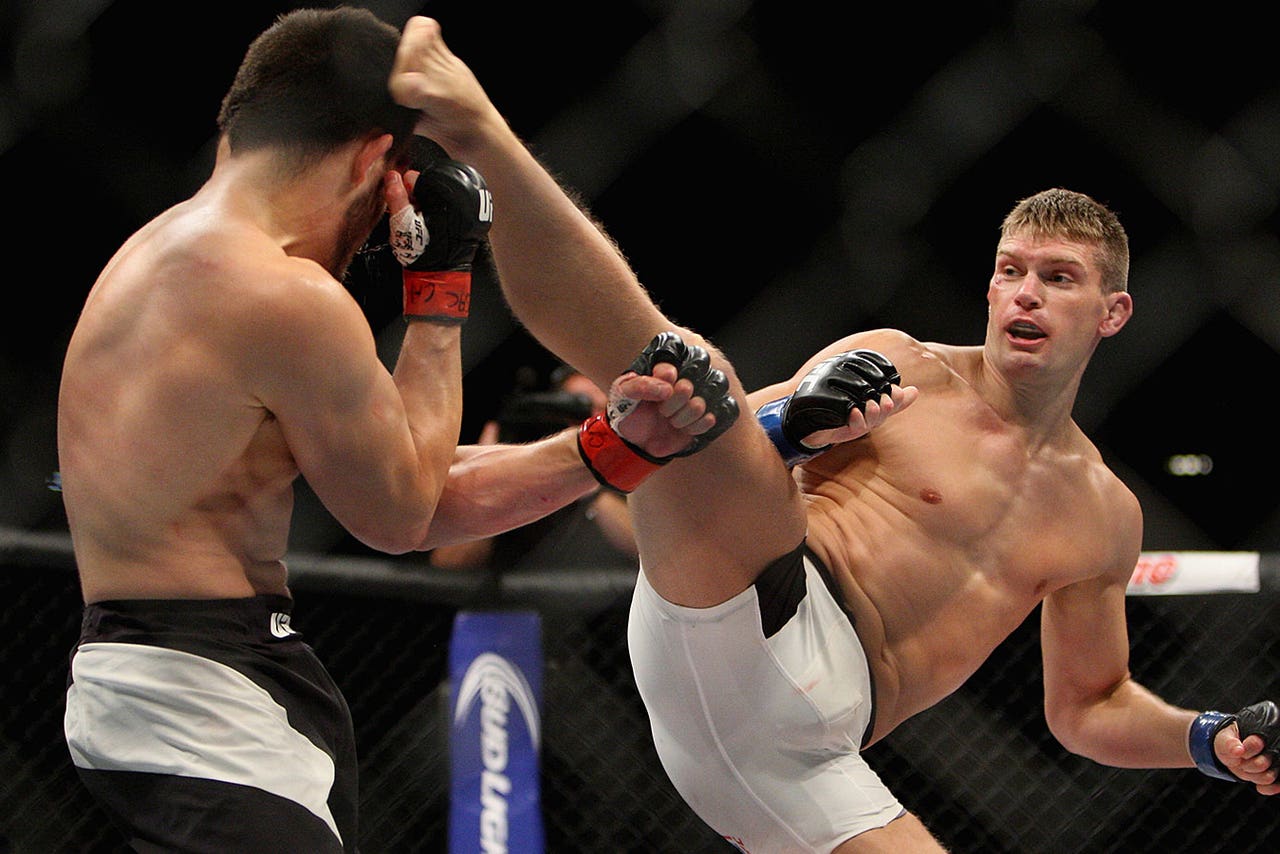 Stephen "Wonderboy" Thompson didn't get his nickname by accident. The karate prodigy has been doing martial arts since he was a kid and he's earned a reputation as one of the most creative and dangerous strikers in the sport. Thompson had a ridiculous undefeated streak through karate and kickboxing competitions before finally making his way to the UFC and since then he's tasted defeat only once before putting together his current five-fight win streak.
Thompson is technically very sound when he's on the feet, but he can also uncork some of the most unorthodox shots you'll ever witness in an MMA fight.
Whether he's tossing a spinning back kick like he did against Jake Ellenberger or a deceptive delayed head kick like he did to knock out Dan Stittgen in his debut, Thompson can hurt an opponent from anywhere in the Octagon and he has no problem getting creative to do it.
Thompson will definitely face his biggest test this weekend against Hendricks, but don't blink when these two are on the feet because "Wonderboy" can throw heat at a moment's notice and chances are he's going to show off a few new toys in his second UFC main event fight.
Still Dangerous After All These Years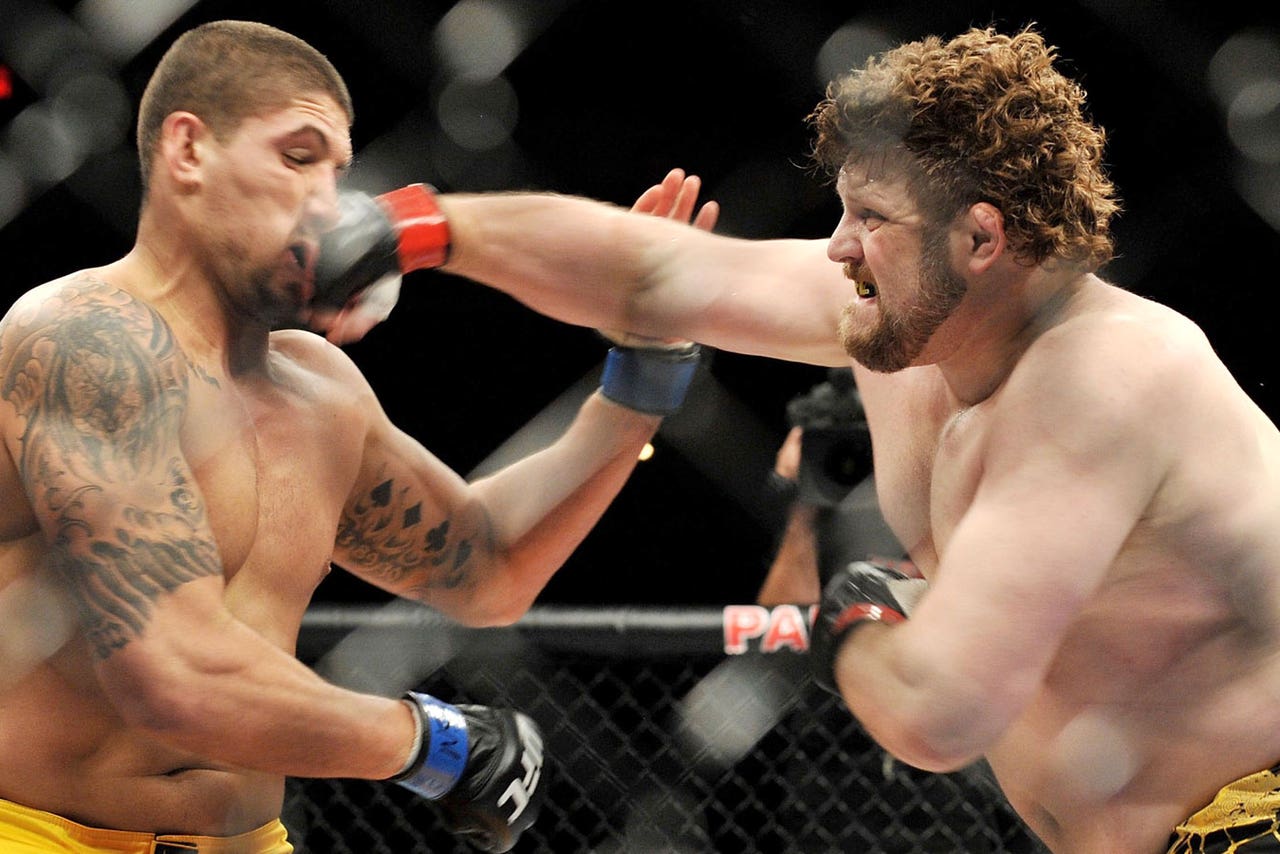 Roy "Big Country" Nelson might not be on the best run of his professional career while suffering through a few tough losses, but if there's one thing you're guaranteed whenever he fights it's excitement.
Nelson is a big believer in the 'go big or go home' philosophy as evidenced by his seven knockouts in the UFC and six post fight bonuses, which are the most in heavyweight history.  Nelson packs a serious punch and he only needs one shot to land on Jared Rosholt and he'll send the heavyweight prospect home with a knockout loss on his record.
Nelson also possesses possibly the best chin in the history of MMA because he can absorb punishment like no fighter we've ever seen and still come back for more each and every round.
Nelson certainly has something to prove following his recent 1-5 stretch in the division and getting a victory over a prospect like Rosholt would definitely put him back on track.
Flyweight Showcase
While Demetrious "Mighty Mouse" Johnson continues to rule the 125-pound division, several of his top challengers are back in action this weekend in Las Vegas.
Joseph Benavidez, who continues to reign as the best fighter in the flyweight division outside of the champion, will take on Zach Makovsky as he looks to secure his fifth win in a row while climbing back into the title picture. Benavidez has fallen to Johnson on two previous occasions but with a win over another top-10 fighter like Makovsky, it's going to get awfully hard to deny him another shot in the near future.
Also on the prelims, top flyweight prospect Ray Borg is also back in action as he takes on Justin Scoggins. Borg might be one of the toughest matchups in the division with his unrelenting ground attack and non-stop conditioning to push the pace for all 15 minutes, but Scoggins is no joke and he'll give the New Mexico native everything he can handle and more.
The flyweights are still battling for respect as one of the smallest divisions in the sport, but these two fights will showcase the very best that the 125 pounders have to offer.
Let the CM Punk Sweepstakes Begin
While dozens upon dozens of UFC fighters have offered to welcome former WWE superstar CM Punk to the Octagon for the first time, newcomer Mickey Gall actually has the chance to secure that shot with his fight against Mike Jackson this Saturday night.
Gall is 1-0 as a professional, who just happened to pick up that victory while UFC president Dana White was in attendance while filming his reality show in Philadelphia. Now, Gall is a UFC fighter with the chance to get a win this weekend and then face Punk in what will likely be one of the most highly anticipated bouts of the year.
Gall isn't just some novice off the street -- he's a brown belt in Brazilian jiu-jitsu who trains under UFC stalwarts Jim and Dan Miller -- but if he wants to cash in on the CM Punk lottery ticket he has to beat Jackson this weekend.
Never before have two fighters with less UFC experience gotten this much attention, but Gall and Jackson have a rare chance to shine this weekend with Punk sitting just a few feet away while watching the fight unfold cage side. 
---
---