5 Reasons to Watch: UFC Fight Night: Edgar vs. Swanson
BY Damon Martin • November 19, 2014
When the UFC returns to Austin this weekend, the card will feature a slew of ranked fighters battling it out -- including the main event where former lightweight champion Frankie Edgar takes on Cub Swanson in a pivotal matchup at 145 pounds.
Both Edgar and Swanson believe they should be next in line for a potential title shot against featherweight champion Jose Aldo so there's plenty on the line as each of them try to cement their place as the top dog in the division.
Also on the card, Bobby Green looks to keep his undefeated run in the UFC going when he takes on noted Muay Thai specialist Edson Barboza. Both fighters are known for explosive fights and finishes, so this one has dynamite written all over it.
To get ready for this weekend's card in Texas, there's a long list of great fights to watch, but along with UFC on FOX's broadcast team of Jon Anik and Brian Stann, we give you five good reasons to tune into this weekend's UFC Fight Night: Edgar vs. Swanson card.
Begging for 25 Minutes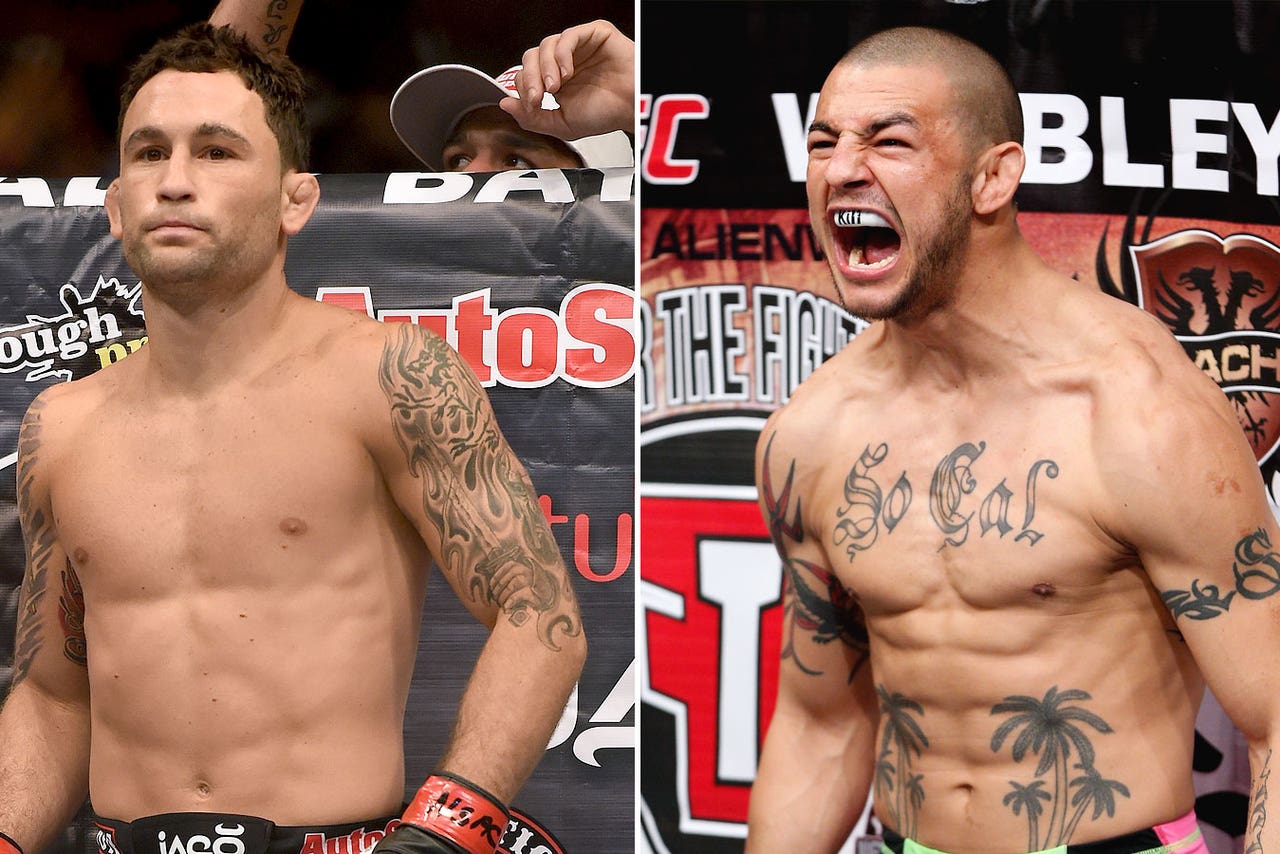 Here's hoping Frankie Edgar (left) and Cub Swanson can go the full five rounds.
It's not very often that a five-round fight happens where you almost root for the bout to go the distance, but that's how much potential the main event this weekend between Frankie Edgar and Cub Swanson holds. Both fighters are known for having exciting fights, and it would almost seem like cheating for one of them to walk away with an early knockout or submission finish.
Edgar and Swanson have both gone five rounds and they are conditioned for what should be an extremely exciting affair that could end up being a standup war or a ground battle of attrition. No matter what happens, it's going to be good. Really, really good.
"To me Frankie Edgar and Cub Swanson, for all the main events I've been assigned to, I can't remember ever being this excited for one," Anik told FOX Sports. "It's two of the top 15 pound-for-pound fighters in the sport, I believe that, I really do. Cub Swanson's current form is just tremendous and we've all witnessed his maturity evolve.
"Frankie Edgar, I've championed his cause for the last year. I think he's a future UFC Hall of Famer and I don't think it's even close. He's been in the UFC since 2007, championship success, as good as it gets for me. Two guys who are exceedingly tough to put away. I'd love to see 25 minutes out of these guys."
The Conor McGregor Factor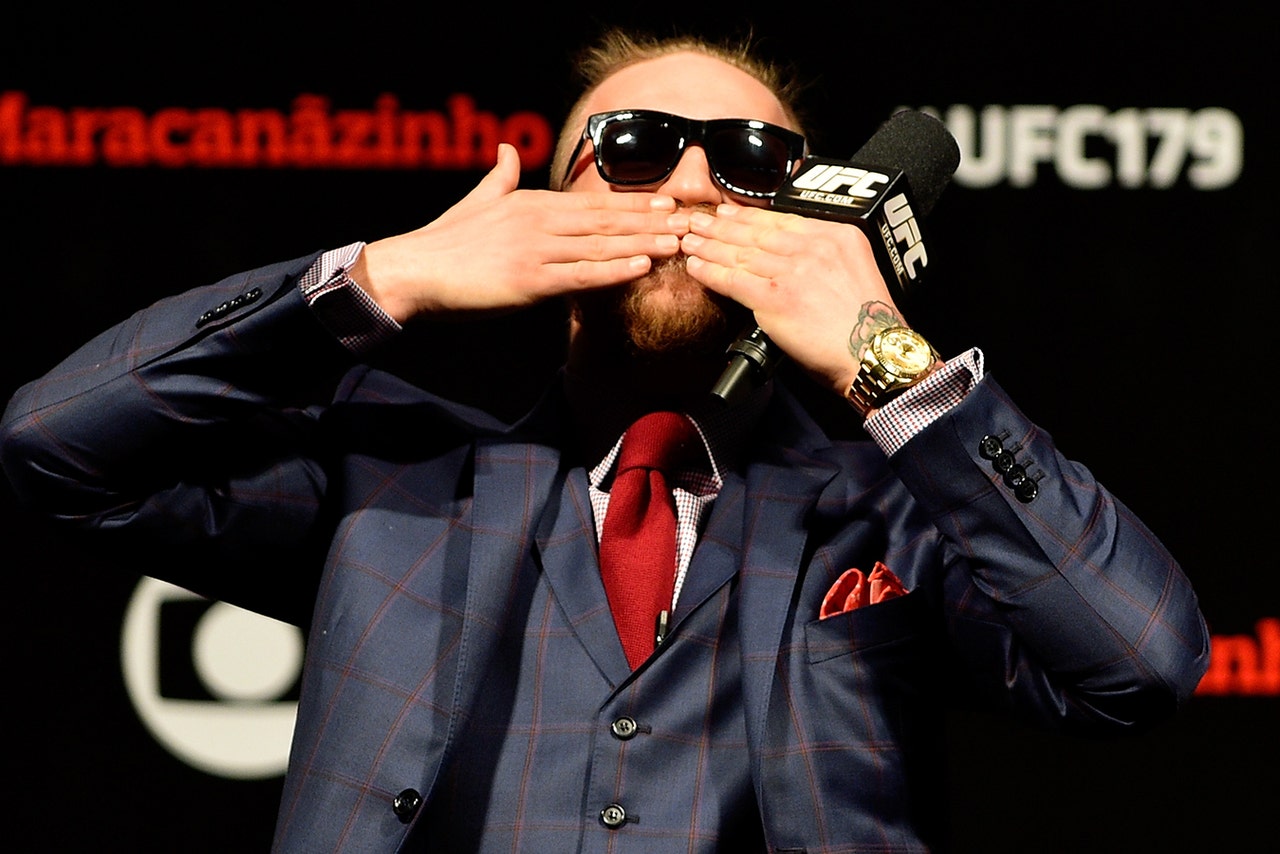 He's not fighting Saturday, but Conor McGregor's shadow still hangs over this entire event.
Not since Brock Lesnar debuted and declared war on the heavyweight division has a fighter arrived and immediately raised attention for an entire weight class the way that Conor McGregor has done since bursting onto the scene a year ago. He's brash, outspoken and definitely unapologetic about anything he says.
In a different world, Edgar and Swanson would probably be fans of McGregor, but because there's also talk that the 4-0 UFC fighter might leapfrog both of them for a featherweight title shot, it doesn't sit well with anybody in this weekend's main event. As it turns out McGregor's taunts and tactics might serve as the ultimate motivation for Edgar and Swanson to go out and put on a "Fight of the Year" that could leave the winner with the title shot instead.
"Cub Swanson told me this week, he loves it and he hates it at the same time," Stann said about his former teammate. "He thinks McGregor has given the division more attention than it's ever received, which he hopes will mean some bigger purses for all the guys at the top of that division. But at the same time, he wants to punch the guy in the face.
"I think it's very important (for) whoever wins this fight to do it in an exciting fashion. Doesn't mean it has to be dominant by any means. If we see a fight comparable to Jose Aldo and Chad Mendes, it makes a big statement and people will want to see the winner of this fight go fight for the title next and it puts the pressure back on Conor McGregor to go out there and put Dennis Siver away if he's going to be able to compete with that kind of performance from Frankie and Cub."
Bobby Green: The Newest Diaz Brother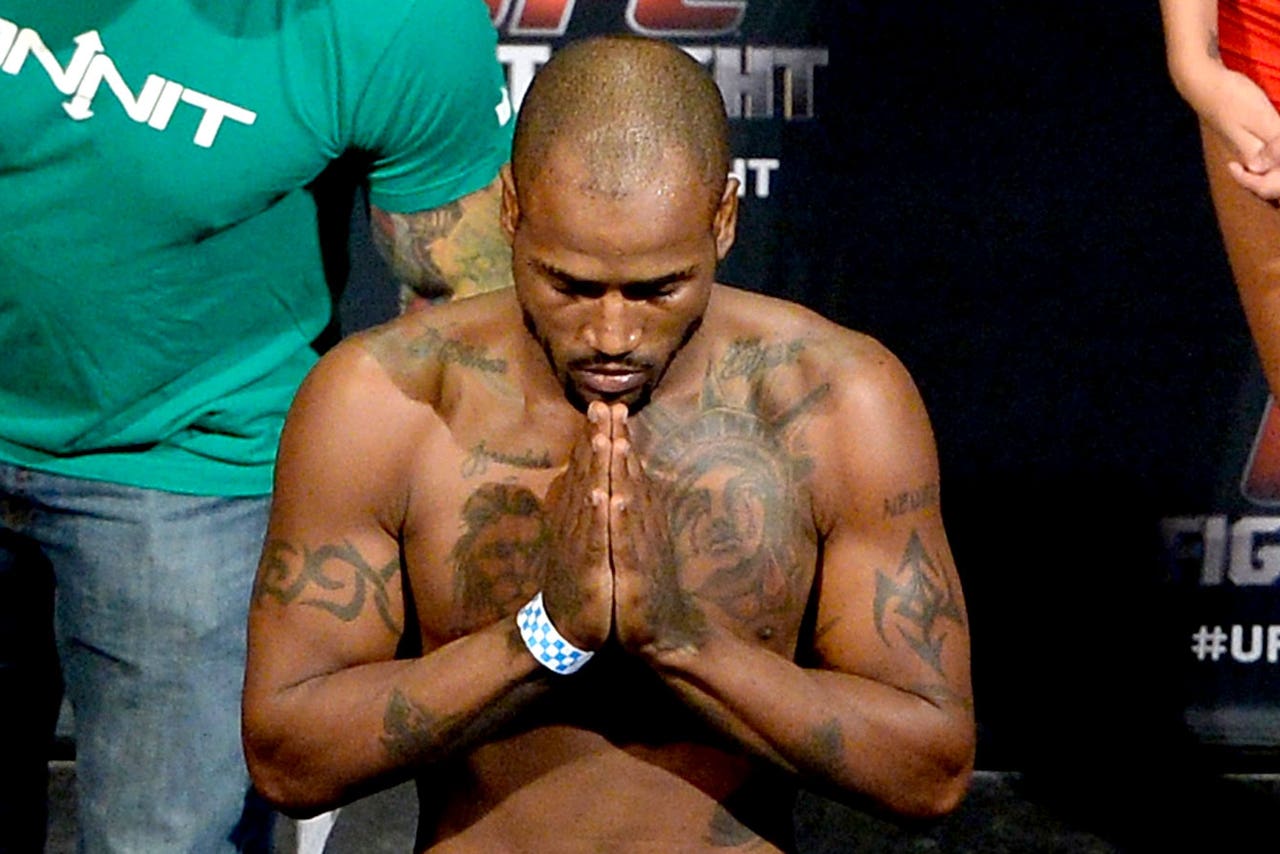 Will Bobby Green's camp switch pay off on Saturday?
UFC lightweight Bobby Green has recently picked up and moved his camp to Stockton, Calif., where he started working with Nick and Nate Diaz as well as top-ranked lightweight contender Gilbert Melendez and grappling guru Jake Shields. The move has been life-altering, according to Green, but is a switch of camps this close to a co-main event bout against Edson Barboza a good idea?
In all reality for the things that Green does well, the Diaz brothers should only enhance his performance and make him an even bigger threat to everyone in the division. 
"I think the way that (the Diaz brothers) fight with their pressure and taunting game is very similar to the tactics Bobby employed against Josh Thomson," Stann said. "I think the biggest change will be the fact that the people he gets to train with everyday are much better than at his old gym. 
"Bobby is a guy who has lived in chaos his entire life. It's not like Bobby walks to the Octagon and something about this shakes him up. We're talking about a guy who has been through a lot in his life, so I think we're going to see a very high-volume, high offensive performance from Bobby Green."
Stomach-Curdling Kicks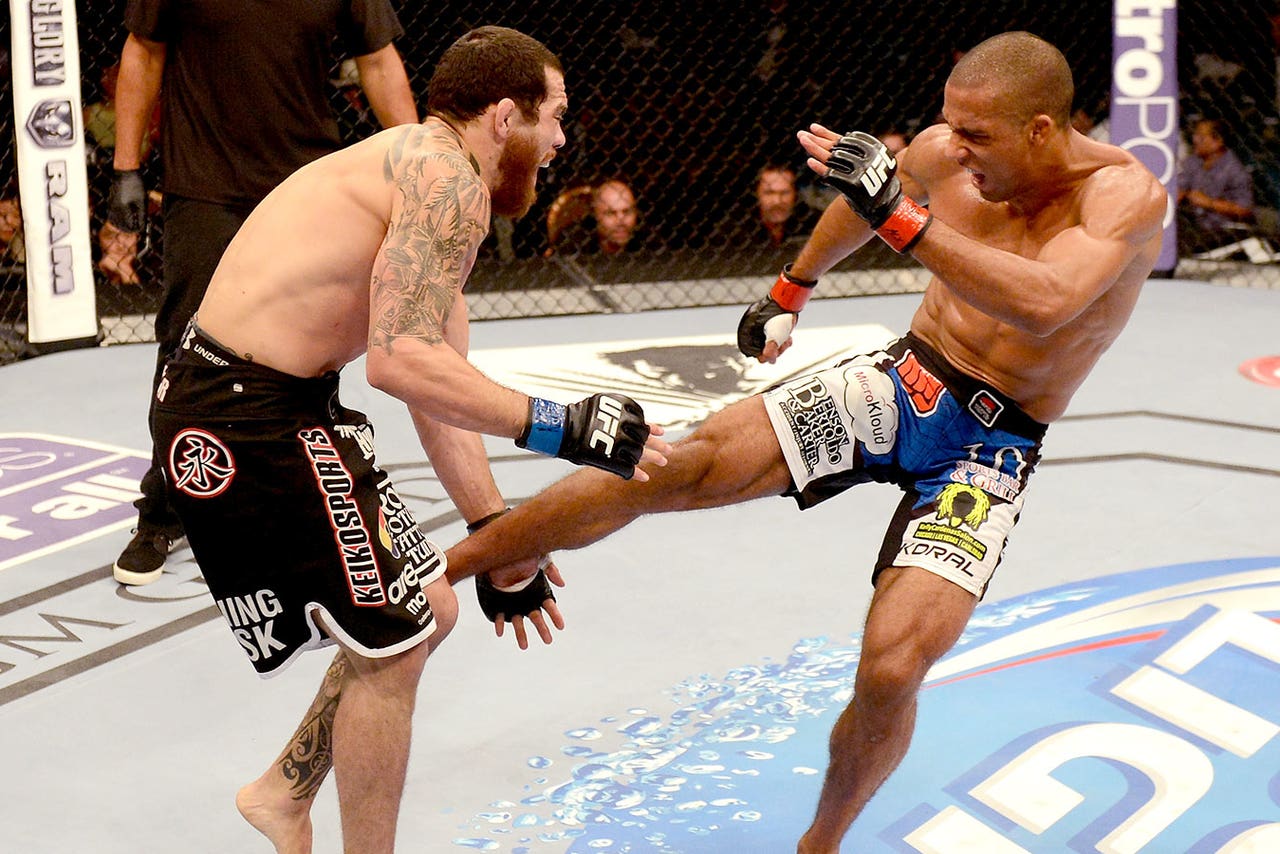 Edson Barboza's kicks are not to be missed.
Edson Barboza comes into the co-main event with an impressive resume in the UFC and an overall 8-2 record. Anik actually believes if not for a few mistakes, the Brazilian Muay Thai expert could easily be undefeated, and this is his chance to prove it when he faces the No. 7 fighter in the world.
"He really could be 10-0 or at the very least 9-1 in the UFC," Anik said. "Every time he gets it done, it's with style points, it's with bonus money. He has such a flair for the dramatic and the spectacular. I really do believe he's a special fighter."
Stann has a different assessment of Barboza when he sees him fight. The former UFC middleweight cringes every time Barboza steps foot in the Octagon, but not because he doesn't like watching Barboza go to battle. He actually winces and covers up when Barboza connects with one of his fight-altering kicks. Bobby Green would do well to listen.
"If you give him space, Barboza will chop you up," Stann said. "His kicks literally curdle my stomach when I'm watching him. They just sound so awful. You can just picture the damage that's going on internally when he kicks someone to the body or to the leg. When he's at range is when he's most dangerous."
Fight of the Night
There's a lot of potential for fireworks on this upcoming card with knockout artists like Brad Pickett fighting, as well as former top-ranked flyweight Joseph Benavidez taking part this weekend, but Stann looks at one bout in particular with "Fight of the Night" written all over it.
Lightweights Isaac Vallie-Flagg and Matt Wiman meet in the opening bout to the televised main card this weekend on FOX Sports 1, and Stann believes this could be the bout to set the stage for an incredible evening of fights.
"When you watch and break down their film, neither guy likes to back down," Stann said. "Both guys like to step forward. Neither guy moves their head a whole lot and they like to punch a whole lot. I think you may see two guys go out there and beat each other up for a long time. They've both got heart and they've got strong will. It's one of those mixtures where it's going to be violent and it might be Fight of the Night."
---
---