5 Reasons to Watch: FS1 UFC Fight Night: Dillashaw vs. Cruz
BY Damon Martin • January 15, 2016
The UFC returns this Sunday night with a title fight in Boston as bantamweight champion TJ Dillashaw puts his belt on the line against former division king Dominick Cruz.
Now with his body healthy again after years of injuries, Cruz is ready to return to action and looking to reclaim his title. But if he wants the belt back, he's going to have to go through Dillashaw, who has looked better than ever lately with three title fight victories including two dominant performances over Renan Barao.
Also on the card is former lightweight champion Anthony Pettis, who returns for the first time since losing the belt as he takes on tough-as-nails challenger Eddie Alvarez.
Alvarez is coming off a big win over Gilbert Melendez last year and is hoping to secure a title shot of his own with a win against Pettis.
There are a ton of great matchups and a title fight to cap it all off, but we're going to give you five good reasons to make sure you tune in to watch FS1 UFC Fight Night: Dillashaw vs. Cruz on Sunday, starting at 7 p.m. on FS1.
A Post-Alpha Male Champion
When Dillashaw got out of college and decided to pursue mixed martial arts, his career was guided by former WEC champion and current UFC contender Urijah Faber and Team Alpha Male out of Sacramento. Dillashaw recently opted to leave the team and moved to Colorado where he's been working full time with his head coach Duane "Bang" Ludwig and the fighters out of Team Elevation in Denver.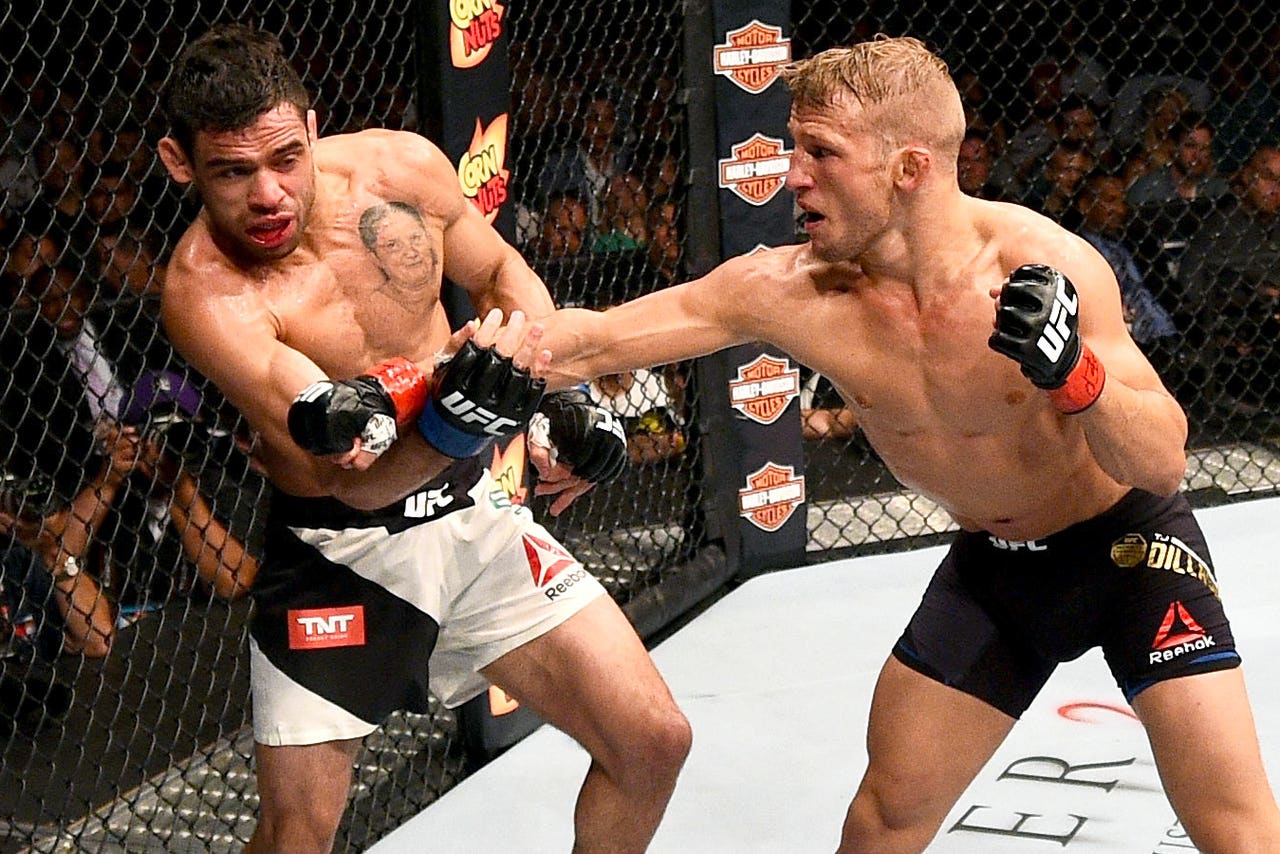 TJ Dillashaw
Dillashaw formed a very special bond with Ludwig while he was the Team Alpha Male head coach for a year, a bond that saw the former "Ultimate Fighter" runner-up go from contender to champion in one of the most stunning upsets of all time as he took out the former bantamweight king Barao. Dillashaw has shown huge improvements working with Ludwig, but his title defense this weekend will be the first time he's also not being backed up by the guys at Team Alpha Male.
Dillashaw wasn't exactly abandoned by the fighters he used to train with every day -- Joseph Benavidez and Lance Palmer from Team Alpha Male made trips to Denver to help Dillashaw and Team Alpha Male fighter/coach Justin Buchholz actually will be in his corner this weekend as well.
Still, this is Dillashaw's first fight away from the team that helped get him to the championship, so he's got a lot riding on a win and proving that decision he made to move to Colorado to work with his new gym and his own head coach paid off in the end.
Is Cruz Still the Best Bantamweight in the World?
Cruz returns this weekend for only his second fight in four years, while trying to reclaim the title he never actually lost, but was forced to surrender after injuries sidelined him multiple times.
It's been almost five years since Cruz was last champion and a lot has changed since then. The former champion still believes he's the best fighter in the world at 135 pounds and he's out to prove it with his fight against Dillashaw.
Cruz was an innovator of a style that included a ton of footwork and movement that was mocked early on but now gets mimicked by fighters who look to up their output and decrease the damage taken over the course of a three- or five-round war. Cruz has continued to develop that style during his time off, but there's no denying that age and injuries certainly take their toll. He's returning to a much different division than the one he left the last time he was champion.
Cruz has a lot to prove this weekend and that anger has fueled him for several years. Is it enough to regain the title and reclaim his throne as the best bantamweight in the sport? There's only one way to find out.
It's Showtime
Former champion Anthony Pettis has a flair for the dramatic whenever he fights, and chances are when the night is over he's going to produce at least one or two highlights that will be discussed come Monday morning.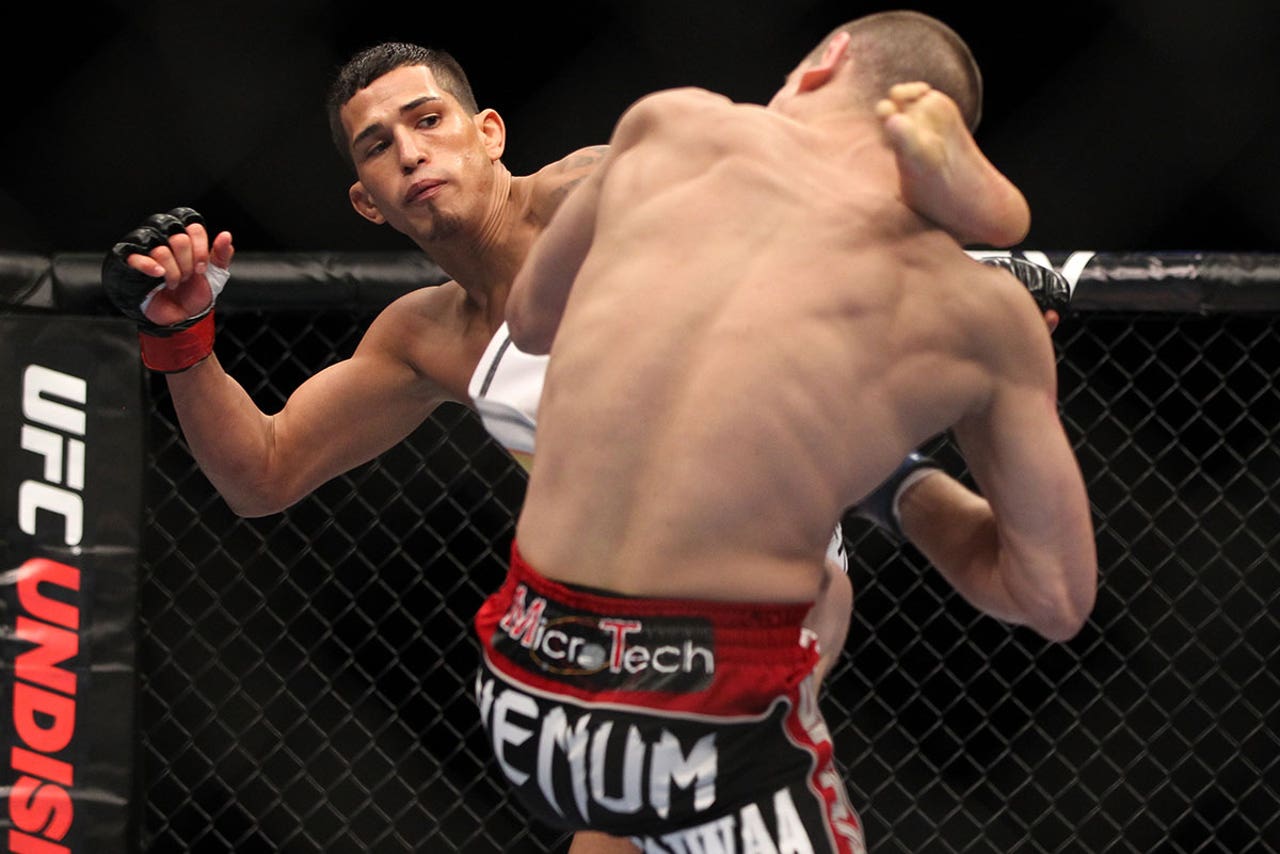 Anthony Pettis
Pettis is one of the most creative strikers in the sport, with the ability to land a devastating punch or kick from almost anywhere. Pettis isn't limited to the normal conventions of striking because he loves to use the fence wall of the Octagon as an additional springboard like he's playing his own personal brand of parkour.
Except for one minor variation: His jump off the cage usually ends by punching or kicking somebody in the face.
Pettis moves fast, hits hard and when he lands flush, his opponents usually either fall to the ground unconscious or double over while grimacing from the pain he just inflicted.
The best way to describe Pettis' style is with two words -- don't blink. That's all you need to remember going into his fight with Eddie Alvarez.
Big Men with Big Punches
Travis Browne and Matt Mitrione have a combined 13 knockouts and TKO's between the two of them during their UFC careers so chances are this heavyweight matchup is going to end with one of them going down before the final horn has a chance to sound.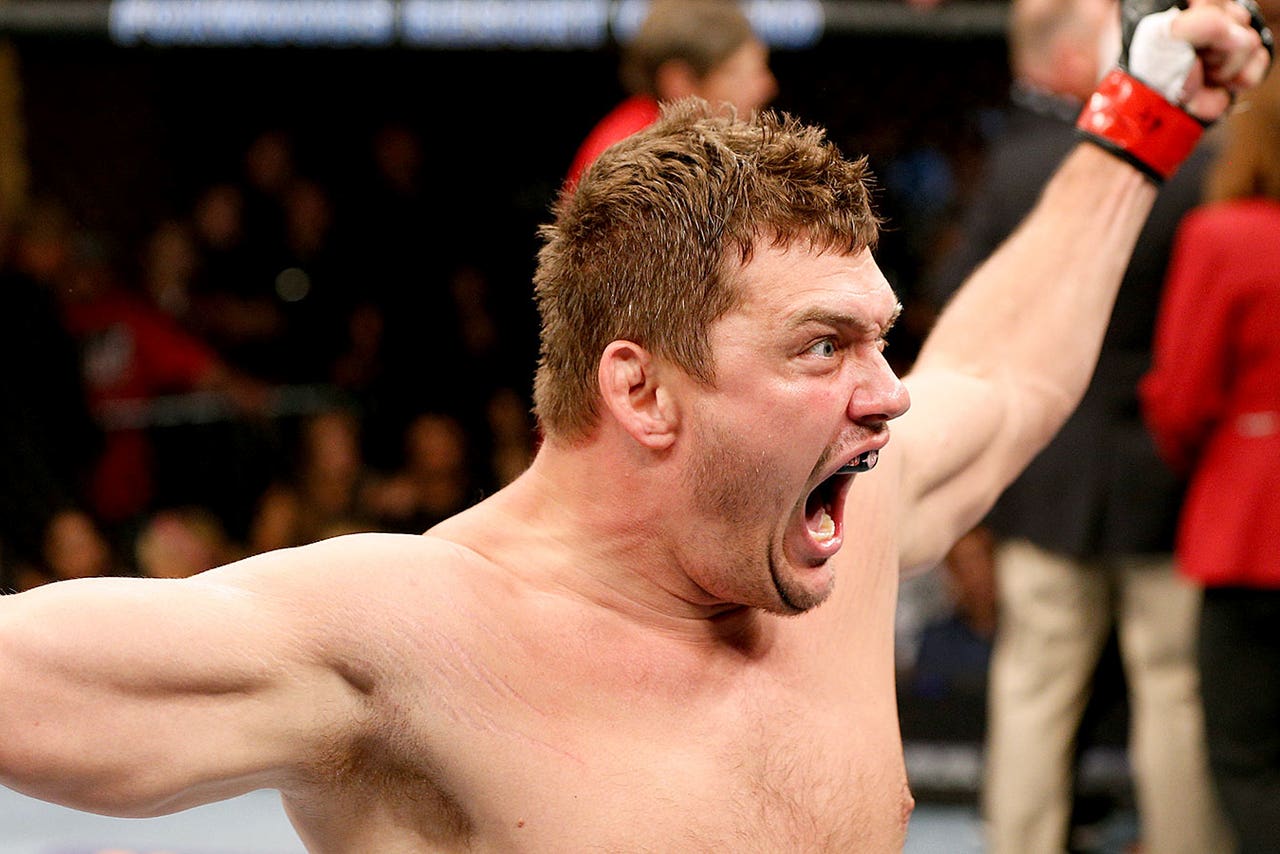 Matt Mitrione
Browne has a very dangerous striking style with long range, hard punches and good kicks that's complimented by his extreme toughness even in the worst of situations. Browne absorbed a mountain of punishment from Alistair Overeem when they fought in 2013 before the Hawaiian uncorked a finishing kick of his own that will go down in history as one of the best comebacks to ever take place inside the Octagon.
On the other side, Mitrione has some of the fastest hands you'll ever see on a heavyweight in the UFC. He's quick on his feet but when he lands a shot, Mitrione does maximum damage and it rarely takes more than one or two punches from the former NFL player to put somebody away.
Browne and Mitrione are both coming off recent losses so chances are they want to make a statement and it doesn't involve a boring fight with the judges rendering a decision. Chances are this one ends with a finish, and it's more than likely that a bonus will be handed out to the winner.
Sleeper Fight of the Night
With a title fight, a former champion and a heavyweight brawl decorating the main card, there's one welterweight matchup on the prelims that could end up being a show-stealer when the night is over.
Patrick Cote takes on Ben Saunders in the featured prelim on FS1, and both of these veteran welterweights are more than capable of putting on a fight to remember.
Cote is coming off a huge knockout over Josh Burkman in his last fight, and the Canadian is well known for having heavy hands and a concrete chin. Meanwhile, Saunders has some of the nastiest knees in the sport. He'll use them in the clinch while also possessing one of the slickest submission games of anyone in the UFC.
Saunders has no problem working from the bottom because his rubber guard is nearly impossible to penetrate, not to mention he's the only fighter in UFC history to pull off an omo plata (shoulder lock) to finish an opponent.
This fight might be slipping under the radar thanks to an outstanding main card, but Saunders and Cote are more than capable of putting on the kind of show that will have everyone buzzing by the time the main event fighters are walking to the Octagon. 
---
---