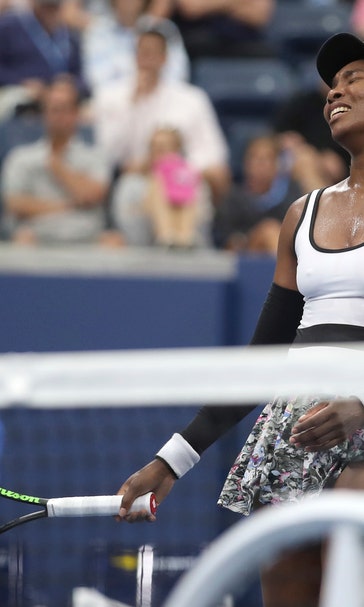 Venus Williams goes from great 1st Open match to loss in 2nd
August 29, 2019
NEW YORK (AP) — It took all of five minutes in the U.S. Open's second round for Venus Williams to drop twice as many games as she had in her opening match a couple of days earlier.
And although she eventually made things interesting against No. 5 seed Elina Svitolina, the 39-year-old Williams could not ever quite take control and lost 6-4, 6-4 before a crowd pulling for her under a closed roof at Louis Armstrong Stadium on a rainy Wednesday afternoon.
"Thank you, guys," Svitolina, a semifinalist at Wimbledon in July, told the crowd in her on-court interview, "even though you didn't support me."
Williams is among the most popular players on tour. She won the U.S. Open twice — all the way back in 2000 and 2001. She also collected five Wimbledon singles championships, 14 Grand Slam doubles titles with her younger sister, Serena, and reached No. 1 in the rankings.
She fought for equal prize money in tennis for women and has become one of her sport's leading voices.
"It's unbelievable what she does, on the court and off the court," Svitolina said. "Really a big inspiration for everyone."
Williams, now ranked No. 52, looked terrific in her first-round match at Flushing Meadows on Monday, defeating Zheng Saisai 6-1, 6-0.
Against Svitolina, in contrast, Williams trailed 2-0 right away. She made unforced error after unforced error, 23 in the first set alone. And while she cleaned that up later, it wasn't enough. Williams led 3-0 in the second set before Svitolina reeled off five consecutive games.
Williams fended off five match points while serving down 5-3 in a monumental, 15-minute game, but that only prolonged things briefly, because Svitolina then served out the victory.
It was Williams' eighth Grand Slam tournament in a row that she exited in the third round or earlier.
"Sad it had to end early here," she said.
---
---