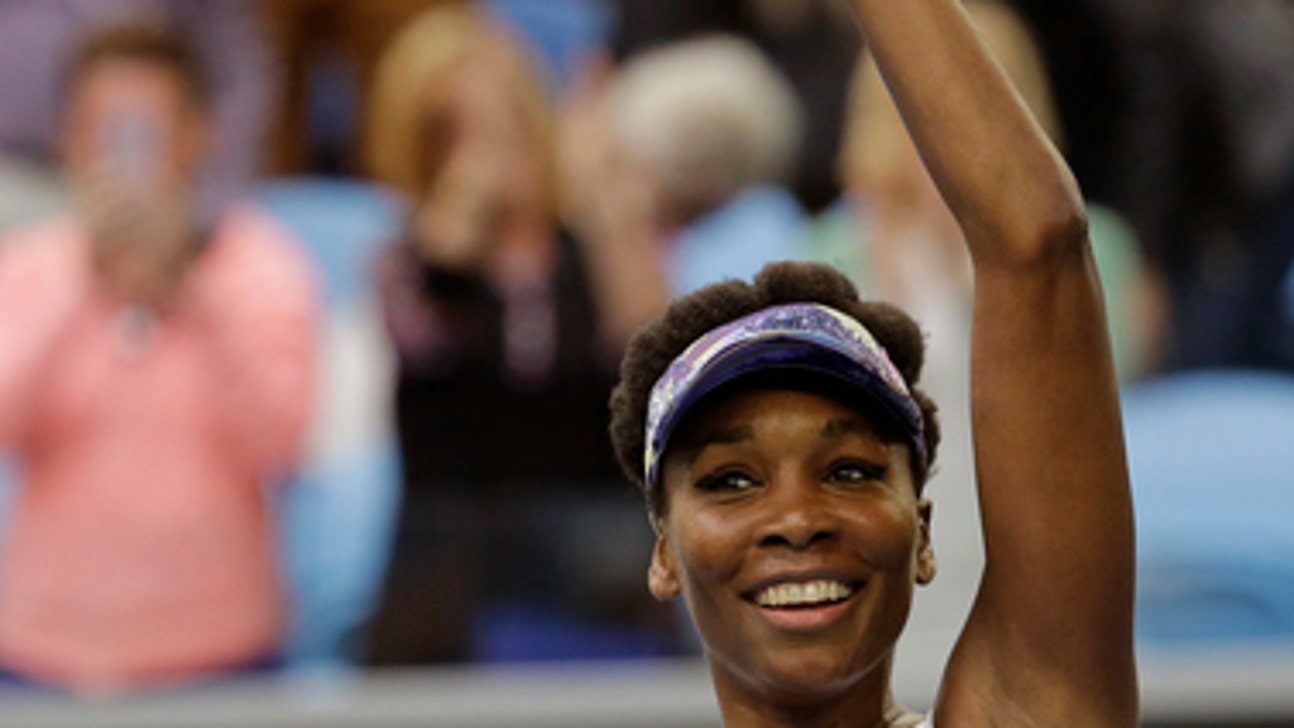 Venus focused on tennis, not age, in record 73rd Grand Slam
Updated
Mar. 5, 2020 12:33 a.m. ET

MELBOURNE, Australia (AP) One could never accuse Venus Williams of being sensitive about her age. Not the way she keeps making self-deprecating jokes about it at the Australian Open.
Case in point: Asked about the Australian great Margaret Court after her third-round win over China's Duan Yingying at Margaret Court Arena on Friday, Williams said she had a letter from the 24-time major winner hung on the wall in her room as a memento.
''It's a congratulations for me being the oldest person in the draw or something like that,'' she dead-panned.
The 36-year-old Williams fields more than her fair share of questions about her advanced age in the sport, how often she considers retirement, what keeps her motivated after more than two decades on the court.
Indeed, she is appearing in her 73rd Grand Slam singles draw - a record for the Open era. And she is the oldest woman in the draw at Melbourne Park, though it should be noted that male players her age, such as Ivo Karlovic and Roger Federer, aren't continuously peppered with the same questions.
But rather than show her annoyance, Williams smiles and patiently responds each time, sometimes with a joke. And she's made clear with her play this week that she's still a serious contender - she's reached the fourth round at the Australian Open for the 10th time in her career, and without dropping a set.
Against Duan, a player who admitted she'd never seen the seven-time Grand Slam winner play, the 13th-seeded Williams only lost one game.
''Just like every player here, I have put in a ton of work,'' Williams said earlier in the week. ''I'm not coming all the way to Australia for kicks and giggles. I'm here as a competitor.''
Williams made clear Friday she doesn't want to get dragged into controversies, either. She declined to comment on a remark by a TV commentator during her second-round match when he described her as moving in and charging with what sounded like a ''gorilla'' or ''guerrilla'' effect.
The commentator, Doug Adler, who maintains he said ''guerrilla'' - as in, her choice of tactics - but apologized for his poor word choice, was dropped from ESPN's coverage for the rest of the tournament.
''All I can say is it's been a wonderful, wonderful career for me full of positives. That's what I focus on,'' said Williams, who hasn't shied away from addressing issues ranging from racism to gender pay equity throughout her career.
''I pay attention and address situations that are noteworthy,'' she added, when pressed on the subject. ''That's been my past record, clearly.''
What Williams wants to talk about is her tennis. Especially as she continues to win at Melbourne Park, where she's reached the final just once in her career.
Her next opponent is another player many years her junior, 26-year-old Mona Barthel, a No. 181-ranked qualifier from Germany.
''It's never enough,'' Williams said. ''I've been in the fourth round before. I've tasted it before and it's always a great feeling because it means, hey, I have an opportunity for the quarterfinals. That's what I'm going to go for.''
---