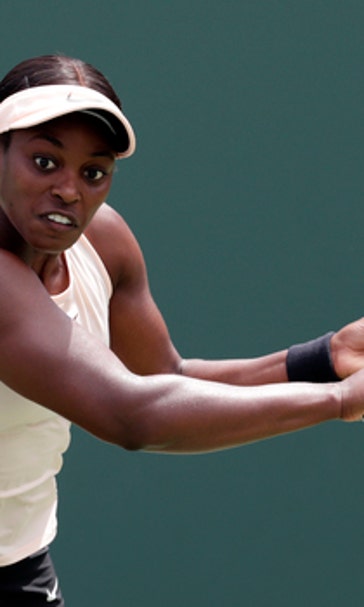 US Open champ Stephens beats Ostapenko for Miami Open title
March 31, 2018
KEY BISCAYNE, Fla. (AP) Half an hour after Sloane Stephens won her hometown tournament, she lingered on the confetti-covered court, posing for photos and signing autographs as if reluctant to leave Key Biscayne.
The Miami Open is moving, and Stephens became the final women's champion on the picturesque island by beating Jelena Ostapenko 7-6 (5), 6-1 Saturday.
Stephens was born in South Florida, played on Key Biscayne as a junior and lives in nearby Fort Lauderdale. That made the reigning U.S. Open champion especially eager to win the Miami Open before it moves 18 miles north next year to suburbia and the NFL Dolphins' stadium.
''This place is pretty special to me,'' Stephens said. ''I'm definitely happy I could be the last person to win here. I've had some amazing experiences here, and I'll definitely miss it.''
Even so, Stephens was surprised that fans jeered during the trophy ceremony when tournament director James Blake mentioned the relocation.
''I was kind of confused by that,'' she said. ''I'm excited for the move. I think it will be great for the tournament - a new facility. I'm sure it will be beautiful.''
Mike and Bob Bryan won their 115th doubles title and their biggest in nearly two years when they beat Andrey Rublev and Karen Khachanov 4-6, 7-6 (5), 10-4.
John Isner tries for the biggest title of his career Sunday when he faces Alexander Zverev in the men's final. Isner could give the United States its first sweep at Key Biscayne since 2004, when the champions were Andy Roddick and Serena Williams.
The No. 13-seeded Stephens won with defense, repeatedly extending rallies until Ostapenko would make a mistake. Ostapenko had a 25-6 advantage in winners but committed 48 unforced errors to 21 by Stephens.
''She was moving really well,'' Ostapenko said. ''Sometimes I was going for an aggressive winner when I didn't have to. I was sometimes missing shots I was normally making this week.''
Stephens was the surprise champion at the U.S. Open last September, and then lost her next eight matches, including the first two of 2018. But she shook her slump on Key Biscayne, improved to 6-0 in finals and will break into the top 10 for first time next week at No. 9.
''It's incredible,'' Stephens said. ''I knew if I just got back to the drawing board I would be OK. I wasn't expecting a title here. I just wanted to make sure I got my game back where I wanted to be.''
Stephens and the No. 6-seeded Ostapenko, last year's French Open champion, battled almost exclusively from the baseline, and the quality of play was often ragged. The finalists traded breaks for four games, and Stephens was broken twice more when serving for the first set.
She wobbled again leading 6-2 in the pivotal tiebreaker, committing unforced errors to squander consecutive set points. But Ostapenko dumped an easy backhand into the net to lose the set, and the Latvian appeared to tire after that.
Stephens said she benefited from a pep talk by her coach after the opening set.
''I was a little nervous, and it was showing in my game,'' she said. ''My feet weren't moving, and I wasn't swinging through the ball. I just needed a little bit of a reminder to just go for it if I wanted to take the title.''
Stephens swept the final six games, clinching one with the shot of the match. Ostapenko chased down a drop shot and punched it back, but Stephens stretched near the baseline to hit a forehand volley cross-court for a winner.
That made it 5-1, and on championship point moments later, Ostapenko sent a forehand wide. Stephens celebrated by pumping both fists to cheers from her hometown crowd.
She enjoyed the support of fans and family and more.
''Half the people I didn't even know,'' she said. ''It was amazing they came out and supported me. It makes you feel good.''
---
More AP tennis coverage: https://apnews.com/tag/apf-Tennis
---
Follow Steven Wine on Twitter: https://twitter.com/Steve-Wine
---
---