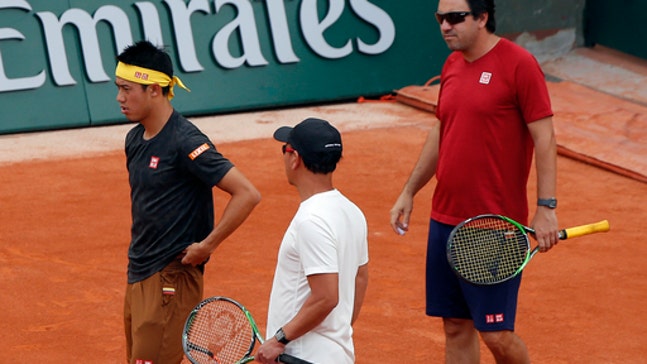 Up-and-comers will try to announce arrival at French Open
Updated
Mar. 4, 2020 8:29 p.m. EST
PARIS (AP) It's an oft-cited and oft-updated stat in men's tennis: The so-called Big 4 - Roger Federer, Rafael Nadal, Novak Djokovic and Andy Murray - have won 47 of the past 52 Grand Slam titles, a run of dominance that began in 2005.
Add in Stan Wawrinka to make it a Big 5, and the number becomes 50 of 52.
And the frequently repeated accompanying questions are: How much longer can these guys continue to dominate the sport? When will a youngster - or several - step up? Maybe the French Open, which starts Sunday, will offer some insight.
''It's going to change at some point. But it does seem like the more you say it's going to change, Rafa and Roger are like, `Nope, I'm still around,''' said 1989 French Open champion Michael Chang, who coaches 19th-seeded Kei Nishikori. ''There will be a transition. And it's starting to happen. But when is it going to be a complete transition? It's hard to say.''
The members of the elite are all past 30, which used to be an age that generally signaled the end of a player's prime.
Federer, now 36, has won a record-equaling four Grand Slam titles since leaving his 20s, and Nadal, whose 32nd birthday is in a week, and Wawrinka, 33, each have claimed two. Djokovic and Murray both turned 31 this month.
Federer (resting and preparing for grass and hard courts) and Murray (recovering from hip surgery) are not at Roland Garros. Djokovic is apparently finally over right elbow problems, but he's gone almost two full years without winning a major tournament. Wawrinka only recently returned after missing three months to rest his left knee, which was surgically repaired last August.
That leaves Nadal, who still is very much the King of Clay; were he to win a record-extending 11th championship at Roland Garros, it would mark the sixth consecutive Grand Slam trophy that went to him or Federer.
''If you really think about it, Roger and Rafa are still playing great tennis. And the only reason maybe the top four or five are not the top four or five right now is because Andy's hurt, Novak's coming back from injury and Wawrinka's coming back from injury. It's really opened up the door for a lot of guys to be able to say, `Hey, this might be my chance,''' Chang said.
''There's no question,'' he added, ''that some of these young guys are the real deal.''
Any such conversation about who could be an eventual successor tends to begin with Alexander Zverev, a 21-year-old German. He is seeded No. 2, marking the first time someone outside the Big 4 has been placed that high at a Grand Slam tournament since the 2006 Australian Open, when Federer and Andy Roddick took the top two spots.
While Zverev has won Masters titles and recently collected two clay-court trophies (at Munich and Madrid), he has yet to break through at a major tournament, only once making it as far as the fourth round. He has yet to beat a player ranked in the top 50 at a Slam.
''For me, this doesn't matter,'' said Zverev, scheduled to face Ricardas Berankis in the first round Sunday, when the forecast calls for rain. ''We all know I'm going to beat a top-50 player at some point in a Grand Slam. I mean, this is not something I worry about, to be honest.''
Other players whose names arise include two-time French Open semifinalist Dominic Thiem, 24; Kyle Edmund, 23; Nick Kyrgios, 23; Karen Khachanov, 22; Andrey Rublev, 20; and Denis Shapovalov, 19.
Seeded in Paris, in addition to Zverev: No. 7 Thiem, No. 16 Edmund, No. 21 Kyrgios, No. 24 Shapovalov.
''We have been talking about it for a few years now, so I feel like the best of our generation are already kind of the current generation,'' Zverev said. ''They shouldn't be called `next generation' too much.''
Asked whether he thinks it's time for the up-and-comers to take control of tennis, Nadal passed on offering a definitive take.
''We'll see. I cannot predict what's going on. But of course, there is a generation of players with a lot of talent, a great potential to become big stars of this sport,'' he said. ''Let's see how the things happens the next couple of months or the next couple of years.''
Or even the next couple of weeks.
---
Follow Howard Fendrich on Twitter at http://twitter.com/HowardFendrich
---
More AP tennis coverage: https://apnews.com/tag/apf-Tennis
---
---