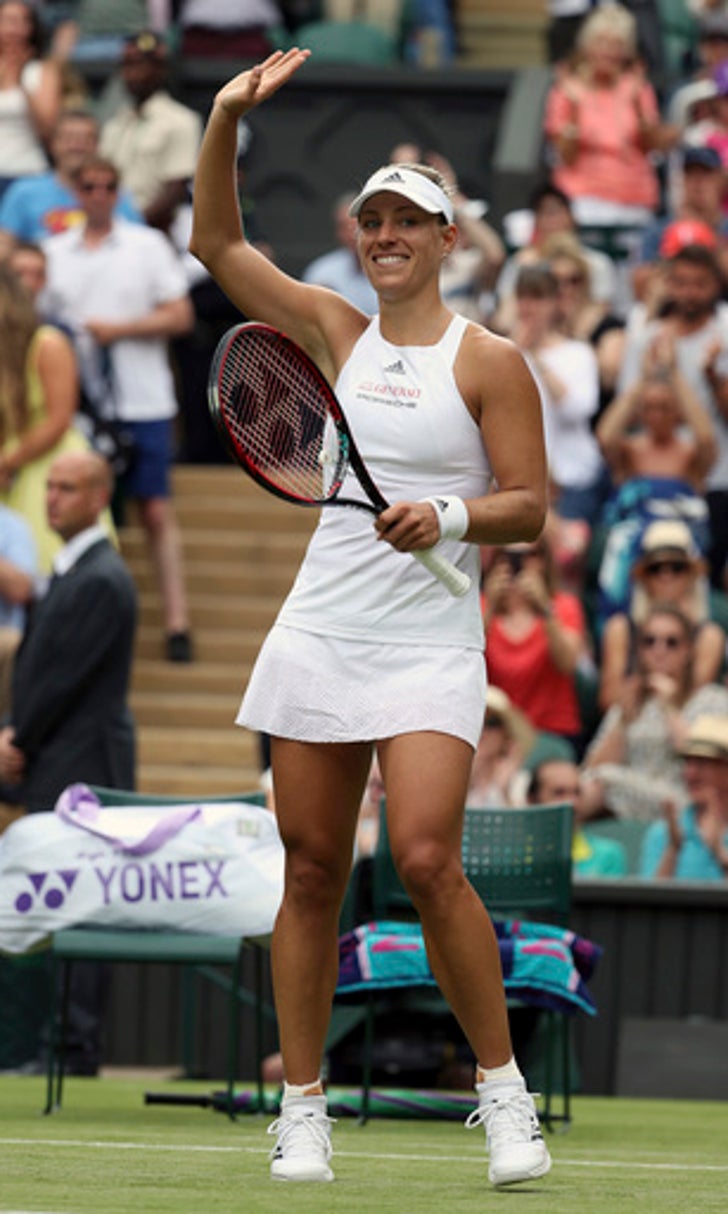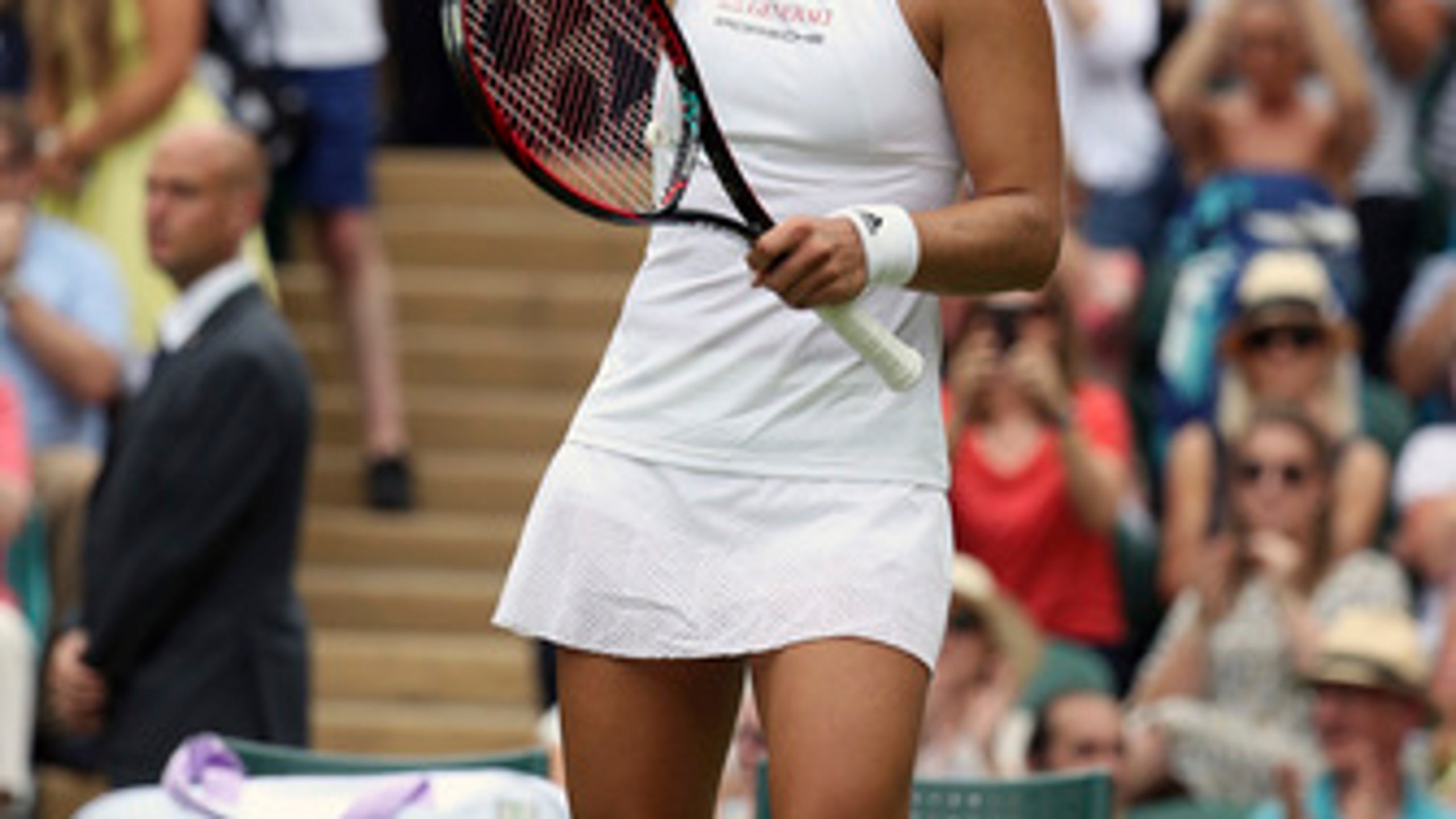 The Latest: Sock wants to get his fan a Wimbledon towel
BY AP • July 6, 2017
LONDON (AP) The Latest from Wimbledon (all times local):
---
9:45 p.m.
Jack Sock is going to get his fan a Wimbledon towel.
Sock, an American who won his opening match on Tuesday, tossed a towel to a young fan after his match. But a man sitting in front of the boy grabbed hold of it and wouldn't let go.
Sock said he has been messaging with the fan on social media and would try to right things.
''Told him I'd get him a towel, if possible,'' Sock said after a second-round loss at the All England Club. ''And I think all the other Slams reached out and they'd also like to send him one, so it'd be pretty cool.''
---
7:50 p.m.
Roger Federer lost his first service game, but not much else after that.
The seven-time Wimbledon champion advanced to the third round by beating Dusan Lajovic 7-6 (0), 6-3, 6-2.
Lajovic opened up a 2-0 lead by breaking Federer in the second game on Centre Court. But Federer broke right back and then dominated the tiebreaker.
Federer won the Australian Open this year but skipped the French Open. He is looking to win a record-breaking eighth men's title at the All England Club.
---
6:20 p.m.
Karolina Pliskova has become the highest-seeded player to fall at Wimbledon, losing to Magdalena Rybarikova in the second round.
Pliskova, the No. 3-seeded player, was the runner-up at the U.S. Open last year and had reached at least the quarterfinals of her last three Grand Slam events. Despite the 3-6, 7-5, 6-2 loss, Pliskova still has a chance to move up to No. 1 in the rankings after Wimbledon depending on how Angelique Kerber and Simona Halep fare the rest of the tournament.
Rybarikova, making her 10th appearance at the All England Club, has never been past the third round in any of her 35 previous Grand Slams. Ranked No. 87, she reached the third round at Wimbledon once, in 2015, and the third round of the U.S. Open twice, in 2008 and 2009.
She lost in the first round at Wimbledon last year and underwent wrist and knee surgeries that prevented her from playing again until February, when she played in an ITF event in Germany.
---
5:50 p.m.
Long-time WTA Tour player Daniela Hantuchova has retired from tennis.
The 34-year-old Slovak, who played her first tournament in 1999, made the announcement Thursday on her Facebook account.
''I want to tell you with all my appreciation and happiness inside of me, that the time has come to retire from professional tennis,'' Hantuchova wrote. ''Being part of the WTA, ITF, the Slovak Fed Cup and Olympic team has been the biggest blessing and privilege.''
Hantuchova reached a career high of No. 5 in the rankings and won seven titles, the last in 2015. She was an Australian Open semifinalist in 2008 and also reached the quarterfinals at Wimbledon and the U.S. Open.
---
5 p.m.
American wild-card entry Bethanie Mattek-Sands injured her right knee during a point and retired from her second-round match at Wimbledon.
Moving up toward the net in the opening game of the third set against Sorana Cirstea of Romania, Mattek-Sands slipped and fell. She immediately clutched her right knee. She could be heard screaming in pain and sobbing.
Mattek-Sands stayed down in the middle of Court 17 and was attended to by medical personnel.
The 32-year-old Mattek-Sands is ranked No. 1 in women's doubles. She and her partner, Lucie Safarova, have won three consecutive Grand Slam doubles titles, including at the French Open last month.
---
4:25 p.m.
John Isner's 45 aces were not enough for the 23rd-seeded American in the second round of Wimbledon. He lost to 90th-ranked Dudi Sela of Israel 6-7 (5), 7-6 (5), 5-7, 7-6 (5), 6-3.
The 6-foot-10 (2.08-meter) Isner has quite a height advantage over the 5-9 (1.75-meter) Sela, but that didn't help on this day. One key to the match was Isner's inability to win any of Sela's service games in the fifth set, going 0 for 6 on break points.
Isner has never been past the third round at Wimbledon, where he won the longest match in tennis history in 2010, 70-68 in the fifth set.
Sela arrived at the All England Club with a 4-8 career record at the grass-court major, including six first-round losses. The only time he had made it past the second round until now was a fourth-round showing in 2009.
---
4:10 p.m.
Ernests Gulbis is back in the third round at Wimbledon for the second time.
The unseeded Latvian beat Juan Martin del Potro 6-4, 6-4, 7-6 (3) and will next face three-time champion Novak Djokovic.
Gulbis reached the fourth round at the French Open in 2016, but didn't win another tour-level match until Tuesday in the first round at the All England Club.
The only other time he reached the third round at Wimbledon was in 2013. He reached the semifinals at the French Open in 2014.
Against del Potro, Gulbis had 25 aces and was only broken once. He had twice as many winners as his opponent, outnumbering del Potro 60-30.
---
3:50 p.m.
Three-time major champion and former No. 1 Lindsay Davenport will serve as a ''legend ambassador'' for the WTA Finals, which will be held in Singapore from Oct. 22-29.
The WTA announced Davenport's role on Thursday at Wimbledon, where she won the title in 1999 and later was twice the runner-up to Venus Williams.
Davenport joins Martina Navratilova, Chris Evert and Kim Clijsters as other members of the International Tennis Hall of Fame who are helping promote the tour's season-ending tournament.
Eight singles players will earn spots in the field at Singapore. Entering Wimbledon, Karolina Pliskova led the standings based on this year's results, followed by French Open runner-up Simona Halep, Elina Svitolina, Caroline Wozniacki, French Open champion Jelena Ostapenko, Kristina Mladenovic, Johanna Konta and Australian Open runner-up Williams.
---
3 p.m.
Novak Djokovic advanced to the third round at Wimbledon for the ninth consecutive year, beating Adam Pavlasek 6-2, 6-2, 6-1.
The match was longer than Djokovic's first-round victory against Martin Klizan, who retired early in the second set.
It was the second match for Djokovic with Andre Agassi and Mario Ancic as his coaches - both of whom were in the coaches' box at No. 1 Court.
Pavlasek, a 22-year-old Czech making his first appearance at the All England Club, grew up idolizing Djokovic. Ranked No. 136, he turned pro in 2012 and was making his third appearance in a Grand Slam.
---
1:10 p.m.
Bernard Tomic of Australia was fined $15,000 at Wimbledon - not for something he did during his first-round loss, but for what he said during the news conference afterward.
The fine amounts to a third of Tomic's prize money: First-round losers this year earn 35,000 pounds (about $45,000).
The penalty for unsportsmanlike conduct was announced Thursday, two days after Tomic spoke about feeling ''a little bit bored out there'' during his match.
Tomic also said he ''just couldn't find any motivation'' to compete and acknowledged that when he called for a medical timeout, he was trying to ''break a bit of momentum.''
Also losing a chunk of change for unsportsmanlike conduct: Daniil Medvedev of Russia, who threw a handful coins in the direction of the chair umpire after a second-round loss Wednesday. Medvedev was given three fines totaling $14,500.
---
12:55 p.m.
David Ferrer reached Wimbledon's third round for the first time since 2013 when his opponent, Steve Darcis, stopped because of a back injury while trailing 3-0.
Darcis is the eighth man to retire during a match this week. He took a medical timeout after 18 minutes of play and was unable to continue.
Darcis, a Belgian ranked 61st, is best known for beating Rafael Nadal in the first round at Wimbledon in 2013, only to withdraw before his next match, citing an injured right shoulder.
Ferrer was a quarterfinalist at the All England Club in 2012 and 2013. His best Grand Slam showing a runner-up finish at the 2013 French Open.
---
10:50 a.m.
The sun is out and the temperatures are high so far on Day 4 at Wimbledon, with Roger Federer and Angelique Kerber scheduled to play.
There has been only one brief rain delay so far at Wimbledon, though thunderstorms are possible on Thursday with temperatures already around 28 degrees C (82 degrees F).
Federer, a seven-time champion at the All England Club, will play on Centre Court against Dusan Lajovic in the second round. The top-ranked Kerber will face Kirsten Flipkens on No. 1 Court.
Novak Djokovic and Juan Martin del Potro are also on the schedule. If both players win on Thursday, they will meet in the third round.
---
More AP tennis coverage: https://apnews.com/tag/apf-Tennis
---
---