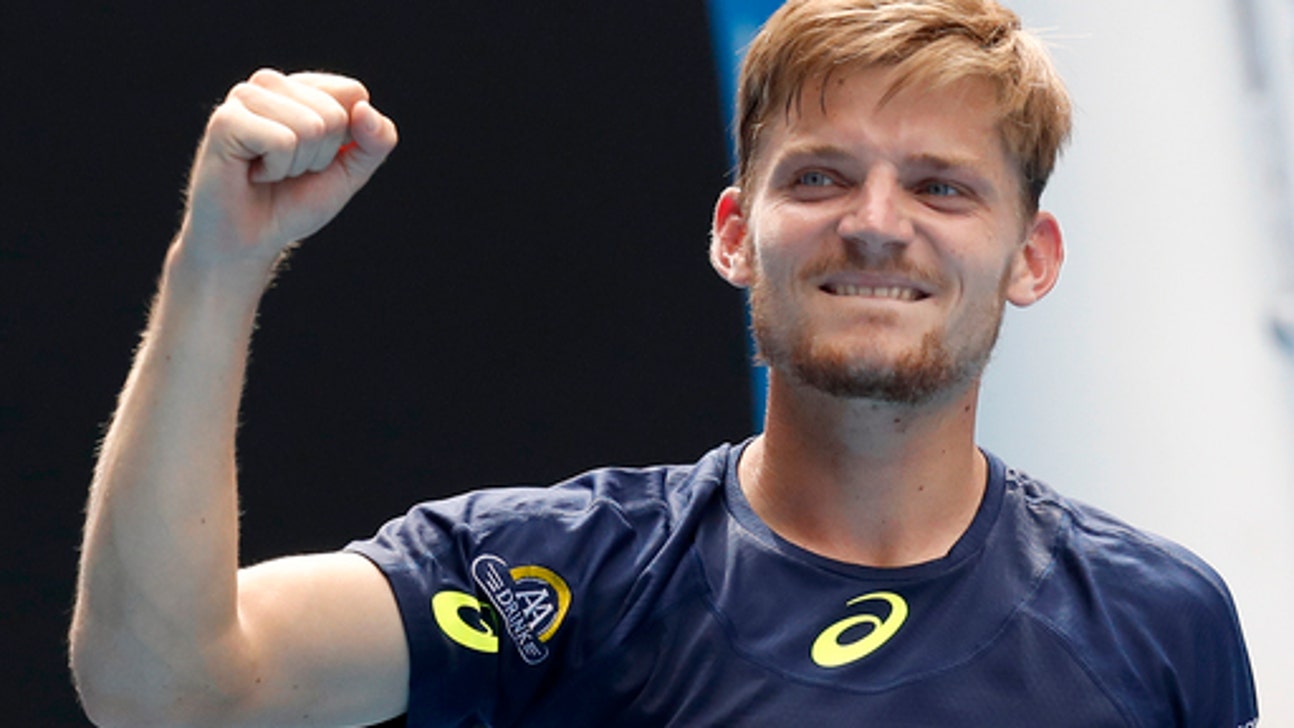 The Latest: Monfils struggles with return of serve vs Nadal
Updated
Mar. 4, 2020 12:36 p.m. ET

MELBOURNE, Australia (AP) The Latest on Monday from the Australian Open (all times local):
1 a.m.
Rafael Nadal had issues with his inability to convert break points - just six of 17. Gael Monfils had bigger problems.
The Frenchman said his inability to return Nadal's serve was the biggest reason for his 6-3, 6-3, 4-6, 6-4 loss to Nadal in a fourth-round match.
''I had ups and downs in my game tonight,'' Monfils said. ''I think I really struggled with my return, I could not make enough returns at the beginning of the match.''
''And I also served so-so, I think only 58 percent .... it would be a big help to have a better serve.''
Overall, Monfils said ''it was tough for me to really find a good rhythm.''
---
11:50 p.m.
Rafael Nadal defeated Gael Monfils 6-3, 6-3, 4-6, 6-4 in a fourth-round match at the Australian Open, advancing to his 30th Grand Slam quarterfinal.
After a match in which Nadal had difficulty converting break points - six of 17 - the Spanish lefthander clinched it on his second match point with Monfils serving.
Nadal will next play third-seeded Milos Raonic, who beat Roberto Bautista Agut earlier Monday. Raonic is the highest-ranked men's seed remaining after top-seeded Andy Murray lost in the fourth round and No. 2-seeded Novak Djokovic in the second.
---
10:25 p.m.
Grigor Dimitrov saved his best for last on Monday at the Australian Open, and it wasn't even during his 2-6, 7-6 (2), 6-2, 6-1 win over Denis Istomin to advance to the quarterfinals.
Dimitrov was asked at his post-match news conference if he ever got distracted by love.
''You deserve the best answer now ... let me think about it,'' he said, laughing at the left-field question. ''That was the greatest thing I've heard, man. Oh, wow.''
Dimitrov admitted: ''I obviously have a soft spot for that.''
But then he added that ''I always try to keep whatever else outside the court. I think when I was younger, I was struggling to kind of differentiate love from a personal love or a tennis love or whatever else, for sure.''
He said he's matured.
''There was (a) time, a period, that I wasn't, like, kind of sure how to deal with both things in the same time,'' the 25-year-old Dimitrov said. ''But you learn. I guess we grow. I don't want to say I've learned from my mistakes, but ... hopefully it's going to help me for the future through any kind of falling-in-love stuff.''
---
9:10 p.m.
Milos Raonic has advanced to the quarterfinals at the Australian Open for the third straight year after escaping with a 7-6 (6), 3-6, 6-4, 6-1 win over Roberto Bautista Agut.
Raonic, who's been ill with the flu for the past few days, struggled at the outset against the 13th-seeded Spaniard. He rallied from 5-1 down in the first-set tiebreaker to win the opening set, then was broken twice in the second set.
But Bautista Agut began to falter midway through the third set when the roof at Hisense Arena was closed due to a passing rain shower, and he later had to call for a trainer to work on his leg.
''I was very fortunate to get through today,'' Raonic said. ''There were moments where it wasn't looking so good.''
The Canadian had 75 winners, but also 55 unforced errors, including nine double faults.
Raonic is seeded third for the first time at a Grand Slam, and the top two seeds, Andy Murray and Novak Djokovic, are already out of the tournament.
He next plays the winner between Rafael Nadal and Gael Monfils.
---
8:20 p.m.
U.S. Open finalist Karolina Pliskova has advanced to the Australian Open quarterfinals for the first time, beating Daria Gavrilova 6-3, 6-3 and ending Australia's involvement in the singles draws. Gavrilova started the second set positively, breaking Pliskova's serve in the opening game. But Gavrilova later double-faulted on break point and Pliskova soon swept to a 4-1 lead.
Gavrilova saved two match points in the ninth game before Pliskova advanced on her third match point with an ace.
Pliskova, who lost to Angelique Kerber in the U.S. Open final, will next play Mirjana Lucic-Baroni in the quarterfinals.
---
7:45 p.m.
Grigor Dimitrov has ended wild-card entry Denis Istomin's celebrated run to the fourth round of the Australian Open. The No. 15-seeded Dimitrov beat Istomin 2-6, 7-6 (2), 6-2, 6-1 four days after the Uzbek player beat six-time champion Novak Djokovic in the second round. Istomin was affected by back or leg issues for much of the match, and had a timeout and several other visits from the trainer.
Dimitrov, who beat Richard Gasquet in the third round in a match which started at 11:58 p.m. Saturday, took a 3-0 lead in the fourth set as Istomin continued to be affected by his injury issues.
In the last game, Istomin was noticeably limping across the back of the baseline, and Dimitrov clinched the match with an ace.
The 15th-seeded Dimitrov will next play David Goffin in the quarterfinals.
---
6:10 p.m.
Martina Navratilova believes the pressure of being No. 1 got to Angelique Kerber, who was beaten in her fourth-round match by CoCo Vandeweghe on Sunday night.
Kerber replaced Serena Williams as the No. 1 player after winning her second Grand Slam title at the U.S. Open last September. But since arriving in Melbourne to begin her title defense at the Australian Open, she appeared tight and lacked confidence in her shots.
Navratilova said Monday that the No. 1 ranking brings ''a different kind of pressure and it takes some time getting used to it.''
''Who she got the No. 1 ranking from is Serena Williams, so you just feel like you're always looking over your shoulder,'' Navratilova said.
''Sometimes, when you get to No. 1, you protect it, and when you play that way, you're going to lose against good players,'' she added. ''You need to go after it, which is what made Angelique Kerber improve and get to No. 1 (last year).''
Williams, who can retake the No. 1 ranking by winning the tournament, can relate to the pressures Kerber has faced.
''It's been a couple interesting weeks for Angie,'' she said. ''She's been dealing with a lot. I think she was able to handle it the best she could.''
---
5:50 p.m.
Mike and Bob Bryan said winning the Davis Cup for the United States was one of the highlights of their career, but they felt it was the right time to step aside to give younger Americans a chance to play.
The Bryans announced Sunday on Instagram that they'd be retiring from the Davis Cup team after 14 years. Following their third-round win in men's doubles at the Australian Open on Monday, they said, ''It was time to pass the torch to next generation.''
''We've got a lot of deserving players, doubles players, that can step up,'' Bob Bryan said. ''They're hungry already and it's our time to step aside.''
The 38-year-old twin brothers, who have won 16 Grand Slam titles together, said clinching the 2007 Davis Cup over Russia in Portland, Oregon, was up there with winning the gold medal at the 2012 London Olympics as the biggest moments of their careers.
''So many times we were wobbly in the knees and had goosebumps and that doesn't happen on the tour,'' Bob Bryan said. ''It is a nauseating amount of pressure but, in return, you get paid off with some of your sweetest victories of your career.''
---
4:10 p.m.
David Goffin has advanced to the Australian Open quarterfinals for the first time after beating eighth-seeded Dominic Thiem 5-7, 7-6 (4), 6-2, 6-2 on Rod Laver Arena.
The 11th-seeded Goffin advanced to the fourth round last year, losing to Roger Federer.
Goffin will next play the winner of a later fourth-round match between Grigor Dimitrov and Denis Istomin, who beat Novak Djokovic in the second round.
---
4:00 p.m.
Mirjana Lucic-Baroni is making another run at the important end of a Grand Slam tournament - for the first time in nearly 20 years - beating U.S. qualifier Jennifer Brady 6-4, 6-2 to advance to the Australian Open quarterfinals.
Lucic-Baroni made the Wimbledon semifinals in 1999 at the age of 17. Not long after, the Croatian player was out of the sport entirely and was forced to spend years scraping her way back to the majors.
The now-34 Lucic-Baroni came onto the scene in 1997 by winning the first WTA tournament she ever entered at age 15. Months later, she captured the Australian Open doubles title with Martina Hingis.
After her surprising run at Wimbledon, though, her career rapidly spiraled. By 2003, she was forced to stop playing because of financial hardships. She waited 19 years to get her second win at Melbourne Park - and now has three more.
''To work so hard, and sacrifice so much to be here today. Hope nobody is going to pinch me and wake me up - because this is incredible,'' she said.
She'll play either U.S. Open finalist Karolina Pliskova or Australian hope Daria Gavrilova in the next round.
---
2:40 p.m.
Johanna Konta has advanced to the Australian Open quarterfinals with a 6-1, 6-4 win over Ekaterina Makarova at Margaret Court Arena.
Konta, who also beat Makarova in the fourth round last year as she advanced to the semifinals on her debut at the Australian Open, will play Serena Williams in the last eight.
''That's an incredible experience for me. She's one of the few players still playing I watched growing up,'' Konta said of the 22-time major winner. ''It's an incredible honor and I can't wait to share the court with her.''
Konta had nine aces and saved three of four break points during the match while converting four of five or her own.
---
1:05 p.m.
Serena Williams has advanced to the Australian Open quarterfinals with a scrappy 7-5, 6-4 win over Barbora Strycova to open play at Rod Laver Arena on Monday.
Williams is attempting to win her Open era-record 23 Grand Slam singles title, her seventh Australian Open championship and, with top-ranked Angelique Kerber's fourth-round loss, a return to the No. 1 ranking.
She had 23 unforced errors in the first set and needed eight set points to clinch it. There were seven breaks of serve in the set, including the first four games.
On the final point of the set a backhand by Williams bounced flatly on Strycova's side of the court. The Czech player couldn't pick it up and Williams had the first set in 55 minutes.
Williams took a 4-1 lead in the second set and had her serve broken when she served for the match at 5-3. But Williams came back in the next game to break Strycova's serve and clinch the match.
Williams next plays the winner of a later match between Ekaterina Makarova and Johanna Konta.
---
11:30 a.m.
If Serena Williams needed any more incentive to win her seventh Australian Open title and a record 23rd Grand Slam major, she may have got it with top-ranked Angelique Kerber's fourth-round loss.
Williams began her match against Barbora Strycova on Rod Laver Arena on Monday knowing that if she does clinch the title next Saturday, she will overtake Kerber for the No. 1 ranking.
Williams lost the top ranking, which she had held for three consecutive years, to Kerber after the German player won the U.S. Open in September.
Rafael Nadal will play a night match against Gael Monfils in an attempt to qualify for the quarterfinals, and Milos Raonic plays an afternoon match.
Play began under sunny skies and a temperature of 32 Celsius (90 Fahrenheit).
---