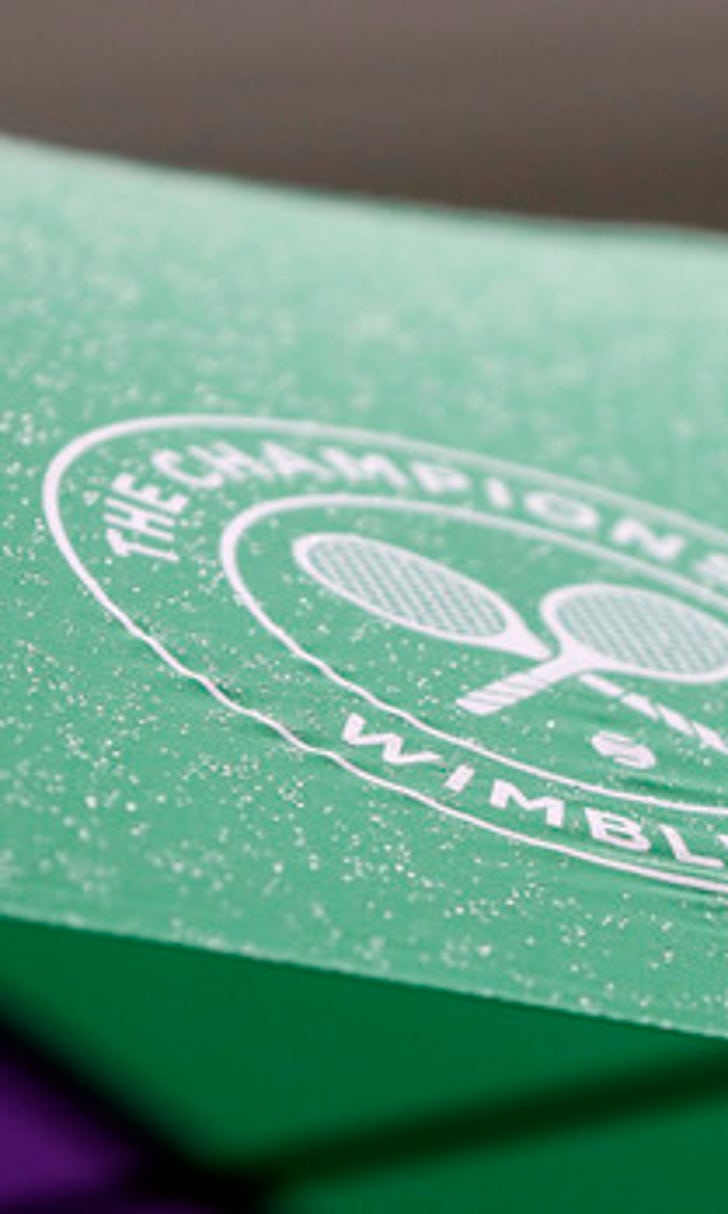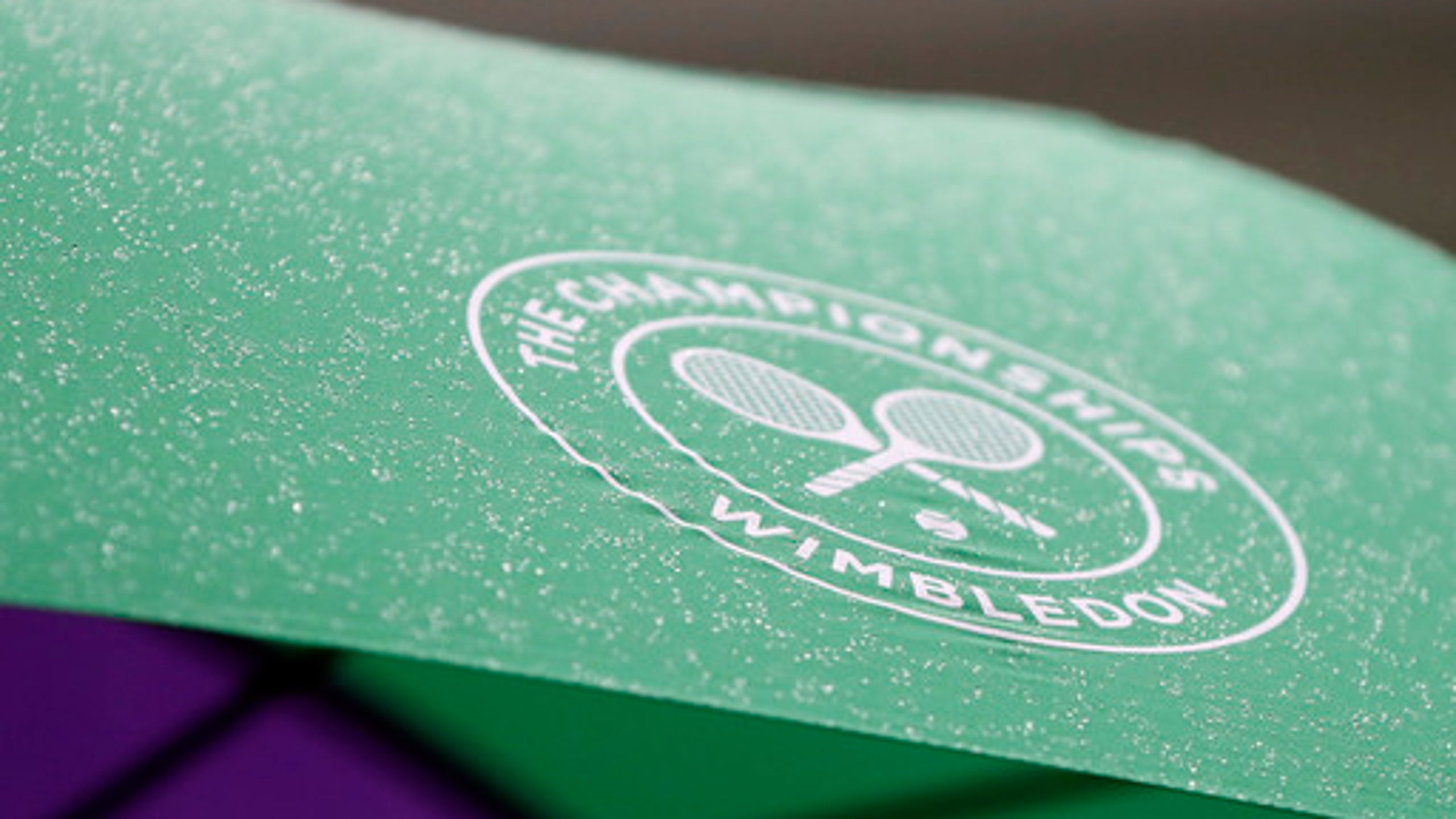 The Latest: 19-year-old Tiafoe loving it at Wimbledon
BY AP • July 4, 2017
LONDON (AP) The Latest from Wimbledon (all times local):
---
9:20 p.m.
After losing in the first round at both Queen's and Eastbourne, Frances Tiafoe is loving it at Wimbledon.
The 19-year-old Washington native defeated Robin Haase 6-3, 3-6, 7-6 (5), 7-5 in the first round at the All England Club. It was his first tour-level victory since a first-round win in Miami in March.
''Winning at Wimbledon is huge,'' Tiafoe said. ''It meant a lot to me especially the last two weeks, not really winning a match, so peaking here, it definitely means a lot.''
Tiafoe, in the main draw of a Grand Slam event for the sixth time, will face Alexander Zverev in the second round. His only other Grand Slam victory was at the Australian Open in January, when he beat Mikhail Kukushkin in the first round before losing to Zverev in straight sets in the second.
---
6:30 p.m.
David Ferrer found himself in an unusual position before his first-round match at Wimbledon, and in a more usual position after it.
The two-time Wimbledon quarterfinalist is unseeded at the All England Club, the first time since 2005 he has been in that position at a Grand Slam tournament.
But he still managed to reach the second round at Wimbledon for the 13th time in 14 attempts, beating 22nd-seeded Richard Gasquet 6-3, 6-4, 5-7, 6-2.
Ferrer reached the Wimbledon quarterfinals in 2012 and `13. He has reached the final at the French Open and the semifinals at the other two major tournaments in his career.
---
5:45 p.m.
Petra Martic beat No. 21-ranked Daria Gavrilova 6-2, 2-6, 10-8 in the first round at Wimbledon, continuing her recent success at Grand Slam events.
Martic was a qualifier who made it to the fourth round at the French Open before losing to Elina Svitolina. Making her fifth appearance at the All England Club, Martic advanced to the third round in 2013 but had not played in the main draw since 2015.
Gavrilova also lost in the first round at the French Open.
---
5:40 p.m.
Alexander and Mischa Zverev are the first seeded brothers to reach the second round in singles at Wimbledon in 35 years, according to the ITF.
The German brothers both won their opening matches at the All England Club on Tuesday. Tenth-seeded Alexander beat Evgeny Donskoy 6-4, 7-6 (3), 6-3, while 27th-seeded Mischa defeated Bernard Tomic 6-4, 6-3, 6-4.
The last seeded brothers to get through the first round were Gene and Sandy Mayer. The American brothers reached the third round in 1982.
On the women's side, Serena and Venus Williams did it last year, both reaching the semifinals.
---
5 p.m.
Roger Federer's record-breaking 85th match win at Wimbledon did not require much work.
Federer moved into the second round after just 43 minutes of action, because his opponent, Alexandr Dolgopolov, stopped in the second set with an injury.
Federer was leading 6-3, 3-0.
The owner of seven Wimbledon titles and 18 Grand Slam trophies in all improved to 85-11 for his career at Wimbledon. That moved him one win ahead of Jimmy Connors for most victories in the grass-court major in the Open era, which began in 1968.
---
4:15 p.m.
Bernard Tomic just ''wasn't there'' during his first-round loss at Wimbledon.
The 24-year-old Australian, playing at the All England Club for the eighth time, lost to Mischa Zverev 6-4, 5-3, 6-4.
''I just started bad the first set, and then, mentally, I wasn't there after he broke me in the second,'' Tomic said.
''Some weeks I play well and beat a bunch of players and do super well in tournaments. ... But now it's a roller coaster, and I just can't seem to find, like, the commitment to work hard, to enjoy (playing) and to lift trophies.''
Tomic has won three titles, breaking through to win in Sydney in 2013 before claiming consecutive titles in Bogota, Colombia, in 2014 and 2015.
''I feel holding a trophy or, you know, doing well, it doesn't satisfy me anymore,'' Tomic said. ''It's not there. I couldn't care less if I make a fourth-round U.S. Open or I lose (in the) first round. To me, everything is the same. I'm going to play another 10 years, and I know after my career I won't have to work again.''
He shot down a question about whether he'd give back his prize money because of his performance and disagreed with a suggestion that he didn't give his best effort against Zverev.
''While I do feel a bit of guilt and I'm like, maybe I could have played four or five sets, but in my opinion, he played well and I was just playing terrible and I just couldn't find any rhythm, and he deserved to win,'' Tomic said.
---
3:55 p.m.
Novak Djokovic advanced to the second round at Wimbledon after just 40 minutes when his opponent, Martin Klizan, retired because of an injury while trailing 6-3, 2-0.
Djokovic, a three-time champion at the All England Club, was leading 30-0 in the third game of the second set when Klizan, from Slovakia, decided he couldn't continue.
Klizan entered the tournament with a left ankle injury and took a medical timeout between sets. He was broken in the first game of the second set and, minutes later, stopped.
Djokovic won at Eastbourne last week, marking the first time since 2010 he had played a grass-court event prior to Wimbledon. He will next face Adam Pavlacek in the second round.
---
3:30 p.m.
Milos Raonic's grass-court season took a turn for the better at Wimbledon.
The sixth-seeded Raonic, the first Canadian man to reach a Grand Slam final, advanced to the second round at the All England Club by beating Jan-Lennard Struff of Germany 7-6 (5), 6-4, 7-6 (4).
The 26-year-old Raonic reached the Wimbledon final last year, losing to Andy Murray in straight sets. But his first match this year on grass was a disappointing loss in the opening round at Queen's.
It was the first time since 2014 that Raonic had failed to win a match on grass prior to Wimbledon. He went on to play in the semifinals that year, however.
Raonic, who has struggled with a hamstring injury this year, reached the quarterfinals at the Australian Open and the fourth round at the French Open this year.
---
3:10 p.m.
Needing seven match points, Juan Martin del Potro continued his run of reaching the second round at Wimbledon in each of his eight appearances.
Del Potro, seeded 29th, beat Thanasi Kokkinakis 6-3, 3-6, 7-5 (2), 6-4.
After winning the tiebreak in the third set, del Potro dropped two break points that would have given him the seventh game. He picked up one in the ninth to take a 5-4 lead in the fourth set, then finally wore down Kokkinakis with a pair of aces and a forehand winner down the center.
---
2:45 p.m.
Playing in the spot usually reserved for the defending champion at Wimbledon, Angelique Kerber made it into the second round.
The top-ranked German lost to Serena Williams on Centre Court in last year's final, but she advanced Tuesday by beating Irina Falconi of the United States 6-4, 6-4.
The opening match at Centre Court on Day 2 at Wimbledon traditionally features the women's winner from the previous year. But Williams is taking the rest of the year off because she is pregnant, making way for the runner-up to take her spot.
At the French Open in May, Kerber became the first women seeded No. 1 to lose in the tournament's first round in the professional era.
---
2 p.m.
Former top-10 player Ernests Gulbis has won a match for the first time in more than a year. And the score was about as lopsided as can be.
Gulbis beat Victor Estrella Burgos 6-1, 6-1, 6-2 in less than 1+ hours to reach the second round at Wimbledon. It was the Latvian's first tour-level, main-draw victory since the 2016 French Open.
After that, he went 0-5 in such matches - until Tuesday at the All England Club. He also failed to get out of qualifying at five tournaments in that span.
The 28-year-old Gulbis once was considered an up-and-coming talent in tennis. In 2014, he reached the semifinals at Roland Garros, beating Roger Federer along the way, and got to a career-best No. 10 in the rankings.
But a series of injuries followed, and Gulbis' ranking has fallen all the way to 589th.
---
11:20 a.m.
Roger Federer and Novak Djokovic will be the center of attention on Centre Court at Wimbledon on Tuesday.
The two players, who own a combined 10 titles at the All England Club, will play their opening matches on Day 2 of the grass-court major.
But first on the main court will be top-ranked Angelique Kerber. Last year's runner-up will face Irina Falconi of the United States in the first round. Djokovic follows against Martin Klizan of Slovakia, and Federer then faces Alexandr Dolgopolov of Ukraine.
Other top players in action include Karolina Pliskova, Agnieszka Radwanska, Caroline Wozniacki, Milos Raonic and Juan Martin del Potro.
---
More AP tennis coverage: https://apnews.com/tag/apf-Tennis
---
---