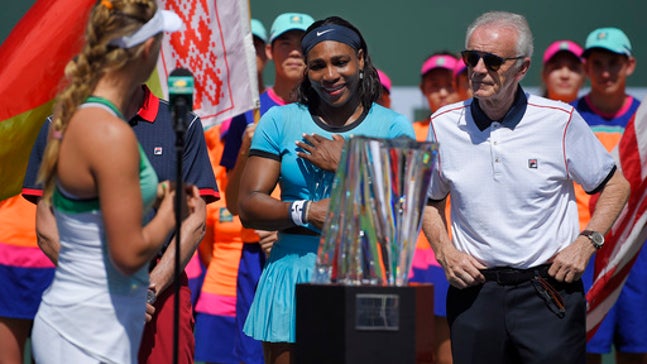 Tennis tourney director: Women 'ride on coattails of men'
Published
Mar. 21, 2016 12:25 a.m. ET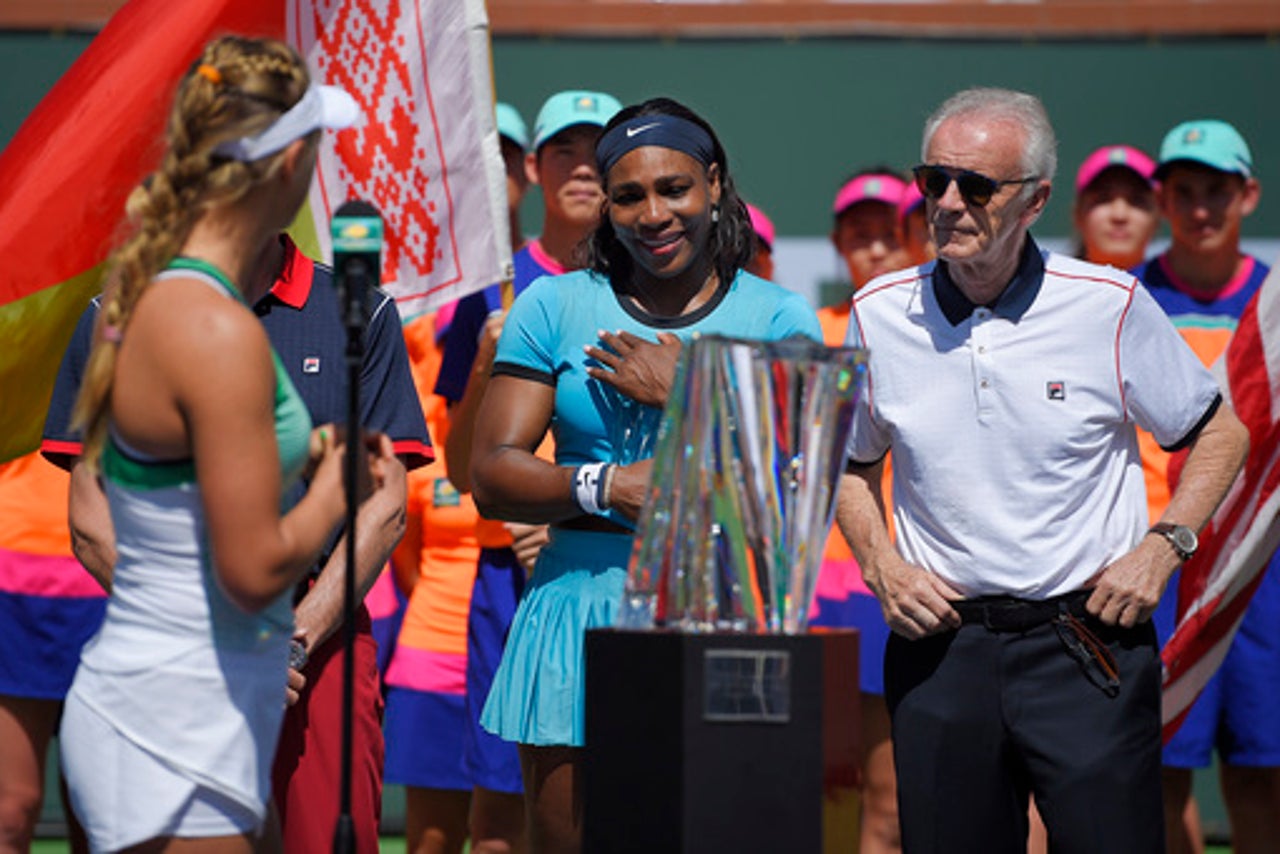 INDIAN WELLS, Calif. (AP) The tournament director of the BNP Paribas Open criticized the WTA Tour on Sunday, saying women's pro tennis players ''ride on the coattails of the men'' while describing them as ''physically attractive and competitively attractive.''
Raymond Moore, a 69-year-old former touring pro from South Africa, oversees the $7 million tournament in the California desert featuring the men's and women's tours. He made his comments in a session with reporters before Sunday's finals, and they quickly appeared on social media.
Top-ranked Serena Williams objected, saying, ''Those remarks are very much mistaken and very, very, very inaccurate.''
Moore was asked if the WTA Tour should change its designation for the Indian Wells tournament, which is a premier mandatory event, to raise its status even higher.
''In my next life when I come back I want to be someone in the WTA because they ride on the coattails of the men. They don't make any decisions and they are lucky. They are very, very lucky,'' he said. ''If I was a lady player, I'd go down every night on my knees and thank God that Roger Federer and Rafa Nadal were born, because they have carried this sport.''
Williams said after she lost 6-4, 6-4 to Victoria Azarenka in the final: ''Obviously I don't think any woman should be down on their knees thanking anybody like that.''
Williams called Moore's comments a disservice to Billie Jean King, one of the co-founders of the WTA Tour, female athletes and ''every woman on this planet that has ever tried to stand up for what they believed in and being proud to be a woman.''
King later tweeted: ''Disappointed in (hashtag) Raymond Moore comments. He is wrong on so many levels. Every player, especially the top players, contribute to our success.''
Asked about Moore's comments, top-ranked Novak Djokovic said, ''We have to be fair to say that it's not politically correct.''
Djokovic was coached by a woman early in his career, and he noted that women pros often delay or sacrifice having families to play professionally, something men don't face.
''I have tremendous respect for what women in global sport are doing and achieving,'' he said. ''I'm completely for women power.''
Azarenka, of Belarus, said such criticism toward women remains an issue in the world, including the fields of sports and business.
''What women do best is rise above those comments. You don't hear complaints or bad comments towards men,'' she said. ''If we rise above that and keep working hard in everything we do, we're better. We're better at taking opportunities and being graceful. It's our duty to keep just working hard through whatever comments there is. We've got to rise above that.''
Moore cited Eugenie Bouchard of Canada and Garbine Muguruza of Spain as being among the ''attractive prospects'' on the tour. In a follow-up question, he was asked what he meant by attractive.
''They are physically attractive and competitively attractive,'' he said. ''They can assume the mantle of leadership once Serena decides to stop. They really have quite a few very, very attractive players.''
Moore's longtime colleague at Indian Wells and predecessor as tournament director, Steve Simon, became the WTA's CEO last fall.
Moore later apologized in a written statement.
''I made comments about the WTA that were in extremely poor taste and erroneous,'' he said. ''I am truly sorry for those remarks, and apologize to all the players and WTA as a whole. We had a women's final today that reflects the strength of the players, especially Serena and Victoria, and the entire WTA. Again, I am truly sorry for my remarks.''
---
---