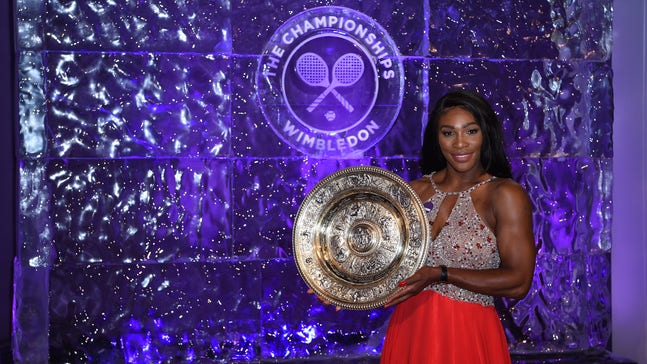 Serena Williams made bizarre history at Wimbledon
Published
Nov. 15, 2016 2:03 p.m. ET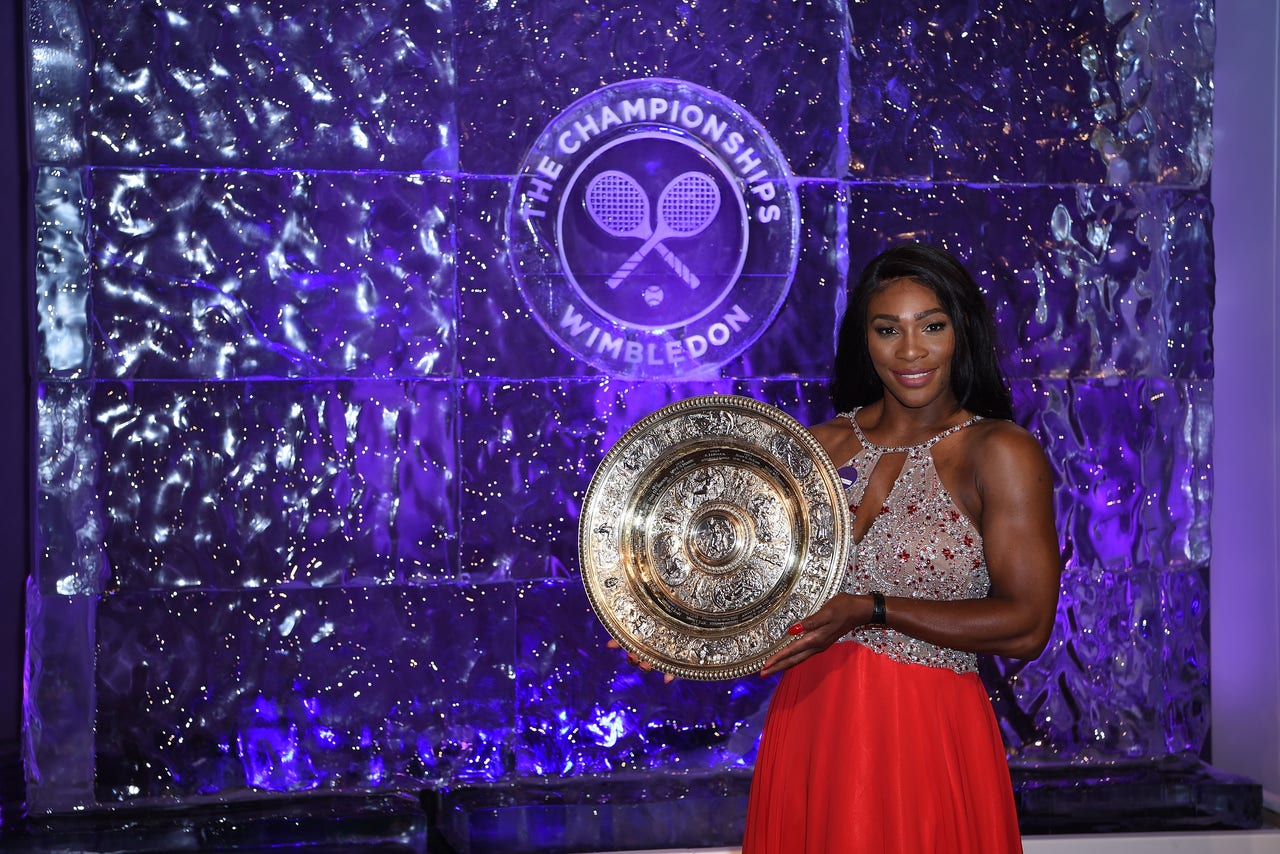 After a weekend at The All England Lawn Tennis Club that saw both Serena Williams and Andy Murray enhance their Wimbledon legacies, we now have a bit of time to reflect on just what this year's titles mean in the big picture for both players. Here's four things I took away from this year's tournament finals matches.
1. Serena Williams now has a "Big Four" Slam at Wimbledon.
We do love to make up arbitrary statistics, don't we? But this one is pretty cool. Serena has now won a Wimbledon in the same year as each member of the men's Big Four, something that would normally be a cool footnote but because of Wimbledon's Champions Ball and requisite photo op/photo composite, we have trophy-holding proof of this.
Roger Federer - 2003, 2009, 2012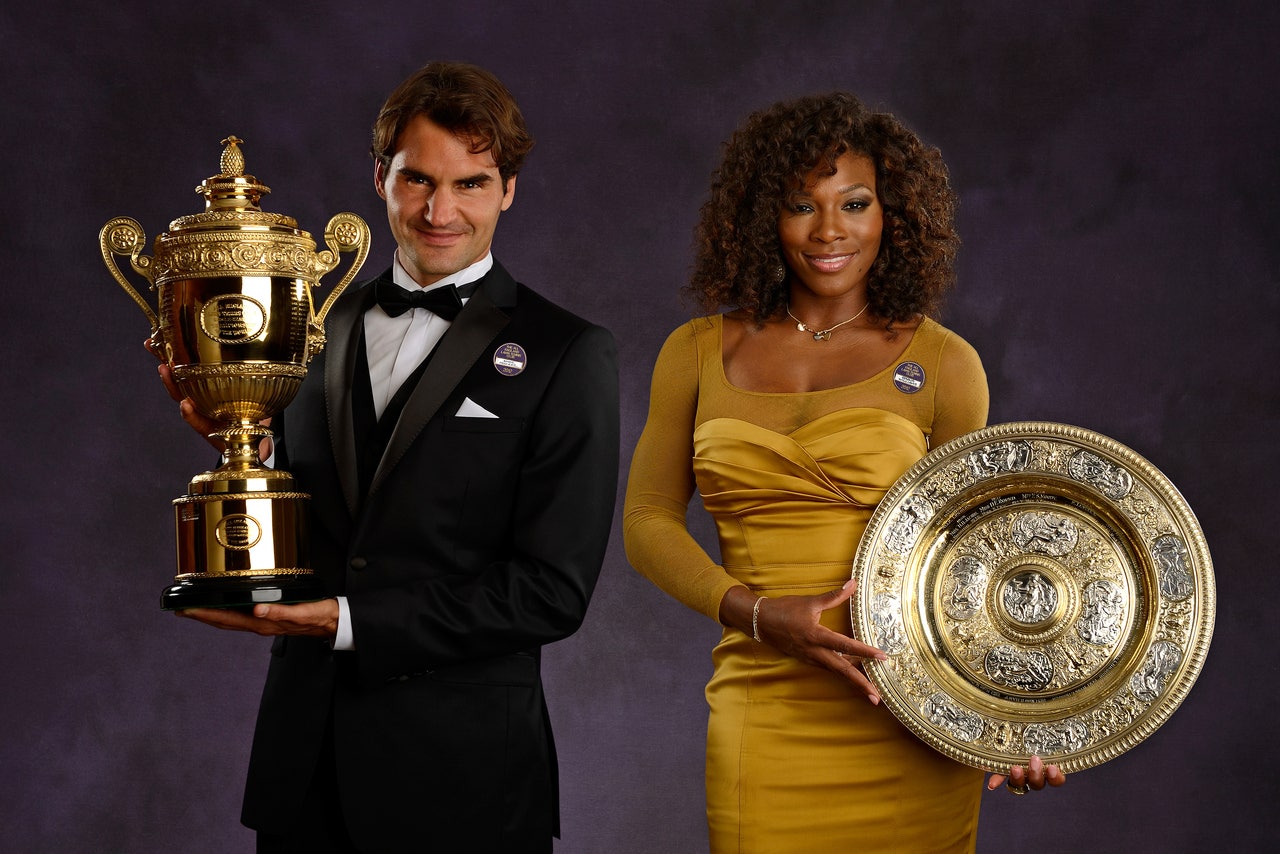 (Getty Images)
Rafael Nadal - 2010
(Getty Images)
Novak Djokovic - 2015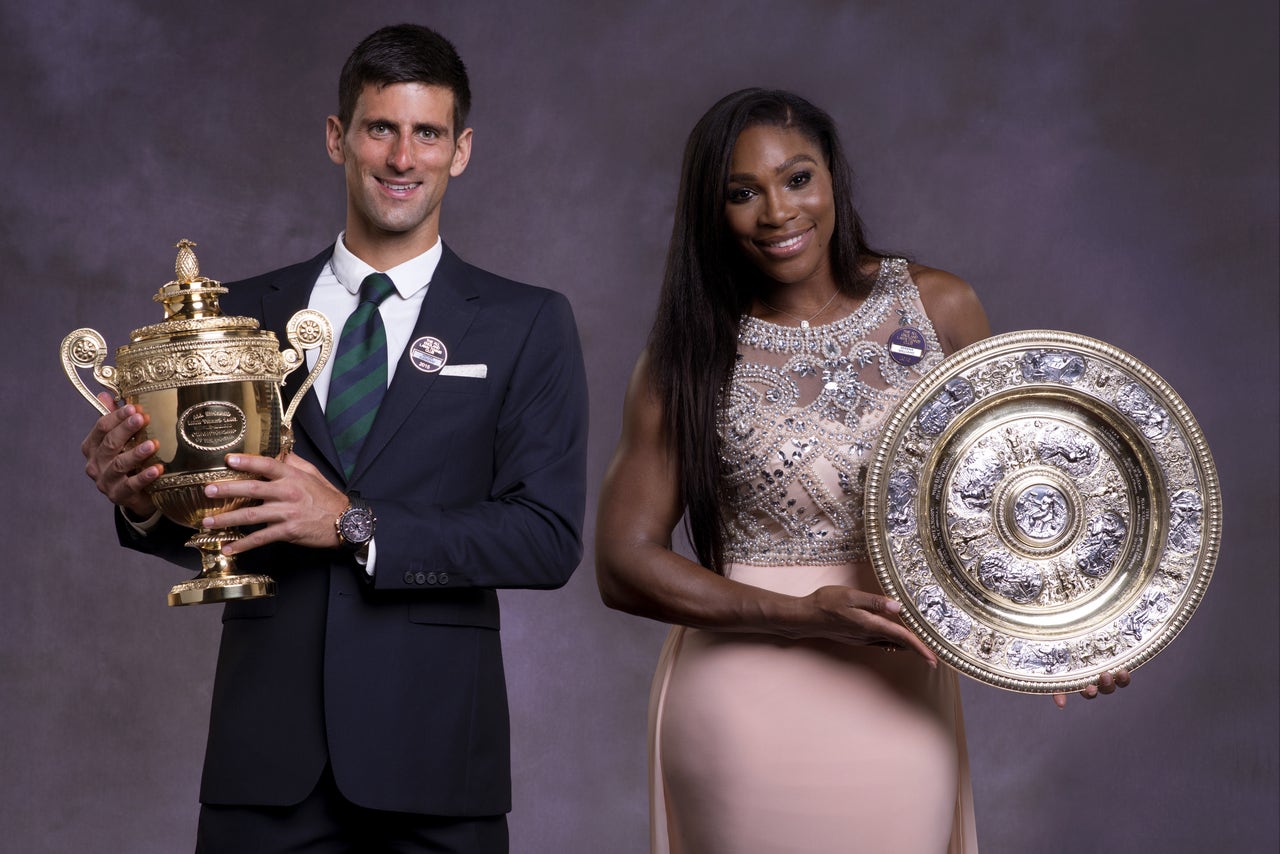 (Getty Images)
Andy Murray - 2016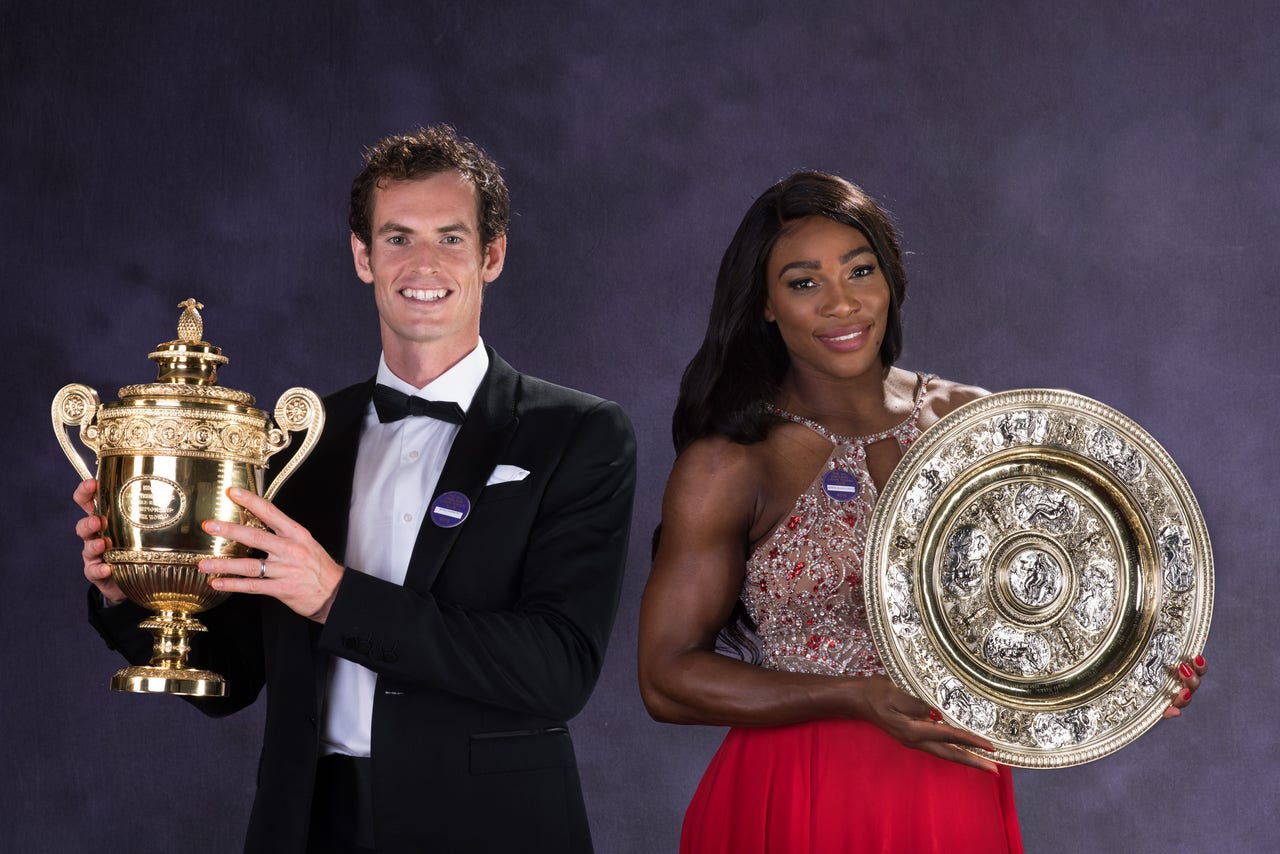 (Getty Images)
That covers six of Serena's seven Wimbledon titles. Who was the Gentlemen's Champion the year Serena won her other? It's actually pretty easy if you give it some thought. It's the man who last won Wimbledon before the Big Four.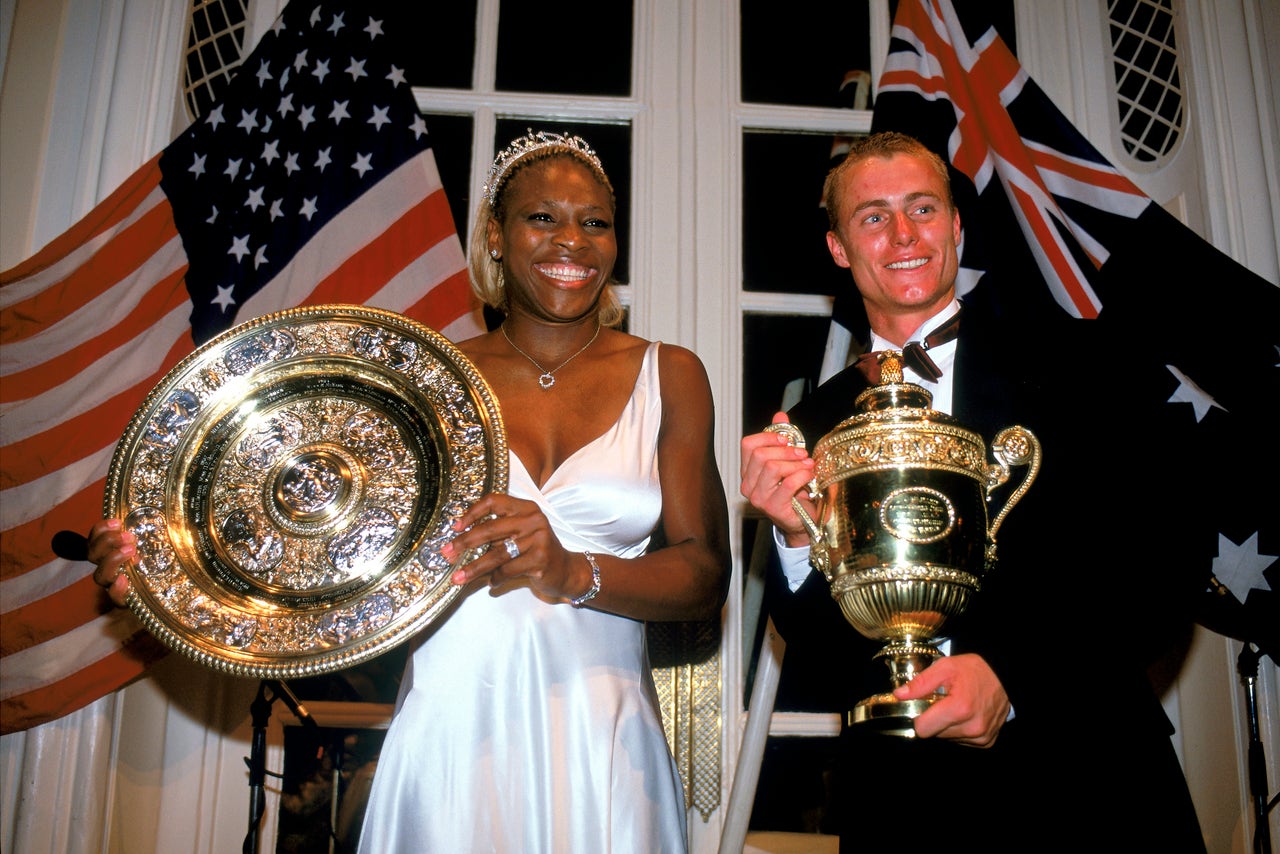 (Getty Images)
Yes, it's Lleyton Hewitt, who won the second of his two Grand Slam titles in 2002, the year of Serena's first Wimbledon win. Serena's second came in 2003, her first dual year with Federer. It may be worth having a look at that picture.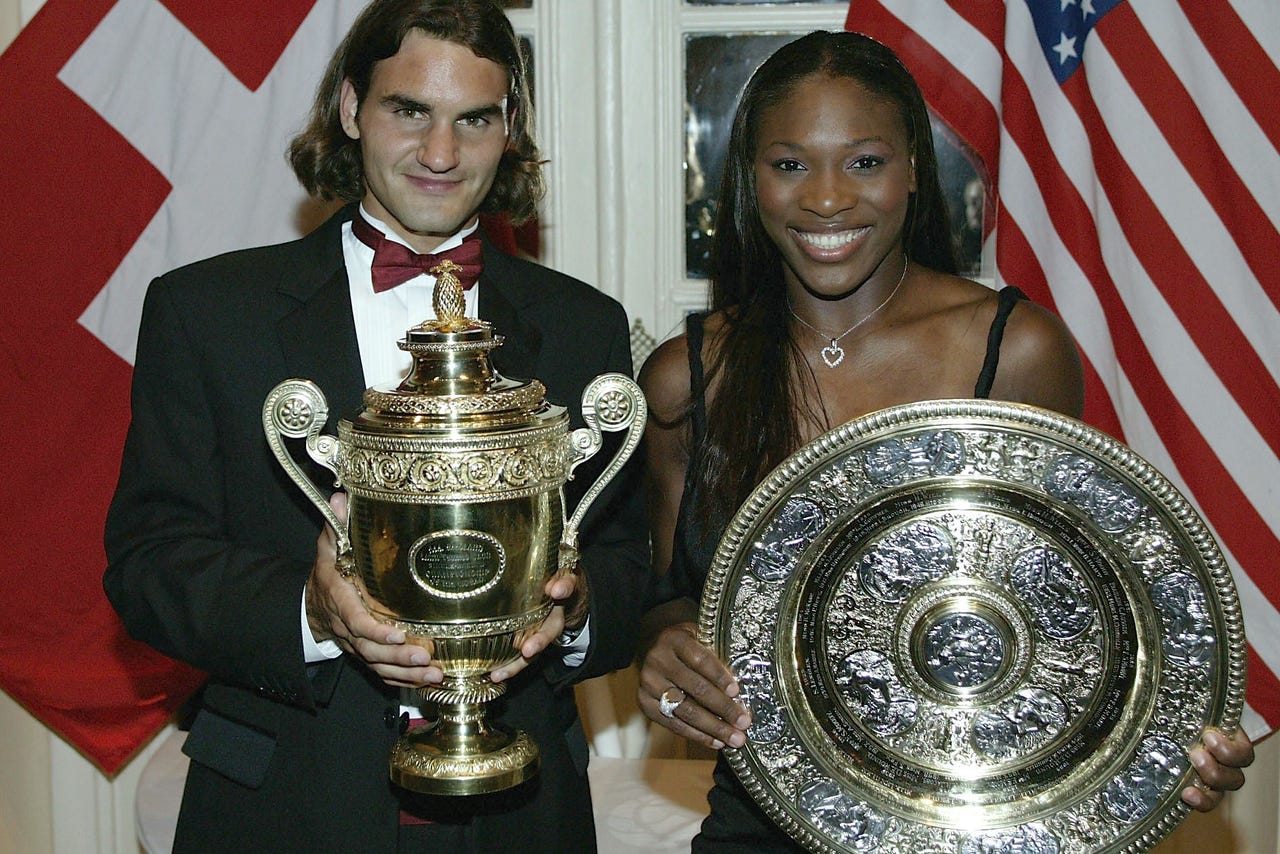 (Getty Images)
Oh, well done, hunch. What an image makeover Federer's had. At his first Grand Slam, he looked like a guy you'd go on a blind date with who shows up in a turtleneck and sport coat, talks about his collection of Star Wars figurines, talks too much about his job at Jiffy Lube ("come by, I'll hook you up sometime") and then awkwardly asks if he can come up for some coffee, except he says "coffee" all creepily. Now he's Anna Wintour's pet.
By the way, the last time Murray won Wimbledon, his co-champion was...
(Getty Images)
... Miss Marion Bartoli, one of the biggest surprise Slam winners in a decade. That was only three years ago even though it seems like a lifetime.
2. Murray still has a ways to go to be considered an all-time great
Winning three majors is nothing to sneeze at. If Murray's career ended today, he'd be remembered as one of the finest of his generation, but mainly as the player who famously ended the UK's Wimbledon drought. But three Slams hardly puts him in lofty territory. He has to double his total to six before he starts getting up there in the all-time discussion. Six would tie him with Boris Becker and Stefan Edberg. John McEnroe and Mats Wilander had seven. Connors, Agassi and Lendl had eight. It's a tough era, sure, so we'll give Murray a one-Slam pass, meaning he needs two more Slams (and a No. 1 ranking) to solidify a worthy spot in the history of tennis.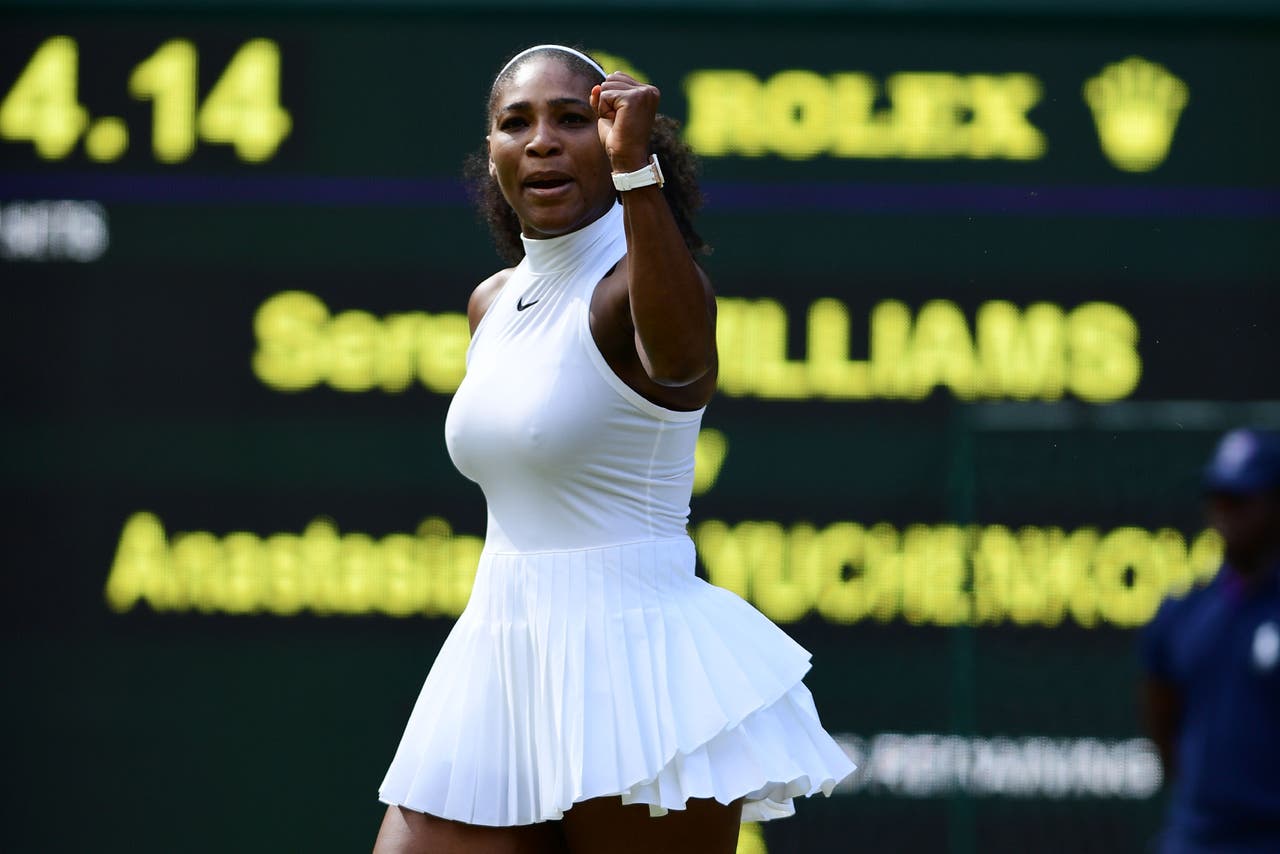 (Getty Images)
3. Semifinal, complete, consistent dominance
Serena has delivered a bagel or breadstick (a 6-0 or 6-1 set) in seven of her last 11 major semifinals. (She won 6-2, 6-0 over Elena Vesnina this year.) Also, Serena is an insane 28-4 in Slam semis. She's also a pretty-good 22-6 in Slam finals and has been so consistent at three of the four Slams (all but the French) that she has 10 losses in each. (She's 74-10 at the Australian Open, 86-10 at Wimbledon and 84-10 at the U.S. Open.)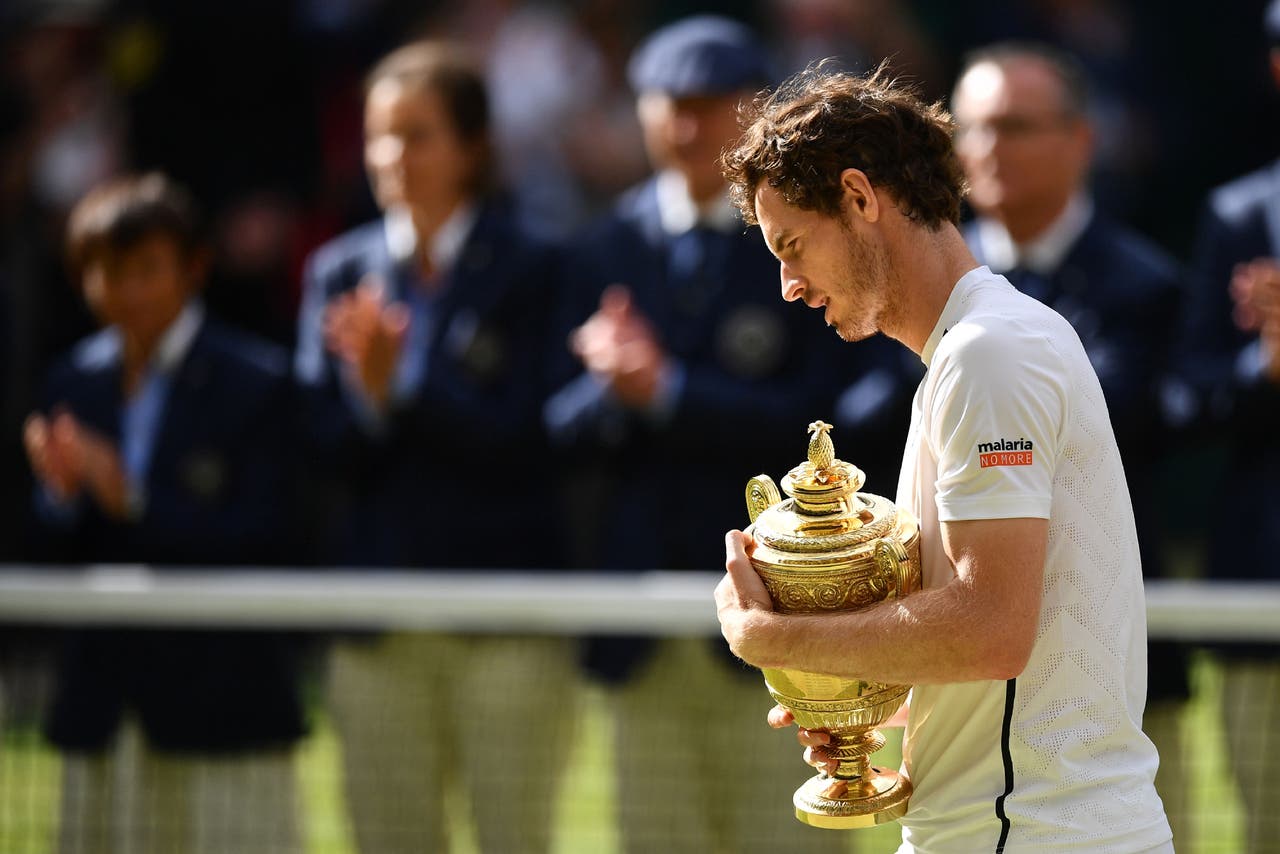 (Getty Images)
4. Can Murray hit No. 1?
No all-time great has ever failed to hit No. 1 (though enough middling talent has: Thomas Muster, Marcelo Rio, Yevgeny Kafelnikov, Patrick Rafter, Juan Carlos Ferrero). But Murray won't necessarily need a top ranking in terms of resume-listings - anyone with good sense can realize he came around at the worst time to be a great tennis player in history. If he'd been 26 at the end of Pete and Andre's career, Murray would have a handful of Slams. Still, it would be nice. Can it happen?
Certainly down the road and possibly sooner. Djokovic lost a lot of points going from Wimbledon winner to Wimbledon third-round exiter and Murray is as close to Djokovic as anyone has been in more than a year. (That's still 5,000 points, mind you - together they have appx. 25,000 rankings points; the next five players in the rankings have appx. 24,500 points, combined). But in the more-important "race" rankings, Murray is just more than 800 points behind Djokovic's 8,040. Thus, you answer lies in the following question: Will Djokovic slump after his Wimbledon exit? The Olympics might play some part (there are no rankings points this year, so schedule could play a big role) and you have to expect the results at the Masters will stay copacetic (Murray wins Cincinnati, Djokovic wins Paris, etc.) so it will take Murray outperforming Djokovic at the U.S. Open (definite possibility) and the ATP World Tour Finals (less so; Murray traditionally plays poorly in the event) for him to finish the year atop the rankings. I'm betting on Novak and his lead.
More likely, look for Murray to slip into No. 1 if Djokovic trips up at the early Slams in 2017 and loses points from the 4,000 he got in Melbourne and Paris. For Murray, with two Wimbledons, a U.S. Open and an Olympic gold to his name, No. 1 is the next big fish. Then he can go for a career Slam ... if there's time.
---
---