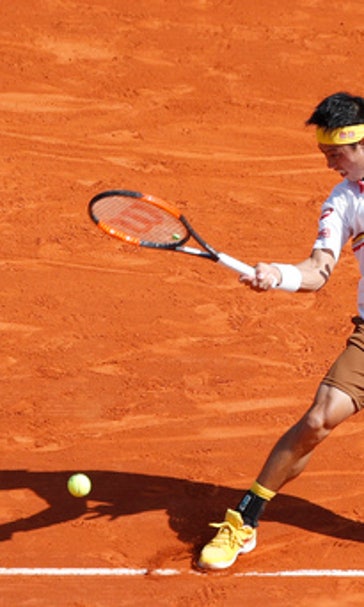 Nadal routs Thiem to reach Monte Carlo Masters semifinals
April 20, 2018
MONACO (AP) Rafael Nadal's bid for a record-extending 11th Monte Carlo Masters title is proving more comfortable than he imagined after his latest return from injury.
Others may not be so surprised, given how the top-ranked Spaniard won nine straight games while beating fifth-seeded Dominic Thiem 6-0, 6-2 to reach the semifinals on Friday.
''I played great. I played so well this afternoon, playing very aggressive, backhand, forehand, serve. I'm defending well, returning well,'' said Nadal, affording himself another rare compliment. ''It is difficult to play better than today. Being honest, I have to recognize that.''
Nadal recently returned from a right hip injury, which forced him to retire during the Australian Open quarterfinals. The problem then flared up again, and he dropped out of the Mexico Open and Masters tournaments at Indian Wells and Miami.
But since coming back in early April, Nadal has not even dropped a set in five straight wins, including two in singles for Spain in the Davis Cup. He needs to win this tournament to keep his No. 1 ranking, or it will go back to Roger Federer.
The way he dismantled Thiem, it appears little can stop him from doing so.
''The Davis Cup probably helped to come here with better rhythm, better confidence,'' Nadal said. ''But, of course, things are going much better than what I thought two weeks, three weeks ago. That's the truth.''
Nadal will next face Grigor Dimitrov, who may prefer not to think too much about their head-to-head rivalry: 10-1 to Nadal.
The fourth-seeded Bulgarian beat No. 6 David Goffin 6-4, 7-6 (5) in an error-strewn match.
Goffin led 4-0 in the second set but the Belgian missed three set points at 5-4.
It was a wasteful sort of day under a blazing Mediterranean sun.
Kei Nishikori needed four match points to beat second-seeded Marin Cilic 6-4, 6-7 (1), 6-3.
Nishikori, feeling his way back into tennis after a right wrist injury deprived him of playing in the last two majors, served for the match at 5-4 in the second set. Cilic, the Australian Open runner-up when the Japanese player was still recovering from a torn tendon, saved three match points and then won the tiebreaker in style.
But the big-serving Croat, who needed a few minutes of massage treatment on his sore and bandaged right knee, faded in the third set as the heat lessened.
Nishikori plays No. 3 Alexander Zverev, who beat Richard Gasquet 4-6, 6-2, 7-5.
The sun had long gone when their match finished at nearly 9 p.m., delaying Zverev's birthday party.
After a grueling duel lasting 2 hours, 40 minutes, he might not even have enough energy to blow out a single candle, let alone 21.
Zverev collapsed on the clay, his arms outstretched in relief. When he got up, his jersey was caked in dirt. Gasquet trudged to the net and got a warm hug from the imposing German.
''Thanks everybody for staying. It's very special for me,'' an elated Zverev told the crowd. ''Hopefully it won't just be a great birthday, but a great year.''
Zverev's birthday had begun badly when he was broken to love in his first service game.
A day after a milestone of his own - career win 500, secured against Zverev's older brother - Gasquet continued to upset the family.
He tormented Zverev junior with exquisite drop shots, taking the first set with one from the back of the court.
But under the glare of the floodlights, Zverev fought that little bit harder and beat Gasquet for the fourth straight time.
---
More AP tennis coverage: https://apnews.com/tag/apf-Tennis
---
Jerome Pugmire on Twitter: www.twitter.com/jeromepugmire
---
---