tennis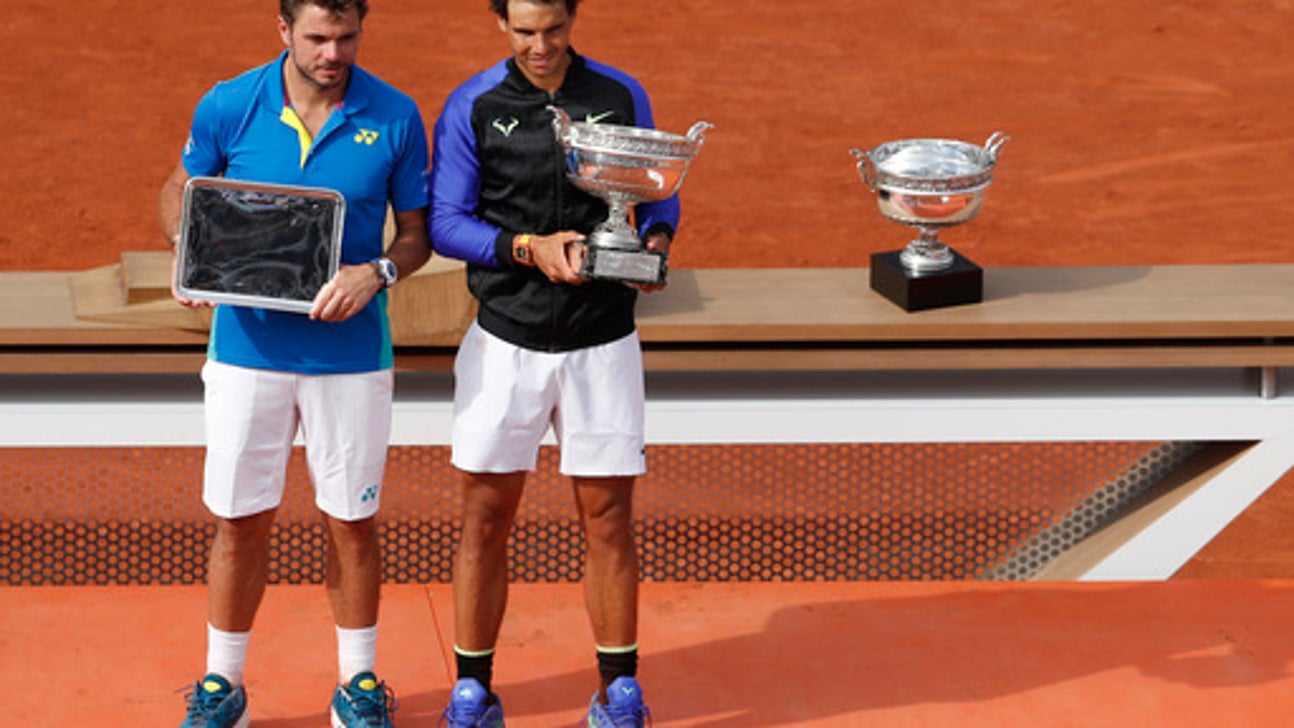 tennis
Fendrich on Tennis: Slam drought done, Nadal heads to grass
Updated
Mar. 4, 2020 4:23 p.m. ET

PARIS (AP) Leave it to others to decide whether Rafael Nadal is playing the best tennis of his career as he comes off a 10th French Open championship, his 15th Grand Slam title in all, and now turns his attention to Wimbledon.
Those sorts of comparisons do not interest him.
Never have.
After a 6-2, 6-3, 6-1 tour de force against Stan Wawrinka in the final at Roland Garros on Sunday, capping two weeks of nearly flawless tennis on red clay - zero sets conceded; only 35 games dropped in seven matches - Nadal was asked whether he would rate himself as highly as ever right now.
He shook his head.
''I don't know. I cannot say (yes); I cannot say not. These two weeks have been a great level of tennis, is true. But I already won two Roland Garros, too, without losing a set before this one, no? ... Probably I was playing good, too, no?'' Nadal said with a smile. ''The only thing that I know is I am playing well now. I am happy. I am enjoying every week, and I want to continue. And I'm going to try to keep working hard to try to enjoy more beautiful weeks.''
Wawrinka had fewer qualms about assessing Nadal, who leads the tour with four titles and 43 match wins this season, including a 24-1 record on clay.
In the new ATP rankings, Nadal moves up two places to No. 2, his highest spot since October 2014.
''He's playing the best he's ever played. That's for sure. But not only here,'' said Wawrinka, a three-time major champion, including at the 2015 French Open. ''I think since the beginning of the year, you can see he's playing more aggressive, staying more close (to) the (baseline). ... His level of play is unbelievable.''
There's no rest for the weary: Play begins at the next major, Wimbledon, just three weeks from Monday.
No. 1 Andy Murray is the defending champion. Roger Federer, who claimed his record 18th major title by beating Nadal in the Australian Open final in January, will be back in action after taking the clay-court portion of the season off. Novak Djokovic will try to get back on track after going through four Grand Slam tournaments without successfully defending any of the titles he won a year prior.
And Nadal? Both he and his uncle Toni, who is also his coach, keep pointing to one key factor when it comes to how he'll fare at the All England Club.
''When Rafael is good with his knees,'' Toni said, ''he can play well on the grass.''
Nadal won Wimbledon twice, in 2008 and 2010. He also reached the final there three other times.
But it's been a while: The Spaniard, now 31, has not made it past the fourth round at Wimbledon since 2011.
He skipped the tournament last year, when he was dealing with the injured left wrist that forced him to withdraw from the 2016 French Open after two matches.
''I love grass, everybody knows. ... So I hope that my knees hold (up) well and I can have the preparation that I really need and the preparation that I wanted,'' Nadal said. ''If that happens, why not? If I have pain on the knees, then I know from experience that it's almost impossible. Because I need to feel strong, low and powerful legs to play well in Wimbledon.''
At least his game is back in high gear after a lull: Nadal's victory at the French Open was his first at a major tournament since 2014.
A reporter wanted to know whether, during that time, Nadal harbored any doubts about returning to the heights of his sport.
''I have doubts every day. The doubts, I think, are good, because the doubts give you the possibility to work with more intensity, with being more humble, and accepting that you need to keep working hard to improve things,'' he said. ''So for sure, I have doubts. During that three years, I had doubts. Right now, I'm going to have doubts even in a few days, because in tennis, every week is a new story.''
The tale he's been crafting for more than a decade has been rather intriguing.
Let's see what the next chapter brings.
---
Howard Fendrich covers tennis for The Associated Press. Follow him on Twitter at http://twitter.com/HowardFendrich or email him at hfendrich(at)ap.org
---
More AP tennis coverage: https://apnews.com/tag/apf-Tennis
---
---
Get more from tennis
Follow your favorites to get information about games, news and more
---