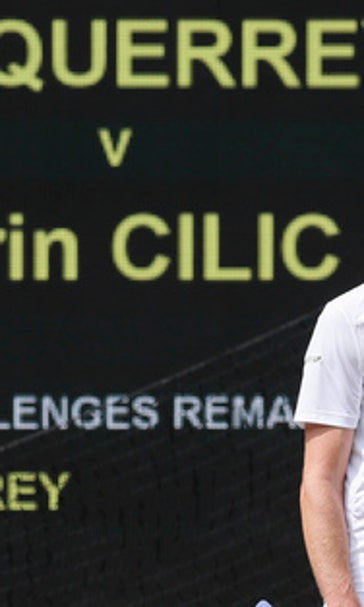 Count him in: Sam Querrey looks toward next year's Wimbledon
BY AP • July 14, 2017
LONDON (AP) Sam Querrey woke up Friday with a chance to become the first American man since Andy Roddick in 2009 to reach a Grand Slam final.
He didn't succeed, but he's already looking forward to giving it another go at next year's Wimbledon.
''Pencil me in for a final, and hopefully that will happen,'' said Querrey, who reached the quarterfinals last year. ''We'll see.''
The 24th-seeded American was a surprise semifinalist at the All England Club this year, but that was as far as he got. He lost to Marin Cilic 6-7 (6), 6-4, 7-6 (3), 7-5.
The big occasion - playing in his first major semifinal on Centre Court - didn't seem to bother Querrey as much as his win over defending champion Andy Murray a couple of days earlier.
''I was actually more nervous against Andy in the quarterfinals,'' said Querrey, a 29-year-old Californian. ''Today I felt pretty good.''
Querrey and Cilic, both 6-foot-6 and with big serves, managed to hold every time in the first set. Through those first 12 games, only 10 points went to the returner.
''That really settles me,'' Querrey said of that opening set. ''That settles anyone, when you can kind of get out there and win your first few service games. So I felt fine.''
In the second set, Cilic suddenly was all over Querrey's serve, earning the match's first break points. He finally converted his fourth, the only one he would need to take that set. The third went to another tiebreaker and, unlike in the earlier one, Cilic closed well, taking the last four points.
Querrey went up a break in the fourth, but Cilic got it back and then broke again in the final game.
''I kind of felt like he pushed me around a little bit today,'' said Querrey, who was playing in a major semifinal for the first time. ''I had that break in the fourth. When he broke me back, he just played a great game. Kind of deflated me a little bit.''
Cilic, to be sure, has more experience in the big matches. He won the 2014 U.S. Open after beating Roger Federer in the semifinals and Kei Nishikori in the final.
At Wimbledon this year, his draw opened up when Rafael Nadal lost to Gilles Muller in the fourth round. Then Querrey defeated Murray in the quarterfinals.
Querrey didn't make it easy on him, though.
''I would say my mental toughness was on an extremely high level, considering that both of us played amazing tennis in the first set,'' said Cilic, who will face Federer in Sunday's final. ''The level was absolutely unbelievable from both ends.''
Cilic took 16 of the last 18 points he served, and five of the last six games to end it. He finished with 70 winners and 21 unforced errors.
Even Querrey's coach, Craig Boynton, was impressed with his player against those numbers.
''I don't think it was anything that didn't work for Sam. It was more Marin locking in and getting a good read on Sam's serve,'' Boynton said. ''I haven't seen someone return Sam's serve like that in a long time.''
---
More AP tennis coverage: https://apnews.com/tag/apf-Tennis
---
---