40 parting thoughts from the BNP Paribas Open in Indian Wells
BY Sports Illustrated and Jon Wertheim/Sports Illustrated • June 30, 2017
It's not technically a Grand Slam tournament, the BNP Paribas Open. But it's pretty close. After 12 days in the desert, herewith 40 thoughts—as opposed to our customary 50—from Indian Wells.
• In an all-Swiss final, Roger Federer continued his 2017 comeback tour and defeated Stan Wawrinka 6-4, 7-5 to win a record-tying fifth title in Indian Wells. "For me, the dream run continues," he said.
• In an all-Russian final, Elena Vesnina beat Svetlana Kuznetsova 6-7(6), 7-5, 6-4 to win the biggest title of her career. After taking out Angelique Kerber and Venus Williams on her way to the final, Vesnina moved up two spots to a career-high No. 13 ranking.
• Hats off to Svetlana Kuznetsova—the two-time Grand Slam champion won her first major more than decade ago, and now at 31, she is playing top-10 tennis, beating 2016 U.S. Open finalist and this year's Australian Open quarterfinalist Karolina Pliskova to reach the 23rd final of her career. Once there, though, it was tough to see her fall to Vesnina after leading by a set and being up a break in both the second and third sets.
• Where to begin on Federer? This current surge may be the last suit of embalming fluid on the GOAT discussion. Here is playing deep into the biggest events; grinding out wins; serving clutch; smacking the backhand; owning Nadal mentally for the first time; amassing enough points that he could stop playing tomorrow and still finish 2017 in the top ten....and he's doing it as a 35-year-old father of four.
• What a pity that Nick Kyrgios came down with food poisoning—I was told that a pink smoothie consumed on Wednesday night was the culprit—and couldn't post for his match against Federer. Particularly given his level of play this event, much would have been revealed. We've been saying for two years now that the best rivalry in tennis pits Kyrgios' level of conviction against his talent level. The latter has been winning big lately. He made a generational statement with his takedown of Sascha Zverev. And he didn't simply beat Novak Djokovic for the second straight tournament; he beat him comprehensively, out-serving and—no, really—out-returning him as well.
• At this point last year, Novak Djokovic was tennis' hegemon. He had basically doubled the points haul on his closest colleague, Andy Murray. And that was before achieving his holy grail of winning the French Open. Djokovic's drop-off since then—in results, yes, but also in spirit—has been dramatic. Quite naturally, this steep drop-off is a source of mystery and chatter and speculation. It is, of course, Djokovic's prerogative to address and assess his situation as he sees fit. But, man, we're at a different point than we were a year ago…
• The magic ran out against Vesnina, but how about Venus Williams making another deep run at a big event? After staving off three match points against Jelena Jankovic, she played a dynamite match against Lucie Safarova and then won a three-setter the next day.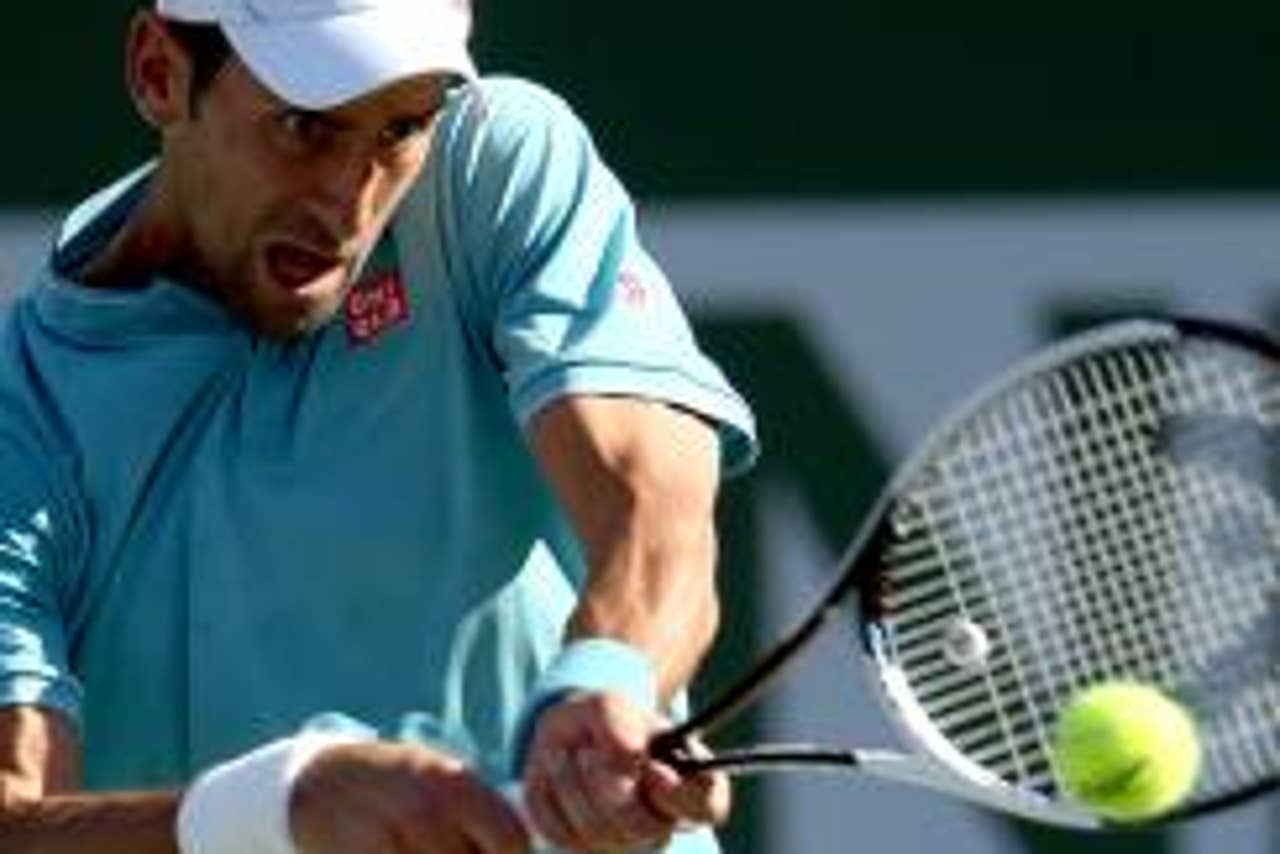 • Jack Sock's defeat of Grigor Dimitrov—taking down a top-flight player 7-6 in the third set in a who-wants-it-more? match—was a career-making win. But Sock was impressive, too, following that up with no letdown and beating Malek Jaziri in three sets the next day and then hitting through the defenses of Kei Nishikori. There's no doubt as to the identity of the best American male right now.
• There are murmurs that Federer will not play in the sandbox and will skip the 2017 French Open. Why? Clay has always been—and is always going to be—the surface that demands the most from him. He's only won once in Paris. He tweaks his back on a cold Parisian day and there goes his campaign to win Wimbledon.
But I'll happily play avocat du diable here: "Look at it this way, Roger: the defending champ is in a tailspin, his game and his head clearly elsewhere. Murray has never won at Roland Garros and his form is off as well. As of today, anyway, you have a three-match win streak against Nadal. Okay, none of those wins came on clay, but you've flipped the script and taken up residence in HIS head lately. The only other RG winner since 2004: Stan Wawrinka, and there's an emotional component to that match-up. And, oh yeah, you won the previous major, beating four top 10 players with some of the best tennis of your career. You should (and do) design your schedule to peak at Wimbledon. But don't count yourself out on clay; and—I know this sounds crazy—don't eliminate your chances of a Grand Slam."
• It's 2001 and imagine the belly laugh you'd get saying this: "At the 2017 event in Indian Wells, Venus Williams and Martina Hingis will be on court during the final weekend. And Serena Williams decided at the last moment not to play, thereby ceding her top ranking." A) the aging field is a defining theme of this era. B) the return of the Williams sisters to Indian Wells no longer qualifies as a story. Time healed wounds. The crowds have been hospitable. Everyone won. C) Shout-out to my old pal Hingis, who is still getting it done in doubles.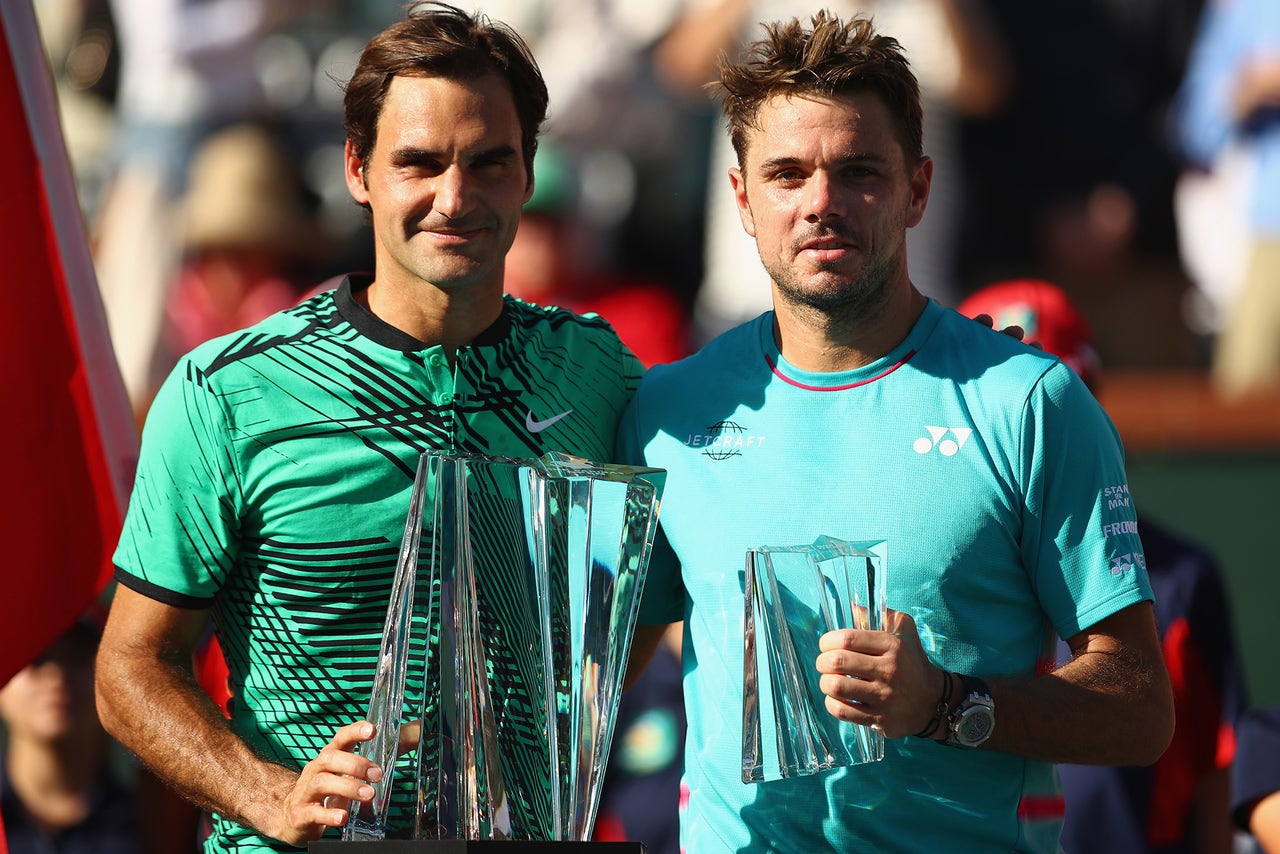 • It's the time-honored game "How do you leave the tournament?" You're Yoshi Nishioka. You're the lucky loser and you do not get into the tournament but in the first round you beat the player (Elias Ymer) who knocked you out of qualifying. And you win two more matches, including a three-set out-battling of the phlegmatic, enigmatic, hydromatic Tomas Berdych. You're serving for the match against Stan Wawrinka—Hall of Famer, reigning major winner—for a $145K payday and the biggest win of your career. And you fail to close. Do you leave thrilled by your breakthrough? Or embittered that you were two points from the quarters and couldn't quite close?
• Latisha Chan and Martina Hingis won the doubles beating Lucie Hradecka and Katerina Siniakova (who, according to Serena Williams, has the best hair in tennis.)
• Rajeev Ram and Raven Klaasen captured the men's doubles title with a 6-7(1), 6-4, 10-8 win over Lukasz Kubot and Marcelo Melo—on Ram's birthday, no less.
• Next you hear "power is ruining the game," the Wawrinka-Nishioka match featured 205 total points played…and one ace. Nishioka is a ton of fun to watch, by the way. He's like Marcelo Rios with Kei Nishikori's likable on-court disposition.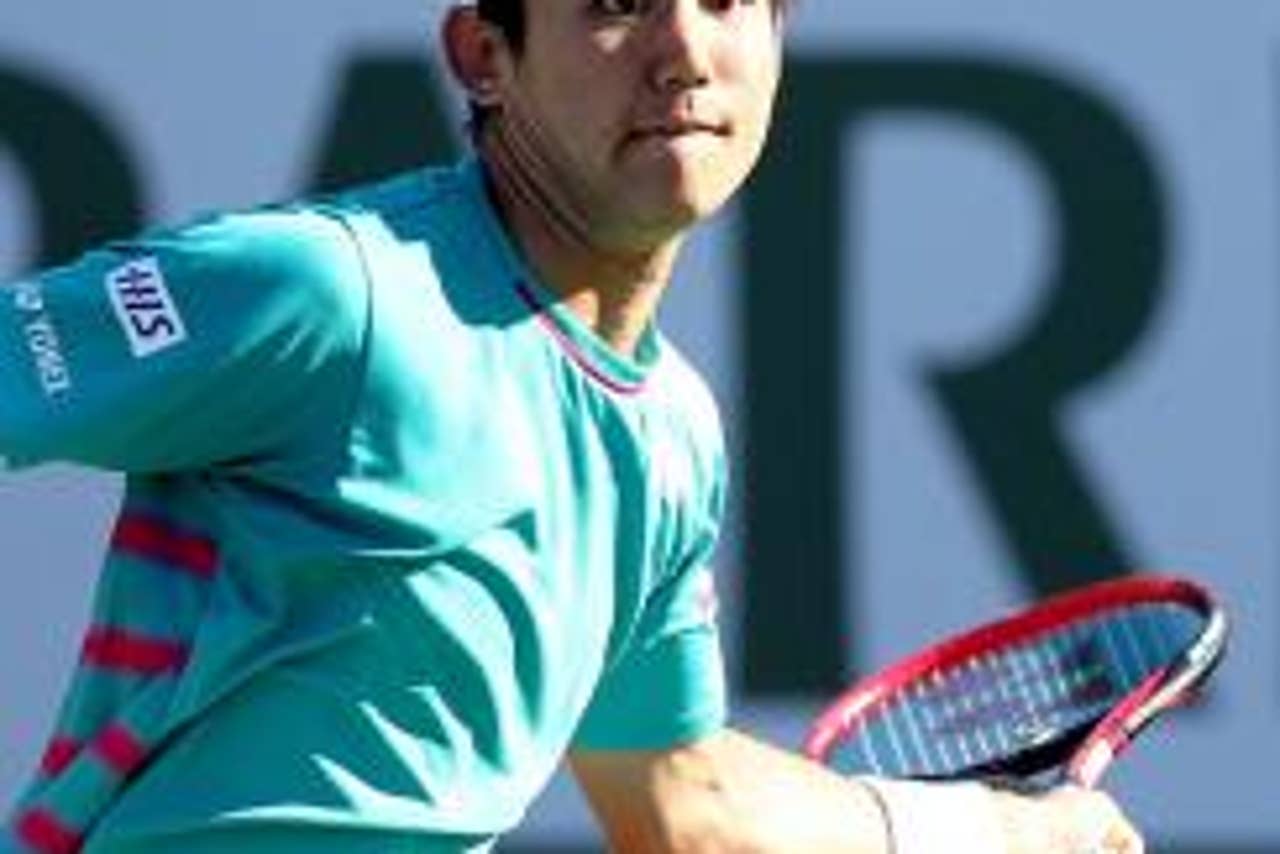 • Back to our game….you're Vasek Pospisil, once a top 25 player, before injuries and personal issues sent your career down the mineshaft. In fact, you have to qualify just to get into the main draw. You knocked off Andy Murray in round two—on Saturday night; in the big house—with a display that was equal parts power, athleticism and courage. In your next match you squandered match points and lost a highly winnable affair to Dusan Lajovic. Which is the prevailing emotion as you leave town?
• Hell hath no fury like a French doubles player scorned. Citing a desire to focus on singles, Caroline Garcia parted ways with Kristina Mladenovic. Fair enough. But note that it was Mladenovic who played deep into the tournament, including a three-set come-from-behind defeat of Caroline Wozniacki—one of the better wins of her career.
• We talked about this on Tennis Channel—at the behest of Martina Navratilova. Enough already with players breaking rackets. A) it's unsporting B) it's potentially dangerous both for the players and those nearby C) it's an indication that you're combustible, a revelation that other players will store away for future use D) somewhere there's a parent saving up to buy a kid a tennis racket. A millionaire athlete destroying hundreds (thousands?) of dollars worth of equipment makes for a horrible visual. E) it doesn't exactly serve as a ringing endorsement of the product you're being paid to endorse. "This tool is so defective, I must break it."….Tennis is mental torment. Even the best players need to vent, to "blow off steam" in the cliché. But how about something more constructive and less destructive? Like barking madly at your support staff.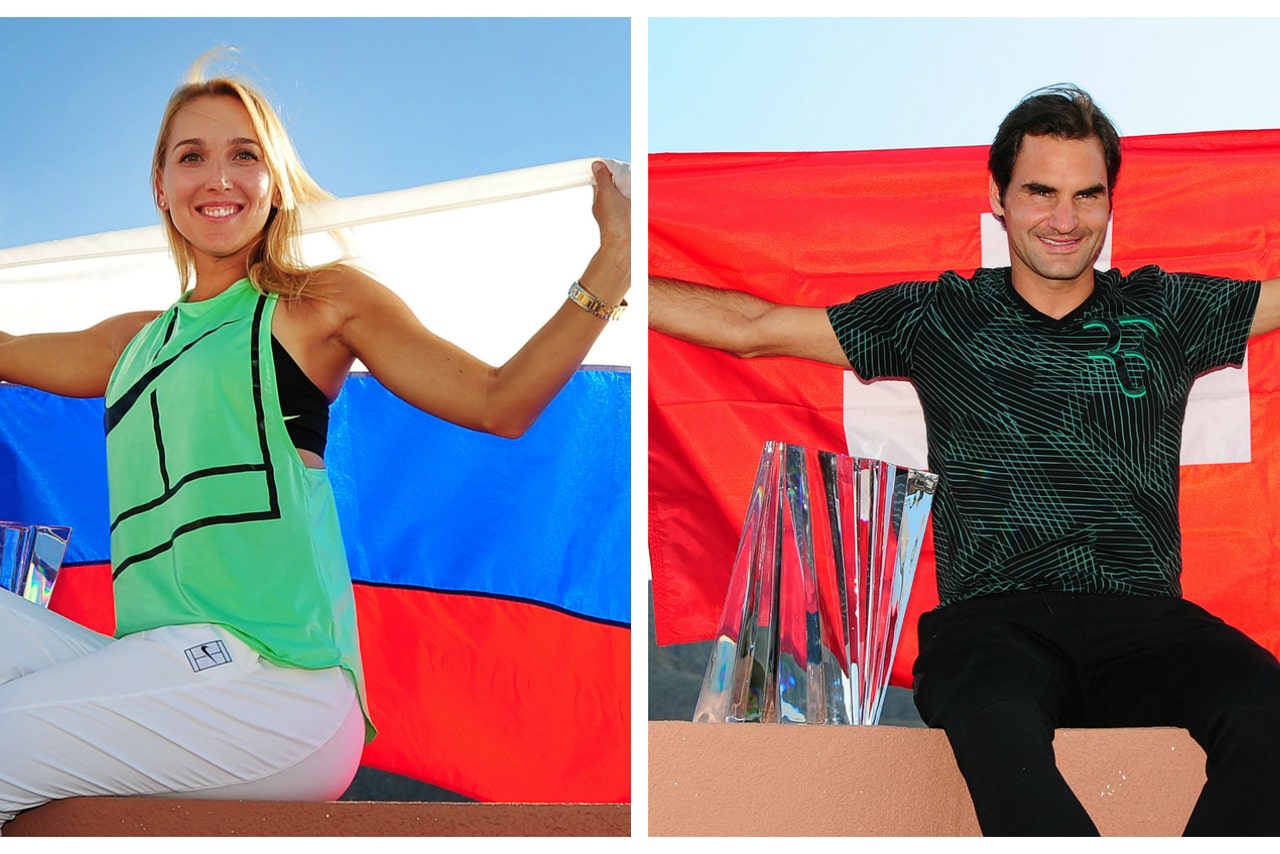 • You hate to saddle a 17-year-old with irrational expectations. (Side note: aforementioned pressure has lessened now that players compete into their mid-30s, no?) But, man, Kayla Day is impressive. She comes equipped with the requisite power. But also a lust for battle and a full embrace of her left-handedness. She doesn't turn 18 until the U.S. Open and there she was in the desert, winning five sets of WTA tennis, including a takedown of Mirjana Lucic-Baroni, who was fresh off an Australian Open semi.
• Speaking of impressive American women…..Lauren Davis won her 16th match of 2017, getting to the round of 16. She might be 5'3" but one of her coaches, Brenda Schultz McCarthy, is a foot taller. And another, gave us this moment.
• Theory floated by a former WTA player: the farce that is on-court coaching not only distorts tennis virtues like problem-solving and independence, but plays a role in the erratic mental performances of so many top women. Discuss. Besides, the optics are terrible. Here are the damsels in distress, emotional and struggling to formulate a plan. But…wait, a coach—more often than not, an older male—is there to calm their nerves and help with strategy. Yuck. A) Note that it's never a winning, successful player who calls for assistance. B) That there's no coaching in the men's game makes this abomination all the more jarring, especially at mixed events C) We must that concede Lauren Davis' coach made for good TV.
• From the coaching carousel…..Sascha Bajin (formerly with Serena Williams and Victoria Azarenka) is working with Carolina Wozniacki on a trial basis through Charleston. Michael Joyce (formerly with Maria Sharapova) is with Azarenka. Alex Kuznetsov, a former American pro, has joined the Sharapova camp.
• This video of Roger Federer getting interviewed by second-graders won rave reviews. But even in this snippet you get a sense for his depth of spirit and, without putting too fine a point on it, mensch-ness. It would be very easy to go through the motions. Yet there's Federer face on the floor, doing push-ups alongside eight-year-olds.
• The pessimist's every-silver lining-has-a-cloud rejoinder: this sport going to feel his absence, whenever that may be.
• A few of you asked about Toni Nadal's absence in the desert, this coming off the announcement that 2017 would be his last year coaching his nephew. Don't read too much into that. Uncle Toni has rarely made the trip to Indian Wells in past years. As long as a decade ago, he sent surrogates like Francisco Roig.
• The lovely, the talented Tracy Austin was the most recent guest on the SI/ Tennis Channel Podcast.
• Nice tournament for one-handed backhands. Apart from the usual suspects: the Swissmen and Thiem, check out Pablo (Honey) Cuevas.
• Non-tennis tidbit we picked up: Jay-Z recently a rented a house in Palm Springs. Not only did he pay $25,000 for the weekend, but he flew in his own furniture, lest he sleep in a strange bed or sit on an unfamiliar couch.
• Quick story: Last year, I missed the BNP Paribas final weekend on account of a family Spring Break trip. I returned from a hike to find my phone clogged with texts and messages even a voicemail from CNN. Weird. Reflexively, I checked the scores on the app. Azarenka had beaten Serena, an upset but not a crazy result, especially on a slow hardcourt. And Djokovic won another title. Huh? Then I started reading. The regrettable remarks from Ray Moore, then the tournament director, had overwhelmed the match results and become an international news story. (Even the superfantastic Marina Hyde devoted a column from London.) This year? Hardly a word was uttered about this most unfortunate incident. Whether it was Moore's apology; or the hiring of Tommy Haas, a likable and well-known replacement tournament director; or an overall willingness by the tennis community—starting WTA players—to forgive and forget, this was a clinic in damage control.
• A favorite theme around here: careers are not linear. No one goes arrowing to the top or bottom. But here are a few players that currently concern us. 1) Angie Kerber, without a title since the 2016 U.S. Open, has not exactly worn the No. 1 ranking comfortably. Here, she was lucky to survive Pauline Parmentier and went out meekly to Elena Vesnina. 2) Garbine Muguruza is a lovely person who seems to lack the self-belief she ought to have. She hasn't been to a final since beating Serena Williams to win the French Open almost 10 months ago. 3) Nick Kyrgios seemed invigorated by "the quarter of death" and ready to embrace the challenge and jacked with energy. Zverev —whom Kyrgios beat in the third round—did not.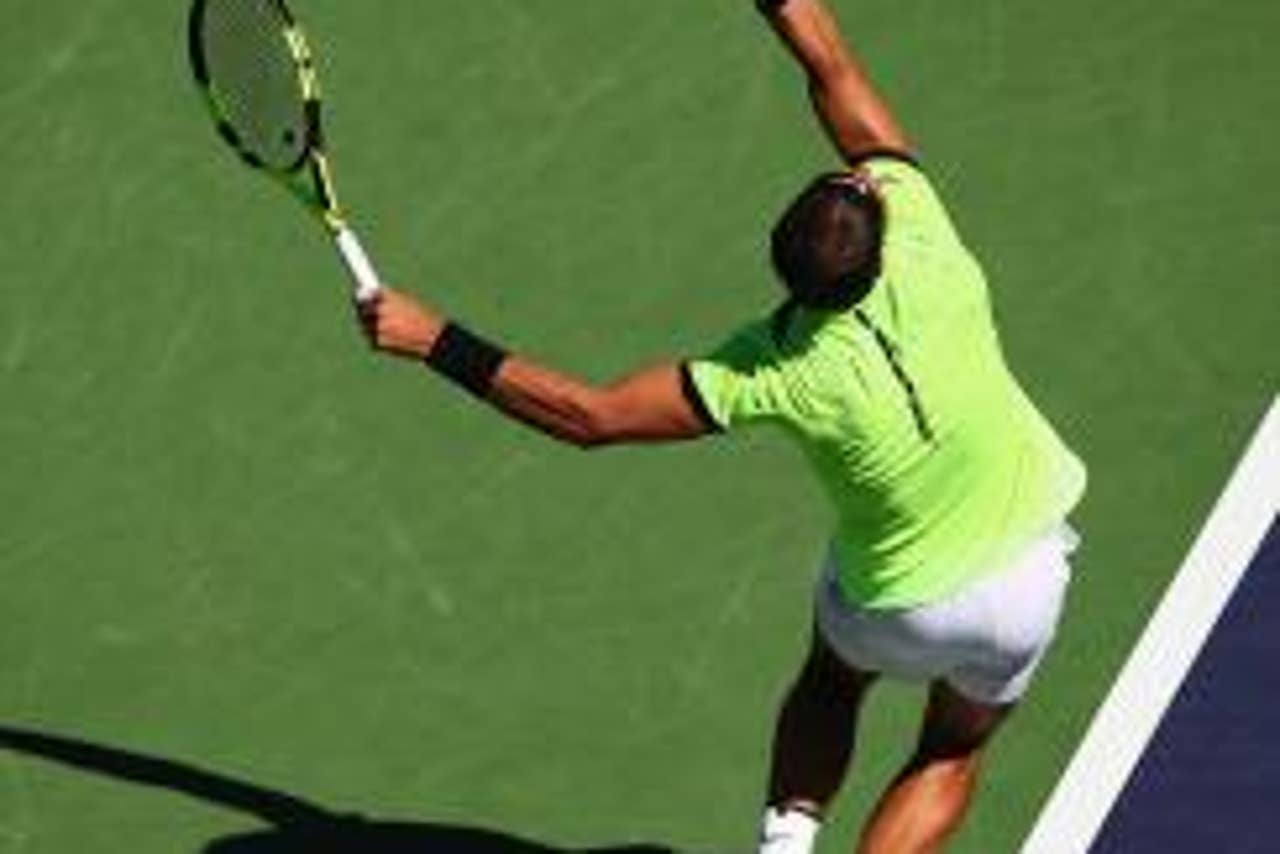 • Lots of chatter about Maria Sharapova's return and the gift baskets of wild cards that await. The view here: what she is doing complies with the law as it written. It's hard to fault her for exploiting this loophole. But it's a loophole. And it's a bad look, especially for someone whose whole infraction, as I see it, stems not from flagrant cheating but from sloppiness about time periods and fine print and spirit-versus-letter.
From a p.r. standpoint, she would win big if she said, "I appreciate the gesture but I would feel better about earning my main draw spot. So I have accepted a wild card into the qualifying draw. I still think the CAS decision clears me—read it for yourself. But rules are rules and, by virtue of my sloppiness, I ran afoul of them. So, I don't feel right taking someone else's slot. Wish me well! And come support me!" Imagine how this plays out. It's a total high road play. Before winning a point, she has already won the p.r. battle. Sharapova not only forecloses debate, but she draws praise in all quarters for her humility and sporting attitude. The tournaments love her for the attention. And there's no way she's losing matches to players outside the 100.  
There are a lot of irrelevant issues here. Sharapova's alleged haughtiness. Her provenance (i.e. her coming from a country with a systematic, state-sponsored sports doping.) The (euphemism alert) depth in the women's game, i.e. the notion that Sharapova could come back tomorrow and contend for a title.
But there are reasonable arguments to be made on both sides. And this wild card issues touches on so many hot button tennis topics—the star-driven nature of the sport, tournaments versus Slams, globalization, the power of management groups, cultural relativism—that it makes for a lively discussion.
• Upon granting Sharapova a wild card for the Ricoh Open, tournament director Marcel Hunze didn't exactly sidestep the doping issue: "I have actually read the conclusion of the CAS report on Maria's case, which I believe everyone involved in tennis should, because if you read the CAS report you would have NO objection to give Maria a WC and welcome her to your tournament. We will be holding a WC for Maria with pleasure." Somewhere, Alize Cornet shakes her head.
• We name check the great Ted Robinson for likening a player's failure to win a 0-40 return game to a baseball team having the bases loaded with no out and failing to score. I'd like to see data on this: how often does a player who fails to convert a 0-40 return game get broken himself on his subsequent service game? The curse of mental accounting strikes again….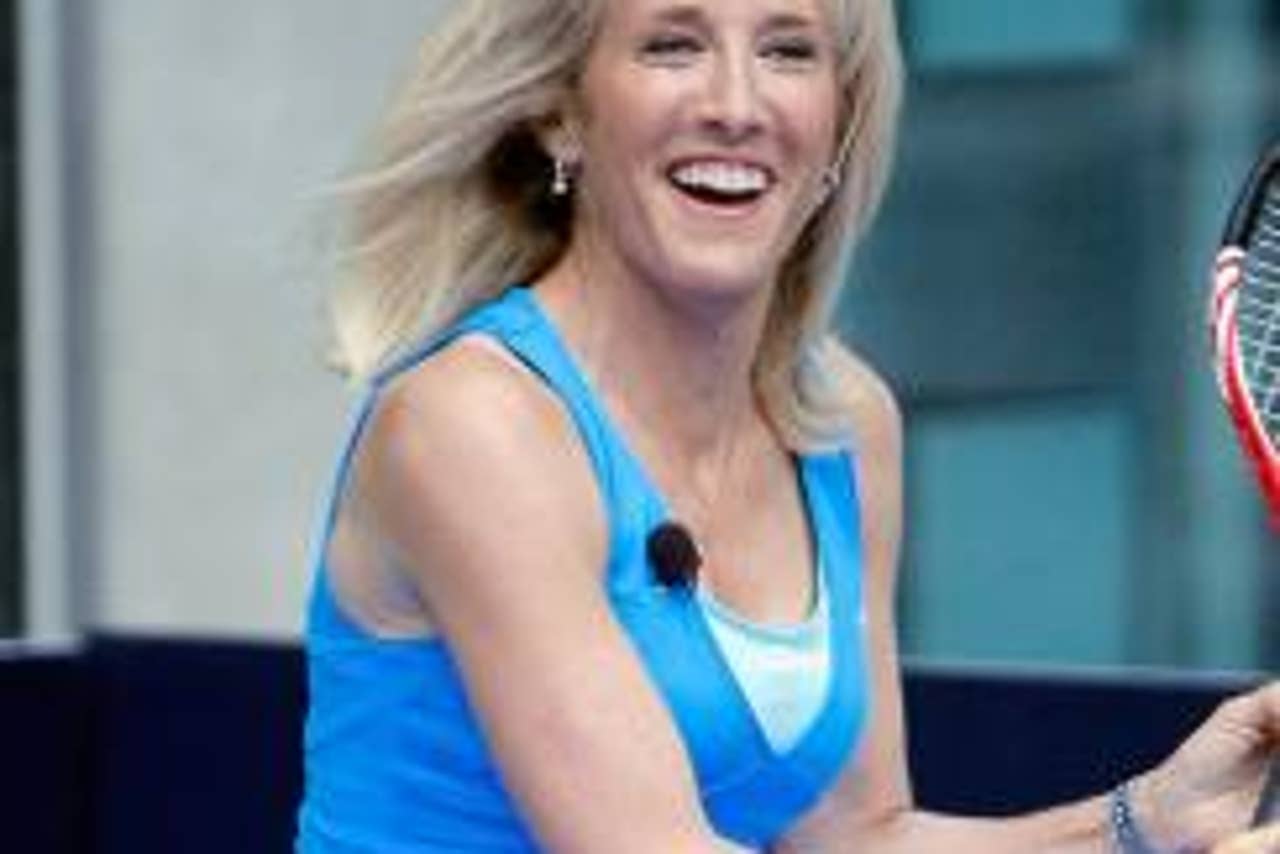 • Larry Ellison may have competition. We heard from multiple sources that a south Florida sports mogul is interested in partnership with IMG and elevating the status of the Miami Open. (IMG declined comment.) This would obviously help keep the event in the U.S. and in South Florida more specifically. This is also in keeping with a trend in the sport: wealthy and successful titans of industry who happen to be passionate tennis fans taking a financial stake in the sport.
• After 40+ years of ownership, Billie Jean King sold her majority interest in World Team Tennis to Washington Kastles owner, Mark Ein. While Ein told me he doesn't see the league moving its season to November and December (as I suggested), he would like to see the current roster of six franchises expand to 16.
• The doubles draw in Indian Wells is one of the great features that you wish could be replicated elsewhere. Nadal, Djokovic, Andy Murray and Nick Kyrgios were among the entrants. There are a lot of factors here: the climate, the schedule (with the week padded before Miami, why not get in some extra practice?), perhaps a sense of obligation toward Ellison for his hospitality. But there's also this: when matches are best-of-three sets and not best-of-five sets, players are more inclined to enter alongside a partner.
• That said, pulling double duty exacted a price on some players. Novak Djokovic played a three-setter against Juan Martin del Potro at night . (In —amazingly—the third round.) Because he is still in the doubles draw, he's asked to face Nick Kyrgios in the mid-afternoon of the following day. To say that Djokovic was displeased by this bit of scheduling would be an understatement.
• Madison Keys ought to be thrilled that, in her first event back from a wrist injury, she played pain-free for six sets. And she ought to be annoyed that she didn't play better in her third match against Caroline Wozniacki. Recalling the Mitch Hedberg line about playing tennis against a wall and never winning, Keys' great challenge will be beating retrievers who don't threaten her with power, but make her hit extra balls.
• Eyebrows were raised when a singles wild card was gifted to Donna Vekic, the lone non-American to get an automatic in. (Discussion for another time: wild cards stink and fly in the face of an allegedly meritocratic sport.) To her credit, Vekic made the most of it, beating Alison Riske in round one.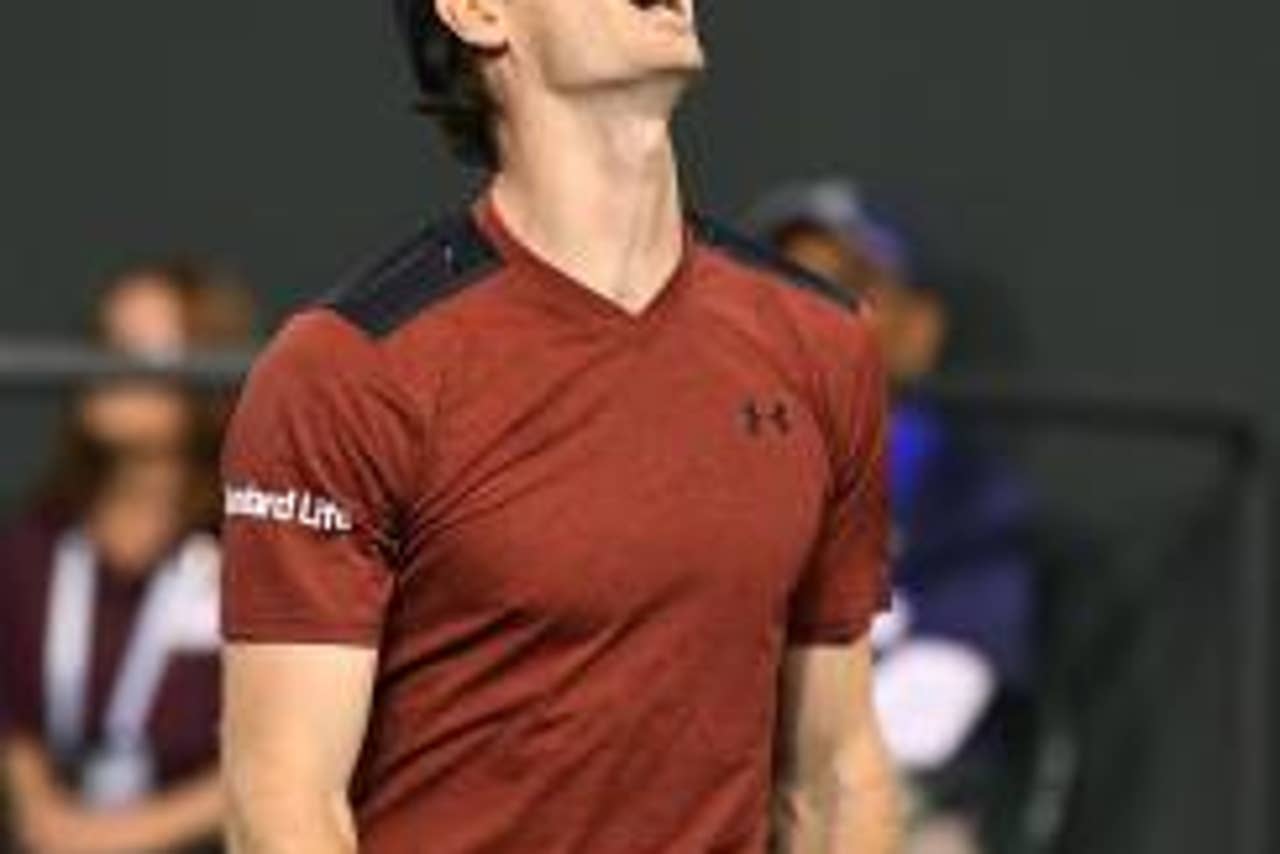 • How did we get this far without mentioning Serena Williams or Andy Murray, both of whom were No. 1 when the month started? Murray—who has never been at his best in the desert— looked sluggish against Pospisil. It's curious that he put in a night session working on his serve on the stadium court. Does this alert the rest of the field that he shares concerns about his delivery? As for Serena, there were a lot of gripes about her late withdrawal and the timing, as well as the reports that she was filming a movie. But here's the truth: she's 35, she's playing for majors and if she only makes cameos A) you can't blame her and B) it beats the alternative.
• The Nobu and the Spago and the luxury suites with the self-flushing toilets are all well and good. But it is the players that have validated the BNP Paribas tournament as the equivalent of a fifth Slam. They come with a sense of purpose and professionalism and convey an unmistakable sense that this title means more than any other, this side of a Slam. Without their buy-in, it's just another tournament with a cool venue and luxe trappings and a fat purse. They certify this event; everyone else follows suit.
---
---