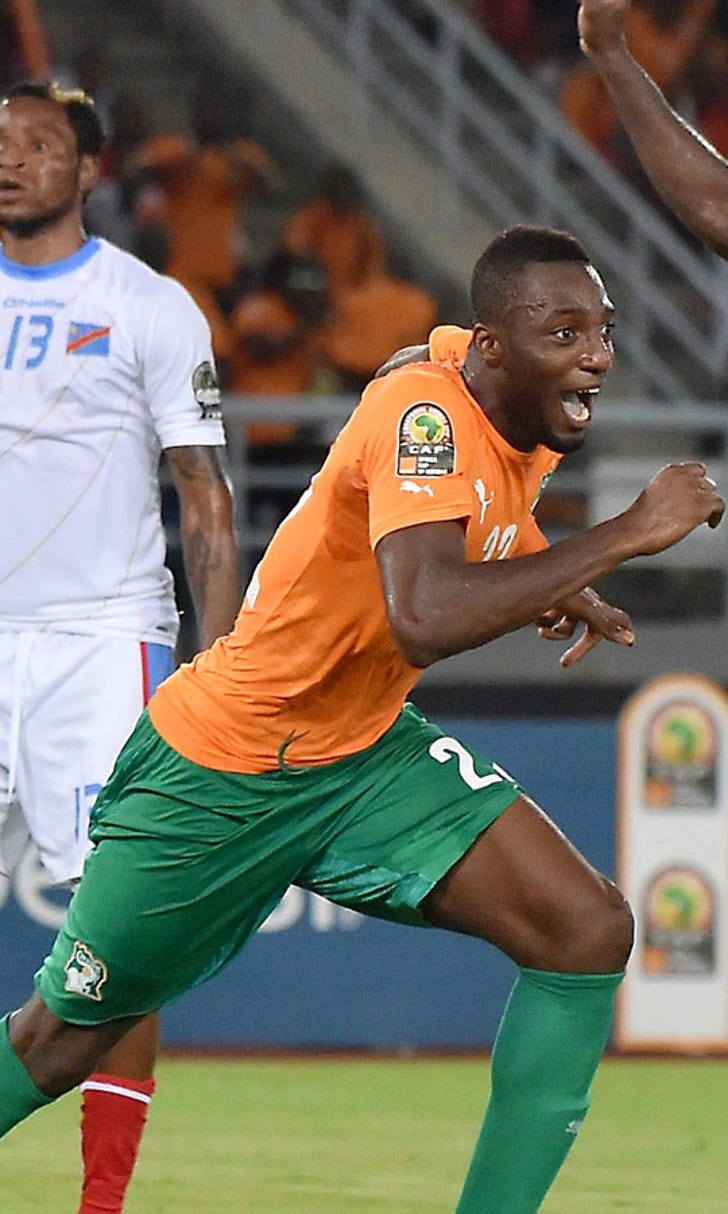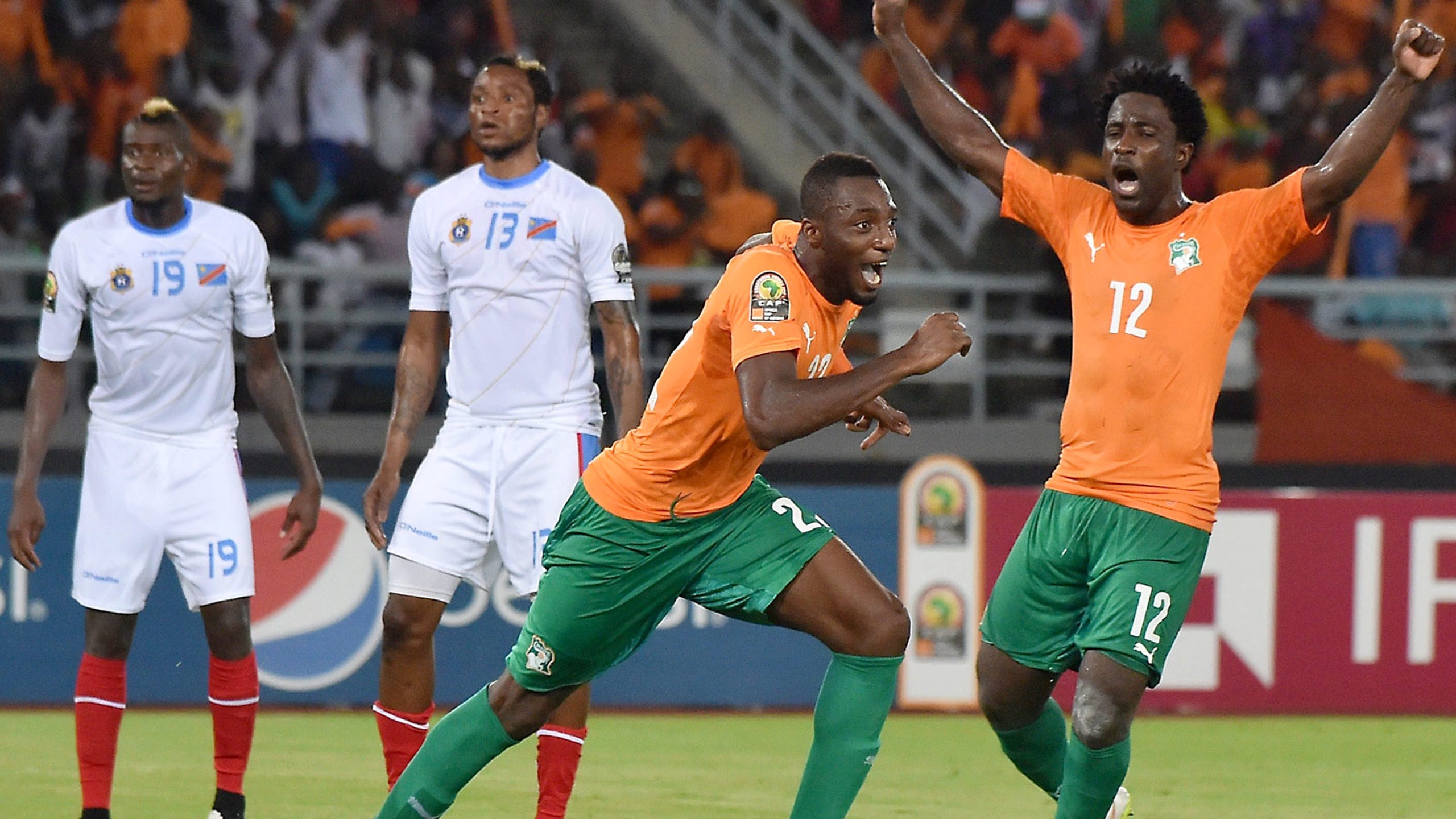 Yaya Toure, Gervinho carry Cote d'Ivoire to Cup of Nations final
BY Jonathan Wilson • February 4, 2015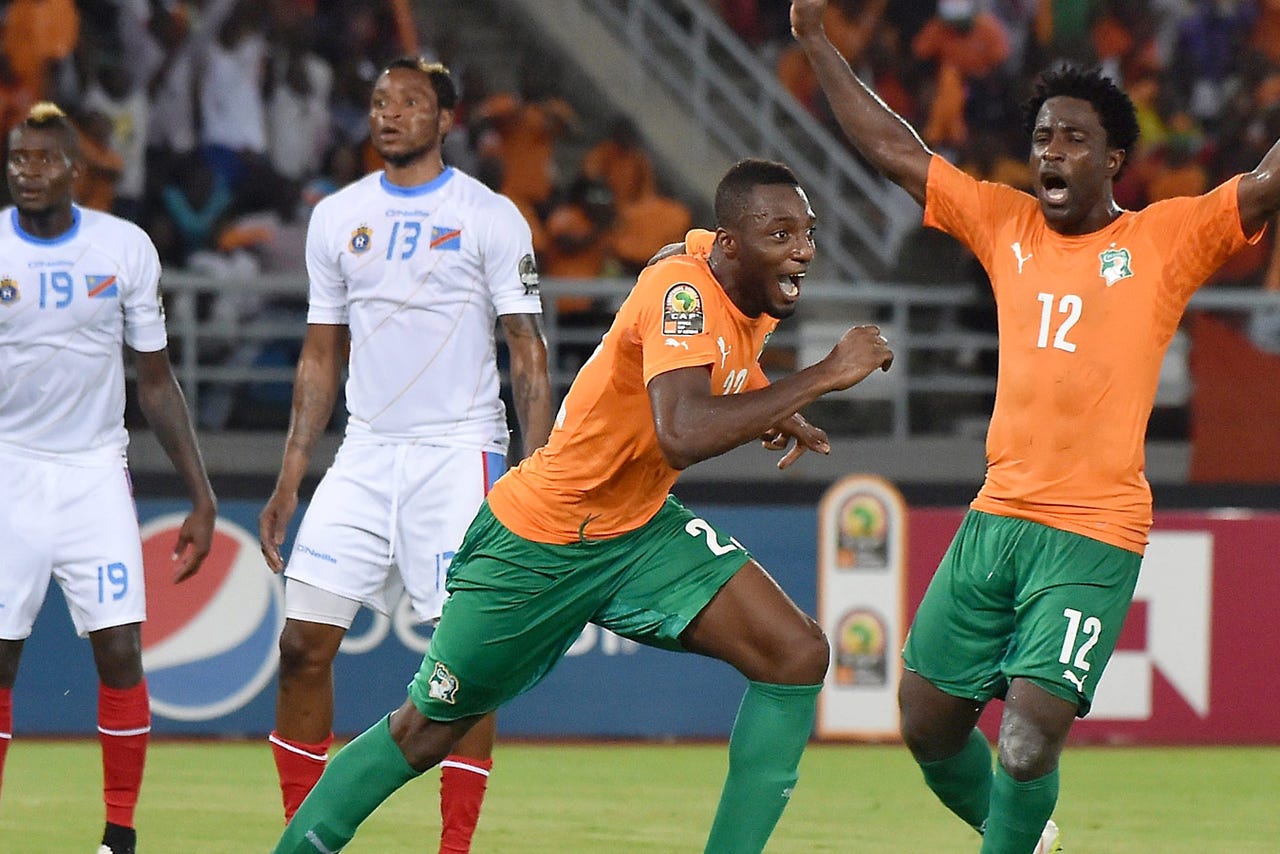 BATA, Equatorial Guinea --
Herve Renard leant casually against the side of the dugout, the post he usually adopts during games. The only difference was that this time, the Cote d'Ivoire manager was wearing a black jacket over his familiar white shirt -- presumably because he'd been told his attire clashed with the shirts of DR Congo (against Algeria in the quarterfinal, he'd clearly been irritated to be asked to wear a pink bib). The important thing was, though, that he was wearing white, and when Renard does that, he doesn't lose after Cote d'Ivoire defeated the Democratic Republic of Congo 3-1 win on Wednesday.
Renard r has taken charge of 18 games at Cups of Nations and has lost only once -- when he wore navy blue rather than his preferred white. There us no doubt what color he'll be wearing on Sunday in the final against either Equatorial Guinea or Ghana as Cote d'Ivoire, in its third final in the past six tournaments, looks to end a decade of frustration.
Since Cote d'Ivoire reached the final in 2006, the expectation has been that it would win something sometime and in four Cups of Nations since, its hopes have been dashed, always in dramatic circumstances and always in the knockout stage. This, really, is the Ivorians' first tournament after the golden generation – only four players remain from the 2006 squad – and that perhaps explains both the pragmatism of its approach so far. There has been no sense that this team needs to dominate games, and its success in the quarterfinal against Algeria came having had a fraction under 40% of possession.
Cote d'Ivoire again began with the back three it has favoured since Gervinho's dismissal in the opening game, with Wilfried Kanon and Eric Bailly flanking Kolo Toure. It was tested in the early stages, as DR Congo began with a swagger, a couple of runs from deep by Chancel Mbemba threatening to create openings and Loteteka Bokila, collecting deep cross from Issama Mpeko at the back post, drew a smart save from Sylvain Gbohouo.
But slowly the Ivorians began to assert themselves and, 20 minutes in, Yaya Toure, one of those four survivors of 2006, struck. The Manchester City midfielder has not had a great tournament by his standards but when the ball fell to him 20 yards out after Wilfried Bony had been tackled, he lashed it into the top corner.
Given how resilient Cote d'Ivoire had looked in the quarterfinal win over Algeria, the temptation was perhaps to think that that was it, but just four minutes later Eric Bailly, perhaps unsighted by Bokila just in front of him, handled a cross and Dieumerci Mbokani rolled in the penalty. Finally the game settled into the pattern that had been expected: that of Congolese pressure and Ivorian absorption. Mbokani, seizing on a cross from Yannick Bolasie, saw a shot deflect off Siaka Tiene and be clawed wide by Gbohouo, but the Ivorian menace on the break, the facet that had downed Algeria, was always there.
Gervinho, wildly popular with the 2000 or so orange-clad Ivorian fans so that the slightest shimmy provoked a great ripple of approval, had a headed brilliantly nodded against the bar by Gabriel Zakuani after Bailly, surging upfield, had combined with Serge Aurier. A minute later, the Roma forward gave Cote d'Ivoire the lead. Bolasie was badly at fault, giving possession to Bony, who laid in Gervinho to send an emphatic finish past Robert Kidiaba.
Bolasie, clearly furious with himself, twice went close to an equaliser early in the second half, but on both occasions was denied by Sylvain Gbohouo. The only one of the four survivors of 2006 not to play a part against DRC was Boubacar Barry, a goalkeeper who was well-respected in Belgium but who always seemed an accident waiting to happen for the national side. It can be debated whether this would be a stronger side with the likes of Didier Drogba, Didier Zokora and Emmanuel Eboue, but Gbohouo is a clear upgrade on Barry.
The Ivorians, though, held firm, as they had against Algeria, and waited for breaks and set-plays. The third came from a corner midway through the second half. Serge Aurier's header was saved but Wilfried Kanon, one of the finds of the tournament, was on hand to sweep the ball into the empty net and ensure that Renard and his white shirt would be in the final as he seeks to become the first manager to win the tournament with two different sides and Cote d'Ivoire looks to achieve its consecration at last.
---