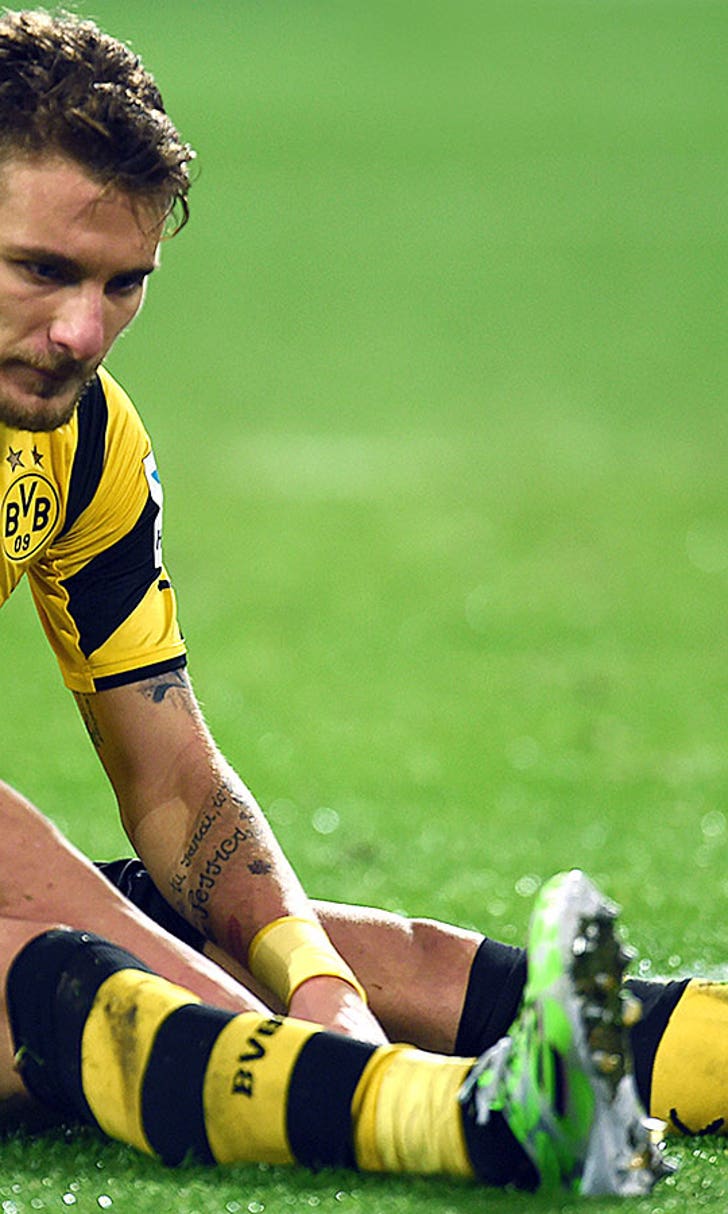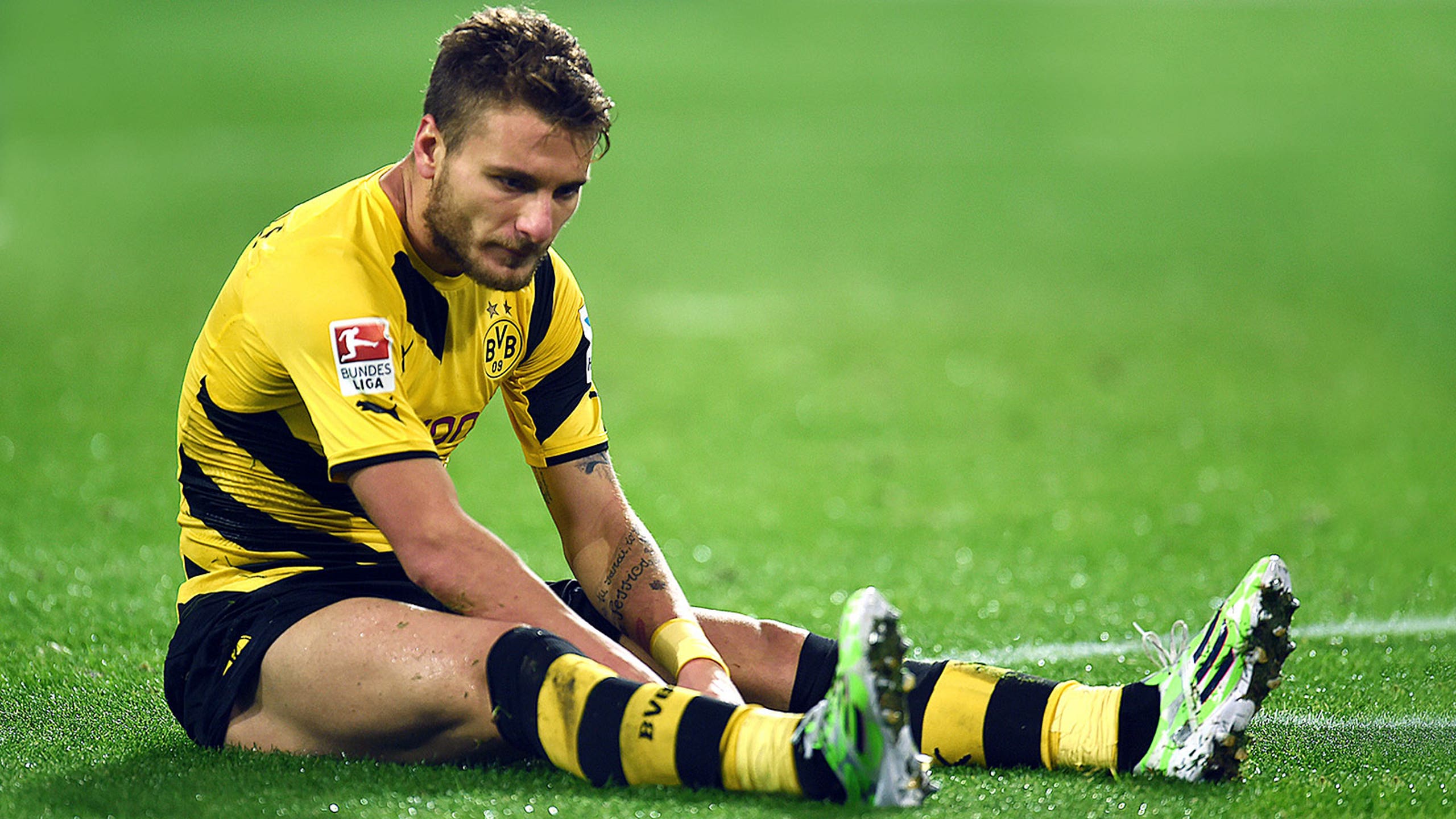 Wolfsburg salvage point at Dortmund; Gladbach climb to third
BY Jerry Trecker • December 17, 2014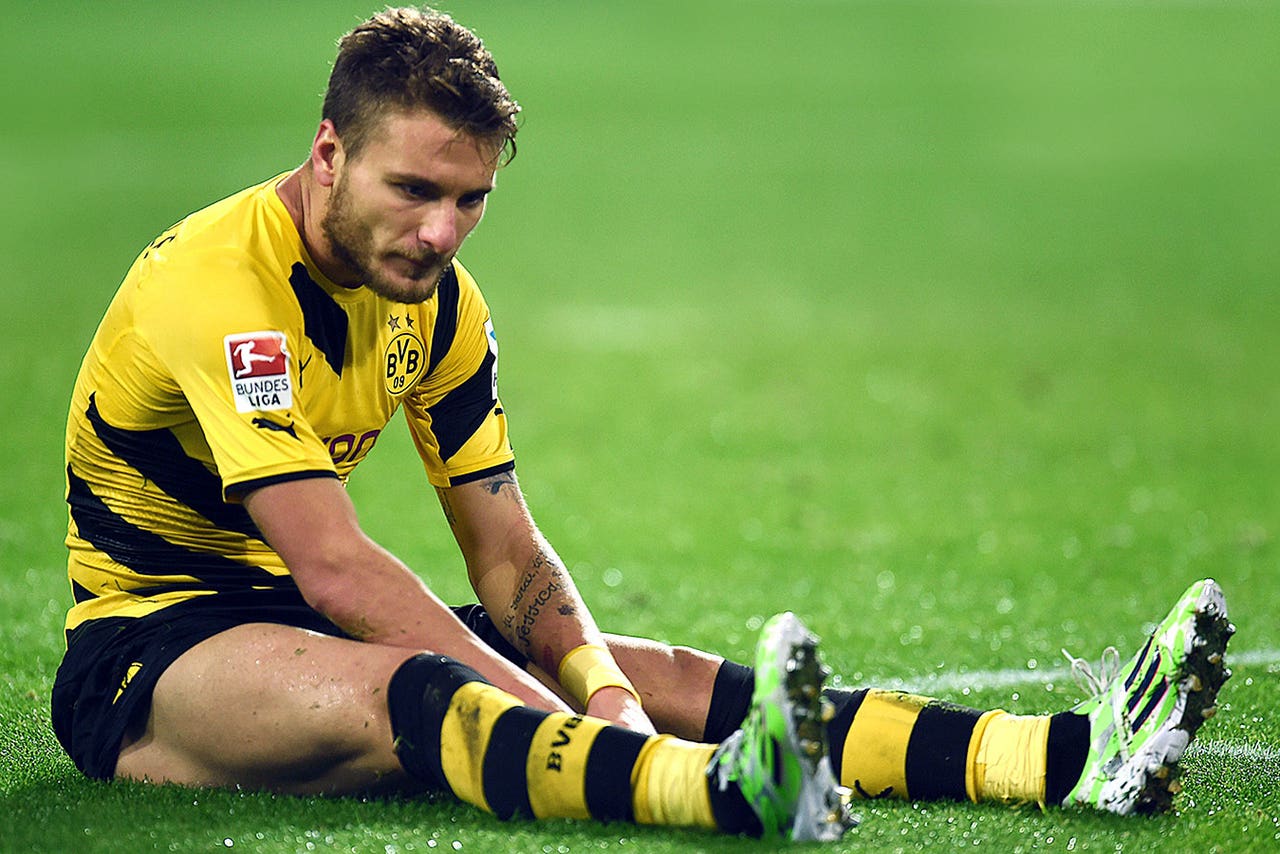 With their commanding lead heading into the Winterpause, it's obviously Bayern Munich's title to lose. VfL Wolfsburg hasn't quite raised the white flag, however.
The second-place Bundesliga team twice fought from behind to get a share of the points in a 2-2 draw Wednesday night at Borussia Dortmund, a signal that they intend to maintain what passes for a title challenge in a race when there appears to be only one likely winner.
Ciro Immobile, brought from Serie A to Dortmund to provide some of the goals that Robert Lewandowski took with him when he departed for Bayern, had apparently scored a truly big one for his new club, to give them a 2-1 lead with 15 minutes left, but a defensive lapse allowed Naldo to head an equalizer and continued to Borussia's remarkably poor league form.
The draw left Wolfsburg 11 points behind Bayern but still four clear of third-place Borussia Moenchengladbach in one of the guaranteed UEFA Champions League spots for next season.
For Dortmund battling against relegation, another opportunity gone begging left them stuck in 16th place with only 15 points from 16 matches. If the season ended now, Juergen Klopp's team would be facing a playoff simply to remain in the top flight, an unthinkable position for a side which has reached the knockout stages of the Champions League.
In Wednesday night's other matches, Borussia Moenchengladbach hammered Werder Bremen, 4-1 to take over third while Bayer Leverkusen scored the only goal at Hoffenheim to move fourth, level points with Gladbach. Hertha Berlin scored the first three goals then saw that advantage evaporate as Alexander Meier scored twice in the final minute to get Eintracht Frankfurt a 4-4 draw and Schalke won 2-1 at Paderborn to grab fifth place in the table, just a point behind Gladbach and Leverkusen.
Pierre-Emerick Aubameyang put Dortmund on top in the eighth minute when he timed his far post run perfectly, then slid to first time home from a Immobile cross from the left.
Wolfsburg settled however and began to get more control in midfield. Their equalizer came in the 29th minute when Kevin De Bruyne powered a 22-meter free kick through the wall and into the low right hand corner.
After that it was a case of Dortmund trying to increase the pressure against an organized, competitive Wolfsburg backline that did an excellent job in front of keeper Diego Benaglio until Immobile broke into space with an inside left channel run, let fly from outside the box and beat Benaglio to the low left corner in the 75th minute.
But the lead didn't hold up, the Dortmund defense at fault as Naldo came open eight yards away to head home a Ricardo Rodriguez corner from the left with five minutes to play.
Gladbach scored twice in seven minutes after the half hour to take control against Werder Bremen. Max Kruse buried a 31st minute penalty, then Oscar Wendt chipped to the far post after collecting a deflection inside the box on the left.
Zlatko Junuzovic briefly got Werder Bremen back into things with a wonderful free kick in the 50th minute, picking the near top right corner from 23 meters out at the top of the box but Bremen's inability to clear their zone, despite some heroic shot-blocking, left Christoph Kramer wide open at the far post to bury a 64th minute header that restored Gladbach's control.
Luca Caldirola collected a second yellow card with a sliding tackle that reduced the visitors to 10 men for the final 25-plus minutes. Branimir Hrgota finished the scoring for the winners with an 88th minute run down the middle to accept a two-on-one cross from Thorgen Hazard.
American defender John Anthony Brooks opened the account with a fine finish, running onto a long Ronny ball down the middle from a free kick. Brooks got behind the defense and deftly first-timed it in from eight yards. It became 2-0 in the 34th minute when Anis Ben Hatira's header looped off the far post and settled in the back of the net after Ronny's header-on had created the opportunity. Three minutes later it was Ben Hatira's chance to set up Julian Schieber's sliding goal.
Stefan Aigner, with space at the far post, started the Eintracht comeback when he met Haris Seferovic's 43rd minute cross then it was the turn of Makoto Hasebe to create a headed goal for Seferovic on the hour as the hosts reduced the Hertha lead to a single goal.
Peter Niemeyer appeared to restore a safe cushion for the visitors inside the final 10 minutes, but Bundesliga scoring leader Meier scored twice (his 11th and 12th of the season) in the last two minutes to get Eintracht a most improbable share of the points.
Paderborn broke on top in the 31st minute when Stefan Kutchske's cross found Lukas Rupp, whose shot deflected off Kaan Ayhan for an own goal. Schalke answered just before the interval with Maxim Choupo-Moting worked a 1-2 with Marco Hoeger before finishing from the right. Roman Neustadter's header, a back flick from the near post, won it for the visitors.
The final round of Bundesliga matches before the winter break kicks off Friday night with Bayern Munich visiting FSV Mainz.
---