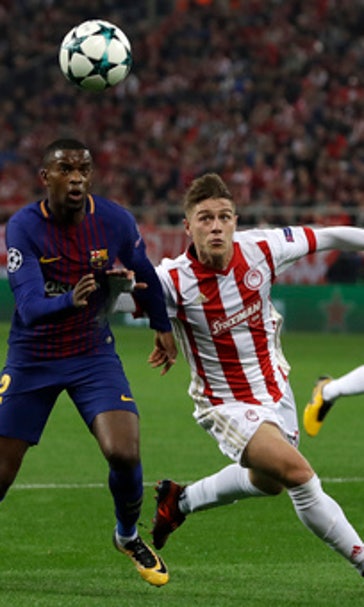 With goalkeeping heroics, Olympiakos holds Barcelona 0-0
October 31, 2017

PIRAEUS, Greece (AP) Olympiakos held Barcelona to a surprise 0-0 draw in the Champions League on Tuesday, denying the visitors early qualification to the round of 16 from Group D.
Lionel Messi was stopped five times by goalkeeper Silvio Proto. The Catalans, dropping their first points in four matches, had two-thirds of the possession and pressed hard for a winning goal to deafening opposition from fans at Karaiskakis Stadium.
The Greek champions, playing after three straight defeats in the Champions League, defended with real determination. But the hosts did little with their counterattacks as they settled for a point against a Barcelona side under their former coach Ernesto Valverde.
''Our aim was to win tonight and we had plenty of chances. It didn't happen,'' Valverde said. ''Olympiakos was excellent defensively and their fans were tireless. I'm happy with my players. What counts is creating chances, if we do that the goals will come.''
He thanked Greek fans for their warm reception, but added: ''I got used to having the (Olympiakos) fans helping my players. Tonight they were opposing them.''
Barcelona leads Group D with 10 points, three more than second-place Juventus, which drew 1-1 at Sporting Lisbon. Sporting has four points.
Olympiakos captain Alberto Botia, who joined Barcelona as a teenager, was a standout as a sweeper for the hosts, who improved after the break.
Proto stopped three shots from Messi in the first half, and kept up his heroics in the second, saving a shot from Luis Suarez in 72nd minute. A lob from Suarez eight minutes later bounced off the crossbar.
The Belgian `keeper punched away a free kick from Messi two minutes before the end of regular time and again dived to block a powerful effort by the Argentine in injury time.
''It was hard work, but a good result, what we have to do now is keep fighting hard,'' Olympiakos midfielder Panagiotis Tachtsidis said.
Minutes before the final whistle, a young Greek fan ran onto the pitch and hugged Suarez and Messi, pulling out his cellphone to snap a selfie with Messi before being led off by stewards.
Valverde maintained the pressure throughout, bringing on striker Gerard Deulofeu late in the game.
The coach remains a favorite of Olympiakos fans, who chanted his name and held up a giant banner written in Spanish that said ''Ernesto Thanks For Everything.''
The Spaniard, who won three league titles and two Greek Cups for the Piraeus team, was given an award - a golden wreath - by the Greek club's chairman before the start of the game.
Olympiakos coach Takis Lemonis thanked fans who filled the stadium and cheered as the team bus made its way to the game.
''I appreciate that very much, especially after some difficult games in the league ... Of course tonight's result is good against a team like Barcelona,'' Lemonis said. ''But there was a hope that we could have got something more.''
---
Follow Gatopoulos at http://www.twitter.com/dgatopoulos
More AP Champions League coverage: https://apnews.com/tag/ChampionsLeague
---
---