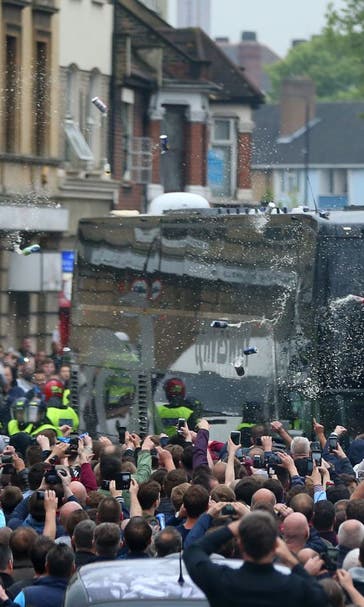 West Ham to ban fans responsible for attack on United bus
May 11, 2016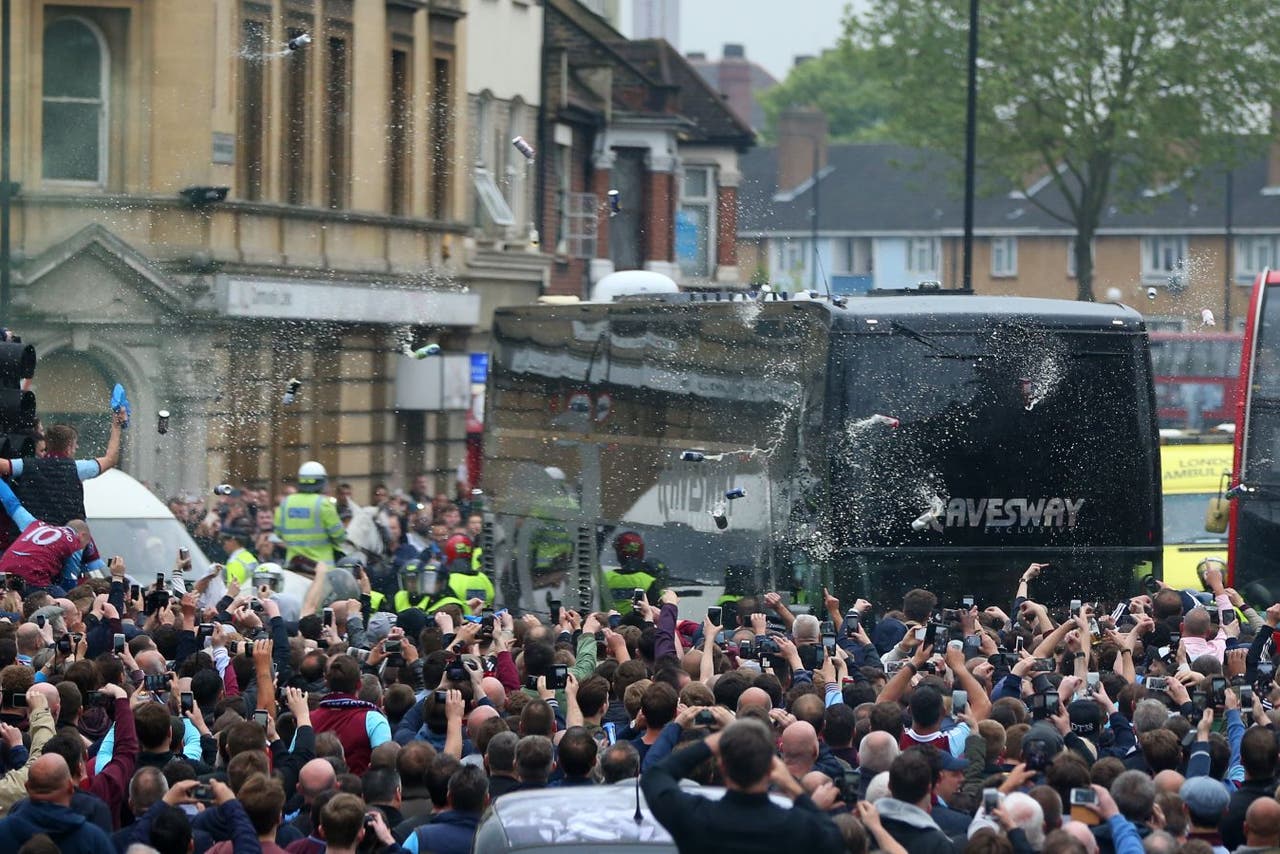 LONDON --
Manchester United's players took refuge in the aisle of the team bus, lying down almost on top of each other as thuds and banging were heard outside and objects hit the windows.
Some shouted, cursed, even laughed. Jesse Lingard, who had his phone in his hand to film the mayhem, turned the screen toward himself and put his hand to his mouth in apparent mock fear.
"Mummy, mummy," Lingard can be heard saying.
It wasn't the average build-up to a Premier League game for United on Tuesday.
In scenes of violence that revived memories of English soccer in the 1970s and `80s, United's bus -- surrounded by riot police -- was pelted with objects as it crawled through hundreds of fans toward Upton Park for the team's match against West Ham. Video footage showed damage to sections of the tinted windows of the bus.
Lingard, the United winger, managed to capture some of the violence on his phone from inside the bus and the images spread across social media. British newspapers carried a photo of a seemingly distressed mother and child being ushered away as flares went off on the litter-filled streets behind them.
The bus carrying United's players eventually entered the stadium but kickoff was delayed by 45 minutes. United lost the match 3-2, damaging its ambitions of qualifying for next season's Champions League, and coach Louis van Gaal said the team's performance was influenced by what happened before the game, although he said he didn't want to make excuses.
On Wednesday, West Ham apologized for the pre-game incidents, saying some supporters "didn't act in an appropriate way when the Manchester United team bus was damaged."
"That was not acceptable," West Ham said in a statement, "and we will work with the police to identify those responsible and ban them for life."
The English Football Association said late Tuesday that it is investigating the incidents.
London police said Wednesday that four officers sustained minor injuries during the incidents. No arrests have been made over criminal damage to the bus but three men were arrested during the game, including one for fighting and two for entering the field.
Police are looking at camera footage and appealed for witnesses.
Emotions were high among West Ham's fans, with Upton Park hosting its last game before the club moves to the nearby Olympic Stadium next season.
Upton Park has been West Ham's home stadium for 112 years.
---
---