Costa Rica
Costa Rica
USWNT begin Victory Tour with thumping win over Costa Rica
Published
Aug. 16, 2015 3:52 p.m. ET

PITTSBURGH --
Terrible Towels and all, if you had to pick the perfect American city to kick off the U.S. women's national soccer team's Victory Tour, the Steel City was the place.
The defending Women's World Cup champions continued their party by defeating Costa Rica 8-0 on Sunday afternoon. The final score was an 8-0 obliteration of this over-matched CONCACAF opponent. It took place in front of an all-time record crowd for a soccer game in Pittsburgh, which was also the largest crowd ever to attend a standalone U.S. women's team friendly.
Just ask hometown heroine Meghan Klingenberg, whose goal in front of 44,028 adoring fans at Heinz Field was capped by a wild waving of the famous Pittsburgh Steelers' yellow accoutrement.
Heck, it was U.S. coach Jill Ellis -- a Brit by birth -- who tossed Klingenberg the Terrible Towel from the sideline, as if the U.S. needed to do anything else to celebrate on this goal-gluttonous day.
"I love Pittsburgh and being here was just incredible and to be able to bring my teammates and my friends and coaches here to experience what an incredible city and incredible fan base we have is really incredible. You knew Pittsburgh was going to show up in force and be extremely loud and waving their terrible towels. This is a blast celebrating this World Cup and preparing for the Olympics,'' Klingenberg said.
Picking up where they left off in Canada, the U.S. women were thirsty to unleash the scoring power they had lacked the bulk of their World Cup run, including their offensively nervy spring lead-up to the seven-game tournament. If the stress and anxiety of trying to shed 16 years of World Cup futility squelched the team's creative and offensive freedom earlier this year, that affliction is now history.
In addition to Klingenberg pleasing the home crowd, Christen Press scored a hat trick, making up for what was for her a disappointing World Cup performance. Heather O'Reilly also scored a pair of goals on a hot, sunny Sunday afternoon.
The appreciative crowd hung in long after the game was decided and continued to be rewarded by a U.S. team eager to show off its World Cup form -- and hardware. The World Cup trophy had been on display all over the city as the U.S. women gathered for the first time since their July 5 championship win.
Despite the fact that most of the U.S. women have been working non-stop since leaving Canada, making promotional appearances and playing for their National Women's Soccer League teams, the team came out with fluidity and style -- and an offensive onslaught.
Apparently, using a bevy of players who played little or not at all in Canada, the U.S. reeled off a 4-0 half-time lead as almost everyone who isn't named "Carli Lloyd" decided it was their time to find the back of the net.
The U.S. took an early lead on O'Reilly's opening goal 4 minutes into the match as the former Tar Heel showed how badly she wants to be part of the U.S. mix as it heads to Olympic qualifying for the 2016 Summer Games in Rio. O'Reilly picked off the ball from Costa Rica in the attacking third and took a direct lane down the right side before letting go a strike that beat Costa Rica goalkeeper Dinna Diaz to start the day's offensive blitz.
Next, midfielder Megan Rapinoe looked eager to get Klingenberg on the board, but a give-and-go came up short.
It hardly mattered. Press -- whose World Cup performance proved a little disappointing for a player picked by many to be a breakout player this summer -- took her opportunity to prove she'll be part of the U.S. team's success going forward. The Californian made it 2-0 in the 29th minute when she picked up a rebound off her own blocked shot and knocked it in with her left foot. It was her 22nd goal for the U.S. squad.
Moments later, Lloyd come close to collecting her first goal for the U.S. since scoring her historic hat trick against Japan in the 5-2 Women's World Cup title win at B.C. Place. But Lloyd's header off an O'Reilly cross was deflected.
Next up was Julie Johnston. The 23-year-old defender headed home a Rapinoe cross in the 37th minute to give the U.S. a 3-0 lead. The U.S. went up 4-0 when Press added her second goal of the match at the first half closed by knocked home a Shannon Boxx header.
Hope Solo did not get the start. Ashlyn Harris did. But Solo was tested almost as soon as she came on for the second half. Karla Villabolos had a breakaway that drew Solo well in front of the goal. As Villabolos got off her shot, Solo went down and got the tip of her foot on the ball, deflecting the shot just inches wide of the post. Villabolos was disgusted, and Solo pumped her arms, knowing she had protected the combined blank sheet.
Abby Wambach was happy to not see her name on the starting lineup. The all-time leading goal-scorer had spent the past two weeks on her parents' island in Alexandria Bay in the 1,000 Islands above her family home in Rochester, N.Y. The 35-year-old, all-time leading goal-scorer admitted she wasn't ready to start, but was worried she might be called into big-time duty since two forwards are out: Sydney Leroux is out for three months after ankle surgery and Alex Morgan is also just coming back after minor knee surgery.
"Syd and Alex are ruining my Victory Tour experience,'' Wambach said, adding: "I'm happy to just get subbed in for the last five minutes.''
After O'Reilly her second goal scored in the 60th minute, Wambach -- in as a sub -- collected an assist on Whitney Engen's goal that put the U.S. up 7-0. Press' third goal in the 68th minute gave the U.S. an 8-0 lead.
The U.S. will get a rematch with Costa Rica in the second game of this 10-game Victory Tour. They square off in Chattanooga on Wednesday at Finley Stadium (live, 7:30 p.m. ET).
---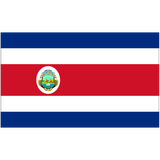 Get more from Costa Rica
Follow your favorites to get information about games, news and more
---