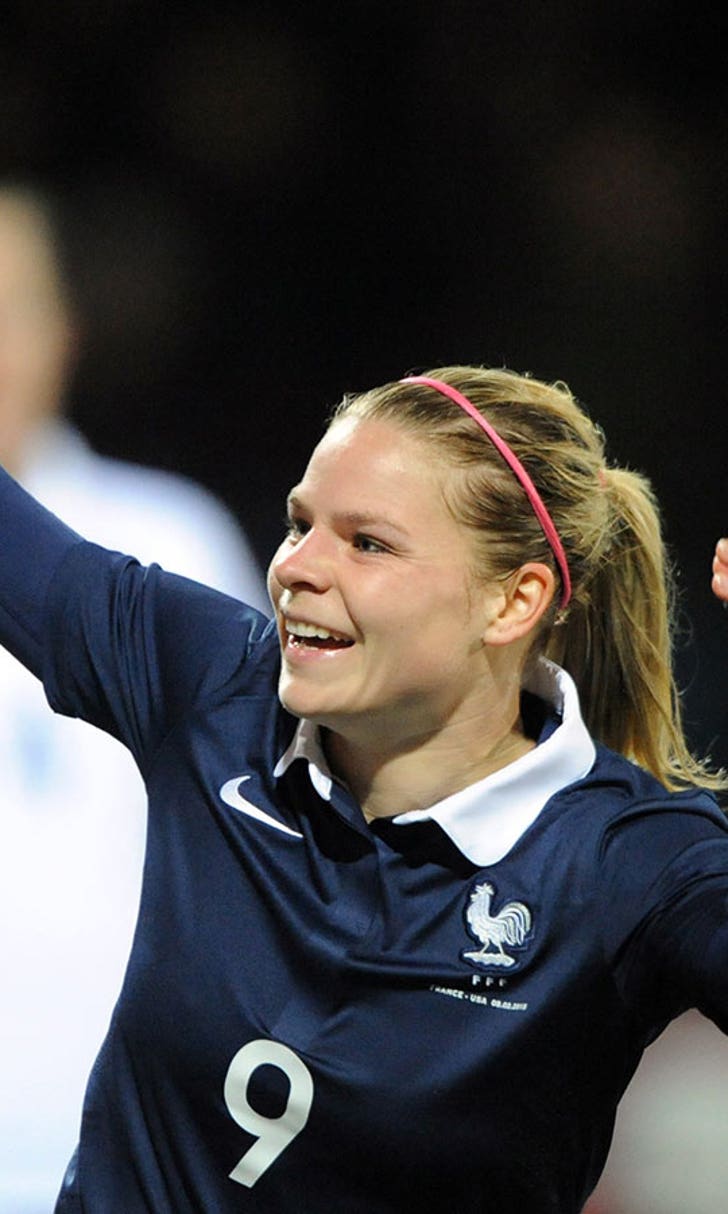 USA women stumble to loss against impressive France in friendly
BY Jamie Trecker • February 8, 2015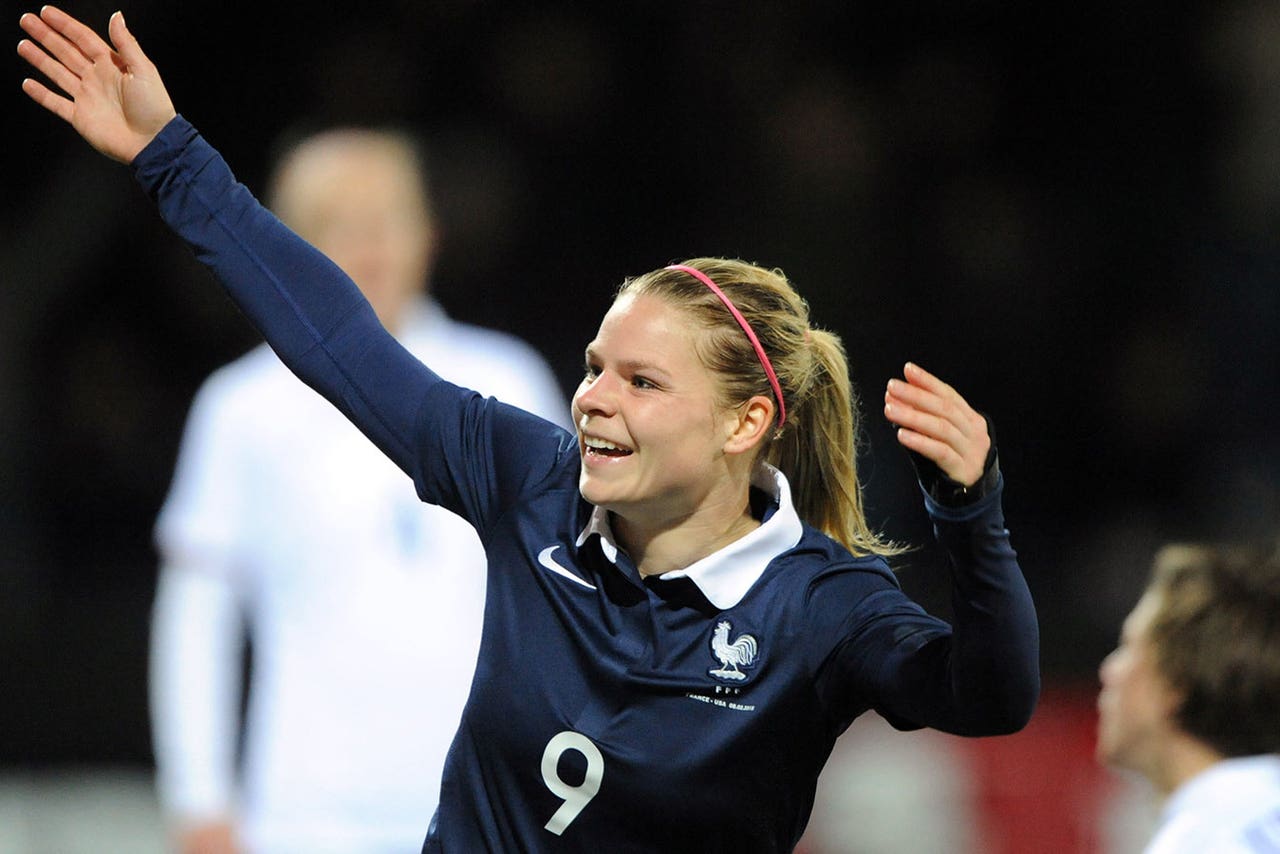 The USA women's national team got a reality check Sunday evening in Lorient, as a slick-passing and technically superior French side downed the Americans 2-0 in a friendly.
Goals from Eugenie Le Sommer and Jessica Hourara punctuated what was a convincing and emphatic performance by Les Bleues.
Until today, under manager Jill Ellis, the USA had looked solid. They stormed through regional qualification for the World Cup this past October, winning five straight games, most by lopsided margins. Seven American starters were named as members of the tournament's best XI; Abby Wambach took the golden boot with seven goals while Carli Lloyd was named player of the tournament; Hope Solo as the best keeper.
But the Americans came into this game under something of a cloud. Solo was suspended by US Soccer for 30 days after a string of incidents, most recently a traffic stop by police in California in which her husband was cited for DUI while driving one of the national team's vans. (Players on the team have seemed both weary and wary of the situation, with Megan Rapinoe telling the New York Times on Saturday that she had "definitely thought" about the possibility that Solo would not make the World Cup roster as a result of her well-publicized troubles.)
Prominent members of the American national team were also involved in a lawsuit – recently withdrawn – that sought to force FIFA and the World Cup's Canadian organizers to field the games on grass instead of artificial turf. And, last year at this time, the Americans had an entirely different coach, the highly-regarded Tom Sermanni. But after a dismal showing at the Algarve Cup, at which the Americans finished seventh, rumors of a player revolt surfaced. Sermanni was sent packing in April. It's unclear whether or not time has healed all wounds.
Whether or not those troubles played any part in the game – or if more was down to the fact that the Americans fielded a less-experienced lineup than usual – is open to debate. Abby Wambach did not start the match, perhaps a nod to the artificial surface and her aging knees; Sydney Leroux was unavailable due to injury.
What was clear early on Sunday is that the Americans are thin in the back, with defenders Meghan Klingenberg and Lori Chalupny looking horribly out of their depths against the fleet Elodie Thomis and Gaetane Thiney. The US midfield was porous, with Morgan Brian notably invisible and Tobin Heath suffering a shocker. Up top, Alex Morgan looked as if she was suffering rust from her injury layoff. Only Christen Press, who boasts Champions League experience, looked like she had the guile to help pull the French side apart.
France sent a number of early signals that they are a legitimate contender at this summer's Cup with Le Sommer taking advantage of a Klingenberg error to blast a shot just over Ashlyn Harris' bar inside of two minutes. Harris would continue to be the busier keeper, as Le Sommer would continue to torture Klingenberg, firing just over again in the 17th. Laura Georges caught a volley and blasted it right at Harris, forcing her into a fine palm over.
France continued to pass the ball right through a very flat American midfield, allowing the Yanks to hack the ball down the field when the wanted, but not to get on the ball when they wanted to run through the gears. Morgan had two half-chances on long balls, but the best moment came when Press and Heath combined well to set her up on the left side. She hit the side of Sarah Bouhaddi's net.
That it was scoreless at the break was something of a shock. That didn't last long after the two sides returned to the turf. Four minutes after the restart, Thomis left Chalupny for dead on the far flank, hung a ball up for Le Sommer, and she made no mistake, leaping over Klingenberg to head home.
Two minutes later, the French made the Americans paid for their poor play out wide when Hourara beat Chalupny, and sent in a long cross that caught Harris flat-footed. Racing back in an attempt to cover, she was helpless to watch it tuck inside her post and into the back of the net. Lucky? Yes. Undeserved? Hardly.
The Americans did have a chance of their own after that – and it was a suspicious one. Wambach, on as a late sub, was fouled well outside the penalty area and all were shocked to see the referee point to the spot. But, justice was done: Wambach looked hesitant and appeared to telegraph her shot. Bouhaddi dove and collected the ball to preserve the lead.
That was all she wrote for the USA, and as a visibly frustrated Ellis looked on, France continued to attack Harris' net. Sub Elise Bussaglia forced a fine save and then hit the post; Claire Lavogez impressed in her cameo as well.
And the Americans? Their subs were remarkably ineffective. Amy Rodriguez had no impact whatsoever; while Ali Krieger added some steel she also was unable to staunch the bleeding. The French just continued to pass their way right through them. If there was a bright spot aside from Press, it was in the performance of Harris, who, aside from one mistake, looked as if she might develop into a credible number one.
But the takeway here is stark: against a World Cup dark horse, the well-stocked and well-funded Americans fell short. They will have to regroup ahead of another tough game this coming week against England. As it stands, they look as if they have their work cut out ahead of Canada this summer.
---