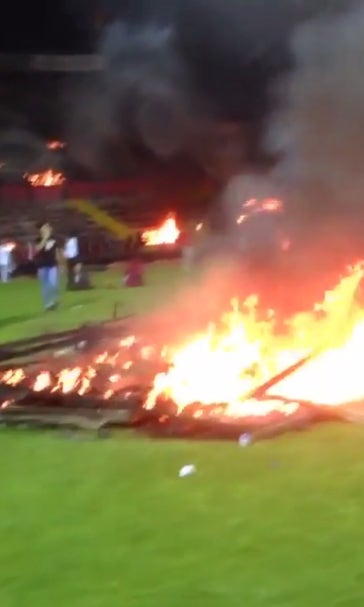 Turkish fans reacted to their team's relegation by lighting the stadium on fire
May 15, 2016

Eskisehirspor's loss on the final day of the season confirmed their relegation from the Turkish Super Lig. And their fans reacted to the news by lighting the stadium on fire. Literally.
The field, the stands, all of it got lit on fire.
Eskisehirspor are set to move into a new stadium next season and the plan is to demolish Eskisehir Ataturk Stadium this summer so they didn't ruin a ground with any future, but still. They lit the damn thing on fire.
Just look at it.
Somehow, there were fans who were completely cool with it and sat there to watch it burn. They didn't think "damn, everything around me is on fire and I'm around a bunch of people content to light things on fire. I should probably get out of here." Because that would probably be the sensible way to think of the situation.
Thankfully, there are no reports of any injuries from the ground.
---
---