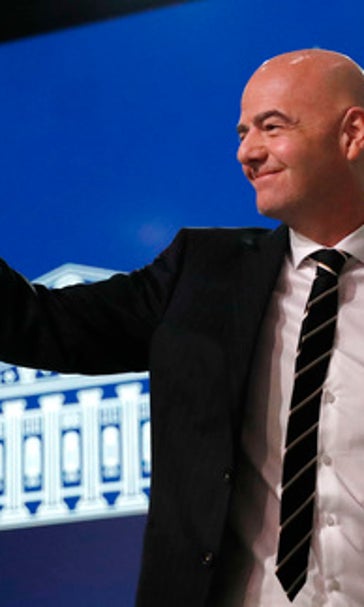 The Latest: Blatter takes credit for Morocco reaching ballot
June 13, 2018
MOSCOW (AP) The Latest at the World Cup , including the FIFA Congress vote for the 2026 hosting rights (all times local):
9:23 p.m.
In theory, two-time World Cup winner Argentina really shouldn't be fearful of facing tournament rookies Iceland. But there is a bit of worry in the Argentina camp: the height effect.
Icelandic footballers are the tallest at the World Cup in Russia with an average height of 1.85 meters (just over 6 feet). That makes them especially strong in aerial duels. It's a weapon that Iceland will try to use to counter the individual brilliance of Lionel Messi and other players when the two teams face each other Saturday in Group D.
Argentina is among the shortest teams at the tournament at 1.79 meters (just over 5-feet-10 inches). So coach Jorge Sampaoli has put special emphasis on height during tactical work that continued Wednesday at the team's training center in the Moscow suburb of Bronnitsy.
---
8:32 p.m.
Striker Kylian Mbappe has declared himself fit for France's opening World Cup Group C game against Australia on Saturday after taking a knock to his ankle in training.
The 19-year-old cut short his training session Tuesday after a challenge from behind by central defender Adil Rami. Mbappe fell following the heavy contact and stayed on the ground for several moments.
Mbappe said Wednesday it was just a scare and maintained he is ''100 percent fit.'' He said he wanted to carry on training but was advised to go off as a precaution.
Mbappe scored France's equalizing goal against the United States in a friendly last Saturday for his fourth international goal in 15 appearances.
---
8:09 p.m.
Two animals have predicted different winners for the World Cup's opening match between Russia and Saudi Arabia.
Achilles the cat at the Hermitage Museum in St. Petersburg picked the home team.
The cat was presented with two plates of cat food - one marked with a Russian flag and the other with a Saudi one. Achilles hesitated before going for the Russia plate.
The cat was then dressed in Russia's uniform and posed for the cameras.
Hermitage veterinarian Anna Kondratyeva said she's sure Achilles made the right call. She said he ''loves his motherland and couldn't vote otherwise.''
Achilles became famous by correctly predicting several matches during the Confederations Cup in Russia last summer.
Spartak the lemur picked Saudi Arabia at a separate ritual at Yekaterinburg Zoo.
---
7:10 p.m.
Stanislav Cherchesov will be coaching Russia in the World Cup's opening match with his predecessor looking over his shoulder and commenting on his every move.
Russian state TV named previous coach Leonid Slutsky its color commentator for the game Thursday against Saudi Arabia. Cherchesov took over from Slutsky in 2016 after Russia failed to qualify from the group stage of the European Championship.
With Chelsea owner Roman Abramovich as an influential cheerleader for his skills, Slutsky went on to coach Hull City in England and then Dutch club Vitesse Arnhem.
Slutsky also provided commentary during a Russia friendly against France in March. He analyzed flaws in players' decision-making but refrained from criticizing Cherchesov's tactics in the 3-1 loss.
---
6:47 p.m.
The issue of legalizing abortion in Argentina has reached the national team at the World Cup in Russia.
Goalkeepers Wilfredo Caballero and Nahuel Guzman were asked about it at a news conference at Argentina's base in Bronnitsy as lawmakers in the South American country debate whether to allow abortions in the first 14 weeks of pregnancies.
Chelsea keeper Caballero said he opposes it because he's Catholic but acknowledged it could be OK in very serious situations.
Guzman called it inappropriate to discuss the issue so far from home but emphasized people's general freedom to choose.
Argentina's lower house is debating the bill Wednesday. It would also have to go through the Senate. Current law punishes women who get abortions with one to four years in prison except in cases of rape or if a woman's life is in danger
---
6:05 p.m.
Saudi Arabia coach Juan Antonio Pizzi says his team will try to play an all-action, possession-based style in the World Cup's opening game despite their outsider status.
Pizzi was renowned for his emphasis on attack and constant pressure when winning the Copa America with Chile in 2016. But he's had just seven months with Saudi Arabia since he was appointed in November to prepare them for Thursday's opening game against Russia
Bert van Marwijk led Saudi Arabia through qualifying but left when he couldn't agree on a new contract. Edgardo Bauza replaced him for just two months before Pizzi took charge.
Saudi Arabia is at the World Cup for the first time since 2006 and hasn't won at the tournament since 1994.
---
5:50 p.m.
Mexico President Enrique Pena Nieto has congratulated all three countries on their successful World Cup bid.
The joint bid by the United States, Canada and Mexico won the vote to host the 2016 World Cup over Morocco.
In a video released on Twitter, Pena Nieto says it will make Mexico the first country to host three World Cups - the previous being in 1970 and 1986.
He says FIFA's decision is a vote of confidence in Mexico's capacity and infrastructure, adding that ''it is not only our people and our families, our companies and our businesspeople, soccer also knows that Canada, the United States and Mexico are deeply united.''
---
5:30 p.m.
A senior lawmaker is advising Russian women to be vigilant during romantic encounters with foreign fans flocking to Russia for the World Cup so as not to end up raising their children alone.
Tamara Pletnyova, the head of a parliamentary committee on family matters made the comments in an interview with the Govorit Moskva (Moscow speaks) radio station on Wednesday.
Pletnyova said she hopes that Russian women will decide against having casual relationships with foreign spectators that may end up in unplanned pregnancies.
Pletnyova said, ''I know that children suffer if they are abandoned and left here with the mother.''
Pletnyova said she hoped Russian women would marry Russian citizens of any nationality or ethnicity and build strong and loving families here.
----
5:17 p.m.
Russia's coach is planning to dine with Olympics outcast Vitaly Mutko before the national team plays in the World Cup's opening match.
Mutko is now deputy prime minister. He was banned from the Olympics for life in December after an International Olympic Committee investigation determined he had not done enough to stop the manipulation of drug-test samples as Russia's sports minister during the 2014 Winter Games.
Mutko said after the IOC ruling that he was stepping aside temporarily as Russian Football Union president but has continued to attend team training sessions and comment on the team's fortunes.
Coach Stanislav Cherchesov says he and Mutko planned to dine Wednesday ahead of Thursday's tournament-opening match against Saudi Arabia.
---
4:25 p.m.
For backup Mexico goalkeeper Jesus Corona, the World Cup in Russia is his last chance to finally make an appearance at the tournament.
The 37-year-old Corona was included in Mexico's squad for the 2006 and 2014 World Cups, but didn't get to play in either tournament.
Before the World Cup in Brazil four years ago, most thought Corona was Mexico's indisputable first-choice goalkeeper. But Guillermo Ochoa surpassed him in the pecking order and has remained there ever since.
Corona, who was the No. 1 when Mexico won the gold medal at the 2012 London Olympics, now hopes coach Juan Carlos Osorio will use him in Russia.
Corona said that in previous tournaments, Osorio ''has given an opportunity to the entire squad and in this position (goalkeeper) it has been the same way. I hope that it won't be the exception now, but you have to wait and prepare.''
---
4 p.m.
Vladimir Putin's home country voted yes to the North Americans, Kim Jong-Un's country voted no.
The 2026 World Cup voting choices by FIFA's member federations were published soon after the joint United States-Canada-Mexico bid beat Morocco 134-65.
Russia's vote for the U.S.-led winning bid surprised many FIFA watchers, though it came days after U.S. president Donald Trump suggested Russia should return to the G8 group of world leaders.
North Korea's football federation picked Morocco just two days after Trump and Kim met in a historic summit in Singapore.
U.S. Soccer Federation President Carlos Cordeiro says ''This was not a vote in the United Nations.''
---
3:30 p.m.
FIFA President Gianni Infantino calls it ''a nice message'' that the United States, Canada and Mexico will work together to host the 2026 World Cup.
Infantino says after the member federations voted 134-65 in favor of the joint North American bid over Morocco, ''it is something we have to be happy for.''
Wednesday's vote in Moscow follows U.S. President Donald Trump and Canadian Prime Minister Justin Trudeau sparring after a G7 summit in Canada.
Trump has had troubled relations with Mexico since launching his presidential candidacy in 2015.
Infantino says: ''To have a message coming from football that says actually Mexico, Canada and the United States together can organize the biggest sporting and social event together, it is a nice message.''
Trump used social media to welcome the outcome of the vote, tweeting: ''The U.S., together with Mexico and Canada, just got the World Cup. Congratulations - a great deal of hard work!''
While Trump has been feuding with Canadian leaders over tariffs and Mexico about his proposed border wall, the political leaders are not heavily involved in the World Cup bid. Even if Trump wins re-election, his presidency will end before the 2026 World Cup.
---
3:23 p.m.
The Spanish soccer federation says former player Fernando Hierro will take over the national team from the fired Julen Lopetegui on the eve of the World Cup.
Lopetegui was dismissed Wednesday a day after accepting a job to lead Real Madrid next season without informing the federation in advance.
Hierro begins his duties two days before Spain's World Cup opener against Portugal in Sochi. The former Real Madrid and Spain defender had been acting as a director with Spain's national team.
- AP Sports Writer Tales Azzoni reported from Sochi, Russia.
---
2:57 p.m.
Mexico's football federation says that midfielder Diego Reyes has been ruled out of the World Cup with a right thigh injury.
He picked up the injury playing for Porto and missed three friendlies in the build-up to the tournament in Russia. Coach Juan Carlos Osorio had held out hope that Reyes would recover in time for Mexico's opening match against Germany on Sunday.
But the federation announced Wednesday that the 25-year-old Reyes wouldn't take part. Reyes' spot on the team will be taken by midfielder Erik Gutierrez.
---
2:43 p.m.
Ahead of the biggest game of his career, Russia coach Stanislav Cherchesov is in a surprisingly laid-back mood.
Cherchesov traded jokes with journalists Wednesday a day before World Cup's opening game between Russia and Saudi Arabia. But he was still reluctant to disclose any tactical info.
The Russia coach likened a British reporter to James Bond, suggested half of Russia doesn't know the World Cup's happening, and bemused foreigners with an untranslatable Russian-language pun about Denmark.
When a Russian reporter called on the country to support Cherchesov by imitating his distinctive whiskers, he replied ''I don't know what you're on about, but everyone come to the stadium with a mustache.''
Russia goes into the game on a seven-game winless streak and lowest of all 32 teams in the FIFA rankings. Saudi Arabia hasn't won a World Cup game since 1994.
---
2:25 p.m.
FIFA president Gianni Infantino will stand for re-election in June next year.
Infantino confirmed his expected candidacy in a speech about leadership, minutes after FIFA member federations voted for the United States, Canada and Mexico to host the 2026 world Cup.
The 134-65 vote over Morocco's bid will help secure FIFA's financial future, with the North American bid likely securing billions of dollars in extra revenue.
Infantino says leaders must bring ''clarity, decisiveness, courage, passion and humility.''
The FIFA election is next June 5 in Paris.
---
2:20 p.m.
Media watchdog Reporters Without Borders displayed the pictures of seven journalists jailed in Russia on a temporary soccer field in a Paris plaza the day before the World Cup kicks off.
The group deployed a big banner reading ''during the Word Cup, the clampdown continues'' during the protest Wednesday.
The group's secretary general Christophe Deloire said the World Cup in Russia will hide what he called ''another match which is not a fair game: the match between the Kremlin and independent journalists.''
Reporters Without Borders ranks Russia near the bottom of its list of countries that are friendliest to journalists.
---
1:55 p.m.
FIFA member federations voted 134-65 in favor of selecting the joint bid from the United States, Canada and Mexico to host the 2026 World Cup over Morocco.
The outcome was an endorsement for the more profitable and stable bid from the North American neighbors.
The four countries involved in the bidding and three U.S. territories were not involved in the ballot.
In his acceptance speech, U.S. Soccer Federation president Carlos Cordeiro says ''Thank you so, so very much for this incredible honor.''
The 2026 World Cup has 48 teams playing a total of 80 games - 60 planned across 10 U.S. cities, and 10 games in three cities for each of Canada and Mexico.
---
1:52 p.m.
The United States, Canada and Mexico will jointly host the 2026 World Cup.
FIFA member federations voted in favor of the North American bid over Morocco. FIFA promises to publish each voter's selection.
The 2026 World Cup will have 48 teams playing a total of 80 games - 60 are planned in the U.S. and 10 each in Canada and Mexico.
All three hosts should get automatic places in the lineup, and each host a game on opening day.
Morocco lost again with its fifth bid campaign in the past 30 years, including to the U.S. for the 1994 World Cup.
The 2026 tournament will return to the North American region 32 years after that U.S.-hosted edition. Mexico also hosted in 1970 and 1986.
---
1:40 p.m.
Morocco has urged FIFA voters to give the North African country a World Cup to host in its fifth bid attempt.
Presenting after the U.S.-led North American bid, Morocco distanced itself from the multi-billion dollar promises of its rival.
Former player Khalilou Fadiga says ''Africa has joy and passion instead of the same material wealth. Football is not just a question of money and finances.''
Morocco football federation president Fouzi Lekjaa notes that his country and Africa deserves a second chance.
A 2026 tournament in Morocco would be just a second African-hosted World Cup, following South Africa 2010.
---
1:20 p.m.
The North American bid to host the 2026 World Cup has made its final presentations to more than 200 FIFA voters.
Presidents of the United States, Canada and Mexico football federations were joined by teenage players Alphonso Davies of Canada, Brianna Pinto of the U.S., and Diego Lainez of Mexico.
Davies spoke of being born in a refugee camp in Ghana, before growing up in Canada.
Pinto told of bonding with opponents from Iran after an Under-20 international game.
U.S. Soccer Federation President Carlos Cordeiro promised $4 billion ticket revenue for FIFA from 5.8 million people attending the 80-game, 48-team tournament.
The 15-minute presentation to leaders of FIFA member federations was to be followed by a presentation from Morocco.
---
1:10 p.m.
The Spanish soccer federation has fired coach Julen Lopetegui two days before Spain's World Cup opener against Portugal.
Lopetegui was let go a day after Real Madrid announced him as its new manager beginning after the World Cup.
Federation president Luis Rubiales says it wasn't the best solution for the national team but the action was needed after Madrid's surprise announcement Tuesday.
A replacement was not immediately announced.
---
12:50 p.m.
FIFA member federations have rejected a Palestinian proposal to amend world football's statutes with a stronger stance against human rights abuses.
FIFA members voted 156 to 35 against the motion which was formally supported by the Iraq and Algeria football bodies.
Palestinian football federation president Jibril Rajoub had said FIFA lacked any ability to sanction a nation for human rights abuses.
FIFA advised voters it already fulfilled all commitments to human rights in reforms passed over the past three years.
---
11:35 a.m.
Russian President Vladimir Putin and FIFA President Gianni Infantino have praised each other's work preparing for the World Cup.
Putin had a warm relationship with Sepp Blatter, who led FIFA when Russia was awarded the World Cup hosting rights in 2010. Blatter was ousted and banned in fallout of corruption scandals.
Putin says Infantino ''stood at the helm of FIFA in very complicated times but he is very good as our frontman, as a true fighter.''
The FIFA president has ''always positive sentiment toward our country,'' Putin says.
With hundreds of thousands of fans expected to travel to the World Cup, Putin says visitors should ''feel the hospitality and welcoming nature'' of Russia.
Infantino praises Putin for ''making us feel part of the same team'' and thanks him ''from our hearts.''
---
11:15 a.m.
FIFA's head of finance says he ''anticipates strong revenues'' leading to the 2022 World Cup in Qatar.
Thomas Peyer tells member federations that income from broadcasting rights will add up to 53 percent of FIFA's budgeted income of $6.56 billion over the next four years. Around 70 percent is already contracted.
The extra income lets FIFA promise $1.5 million annual grants to each of its 211 member federations. That's a 20 percent increase.
FIFA's budget, which is typically conservative and eventually exceeded, calls for a $100 million overall profit through 2022. That should help lift FIFA's cash reserves close to $2 billion.
---
10:25 a.m.
FIFA President Gianni Infantino says under his watch football's governing body has transformed from ''clinically dead as an organization'' to being ''alive and well.''
Infantino tells member federations that FIFA is now ''full of joy and passion with a vision for its future.''
The Swiss lawyer was elected in February 2016, nine months after American and Swiss federal prosecutors unsealed sweeping investigations of bribery and corruption linked to senior FIFA officials.
Infantino's speech at the annual congress of 211 members signals the next presidential election period starting.
The next FIFA election is June 5 next year in Paris. Infantino, who succeeded Sepp Blatter, is yet to confirm his candidacy for a new four-year term.
Infantino says FIFA now has ''absolute transparency'' in its finances, with more than $6.1 billion income for the 4-year commercial cycle tied to the World Cup in Russia.
This was achieved ''despite the worst crisis FIFA has experienced,'' he says.
---
10 a.m.
Russian President Vladimir Putin is due to speak to global soccer leaders before the vote to select the host of the 2026 World Cup.
Putin is scheduled to enter the central Moscow conference hall at around 11 a.m. local time (0800 GMT), before more than 200 national football federations choose between Morocco and the joint United States-Canada-Mexico bid.
Eight years ago at the last World Cup hosting vote, Putin flew in to Zurich to host a news conference celebrating Russia winning the right to stage the 2018 tournament.
Putin should also attend Thursday's opening game, when Russia plays Saudi Arabia at the Luzhniki Stadium in Moscow.
---
9:45 a.m.
Former FIFA President Sepp Blatter is claiming credit for Morocco not being eliminated by inspectors as a candidate to host the 2026 World Cup, allowing the North African nation to take on the joint bid from the United States, Mexico and Canada in Wednesday's vote.
Blatter, who was ousted from power at FIFA in 2015 over financial misconduct, has publicly backed the Morocco bid.
He says ''I was fighting for Morocco and for Africa because at a certain time (FIFA) wanted to eliminate Morocco before going to the vote, and now, they are at the vote and I think it's a victory also of my intervention, especially.''
Morocco was scored 2.7 out of 5 by FIFA's inspection task force, which marked the North America bid a 4 in the report last month. Morocco would have been disqualified if it had scored lower than 2.
In April, Blatter had tweeted: ''Just recall a fundamental principal in FIFA: Decision taken in 2011: the congress shall decide on the attribution of the World Cup 2026 - and not any sub-committee or task-force. Each candidate must have the right to make a presentation at the congress.''
---
9:35 a.m.
FIFA is preparing to choose between Morocco and a joint North American bid to host the 2026 World Cup.
More than 200 national football federations are to set to vote at around midday local time in Moscow (0900 GMT) at their annual meeting one day before the 2018 World Cup kicks off.
FIFA member must pick between the financial security of the United States-Canada-Mexico bid where all venues are ready, and a Moroccan bid that needs to build or renovate all 14 stadiums for a 48-team tournament.
Mexico has twice hosted the World Cup, in 1970 and 1986, the U.S. hosted in 1994, while Morocco has lost in four previous bid campaigns.
---
---