Spain midfielder Xavi retires from international football
Published
Aug. 5, 2014 7:12 a.m. ET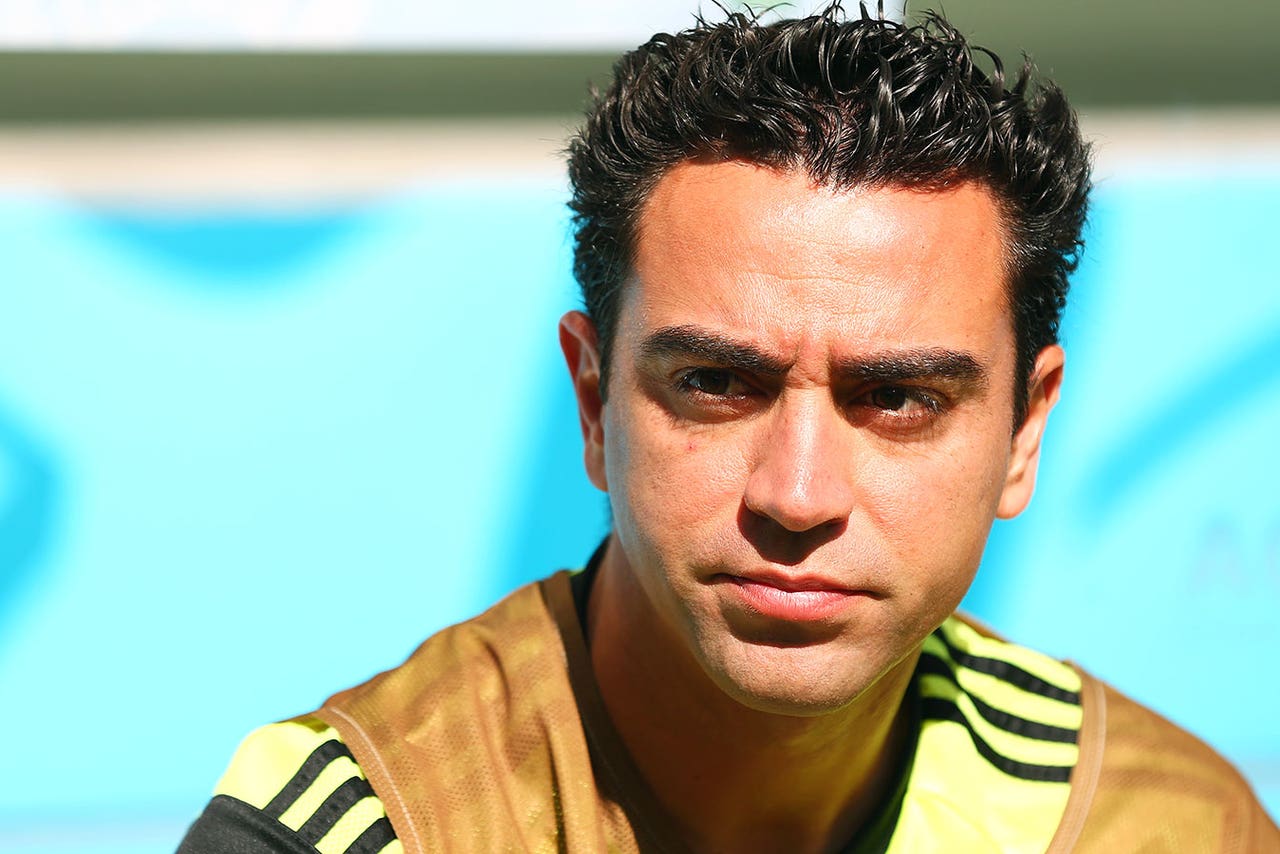 Spain midfielder Xavi has announced his retirement from international football.
The 34-year-old revealed at a press conference with Barcelona on Tuesday that he has decided to hang up his boots with Spain after winning 133 caps and helping La Roja win the 2010 World Cup and back-to-back European Championship titles.
"I've taken the decision to leave the national team. My time there has finished," he said.
"From now on I'm another fan of the Spain team.
"I'm grateful to everybody at the Federation (RFEF), it's been a marvellous time for me to be there for so many years and have so much success. I'm leaving very proud and I wish them all the best."
Xavi made his international debut in 2000, the same year as he helped Spain win an Olympic silver medal in Australia.
Further success came in 2008 when he was named player of the tournament as Spain won the European Championship in Austria and Switzerland - the country's first international success since 1964.
Two years later Xavi was a key part of the Spain squad that won the World Cup for the first time in their history, and then in 2012 he helped his country retain their Euro crown in Poland and Ukraine.
Xavi was also part of Spain's World Cup squad in Brazil this summer but played in just one game - the humiliating 5-1 opening defeat to Holland - as the defending champions were dumped out at the group stage.
That defeat to Holland, which saw Spain concede five goals in an international for the first time since 1963, would turn out to be the last appearance in national colours for Xavi.
On whether he had spoken with Spain coach Vicente del Bosque about his decision to retire, Xavi said: "I told him at Euro 2012, he convinced me to continue until Brazil and that was a disappointment for everyone, both at a collective level and a personal level, especially seeing myself left out of the Chile game.
"I told Maria Jose Claramunt (national team director), but I haven't told him personally. I'm grateful for all the support they've given me and I think there's no better coaching team than now.
"I wish them the best and I'm happy by the fact that Vicente is continuing."
The pass-master leaves Spain as his country's second-most capped player, with only current national team captain Iker Casillas ahead of him.
Xavi's future with Barcelona had been in question as well until recently, with speculation the record-breaking Catalan midfielder would sever ties with his local club this summer after more than two decades at the Nou Camp.
Qatari club Al-Arabi were expected to capture his signature, while new MLS franchise New York City were also said to be in the running, but it was revealed last month that Xavi would be staying at Barca under new coach Luis Enrique.
Luis Enrique has replaced Gerardo Martino, who stepped down at the end of last season after Barca failed to win a major trophy for the first time in six years.
Speaking on Tuesday, Xavi admitted he had been looking to leave Barca, saying: "I finished last season a little disappointed, I suffered two big collective and personal disappointments, maybe the worst of my career.
"I didn't feel useful to be on the bench in the last and decisive league match (against Atletico Madrid) and then what happened in the national team.
"Then I hastily decided that it was best to leave this stage, but I went on holiday and I spoke with Andoni (Barca sporting director Zubizarreta) and Luis Enrique and they made me see that I can be important and useful."
Xavi holds the record for the most Barcelona appearances, having played in more than 700 official matches, while he is also the most decorated player in the club's history having won 22 titles in total, including seven Primera Divisions, three Champions Leagues and two Copa del Reys.
He added: "I thank the club for their patience and for waiting. We've agreed on everything. I had two big disappointments and for that I sent a lot of messages to friends saying that I was going. I repeat that that was a hasty decision.
"I'm competitive, I feel useful, I've changed my mentality and they've made me see that I can be important.
"At the moment I have good feelings about my team-mates and the new staff. I will give everything to continue being important. I hope the fans understand. My mood was not how it is now."
Xavi is also looking forward to linking up with new signing Luis Suarez.
He said of the Uruguay international, a £75million arrival from Liverpool who is currently serving a four-month ban for biting Italy defender Giorgio Chiellini at the World Cup: "He's a spectacular signing.
"I think he's among the best strikers in the world, he had a great season and we're now waiting on news of his ban. We'll see what happens on Friday. We hope it's reduced a little.
"I have a good relationship with him and think he's a great person, he's apologised. We'll welcome him with open arms."
---