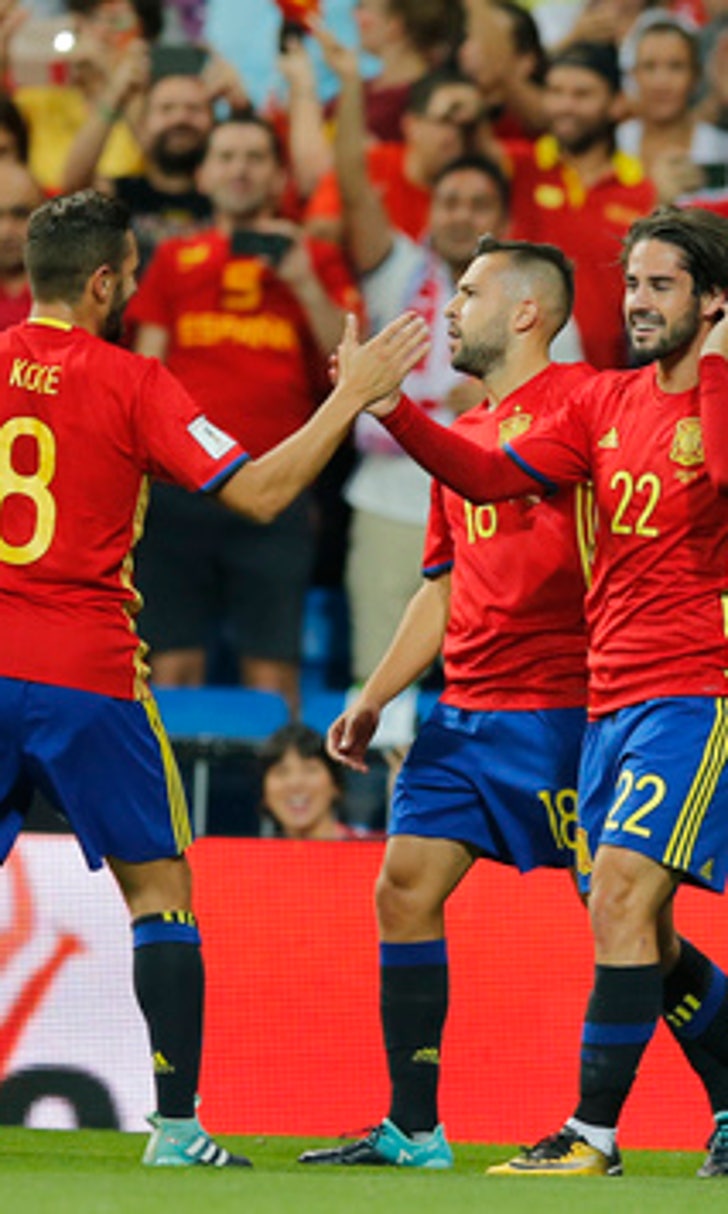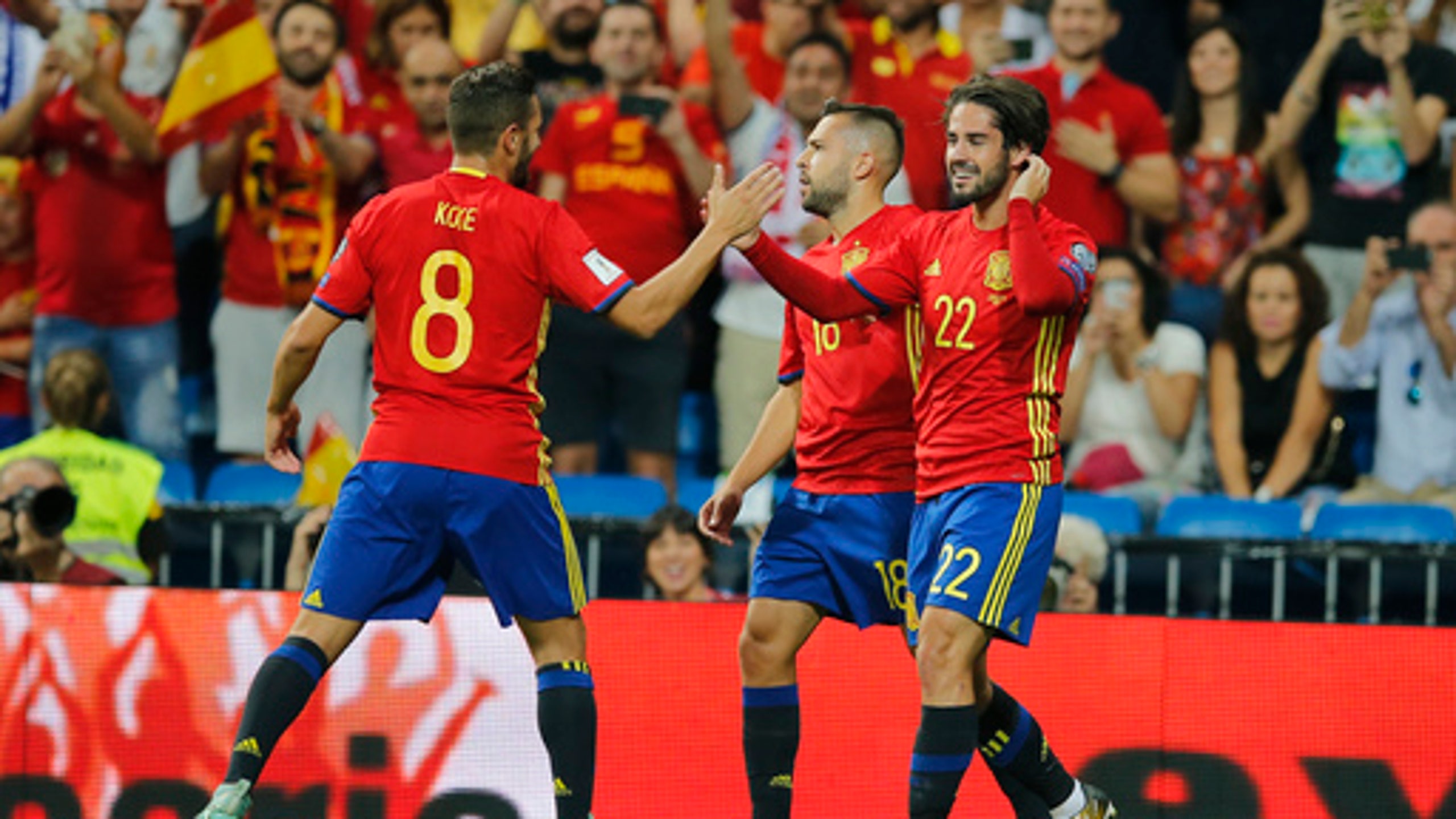 Spain beats Italy 3-0 to close in on World Cup spot
BY AP • September 2, 2017
MADRID (AP) Spain ended Italy's 11-year unbeaten run in qualifiers with a 3-0 win on Saturday and moved closer to securing a World Cup spot.
The Italians hadn't lost a qualifier - World Cup or European Championship - in 56 games, since September 2006.
Two first-half strikes by Francisco ''Isco'' Alarcon and a late goal by substitute Alvaro Morata gave the hosts the important Group G victory.
Isco got the better of Italy goalkeeper Gianluigi Buffon from a free kick early in the game, then outsmarted the Italian defense with a low shot just before halftime at Santiago Bernabeu Stadium.
''It was a great match by Isco,'' Spain coach Julen Lopetegui said. ''Not only because of the goals, which helped open things up for us. He played well with and without the ball, with great personality.''
The result left Spain in control of Group G with 19 points, three more than Italy, with three games left in European qualifying for the 2018 World Cup in Russia. Albania is third with 12 points.
Only the group winner automatically qualifies.
Both Italy and Spain had won all their group matches apart from a 1-1 draw against each other in Turin.
Spain's final qualifiers are at last-place Liechtenstein on Tuesday, against third-place Albania on Oct. 6 and at Israel on Oct. 9.
Italy's remaining games are at Israel on Tuesday, against Macedonia on Oct. 6 and at Albania on Oct. 9.
Spain's last loss in World Cup qualifying was in November 1993. Its unbeaten run now stands at 60 matches.
Also Saturday, Albania needed two second-half goals to beat last-place Liechtenstein 2-0 to stay within reach of the group leaders.
Macedonia beat Israel 1-0 in Haifa to damage the hosts' chances of a playoff spot.
--
ISCO MAGIC
Spain was in control during most of its 3-0 win in front of more than 73,000 fans at Real Madrid's Bernabeu stadium.
After Marco Asensio was fouled outside the area in the 13th minute, Isco fired a well-placed shot over the Italian wall and past the outstretched arms of Buffon.
The Real Madrid forward struck again in the 40th after clearing a defender with a neat cut back outside the area before sending a low shot into the corner.
The half ended with the Spanish fans chanting ''Ole, ole'' as their team overwhelmed Italy.
Isco continued to delight the crowd in the second half. In one nifty move, he rolled the ball between the legs of an opponent. A few minutes later, he flicked the ball over another Italian player before putting Morata in a goal-scoring position.
Isco got a standing ovation from the crowd when he was substituted in the final minutes.
Morata closed the scoring from close range after a low cross by defender Sergio Ramos in a breakaway near the end of the match.
Italy had a goal disallowed because of offside in the 75th. Morata also was caught offside when he scored what would have been his second goal in the final minutes.
Veteran striker David Villa came off the bench to replace Isco, making his return to the Spanish national team three years after his last match at the 2014 World Cup.
---
STAYING ALIVE
Midfielder Odise Roshi and defender Ansi Agolli scored as Albania defeated Liechtenstein 2-0 to move closer to second-place Italy.
The home victory gave Albania 12 points, four behind the Italians. Albania trails Spain by seven points.
Last-place Liechtenstein has lost all of its seven matches, being outscored 26-1.
---
MISSED CHANCE
Israel missed a chance to move within four points of Italy after a 1-0 home loss to Macedonia.
Macedonia, second-to-last in the group, got the winner with a goal by Goran Pandev midway through the second half. The veteran striker took his national record tally of international goals to 30.
Macedonia moved to six points, three fewer than Israel.
---
More AP World Cup coverage: https://apnews.com/tag/WorldCup
---
Tales Azzoni on Twitter: http://twitter.com/tazzoni
---
---