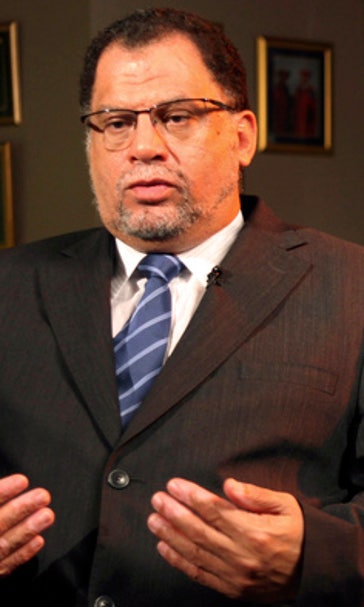 South African soccer president denies raping singer in 1993
November 1, 2017

The head organizer of the 2010 World Cup on Wednesday denied raping a singer and former South African ruling party lawmaker 24 years ago.
Danny Jordaan, the president of the South African Football Association and a Confederation of African Football executive committee member, released a statement through his lawyer to deny the allegations made by Jennifer Ferguson, who said in a series of online posts that she was raped by Jordaan at a hotel in South Africa in 1993.
Ferguson made the claim two weeks ago, using the hashtag (hash)MeToo, an online campaign denouncing sexual assault and harassment.
In the statement, Jordaan's lawyer, Mamodupi Mohlala-Mulaudzi, said Jordaan denies raping Ferguson.
Jordaan was criticized in South Africa for taking so long to respond.
''Dr. Jordaan's perceived silence in the face of such serious allegations is because of his empathy with the victims of gender-based violence,'' his lawyer said. ''Dr. Jordaan has, however, after careful consideration decided to assert his innocence.''
The lawyer said Ferguson's allegations must be tested in court.
Ferguson said she didn't report the rape because she was ''too ashamed to go through the reporting procedure.'' She said she met the soccer official at a hotel in Jordaan's hometown of Port Elizabeth, where she was performing. She claimed Jordaan followed her back to her room and raped her.
South African media have reported that other women have made allegations against Jordaan but the women haven't been identified and no criminal charges have been laid.
The 66-year-old Jordaan, widely praised seven years ago for delivering a successful first World Cup in Africa, has had his reputation tarnished in recent years.
He has also been accused of involvement in a bribery scheme to win South Africa the hosting rights to the 2010 World Cup. Jordaan, and the South African government, have denied any bribery took place, contradicting an indictment by the U.S. Department of Justice that alleges former FIFA executives were bribed by South Africa's bid team to vote for the country.
Ferguson, 55, was an anti-apartheid activist whose music reflected her activism. Both she and Jordaan were elected to be members of parliament in South Africa's first democratic elections post-apartheid in 1994, the year after the alleged rape.
As parliamentary colleagues, Ferguson said she often came across Jordaan in subsequent years.
''He would never meet me in the eye,'' she said in an interview with the South African news website Daily Maverick. ''Slide away as fast as possible.''
Ferguson now lives in Sweden and has not indicated if she will press criminal charges against Jordaan.
''From a legal viewpoint, serious allegations of the kind made by Ms. Ferguson can only be ventilated in a court of law, where the rights of all parties are protected,'' Jordaan's lawyer said.
---
---