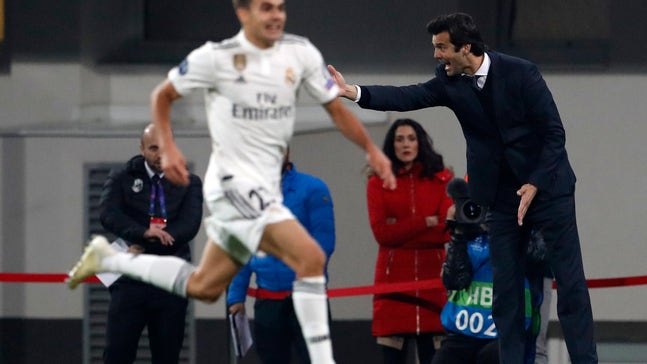 Solari's claim on Madrid coaching job faces test at Celta
Updated
Mar. 5, 2020 2:13 a.m. ET
BARCELONA, Spain (AP) — When Real Madrid visits Celta Vigo on Sunday, interim coach Santiago Solari may have his last chance to convince the club that he should stay on the job.
Solari has steered Madrid to three wins since he was promoted from reserve team last week to replace Julen Lopetegui with the team in slump and coming off a 5-1 rout by Barcelona.
By indicating Solari was taking over "provisionally", Madrid made it clear that it was still searching for a permanent replacement. Media speculation placed Antonio Conte, Roberto Martinez, Mauricio Pochettino, and even former Madrid coach Jose Mourinho on the list of high-profile candidates for the coveted job.
Next week's international break could offer a new coach a window to adjust to the job. Madrid will have 12 days between matches. It returns with a game at Eibar before it visits Roma in a match that will likely decide who wins their Champions League group.
If Solari gets a win at Celta, the former Madrid midfielder would present a strong case that the right move is for the club is to do nothing at all.
"The only thing I can do is focus on our next game and that's fine with me. I can only see as far as the next link in the chain," Solari said after Wednesday's 5-0 win at Viktoria Plzen. "Soccer is all about the here and now and the most important thing is your next game. We've come through this one with flying colors and we now have to think about our next match and focus all of our efforts and energy on it."
Some of Madrid's most important players have backed him.
"We are doing well with him, he should stay until the end of the season," Madrid striker Karim Benzema said. "He is a great coach. We are playing with more confidence."
Casemiro added: "People can talk about what he is, if someone else is coming, but we are treating him with a lot of respect, like the coach of Madrid. If things go well, why not give him the chance?"
At a glance, it seems Solari has completely turned around a team that when he inherited it had won only one of its previous seven matches. With the Argentine directing the team, Madrid has outscored its three adversaries 11-0.
But a closer look shows that Solari may still have work to do to win the trust of club president Florentino Perez.
A 4-0 win at third-division club Melilla is nothing to brag about considering the abyss separating the clubs in terms of talent.
The final score of a 2-0 home victory over Valladolid is deceptive since Valladolid twice hit the crossbar with the score 0-0 before Madrid finally broke through with less than 10 minutes to play.
And the rout of Czech side Viktoria Plzen comes against the only team Madrid was able to beat in its final agonizing weeks under Lopetegui.
So on Sunday, Solari needs his team to avoid a repeat of its shaky performance against Valladolid and get a convincing win against a quality opponent. If not, the progress the team has made under him will be seriously questioned and the pressure will again be on the club to bring in an experienced coach.
Madrid heads to northwestern Spain to face Celta in sixth place in the Spanish league standings, seven points behind leader Barcelona.
Celta has had an irregular campaign and sits in 11th place, three points behind Madrid.
However, Celta has only lost three times in 11 matches and is led by Iago Aspas. The Spain striker has scored eight goals this season, second only to Barcelona forward Luis Suarez with nine.
Celta also recovered striker Maxi Gomez from injury in time for him to score twice in a 3-3 draw with Real Betis last week.
Last year, Celta held Madrid to a 2-2 draw at Balaidos Stadium.
"It will be a difficult match," Aspas said. "They have gone through several changes ... but they are still Real Madrid and have the best players in the world."
---
---