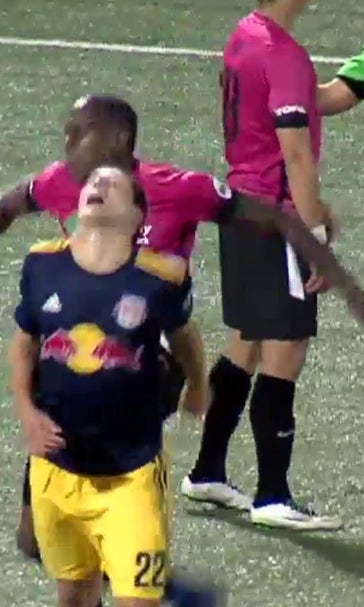 Soccer player attacks opponent from behind with brutal kick to the back
May 7, 2016

A USL match between the Pittsburgh Riverhounds and Red Bulls II had already turned feisty by the 86th minute, when the referee showed Karl Ouimette and Romero Parkes red cards. But that was only the start of what proved to be a scary situation.
As Ouimette turned and walked off the pitch following the red card, he and Parkes exchanged some words. Then the Riverhounds man took things to a whole new level with a vicious kick to Ouimette's back.
Caution: It is a terrible kick and you may not want to watch it.
The reverse angle is even worse.
Ouimette was stretchered off the pitch, but there was good news after the match as his teammates tweeted about him being up and mobile.
Parkes had to be escorted to the locker room. The USL was quick to suspend the player immediately, releasing the following statement via Twitter:
Parkes also took to Twitter to apologize for his actions. He had scored in five straight matches and was recently named to Jamaica's preliminary roster for Copa America Centenario. Things were looking great for him, but this will undoubtedly and deservedly have him in a lot of trouble. 
On Sunday, the Riverhounds announced that they have terminated Parkes' contract, effective immediately.
---