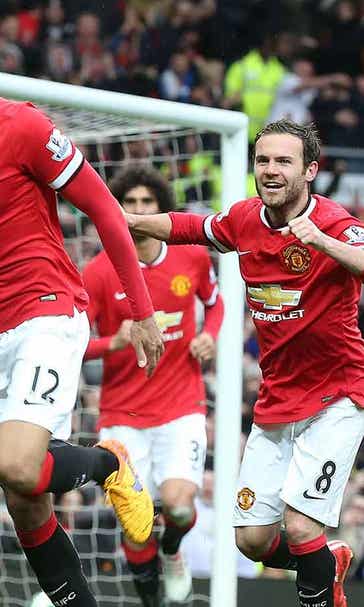 Ruthless Manchester United run riot against rivals Manchester City
April 12, 2015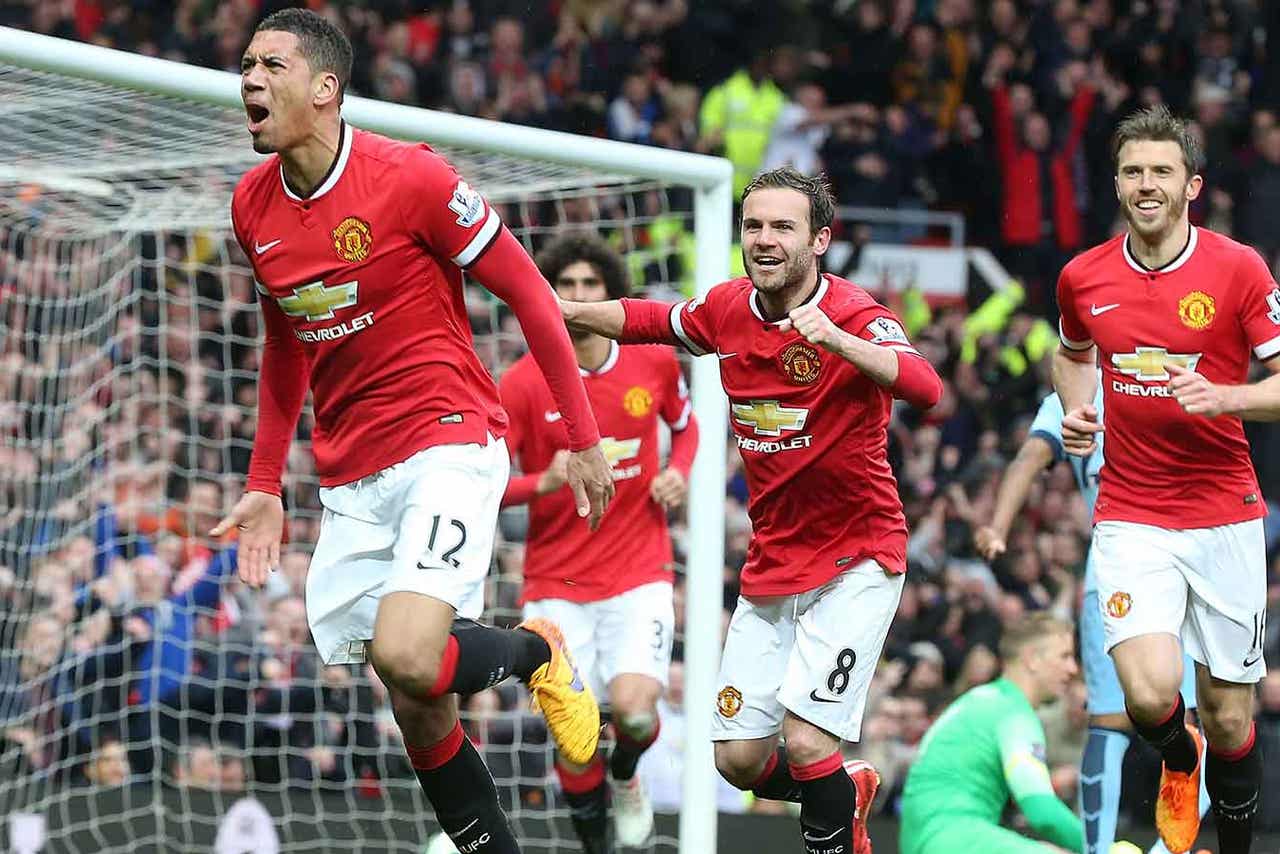 MANCHESTER, England --  
As Ashley Young's cross floated toward the back post and Marouane Fellaini clanked toward the dropping ball, there was a sense of inevitability about the outcome. Neck muscles thrust, the great frizz of black hair bobbed, the ball was directed down and through the legs of Joe Hart, and Manchester United led 2-1, on its way to a 4-2 victory, its most emphatic win in the derby for 21 years.
It was a goal that seemed emblematic of the second half of United's season, partly in the provider, the reinvigorated Ashley Young, but mainly in the scorer: Fellaini has become the outstanding player in a spring surge that has taken United third in the table, with a nine-point cushion to Southampton in fifth. Champions League qualification looks a certainty now.
"It's a massive win for us, it's a great result and everyone at United is happy," United's Juan Mata told Sky Sports 1 after the victory. "The atmosphere was crazy, it is something we will never forget. You could tell how important it was for the fans but we still have six games to go and we have to keep going. It's a big win and a boost of confidence but Arsenal are doing great and I'm sure City and Liverpool will fight to the end, so we have to fight to the last minute."
It wasn't just the Belgian's goal: It's the way he serves as a wrecking ball, smashing into the opposition, creating room for the more subtle talents of Ander Herrera and Mata to play. Other teams have to take action to combat him and that has an impact on their flow. City tried both Fernandinho and Yaya Toure at times to support the right side of its defense and try to protect it against the Fellaini assault, but both were helpless, leaving Pablo Zabaleta and Vincent Kompany looking horribly exposed.
Both United's first-half goals came down that side and it seemed indicative of Kompany's discombobulation that he clattered Daley Blind just before half-tine and was fortunate only to be shown a yellow card. City's captain had clutched his thigh shortly before making that challenge and he didn't re-emerge after halftime, replaced by Eliaquim Mangala, suggesting he had been carrying an injury.
Whatever the reasons, it was another disappointing display from City and a fourth successive away defeat. It lead Southampton by five points and Liverpool, which has a game in hand, by seven, so should still make the Champions League, but with just four wins in its last 15 games , there is an inexorable sense of drift about its season that must bring the futures of Manuel Pellegrini and several players into question.
Yet City's start could hardly have been a greater contrast to its lethargic display at Crystal Palace on Monday. Jesus Navas had already forced David De Gea to save with his feet as he beat the offside trap when City took an eighth-minute lead. James Milner, operating on the left of a 4-2-3-1 as Edin Dzeko was left out, slid in David Silva on the left side of the box and his low cross was turned in from close range by Sergio Aguero, his goal drought ending after 564 minutes with his seventh goal in eight games against United.
City at that stage looked like the side that had won the title last season: bright, aggressive, purposeful, its passing crisp. It didn't last. It was United that seemed dozy, and there were already rumblings of frustration about Old Trafford when it equalized after 14 minutes with its first serious attack -- one that began with jeers as Phil Jones rolled the ball back to David De Gea from the halfway line. The goalkeeper launched a clearance out to the left from where Ander Herrera crossed for Young, His initial effort was blocked by Gael Clichy, but the ball fell kindly and the winger was able to get to his feet and, with Hart still grounded, slam the ball into an empty net.
Young was a key figure in United's second as well, with City's defense again capitulating on its right. The former Villa winger held possession on the left, back-heeled the ball to Daley Blind as he ran inside of him, then trotted back to accept the full-back's pass on the corner of the box, before crossing for Fellaini.
The third, after 67 minutes, also came down the United left. Fellaini dispossessed Martin Demichelis, Blind pinged it forward for Rooney who helped the ball on to Juan Mata, who was a couple of yards offside, to run on and score. By then, it was becoming embarrassing. With 73 minutes gone Smalling, played onside by Mangala, headed in a Young free-kick for foul committed in that same channel on the United left. After Michael Carrick had limped off to leave United with 10 men for the final three minutes, Aguero pulled one back, but United's superiority was clear.
After losing six of the last seven derbies, there was a sense of United redressing the balance. Unthinkable as it may have seemed a month ago, it is the dominant force in Manchester as City has sunk into what may be an irrevocable stagnation. The next step is for United to try to resurrect the title race at Chelsea next week.
"We have made big steps in the last six games but the defeat to Arsenal was very difficult for my team to stand up and maintain our confidence in the philosophy," van Gaal said. "But all credit to the players because they have to do it under the expectation of the fans. We started very badly and we were not the Manchester United we have seen in the last matches."
He added: "I don't know why we were nervous but we could not get pressure on the ball in the beginning, but then we scored and from that moment there was more confidence in my team. We started to develop our pace and game plan and the second half was much better than the first half, and until the moment Michael goes off the pitch we were fantastic."
Meanwhile, Pellegrini fended off questions about his own future after an eighth defeat for his team in all competitions since the turn of the year.
"I don't think what happens to me is the most important thing," Pellegrini said. "I will continue working and try to be as near as the top of the table as we can. We played very well for the first 20 minutes and had two or three more clear chances to score, but the moment they scored they grew and started playing better and we made mistakes for two of their goals. Maybe the third goal was offside and something similar happened in the last game but I'm not talking about referees."
FOXSoccer.com's newswire services contributed to this report.
---