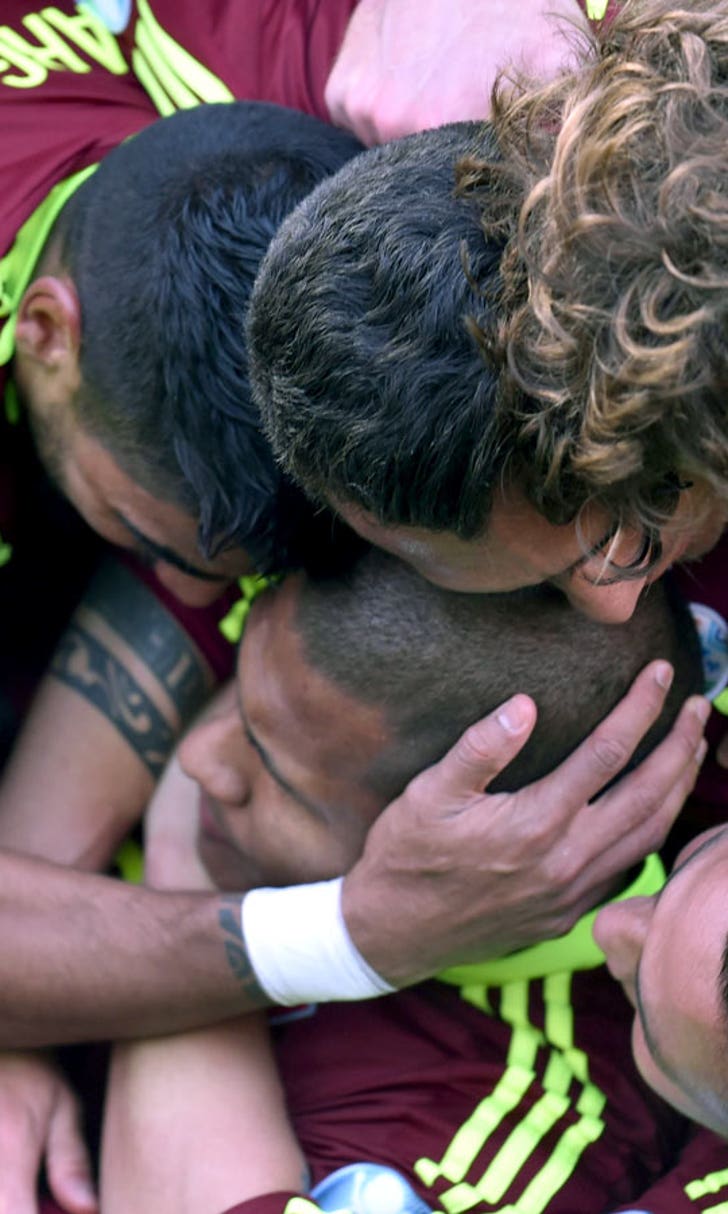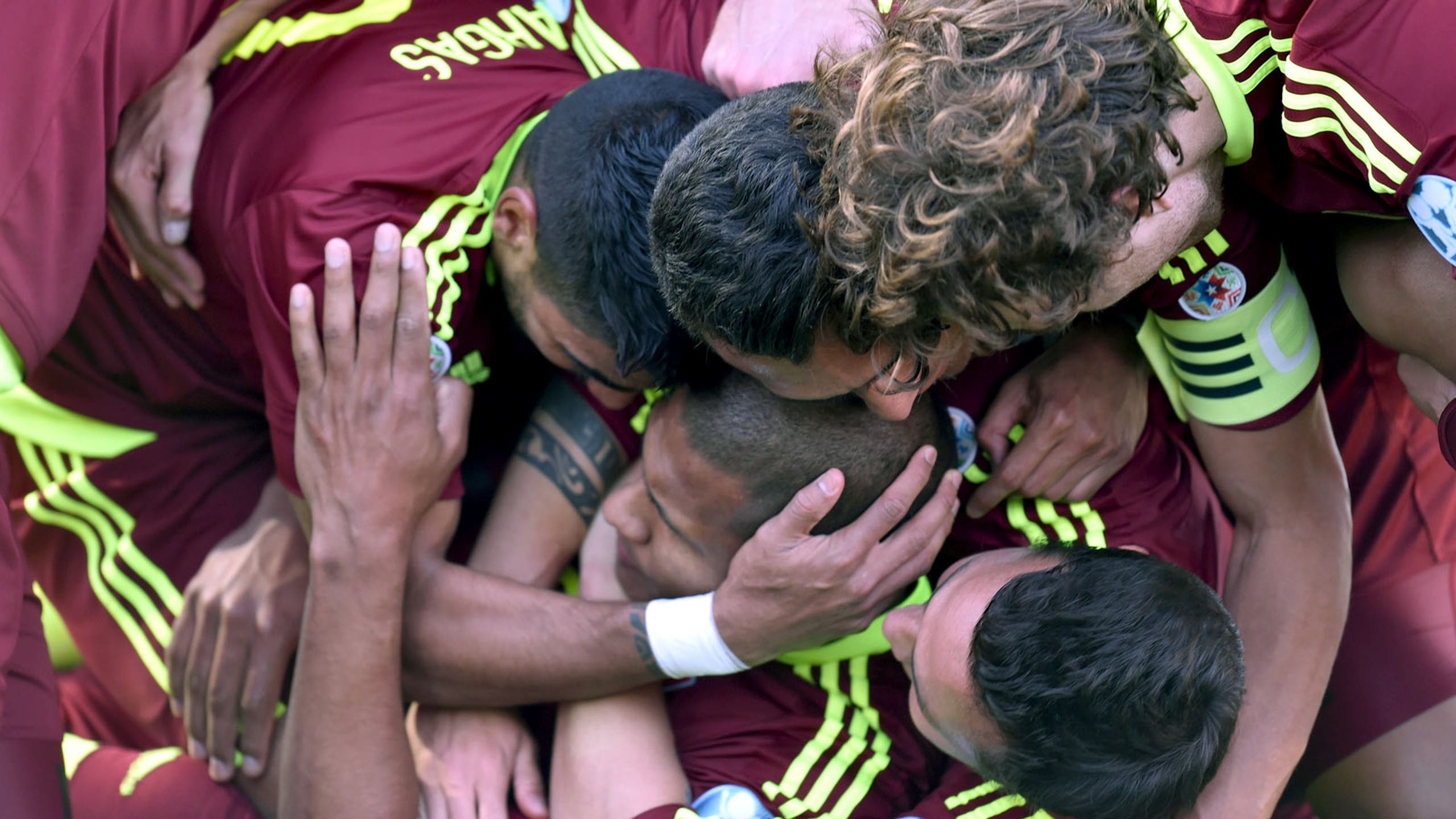 Rondon fires Venezuela to Copa America upset over Colombia
BY Jonathan Wilson • June 14, 2015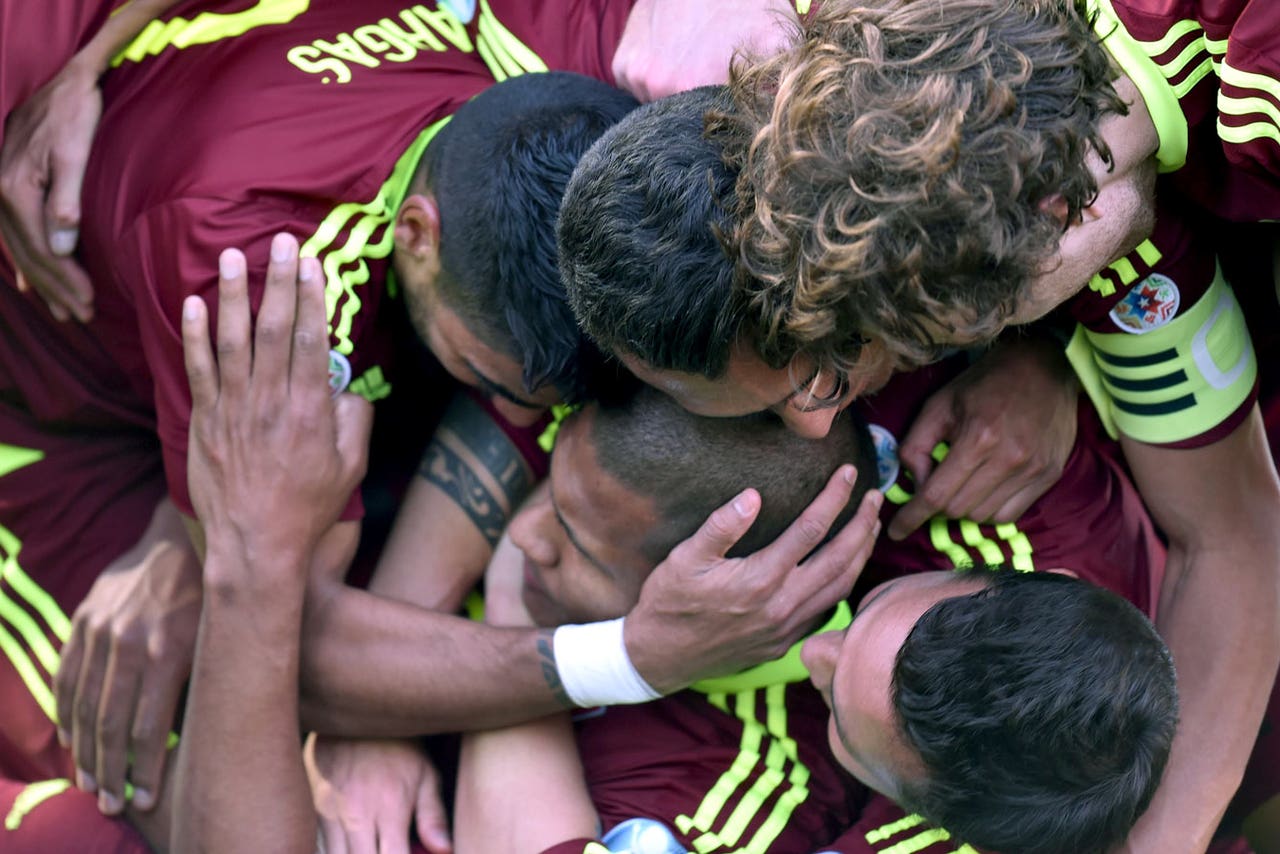 Another day, another misfiring performance from one of the big guns. There's plenty of time yet, of course, for teams to generate mutual understanding, but as time goes by Chile's slightly nervous start to the Copa America is looking more and more impressive. Colombia's surprising 1-0 defeat to Venezuela in Rancagua merely reinforces the point.
Colombia coach Jose Pekerman was standing in evident concern on the edge of his technical area after a couple of minutes and he never sat down. His side never got going. By the time Salomon Rondon put Venezuela ahead after 60 minutes, there was a distinct sense that it had been coming.
This was a thoroughly deserved victory. Venezuela had impressed under Cesar Farias at the last Copa America with its diligence and capacity to strike on the break, but lost its way in World Cup qualifying. Here, under Noel Sanvicente, it recaptured some of the spirit of four years ago, when it reached the semi-final.
Rondon, tall and powerful, is an ideal front-runner for a team set on playing on the break. He had already headed against the bar (although he was bafflingly penalized for a supposed push on Jeison Murillo, so it wouldn't have counted anyway) when he rose at the back post after fine work from the ageless Juan Arango to guide his header back across goal and just inside the post to decide the game.
It wasn't supposed to be like that. All the talk from Colombia before the tournament, from Pekerman, from players and from former players, had been of the need to consolidate what had been achieved at the World Cup and confirm that this generation is worth of its place at the top table. In Brazil, it had been a fluid, dynamic side, packed with fine creators.
There was little sign of that fluency in the late afternoon sunshine in Rancagua, though. The setting of the Estadio El Teniente is stunning, but the snow-capped peaks that glistened beyond the stands served as a permanent metaphor for Colombia's position: it is, at the moment, still very much in the foothills. The hope that this side might win the tournament for only the second time -- and the first, on home soil in 2003, was somewhat marred by the withdrawal of Argentina (and Canada, for that matter) after their teams received death threats -- is not unrealistic, but this was a worryingly stodgy start against a Venezuela side that is solid but far from exceptional.
Indeed, in the first half, Venezuela created the only real chances. Juan Arango, playing in his sixth Copa America, laid in Ronald Vargas after 25 minutes, but he jabbed a shot straight at David Ospina. The Arsenal goalkeeper then made a more difficult save just before half-time, scrambling to his left to claw wide a tumbling volley from Alejandro Guerra.
The temptation is to compare this Colombia side to the World Cup team, see that the major difference is the two strikers -- Radamel Falcao and Carlos Bacca -- and conclude that they must shoulder the blame. Bacca works hard and does drop back, but both players essentially prefer to be the main striker, and that perhaps prevents the creation of the sort of angles that made Colombia such a fascinating team during the World Cup. Falcao's involvement was fleeting: he may have scored five in his last five games for his country to become its leading all-time scorer, but he looked here the sluggish figure he had in a difficult season at Manchester United in which he scored only four goals in 26 matches.
Falcao wasn't the only one, and it should be acknowledged that the service to him was almost non-existent. Neither James Rodriguez nor Juan Cuadrado were able to impose themselves, but perhaps even that came back to Falcao. Pekerman has seemingly concluded that Falcao cannot play as a lone striker. That choice means a 4-4-2, and that in turn -- certainly given the options as a second striker -- means a slightly blockish system.
The introduction of Teo Gutierrez for Bacca after 72 minutes did offer Colombia greater flexibility. He'd barely been on the field a minute when Rodriguez, drifting in off the left flank, slipped a finely weighted pass through to him. He dallied, though, and ended up taking the ball too wide before jabbing a weak shot at Alain Baroja. Rodriguez then had a shot well saved by Barojas, who recovered superbly to keep out the deflected follow-up from Edwin Cardona.
It proved a rare glimmer of menace on a day when Colombia never quite conjured its best from a year ago. There is still time to recover, but this performance falls squarely in line with the disjointed displays from the favorites in this tournament so far.
---