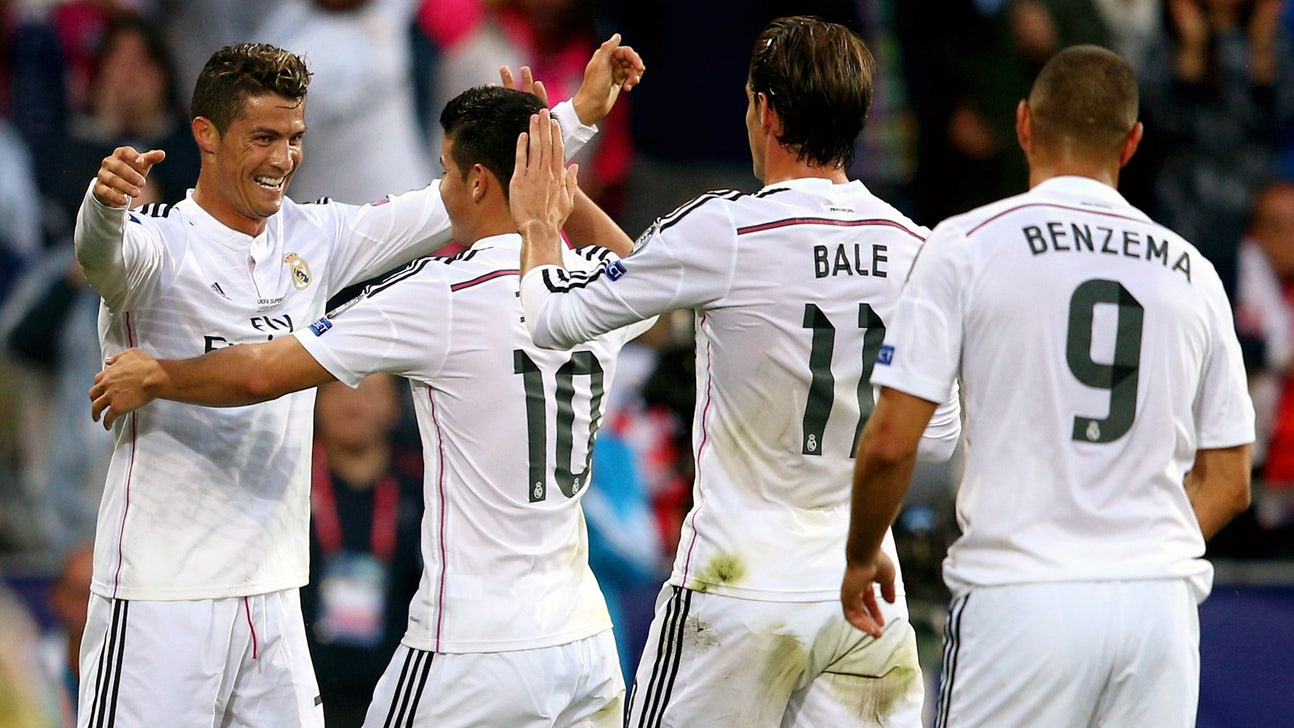 Real Madrid claims UEFA Super Cup over Sevilla behind CR7's double
Updated
Mar. 4, 2020 11:11 p.m. ET

Real Madrid strolled to their first trophy of the season, collecting the UEFA Super Cup at Cardiff, 2-0 over Sevilla, thanks to two goals from Cristiano Ronaldo.
It was all too easy for Real, who overwhelmed a ragged-looking (and markedly less-expensive) Sevilla side with a dominant display. What was more ominous -- at least for Real's opponents to come -- is that Los Blancos rarely needed to even get out of second gear.
Real fielded the most expensive lineup ever to take the field, with an estimated value of some $612 million in their starting eleven. With glitter at virtually every position, it was unsurprising that Madrid would overcome last year's Europa League winners. What was a bit of a shock was how easy they truly made it look. Despite some hints of guile from Denis Suarez and a fairly sensible game-plan from manager Unai Emery, Sevilla were rarely able to trouble Real, and when Los Blancos swept forward, they always looked dangerous, even when confronted by 11 men in red behind the ball.
Gareth Bale, making a homecoming to Cardiff, was the local boy made good, overshadowing (perhaps just for the day) one of the greatest players on the planet. But Bale is no token star. He was the engine of much of Madrid's creativity here on Tuesday, linking up well with Toni Kroos and firing in a gorgeous cross to Ronaldo to open the scoring.
New boy James Rodriguez didn't have the best start, but he did assist in that opener, collecting the ball out wide on the near flank before sending the ball cross-field to a waiting Bale. Bale, seeing Ronaldo with his arm up at the near post, surged forward, and sent in a defense-splitting pass that allowed Ronaldo to dive in, and tap home past Beto. Was Sevilla caught out? A bit -- they lack pace in their back four -- but there's no denying the sheer quality of Bale's cross, and the clinical nature of Ronaldo's finish.
Kroos, picking up where he left off with the World Cup champs, was a machine, calling for and winning the ball to anchor Real's attacks. Ominously for their opponents, his partnership with James is still undercooked, and you get the sense if they develop an understanding, this team will be very difficult to contain. In fact, once Real Madrid actually has a full practice -- many of their glitterati are just back from the World Cup break -- they should improve, a sobering threat.
After the break, Ronaldo doubled his tally, starting and finishing a play that left Beto with a bit of egg on his face. Slotting the ball up to Bale, he continued his run, and as Bale fed up to Karim Benzema in the center, he was wide open wide left to receive the return pass, and then rip the shot right through Beto's gloves. The keeper got hands on the ball, but was wrong-footed on the strike and could not contain the shot.
Beto did better with a fine stop later in the half on James, a one-handed save that halted a shot that was nonetheless right at him. James would come off with twenty minutes to play to applause, but Real will hope there is far more from him to come.
As it happens, the only hiccup for Real came when James made a gaffe, allowing Daniel Carrico a free shot on Iker Casillas. But the oft-criticized keeper made the stop at his near post to preserve the lead, and even got a kiss from Sergio Ramos for his troubles. Only late was Casillas truly called on to make a world-class save, foiling a shot from Grzegorz Krychowiak when Sevilla finally made a push in the game.
Real will now move on and renew their rivalry with Atletico in the Spanish Super Cup next week, with Atleti trying to get revenge for their 4-1 defeat in Lisbon this past May. Sevilla, on the other hand, will go back and lick their wounds. They can boast of some quality -- but on the evidence, they are nowhere near the level that Real displayed on Tuesday night at all.
---