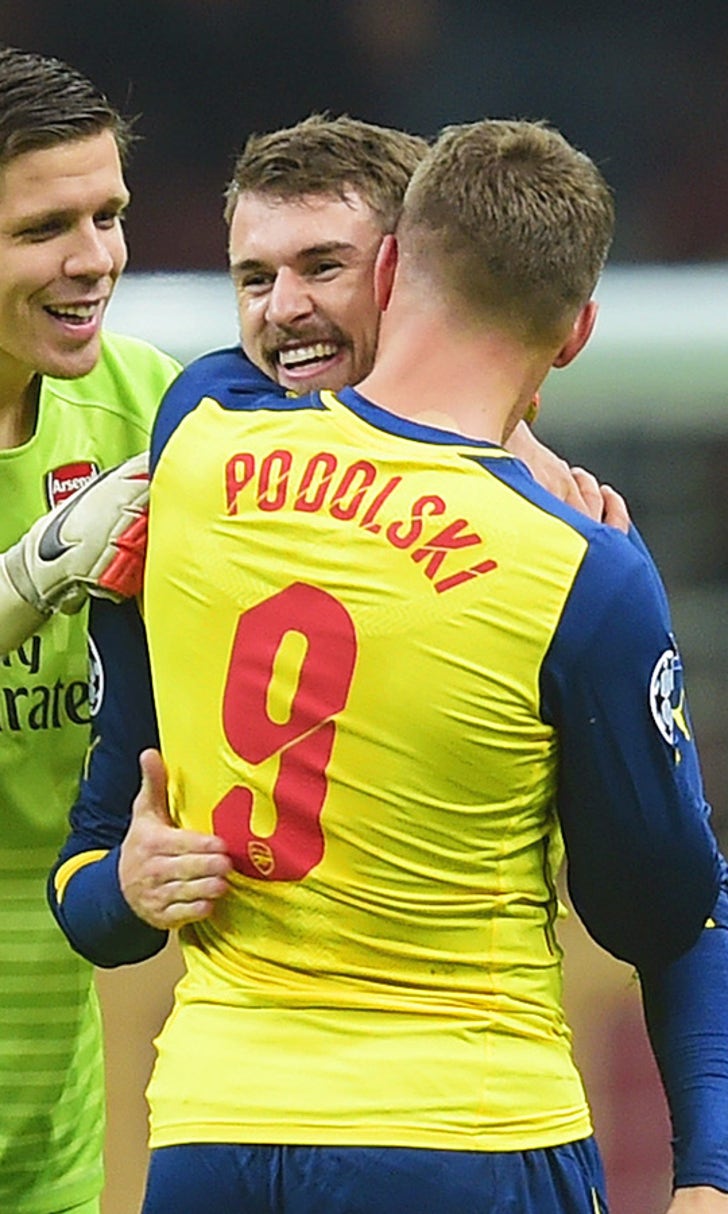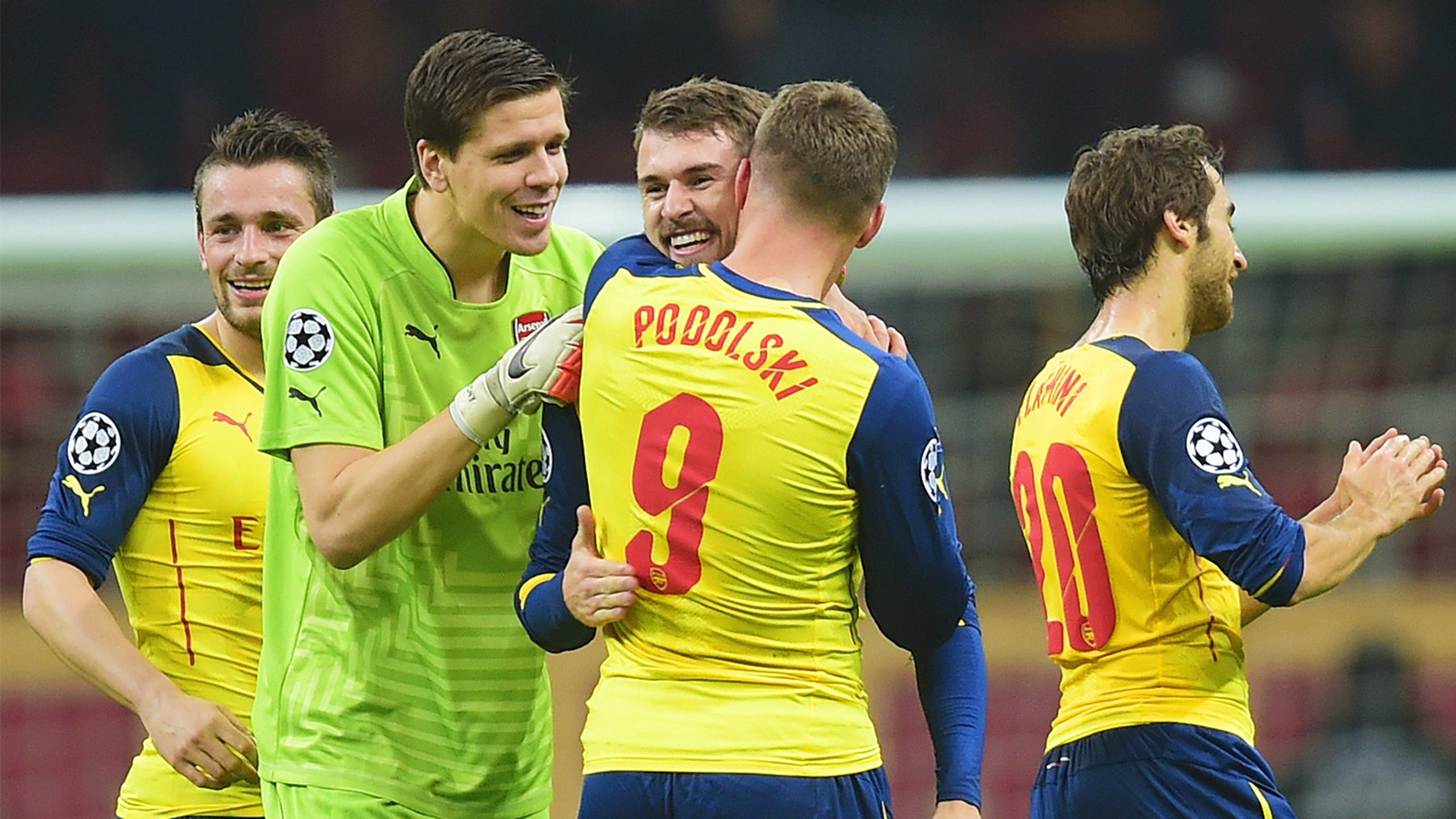 Ramsey leads Arsenal to impressive Champions League rout vs. Gala
BY Jamie Trecker • December 9, 2014
Arsenal stormed through Galatasaray 4-1 on Tuesday night in Turkey thanks to a man of the match performance from Aaron Ramsey. Sadly, it was too little too late.
Despite their dominant showing, the Gunners ended up second in Group D behind Borussia Dortmund, who drew Anderlecht 1-1. Arsenal, who have qualified for the Champions League's knockout stages for 15 straight seasons, will find out their opponents next Monday -- but they are virtually guaranteed a tough tie due to their failing to win the group. Tuesday's results also meant that Anderlecht dropped into the Europa League.
"Obviously we came here wanting to win the game so we're happy that we won," Ramsey told reporters after the win. "We finished off on a high in the group stages and now we're looking forward to seeing who we're up against in the next round. We looked dangerous every time we went forward tonight, which was pleasing, and we scored a few goals which is always nice. So we took full advantage of the opportunity. It was nice to get the four goals that we scored tonight."
The positives were clear: Arsenal came out and looked far sharper and more poised than they have in the league of late, and at least gave their fans a bit to cheer about after an ugly weekend. After a dismal and damaging 3-2 loss to Stoke in the league, fans peppered manager Arsene Wenger with abuse at a train station. The club is a full 13 points off the top of the table, and four out of the Champions League places. It's hard to argue that times are good for the injury-riven Gunners right now.
They certainly took care of business on Tuesday at already-eliminated Galatasaray, however, who slunk out of Europe with just a single point to their name. Arsenal got on the board almost off the kickoff, and never looked back against a Turkish side that seemed utterly demoralized.
Lukas Podolski opened the game up in the second minute, ripping his shot past Sinan Bolat from an acute angle on the near left. Found by Ramsey, Podolski wound up and simply blew the ball into the roof of the net, all while Bolat stood rooted on his line.
It was a perfect opening, but Galatasaray almost drew level moments later when a loose ball fell to a wide-open Hakan Balta with all of the net to shoot at. He managed to scuff his shot wide, and as he slumped to the turf in disbelief, Galatasaray's resolve evaporated.
Ramsey would score just three minutes later, latching on to a chipped pass from Alex Oxlade-Chamberlain after Podolski had won the ball well at midfield. With a deft touch up and then a silky shot, Ramsey rolled the ball past Bolat and into the far corner.
Ramsey's second was of far higher quality. Galatasaray tamely headed away a corner kick and the ball fell right to the Welshman, who sent in an absolute laser of a strike to the far post. It was a brilliant half volley that punctuated what, to this point, had been a abject humiliation of the Turkish side – but it also represented the last action for Ramsey. He would be withdrawn at the half as Wenger threw on two youngsters, one of which was possible US national teamer Gedion Zelalem, and seemed content just to play out the game.
The Turks had to wait until almost full-time for a consolation, which came when Oxlade-Chamberlain committed a silly foul to allow Wesley Sneijder a free-kick from a dangerous spot. He whipped in a fine strike over the five-man wall into the top corner, and with that, a measure of pride was restored.
"A little bit, but we knew at halftime we had to score six without conceding and I think the fact we had to take (Mathieu) Flamini and Ramsey off took a bit of our power away going forward," said Wenger. "In the second half we had a few more problems dictating the game. Unfortunately it wasn't enough but we finished with 13 points and did the job tonight."
It's a tough start to a holiday campaign that sees them face an equally-wounded Liverpool side before back-to-back London derbies.
---