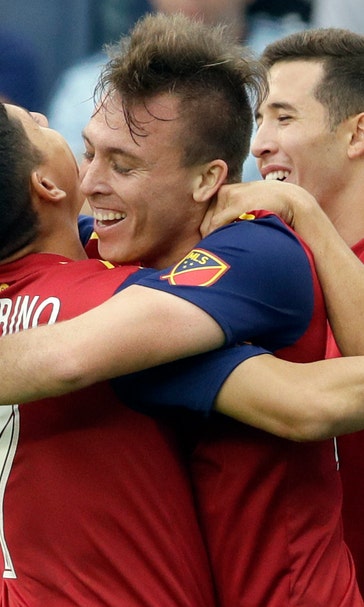 Race to the MLS playoffs is in full swing
October 3, 2018
Let the clinching commence.
It's that time of year when Major League Soccer teams are scrambling to finish above the red line in the standings for a spot in the playoffs. Four teams are already headed to the postseason.
FC Dallas, which finished just outside of a playoff berth with a seventh-place finish in the West last season, was the first in its conference to qualify for a spot this season. Dallas clinched with a scoreless draw over the Portland Timbers last weekend.
"It's not easy to qualify this early in this league, it is very competitive and differences are really tight. Well-deserved for the club that we are back into the playoffs after a very tough year," Dallas coach Oscar Pareja said.
In the Eastern Conference, the New York Red Bulls earned a knockout round bye on Saturday night when Minnesota United defeated NYCFC. The next day, the Red Bulls downed Atlanta United 2-0.
The victory tightened the race for the Supporter's Shield: Atlanta has just a one-point edge with 63 overall points with three games remaining.
"They've still got a point on us, so we have to take care of business on our end and we'll see what happens," Red Bulls goalkeeper Luis Robles said.
Both playoff-bound teams have a shot at breaking Toronto FC's MLS all-time record for points (69) set last year. Both teams also have a shot at breaking the season record for most wins (20) in the post-shootout era, currently held by the 2014 Sounders and last year's Reds. Both Atlanta and New York currently sit at 19 wins this season.
NYCFC has also claimed a postseason spot in the East, after defeating the Chicago Fire last Wednesday. The Fire have been eliminated from playoff contention.
After Dallas, the West is still a jumble for the five remaining spots. The Colorado Rapids and the San Jose Earthquakes have been eliminated.
Sporting Kansas City missed out on a chance to clinch a spot in the playoffs at home last weekend with a 1-1 draw with Real Salt Lake. Sporting will get another shot to secure their postseason this weekend when they host the LA Galaxy.
The draw helped RSL, which currently sits just about the red line in sixth.
"This point was massive, 100 percent massive for us. Guys put everything, everything in there," Salt Lake coach Mike Petke said.
Lurking just behind RSL in the standings is the Galaxy and enigmatic star Zlatan Ibrahimovic. LA has won two straight under interim coach Dominic Kinnear.
"We are not doing it by luck. As I said here last time, we are a threat for every team if we play like this," Ibrahimovic said after scoring twice in the team's 3-0 victory over the Whitecaps. "I bet you whatever you want. Nobody wants to get us in the playoffs because we are dangerous if we do what we do like we do it now. Just hope for them that we don't make it to the playoffs."
GAME OF THE WEEK: So of course the game of the week is the showdown between Sporting KC and the Galaxy. After his brace, Ibrahimovic has 20 goals this season, second in the league behind Atlanta's Josef Martinez.
Kansas City will clinch with a win or a draw. The game at Children's Mercy Park is already a sellout.
"It's still in our hands. We're still in the position we're in. We just need to get back to winning ways," Sporting forward Johnny Russell said.
PLAYER OF THE WEEK: D.C. United midfielder Luciano Acosta was named Player of the Week after a goal and three assists in his team's 5-0 rout of Montreal last Saturday. Acosta now has 16 assists to lead the league.
---
---