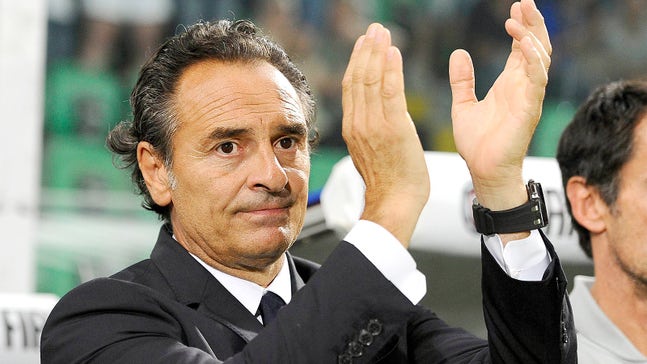 Prandelli: No England players would make Italy's World Cup squad
Published
May. 10, 2014 8:02 p.m. ET

Italy head coach Cesare Prandelli claims he would not take any of England's players in his World Cup squad.
The two nations go head-to-head in the opening round of fixtures at this summer's tournament in Brazil and the former Fiorentina manager praised the efforts of England coach Roy Hodgson. Both managers must submit their provisional 30-man squads to FIFA by May 13, with Hodgson set to reveal his hand on Monday.
Prandelli claims Hodgson has discovered an "interesting" mix of players and believes England could pose a stern test in Brazil.
"Hodgson has found some very interesting players," he said in an interview with FOX Sports. "In particular when you consider them from a physical perspective. They are very technical and resistant. They are a very, very strong team."
However, despite offering some words of admiration, Prandelli revealed he would not switch any England players for his Azzurri squad.
"They have some interesting young players," he added. "Until around a year ago no one thought they would be able to make an impression in the Premier League. But I wouldn't take anyone to have instead of my own players. We are a good team too."
The 56-year-old is out of contract as Italy coach at the end of the World Cup and hinted at a fresh challenge away from home, with the Premier League on his radar.
"Going abroad fascinates everyone," Prandelli revealed. "Every time I talk to one of my colleagues who is working abroad, they have a smile on their face that I have forgotten about a little bit. They always say that abroad you have the chance to have a private life but at the same time you can still do the job you love."
Prandelli added: "Maybe in Italy there is too much pressure. I also one day dream of having such an experience. The English League is very competitive and full of enthusiasm. It is watched by a lot of people and transmits a lot of emotions."
---